A Filmmaker's Biography: Kim Novak
b. 13-02-1933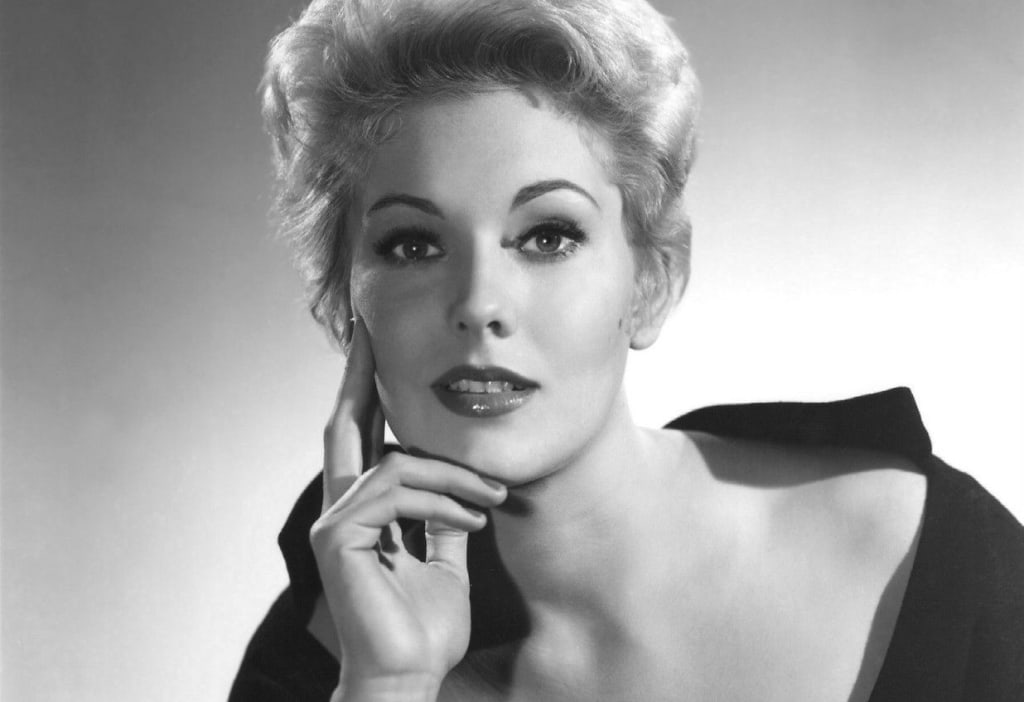 Kim Novak is one of my personal favourite actresses of the old movie scene. She is a versatile and intelligent actress with a great amount of flexibility and talent when it comes to her roles. She is able to portray the more difficult and complex characters that led her to become one of the most recognised faces in the cinema of the 60s. I have seen many of her movies and on this day, we celebrate her 87th birthday.
Biography
Kim Novak was born Marilyn Pauline Novak in Chicago, Illinois on the 13th of February, 1933. She was born to parents of Eastern European descent and her parents were both working class with her mother, a factory worker and her father, a teacher. Her family were also strictly Roman Catholic. She attended an elementary school called William Penn and then she attended Farragut High School and then went on to gain two scholarships to the School of the Art Institute of Chicago. She earned money by modelling for a refrigerator company at trade shows.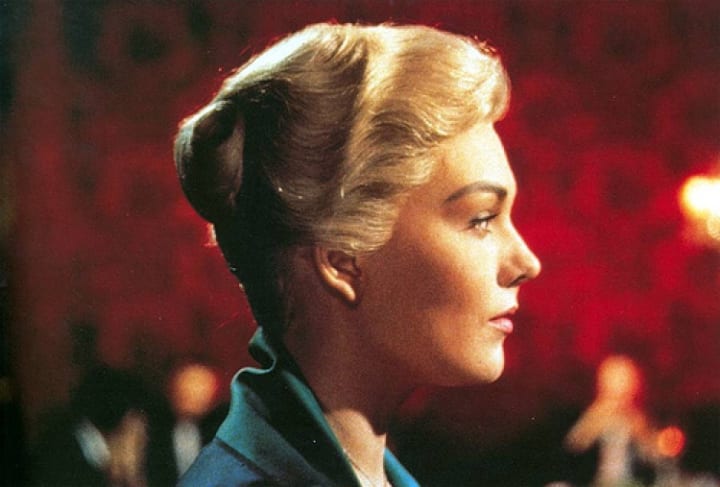 She wanted to be an extra in films and so, whilst in LA, signed up in line to be an extra in two RKO movies: "The French Line" and "Son of Sinbad". She was there discovered by an agent and taken on for a long-term contract with Columbia Pictures. When she stated that she wanted to be an original actress and not a stereotype, they suggested her changing her name and eventually, after much argument the two sides settled on calling her "Kim Novak".
Columbia were hopeful that Novak would be the new Rita Hayworth after Rita Hayworth's career had fallen into decline. However, sticking with her originality, Novak proved to be more than a pretty face and often got commended for her acting style and her talent rather than her face and figure. Be that as it may, Columbia pictures still wanted her to be the next Marilyn Monroe - hoping for the same style of success.
Novak also sang "My Funny Valentine" in "Pal Joey" in which she starred in the late fifties and by now, she was a hit star - the new fresh face and an absolutely brilliant actress. This led to what is normally called the greatest performance of her career and one of the greatest performances by any actress in a film of the 20th Century. Vertigo (1958).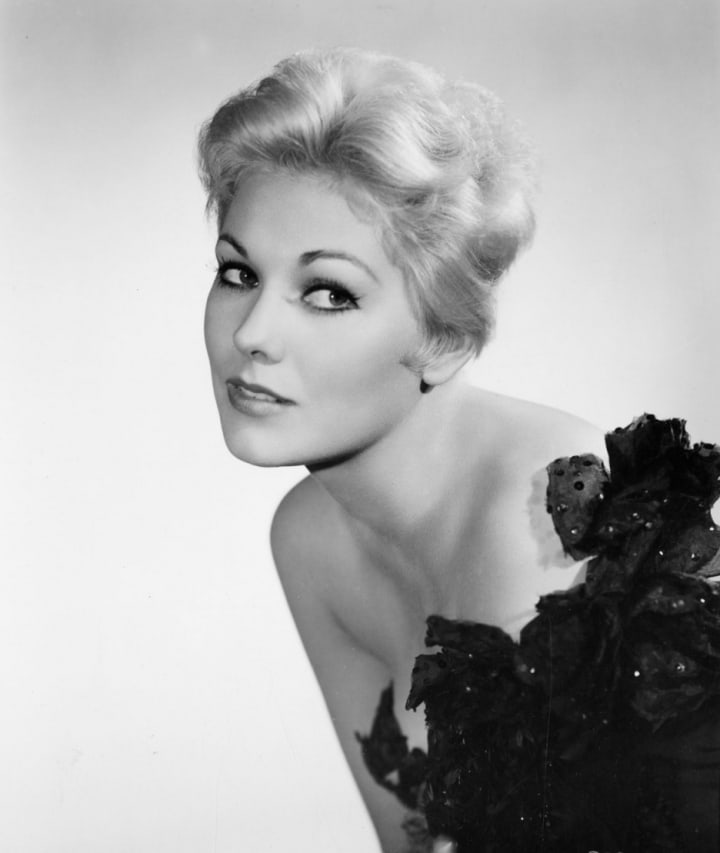 Kim Novak starred in Alfred Hitchcock's defiant and dark film "Vertigo" (1958), portraying one of the main characters and personally, it is my favourite Hitchcock film on par with "Strangers on a Train". We all have to admit that Novak's performance in "Vertigo" (1958) was possibly the performance of a lifetime. Her portrayal of the complex double-role was once of those you hardly ever see from actresses of this era - mainly hired for their looks, they were never able to really get into the complexity of characterisation. Novak did it with ease and beauty.
The "Sight and Sound" critics poll voted "Vertigo" (1958) the greatest film of all time.
She began to slow her career after the great success of "Vertigo" (1958) and starred in romantic dramas and adaptations alongside some of Hollywood's leading men. By the end of the 60s, Novak was emotionally drained and hated the Hollywood lifestyle. She would act sporadically normally taking years off and returned with James Stewart for the 61st Academy Awards show. Here's what she said in 2004 about the reason for her dropping out of acting:
"I got so burned out on that picture that I wanted to leave the business, but then if you wait long enough you think, "Oh, I miss certain things." The making of a movie is wonderful. What's difficult is afterward when you have to go around and try to sell it. The actual filming, when you have a good script—which isn't often—nothing beats it."
To this day, Novak continues her artistic talents by writing poetry and painting in the surrealist and impressionist styles.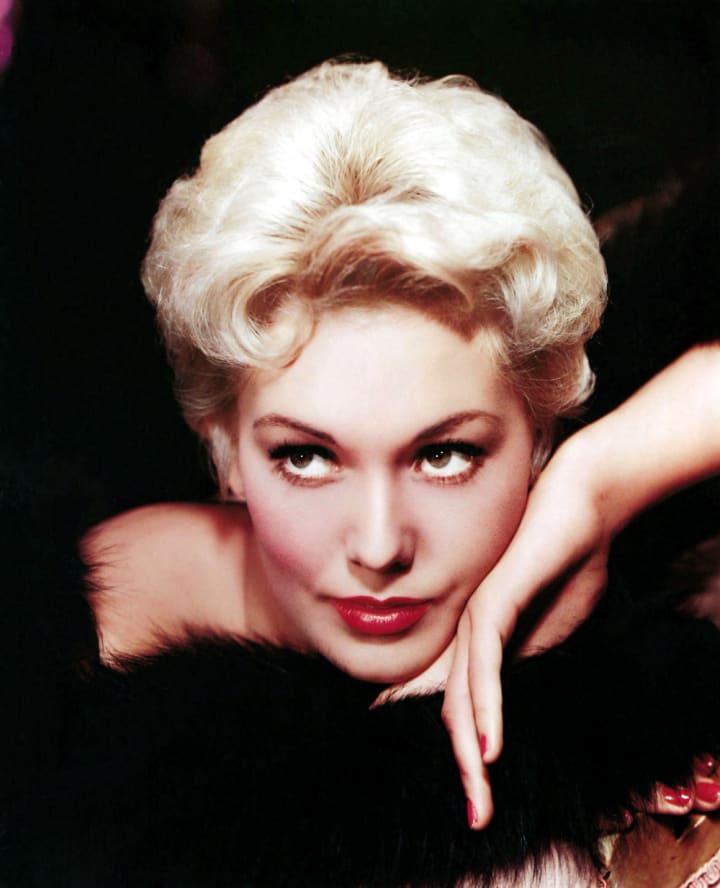 Here are, in my opinion, her top ten performances:
The Top Ten Performances of Kim Novak:
10. Betty in "Middle of the Night" (1959)
9. Carly in "The Notorious Landlady" (1962)
8. Sister Lyda in "The Great Bank Robbery" (1969)
7. Jeanne Eagels in "Jeanne Eagels" (1957)
6. Moll Flanders in "Moll Flanders" (1965)
5. Mildred in "Of Human Bondage" (1964)
4. Maggie Gault in "Strangers When We Meet" (1960)
3. Madge Owens in "Picnic" (1955)
2. Linda English in "Pal Joey" (1957)
1. Judy/Madeline in "Vertigo" (1958)