A Film Addict Reviews! Baahubali 2: The Conclusion
A 2016 sequel that's just as good as the first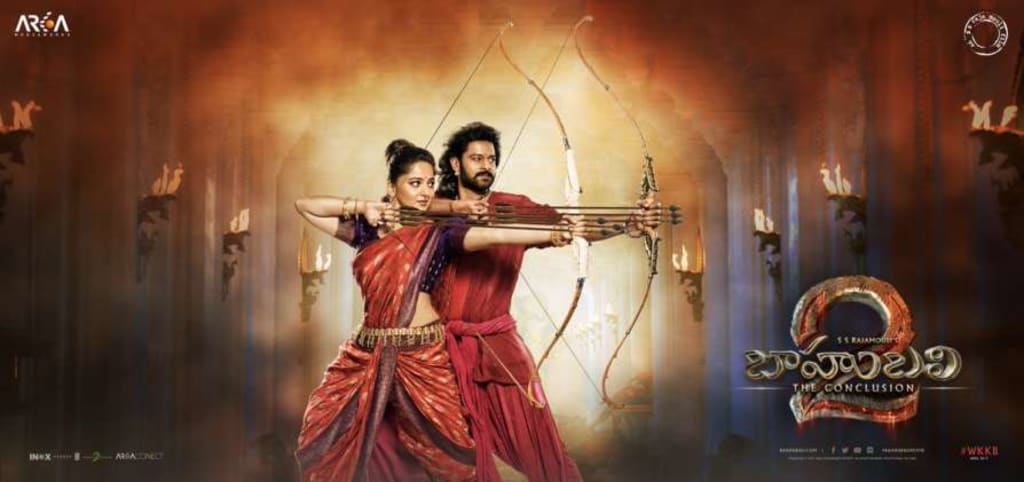 I've never thought I would sucked into a film franchise like this one. Baahubali: The Beginning was way too good for its own sake that I needed to see how the sequel follows up on it. I needed to know what else it brought to the table. The case with sequels is that they usually do not match up to the first film and I was curious if that was the same with this film, Baahubali 2: The Conclusion.
2016's Baahubali 2: The Conclusion picks up when Kattappa (Sathya Raj) is explaining to Shiva Baahubali (Prabhas) of how the city of Mashmati fell into chaos after Bhallaladeva (Rana Daggubati) rose to power. Bhalla used his sneaky nature to convince the Queen Mother Sivigami (Ramya Krishnan) that Baahubali is the traitor.
The Story
Baahubali 2 story can be a bit confusing at first but as long as you keep up with it, everything will be fine. At it's core, it's the typical royal family feud but done in a unique enough way to keep it interesting. The dynamic of Baahubali and Kattappa was explored more in this one and it was heartbreaking at the end between the two of them. The dialogue is very poetic at times and does capture the essence of what the whole film feels like. There was never a dull moment in the film where I got bored of it considering it's a 2 hour and 45 minute film.
The Acting
For a high budget film, the acting was good. The good thing about this film is that it was filmed at the same time as the first one so the actors and actresses just needed to keep the characters consistent. Prahbas did a great job pretending he was an blockhead in the first act of the film. Granted, Baahubali is essentially the most good person in the entire film but it was nice to see a darker side of him when it came to it. The character of Baahubali was delved into more as you saw how he acts regardless of the situation. Rana did well with the evil character of Bhalla. To play a villain to a hero that is essentially seen as a god, is a hard thing to pull off. He managed to play the only person to physically match up to Baahubali.
Music and choreography
Musically, this film had me bouncing around in my chair. The drums hit hard and even though I don't know what they are saying, the flow of the words are very melodic. There was another song that I just love that I think uses electric guitar in it and just yells out one word. It's very primal feeling. The love song of Baahubali and Devsena was excellently well put together. The dancers were in sync with each other and gave the song a sense of being bigger than it was.
Set Design and Special Effects
This is where I think the film shines the most. The designers of the locations and interiors were really good at their job. Im glad that there was time taken to make the sets exactly how they needed to be in order to make the film look more realistic over it being a CGI mess that we get nowadays. The special effects are obviously fake but there are some pretty nice transitions from fake objects to real ones that not even Hollywood pulls off these days. There are times are the CGI really does stand out.
Cinematography
Everything looked great in these regards. It looked how it should be and the camera was where it needed to be when it needed to be. There were a few zooms that do stand out a bit but that's a creative choice. It did look like a Zack Zynder film mixed with a Peter Jackson film. Lots of unnecessary but cool slow motion with a grand scale of environments and grand acting.
Opinions and Verdict
I'm pretty glad I found this franchise when I did. Being in the middle of a pandemic can cause you to think things are just getting worse and worse but this was the right film and the right time for me. This entire year, I have not seen anything that makes me enjoy being a film addict as much as this. I even rewatched the entire Marvel Cinematic Universe this summer but to me, it doesn't compare to Baahubali. The Bollywood cheesiness and the Hollywood style storytelling is just a fantastic pairing and I hope more Western filmmakers become inspired from a film like this. I highly recommend the entire Baahubali film franchise. Everyone I have shown it to loves it and I honestly hope everyone who reads this gives it a good chance and sees it. Watch it in Hindi, that's the best one I have seen so far.
If you think this review deserves a tip, please feel free to do so
Also if you liked this review, please read this one: https://vocal.media/geeks/a-film-addict-reviews-baahubali-the-beginning