5 TV shows led by compelling female characters to watch after WandaVision
If you were mesmerized by the brilliance of Wanda Maximoff, make sure to add these shows to your watchlist.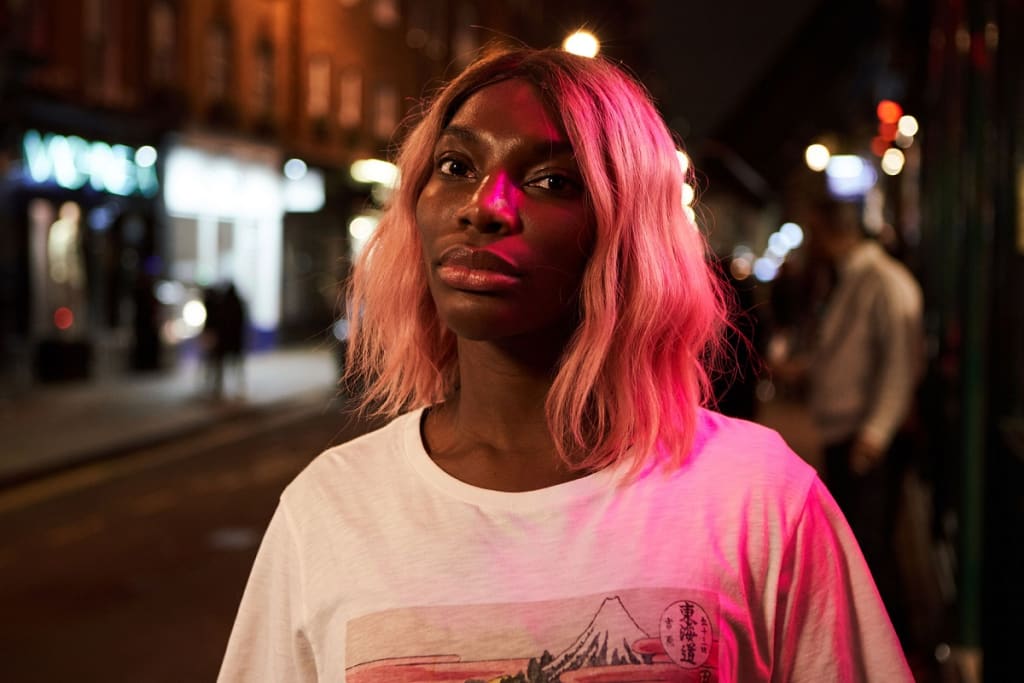 'I May Destroy You' [HBO]
There was no way I could have possibly predicted just how wildly successful WandaVision would be.
The first official live-action Marvel series to debut on the Disney+ streaming platform which depicts the relationship between a Sokovian woman with mutant abilities and her deceased synthezoid partner will certainly be a fun watch. I've enjoyed the Marvel Cinematic Universe and while I'm not a massive Marvel stan, I decided to give the show a chance... Although I doubted it would grab my attention as much as something like The Mandalorian did where I found myself counting down the hours until Friday.
... And then WandaVision hit and I found myself (yet again) counting down the hours until Friday. Damn it Disney, I have responsibilities! How dare you rope me into your premium original content with its remarkable intrigue and charismatic characters?!
Throughout the series, Elizabeth Olsen truly embodies every single facet of her character, Wanda Maximoff. Known in the comics as Scarlet Witch, I thoroughly enjoyed Olsen's appearances in the MCU; her heartbreaking goodbye to Vision (Paul Bettany) in Avengers: Infinity War and subsequent battle against Thanos during Endgame were undoubtedly enchanting.
As a casual viewer, I had exactly zero knowledge of what WandaVision would be but figured it'd be worth checking it out because of how much I adore Olsen as Wanda. While watching the series, I experienced virtually every emotion a human being could endure - I laughed, I cried, I was angry, confused, hurt, but perhaps the most important point of all, I... felt.
There was no conceivable way for me to believe I would become as emotionally attached to WandaVision as I did but alas, the undying power of the Marvel machine clung onto me as tightly as the Mind Stone on our beloved android's forehead.
As I mentioned, Elizabeth Olsen's performance throughout its nine episode run is nothing short of stunning. An aspect of the series I admired the most was its focus on Wanda's mental stability and just how much of an effect Vision's demise had on her. Wanda's physical prowess is never up for debate. Despite being the MCU's strongest Avenger, she is not invincible. Her weaknesses ultimately lie within her and after suffering as much catastrophic loss and trauma as she's endured, it's understandable why she'd go a little mad...
Yet while the viewer may empathize with her struggle, what is essentially holding hostage an entire town consisting of families and individuals with their own experiences is also not the best course of action to take.
WandaVision is at its best when it examines this turmoil and featuring this cast of utterly compelling women from Olsen to Teyonah Parris as Monica Rambeau and Queen Kathryn Hahn's equally stunning portrayal of Agatha Harkness firmly places it as one of the best shows currently on television.
I wanted to highlight five TV shows I believe would be spectacular watches after a WandaVision binge. Superhero-centric additions such as Agent Carter or Jessica Jones are not included in this list, however keep an eye out for a future article that will spotlight these examples.
What key elements are we looking for?
WandaVision contains a number of engaging factors found throughout the season. Wanda's character is complicated and mesmerizing; the intensity she expresses both outwardly and within herself are consistently on display which is where the show excels. The viewer becomes attached to Wanda and her journey from the first minute of the pilot and crave more from her after the end credits of the finale.
The following TV shows all contain women who are complicated and mesmerizing. They make mistakes, they're flawed. While they may fail at one aspect of their life, they excel at another. They feel real.
There are also other elements incorporated in them that follow a similar WandaVision formula including fantasy, the relationship between its leads along with examining how certain characters handle their respective grief. Without further ado, here are five TV shows worth a watch after your visit to Westview.
1. Chilling Adventures of Sabrina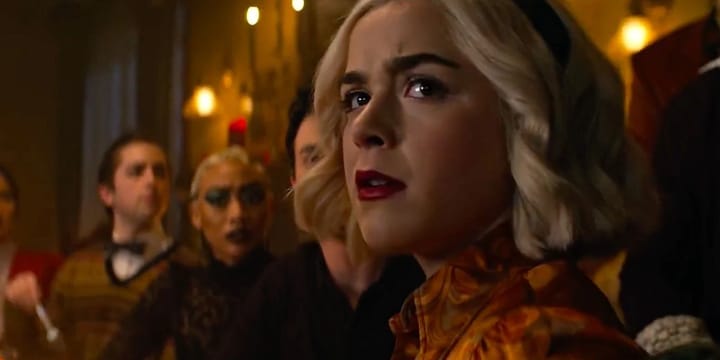 Based on the beloved Archie Comic series of the same name, Netflix's Chilling Adventures of Sabrina stars Kiernan Shipka as the titular teenage witch enduring various chilling adventures. Shipka truly shines as the adolescent human-witch hybrid and similarly to Wanda, Sabrina's attempts to balance her love life with her mystical abilities makes for an entertaining watch.
There is also some major Spellman magic sprinkled throughout the series which satisfies any craving a viewer may have for that fantasy goodness. I know I am not the only viewer who would tense up during every moment Wanda would boot up her Power Palms and I simply adore watching how an actress as talented as Shipka interprets her own Power Palms.
Perfect for those who loved WandaVision's: fantastical elements.
Check out Chilling Adventures of Sabrina on Netflix.
2. Dickinson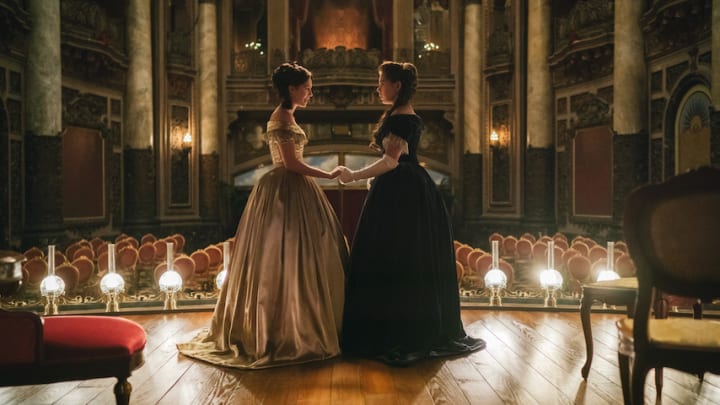 Dickinson is easily one of the best original programs offered at Apple TV+ thanks in part to Hailee Steinfeld's infallible performance as poet Emily Dickinson as well as how wholly unique this show is.
A Victorian era-set series featuring contemporary elements like twerking parties and occasional psychedelic instances of a talking bee and Wiz Khalifa as Death share the sentiment found throughout WandaVision where you find yourself occasionally thinking "... what is happening?!"
While the series focuses on Emily's poetry, its overarching significance is placed on how vital the relationship she shares with her secret-soulmate-turned-brother's-wife, Sue Gilbert (played exceptionally by Ella Hunt) is to her character as a whole. The chemistry felt between these two is absolute perfection and the way Emily's character develops throughout the show's two seasons (season 3 is confirmed!) all works as an incredibly enjoyable watch.
Perfect for those who loved WandaVision's: characterization and historic setting.
Check out Dickinson on Apple TV+
3. Killing Eve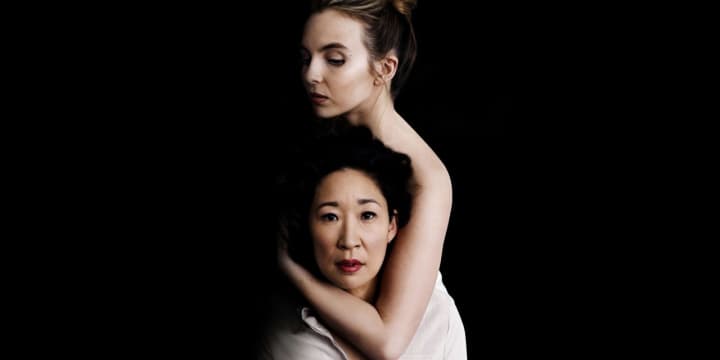 I'm not sure if you, dear Reader, share this trait of mine but I tend to laugh during uncomfortable or inappropriate moments...
When I'm watching a gritty movie and something horrendous happens on screen, I occasionally find myself inadvertently giggling and wondering what is actually wrong with me. Killing Eve follows an MI6 Agent named Eve Polastri (Sandra Oh) tasked with hunting down violent assassin, Villanelle (Jodie Comer), and there are random moments when I just burst out laughing.
There are some dark, reflective moments found in WandaVision and because I am the way that I am, I giggled uncomfortably during the dinner scene when a clearly distressed yet smiling Mrs. Hart repeated "stop it" while looking over at Wanda.
If you inexplicably find yourself agreeing with this experience of mine, Killing Eve would be a fantastic watch for you.
Perfect for those who loved WandaVision's: thrilling action and witty banter.
Check out Killing Eve on hulu.
4. Everything Sucks!
Netflix's decision to cancel this show will go down in (my) history as one of the worst cancelations they have ever executed.
Set in the now historic era of the 1990s, Everything Sucks! follows teen Kate Messner (Peyton Kennedy) as she navigates various high school antics paired with her growing feelings for her schoolmate, Emaline (Sydney Sweeney). While Kate and Emaline's personalities seem to be opposite each other, there is an unmistakable bond shared between them which is present throughout its ten episode run.
As we watch Wanda's continuous inner conflicts between holding Westview captive and her yearning for Vision, Kate's perpetual struggle with her sexuality is similarly palpable and watching how she evolves through the series is an unbelievable treat.
Perfect for those who loved WandaVision's: depiction of the lead's internal struggles and historic setting.
Check out Everything Sucks! on Netflix.
5. I May Destroy You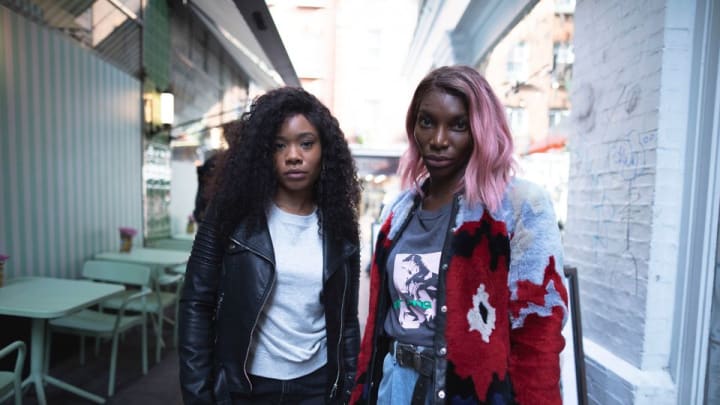 I went into I May Destroy You completely blind and by the end of the series, I was destroyed.
Of all the previous recommendations, this Michaela Coel drama is probably the one you least expected. I bring it up because WandaVision's exploration of how an utterly broken woman ultimately comes to term with her grief is a major theme found in I May Destroy You. Coel's gripping portrayal of Arabella Essiedu is a phenomenal yet incredibly difficult watch because of how raw her trauma is.
While its content may be a bit heavy for a Family TV Night, it is quite frankly a crucial season of television that is a must-watch for anyone remotely intrigued by complex characters who are fleshed out and feel real.
Perfect for those who loved WandaVision's: exploration into grief.
Check out I May Destroy You on HBO Max.
Consuming any forms of media which explore the complexities of its characters - particularly those who are women - and actually depicts them to be legitimate human beings with their own feelings, strengths and weaknesses is absolutely vital if we want these kinds of stories to continue being developed.
I hope these suggestions serve as a starting point for those interested in bewitching storytelling.
***
Thank you for reading!
If you like anything found in this piece, please click that little heart on the screen. I'd love to know any thoughts you have on the recommendations or suggest some of your own over on Twitter!
About the Creator
Afghan-Canadian writer who enjoys witty quips and BTS, proper grammar and Jodie Comer.
I tweet with @MrsBananaPhone because it's the best and beats the rest.
I also have designs: https://www.teepublic.com/user/designingsimple
Reader insights
Be the first to share your insights about this piece.
Add your insights