3 Reasons to Watch Netflix's 'Money Heist' [La Casa De Papel]
An incredible recommendation!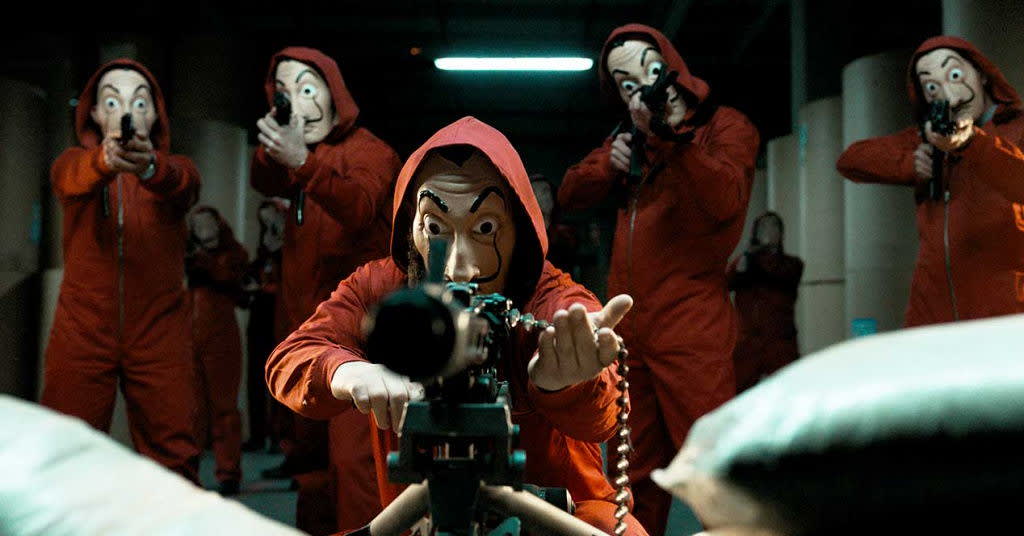 "Casa De Papel" by Portal GDA on Flickr
Money Heist, a Netflix Original, is an English-dubbed Spanish heist TV show.
And it is excellent.
Originally titled "La Casa De Papel" - which translates to The House of Paper - this epic Netflix show was released in 2017, and consists of two seasons, both split into two parts. It follows the story of The Professor and his eight accomplices, criminals who use city names as code-names and all share the ambition to pull of the greatest and biggest heist in the history of heists.
I won't bore you with the technical stuff, and I definitely won't drop any spoilers, but as someone who recently finished the series, I need to share my love for Money Heist with the world. So... here are three reason to watch Money Heist:
1. The story-line
Season one follows The Professor and his eight criminals - Tokyo, Rio, Berlin, Moscow, Denver, Helsinki, Olso and Nairobi - as they enter the Royal Mint of Spain and pull off a heist that'll make you think "damn, could someone do that in real life?!". There's sixty-seven hostages and only eleven days to print as much money as possible, what could go wrong?
Another thing about the story-line that I love is the choppy flashbacks and time-jumps that allows the narration to be so effective. The show often features a voice-over from the female accomplice Tokyo, who is an unreliable narrator. This makes the show so much more interesting and it's done very cleverly.
As I said in a previous article "Ocean's Eleven, But Make It Spanish", the thing that makes the story-line so brilliant is the fact the writers wrote it all as they went along. The actors only got their scripts on the day of filming and the writers just wrote everything on the cuff. Nothing was planned and that's what blows my mind.
2. The music
Let me start off with the opening theme: "My Life is Going On" by Cecilia Krull. There's something about it that is just beautiful. The lyrics, the addition of the opening credits in all its glory, it really is something special. If you're in a certain kind of mood, this song might make you cry (sorry!).
As well as "My Life is Going On", Money Heist also features the Italian song "Bella Ciao". The actors themselves usually sing this song and it is weaved throughout the episodes soundtracks and is a continuous symbol throughout the series.
One other song, that I find particularly hard to talk about, is "Delicate" by Damien Rice. OOOOFFF. As someone who hasn't watched Money Heist yet, you won't know what this song means. But you will...and it will hurt. A LOT.
3. The actors
Okay, don't judge me!!
I have never watched any Spanish TV show before but BOY what is in the water over there? Every single one of the main actors is a damn treat to look at, as well as them being very talented. All I'm saying is, if Jamie Lorente (Denver) was my kidnapper, I'd probably fall in love too.
Even if you don't care about the story-line, or the music, just watch the show for the people. They're beautiful and they deserve more attention than they get.
In all honesty, I could give you 10000 reasons why you should watch Money Heist. But to do that I would pour out my heart and soul and give you an intricately detailed explanation as to why I love every single character. And for you, that would be boring.
So...we'll keep it to three reasons to save your ears being chewed off by my constant Money Heist chatter.
Enjoy watching!
-
If you enjoyed this recommendation then make sure to leave this article a little heart to show your love! Tips are greatly appreciated, and as I can't pull off a bank heist and get lots of money, I need all the help I can get!
If you have anything else to add, or if you just want to chat about the show feel free to DM me @leighooper on Twitter or Instagram! Even pop me a follow if you're interested in the author behind the article!
Here's some other TV show reviews I've written:
WandaVision and The Female Identity
My Guilty Binge-Watch Show: MTV's 'Teen Wolf'
5 Perfect Netflix Original's That'll Sure Self-Isolation Boredom
Thanks for reading, see you soon!