22 Animated Zombie Films Fans of the Undead Have to Watch!
Anyone that finds themselves fascinated with zombies, flesh-eating corpses, or the living dead should absolutely check out these 22 animated movies.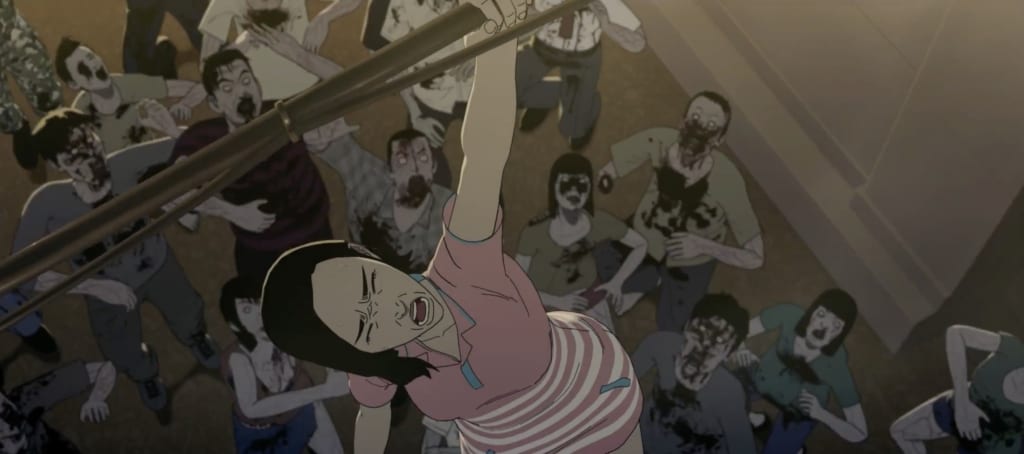 Seoul Station (2016)
There is no shortage of live-action zombie movies ready to enjoy right now by fans all over the world. Memorable titles like Shaun of the Dead, Resident Evil, Night of the Living Dead, and Planet Terror, among many others, have showcased some of the best stories involving all kinds of cannibal corpse mayhem.
But many fans of the zombified genre probably think that there aren't many undead features in cartoon form. Those individuals would be mistaken because there is definitely an ample amount of animated movies with intriguing narratives involving flesh-eating zombies, and below, living dead enthusiasts will find an impressive list of these exciting titles.
Seoul Station (2016)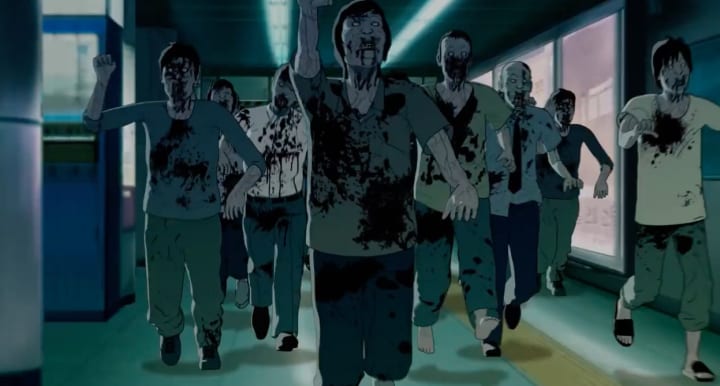 The South Korean live-action zombie film Train to Busan was a massive, record-breaking success worldwide that won several awards and earned significant critical acclaim. A standalone sequel, Train to Busan 2: Peninsula, followed, but some people may have missed the prequel feature Seoul Station, which arrived on the scene a month after the original made an impact with audiences.
Highlighted by some truly stellar animation, Seoul Station's riveting story follows several characters, including a father looking for his runaway daughter who is working as a prostitute fro a less than ideal boyfriend. But things take an intriguing turn when the zombie outbreak begins to emerge, and all chaos ensues as a result. Overall, the film has an impressive score on Rotten Tomatoes and made almost four times its budget at the box office, adding to the many reasons fans of the franchise, as well as zombie lovers in general, need to have this animated cannibal corpse title on their radar.
Resident Evil: Vendetta (2017)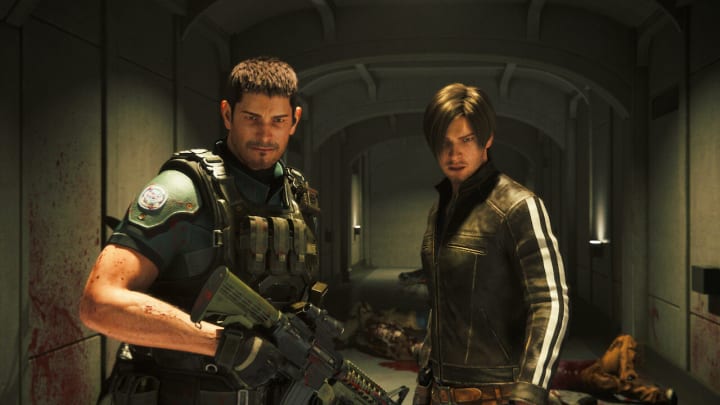 Resident Evil has spawned a plethora of video games and movie titles for zombie fans to enjoy. But gamers looking for flicks that directly relate to the games they love should check out their computer-animated features, including Resident Evil: Vendetta, which takes place between the games Resident Evil 6 and Resident Evil 7.
In Vendetta, A death merchant attempts to disperse a killer virus on the people of New York, but luckily franchise veteran Chris Redfield has enlisted the help of fan favorites Leon Kennedy and Rebecca Chambers to make sure that horrible ordeal doesn't go down. The action sequences are nothing short of spectacular, and if fans enjoy the cutscenes witnessed in the survival horror games, this Resident Evil endeavor will most assuredly not disappoint.
Resident Evil: Degeneration (2008)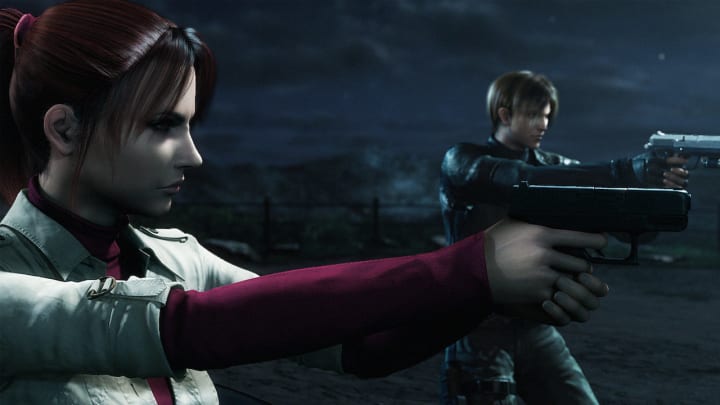 The adult animated feature is the first motion picture released that is set within the same universe as the best-selling video games franchise. The story is set one year after the events that took place in the groundbreaking game Resident Evil 4 and saw iconic characters Leon Kennedy and Claire Redfield reunited since they first encountered one another in the legendary video game Resident Evil 2.
The first full-length motion capture CG animation endeavor followed Leon and Claire, who are brought back together to investigate a T-Virus outbreak that occurs at an airport. From there, Degeneration excels at offering an all-out action-packed thrill ride with plenty of chills, thrills, and zombie chaos fans of Resident Evil will find very familiar. Undead aficionados would be wise not to sleep on this exceptional motion picture.
Resident Evil: Damnation (2012)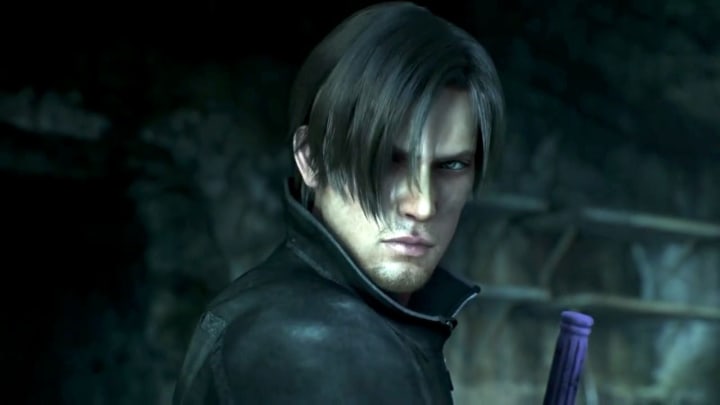 Out of all the animated RE movies, Resident Evil: Damnation has the best Rotten Tomatoes score and was called "the best Resident Evil movie to date" by IGN. The events of this very well-received cartoon-clad iteration of the popular franchise takes place between the video games known to fans as Resident Evil 5 and Resident Evil 6. This time around, it's Leon Kennedy back in action, but Ada Wong is along for the ride in this excellent zombie affair.
With the animation being a much-improved step up from its predecessor, Degeneration, zombie fans can be assured that all of the suspense, exhilaration, and twists from the games are front and center in Damnation, making it an above-average choice from start to finish. Anyone looking for an experience very similar to the zombie mayhem found in the popular video game franchise should not miss this Resident Evil feature.
Corpse Bride (2005)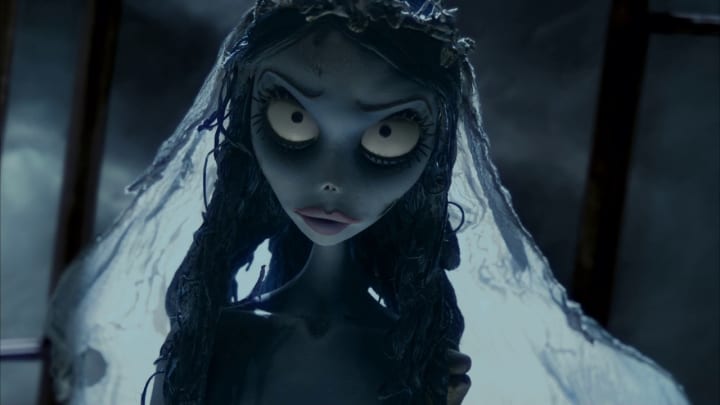 There is presumably no better example of an amazing zombie animated feature than that of Tim Burton's musical dark fantasy Corpse Bride. The darkly enchanting tale follows a shy groom voiced by Johnny Depp, who ends up marrying a deceased young woman, resulting in a marital affair filled with all kinds of beautifully wretched undead creations from the master himself.
The critically acclaimed gem was nominated for an Academy Award while also winning several other prestigious accolades. The highlights for this heartfelt cannibal corpse story include the hauntingly gorgeous visuals, crafty ghoulish creations, and pitch-perfect music that make this Burton movie such a delight. The stop motion animated flick is the same as the classic film The Nightmare Before Christmas, and any zombie fan that found that horrific holiday tale enjoyable is sure to find every second of Corpse Bride just as good, if not better.
Dead Space: Downfall (2008)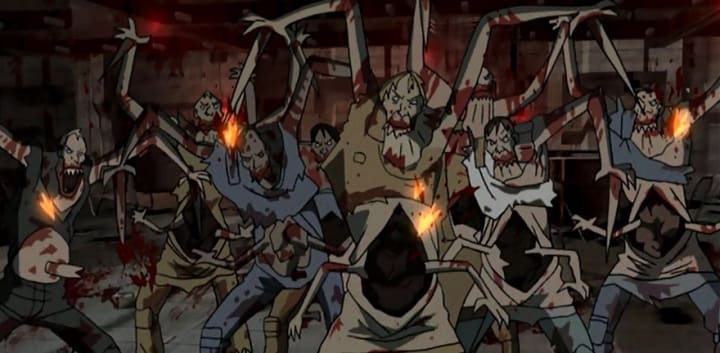 Zombie fans are most assuredly well-aware of the reanimated mutated corpses called Necromorphs terrorizing players in the popular Dead Space video game series. That is precisely why the prequel animated feature Dead Space: Downfall is a must-watch endeavor for fans of both the franchise and anything relating to the undead genre.
The sci-fi psychological thriller is a prequel to the first game and follows the events of the limited comic series. The terror is just as real as the extremely popular survival horror games with some highly praised animation and voice acting. Not to mention that the Necromorphs make most zombies look pretty tame, which adds to the many reasons cannibal corpse enthusiasts would find Dead Space: Downfall terrifyingly entertaining and a nice change of pace for what they are probably used to viewing.
Zombillenium (2017)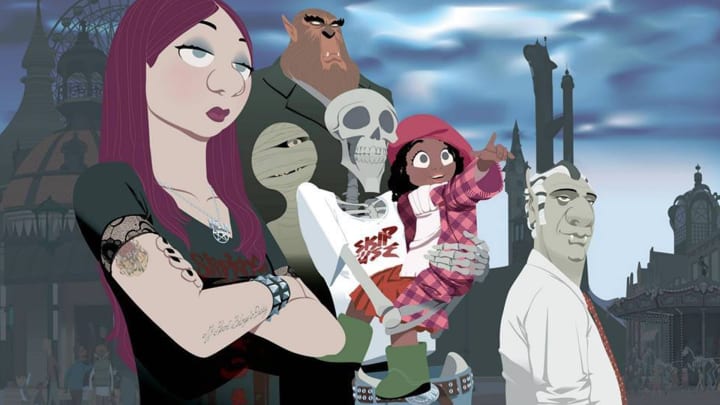 Zombillenium is a 2017 French-Belgian animated zombie feature that is based on the comic series with the same name that received a special screening at the 2017 Cannes Film Festival. The delightful film takes place at a Halloween Theme park with the titular name that is the only place where monsters don't have to hide and can enjoy the festivities in plain sight.
Among the many workers at this beautifully realized amusement park, several are, in fact, cannibal corpses, offering up a much different take on zombie entertainment. The easy-to-absorb 78-minute story is an entertaining affair with tons of laugh-out-loud moments resulting in a fun-filled ride that, for some, will most assuredly warrant repeat visits to Zombillenium.
ParaNorman (2012)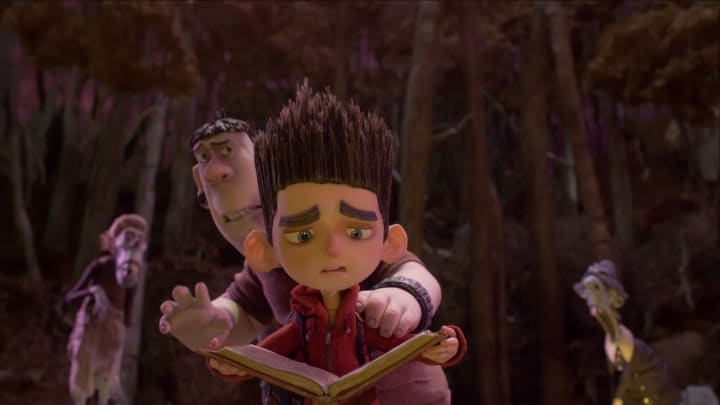 The incredibly talented stop motion artists at Laika delivered a fantastic cinematic endeavor called ParaNorman that featured an engrossing story of a boy forced to go up against zombies, ghosts, and grown-ups in order to stop a centuries-old curse that took his Massachusetts town by surprise. While the narrative is an absolute blast, the voice cast is exemplary, led by The Power of the Dog's Kodi Smit-McPhee and also including the talented vocal efforts of Anna Kendrick, Christopher Mintz-Plasse, Leslie Mann, Alex Borstein, and John Goodman, just to name a few.
Not only does the critically acclaimed movie ParaNorman have an excellent score on Rotten Tomatoes, but the feature also won several impressive accolades. In addition, the film was nominated for the Best Animated Film honor at both the BAFTA Awards and the Academy Awards. The brilliant story and wonderful animation make ParaNorman a solid win for any zombie fans in the mood for a family-friendly feature with an undead heartfelt tale.
Frankenweenie (2012)
The 2012 Tim Burton-directed 3D stop-motion-animated feature Frankenweenie is both an homage and parody of the 1931 classic film Frankenstein based on the 1818 Marie Shelly book and a feature-length version of the 1984 short film from the acclaimed filmmaker. The magnetic story, done superbly in black and white, follows a boy named Victor Frankenstein who uses electricity to resurrect his dog leading to others doing the same zombie-creating experiment resulting in some wacky undead shenanigans.
Some of the many reasons to watch the movie include the well-crafted visuals, heartwarming, laugh-out-loud narrative, and solid vocal performances from Catherine O'Hara, Martin Short, Martin Landau, and Winona Ryder, just to name a few.
Frankenweenie also won the coveted Saturn Award for Best Animated Film and received a nomination for the top honor for animation from the Oscars, Golden Globes, BAFTAs, and Annie Awards. In addition, the critically acclaimed family-friendly feature full of ghoulish undead fun is Certified Fresh on Rotten Tomatoes, adding to the many reasons zombie fanatics should have it high on their watch list.
The Empire of Corpses (2015)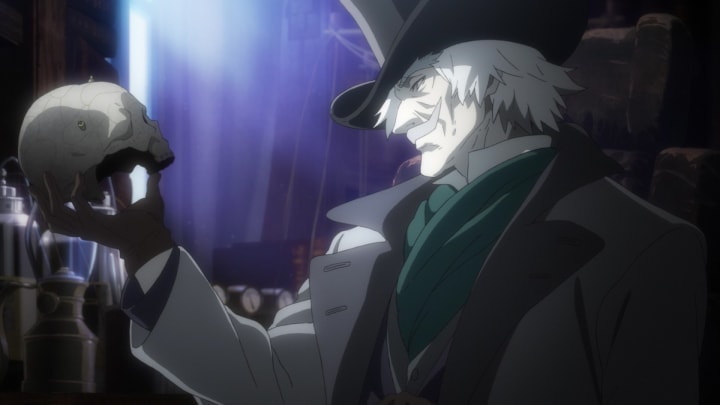 The Empire of Corpses is undeniably unlike any other zombie feature out there, and the 2015 sci-fi adventure anime is an absolute hidden gem for fans of the undead genre. The film is part of a series of movies based on novels written by Project Itoh and takes place in an alternative timeline where Victor Frankenstein develops a method to reanimate corpses with artificial souls called Necroware that eventually can be upgraded like computer programs.
In the animated motion picture, Jonathan Watson is caught conducting the resurrection process in an illegal manner and forced by the British Secret Service to acquire The Memorandum, Frankenstein's research on reanimating the dead. The Empire of Corpses' instantly riveting story will keep viewers hooked for the 126-minute runtime, and fans will most assuredly not be disappointed by this unique zombie flick.
Scooby-Doo on Zombie Island (1998)
Scooby-Doo, Shaggy, Velma, Daphne, and Fred were notoriously known for solving mysteries in their famous cartoon that began airing episodes back in 1969. The crew made the jump to direct-to-video VHS in 1998 in the animated feature Scooby-Doo on Zombie Island after not being seen together since 1984.
The exceptional story with plenty of zombie action for fans and impressive animation were among the things revered by critics, and the sales for the 77-minute VHS film were very high. Scooby-Doo on Zombie Island, which has a stellar Rotten Tomatoes score, stands out from other titles in the popular kids' franchise as being much darker in regards to tone and also featuring actual supernatural creatures rather than the normal run of the mill bad guy wearing a costume and mask type the Mystery Machine crew is usually seen dealing with in past iterations.
Scooby-Doo! Return to Zombie Island (2019)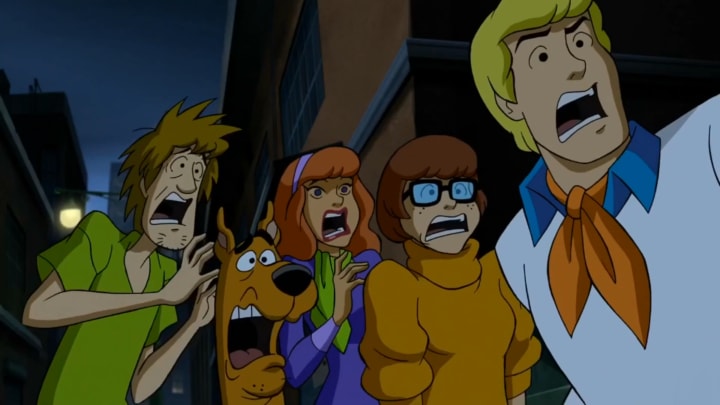 When it comes to zombie titles of the animated variety that fans should not sleep on, not many would have expected there would be two on the list from the Scooby-Doo franchise. But Scooby-Doo! Return to Zombie Island is yet another exceptional cannibal corpse-filled cartoon entry that is an easy-to-absorb delightfully entertaining endeavor with a cool 80-minute runtime.
The animated direct-to-video sequel to the critically acclaimed 1998 film Scooby-Doo on Zombie Island is yet another excellent adventure featuring Scooby, Shaggy, Daphne, Fred, and Velma. This time the gang is called back into action while enjoying retirement and are forced to solve a mystery on a familiar zombie-infested island. Mathew Lillard, who played Shaggy in the live-action films, voices the character once again for an added bonus!
Night of the Animated Dead (2021)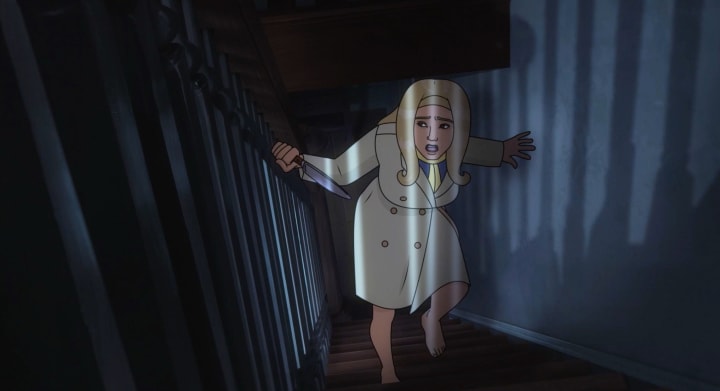 Night of the Animated Dead is a dark, animated retelling of the 1968 cult classic Romero flick Night of the Living Dead that has a runtime of 77 minutes and contains new content that can't be found in the original. The adult-oriented cartoon feature has a noteworthy cast consisting of big names like Josh Duhamel, Katee Sackhoff, Will Sasso, and Jimmi Simpson.
The reviews for Night of the Animated Dead on Amazon would lead one to believe this is a fan favorite, especially for those that love the work of George A. Romero. Cannibal Corpse fanatics, Undead enthusiasts, and cartoon movie buffs would be wise to keep this notable zombie-infested feature of the animated variety at the top of the list for their flesh-eating movie night festivities!
Daddy, I'm a Zombie (2011)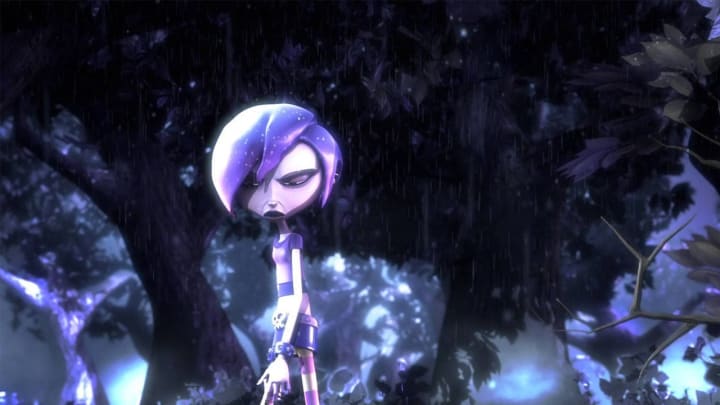 The Spanish animated comedy Daddy, I'm a Zombie follows the misadventures of a teenage girl named Dixie grim as she acclimates to her new life as a zombie. Along the way, she encounters a mummy named Isis, an undead pirate named Gonner, and an evil witch Nebulosa resulting in a visually impressive feature with great music, tasteful cinematography, memorable characters, and an enjoyable story.
Daddy, I'm a Zombie was nominated for several awards and accolades, including the Best Animated Film honor at the Cinema Writers Circle Awards in Spain. In addition, the animated endeavor also received acclaim from Common Sense Media for its well-crafted depiction of Zombies learning to become friends, but also mentioned there was an abundance of cartoon violence, which could be a suitable thing depending on one's preferences.
Mummy, I'm a Zombie (2014)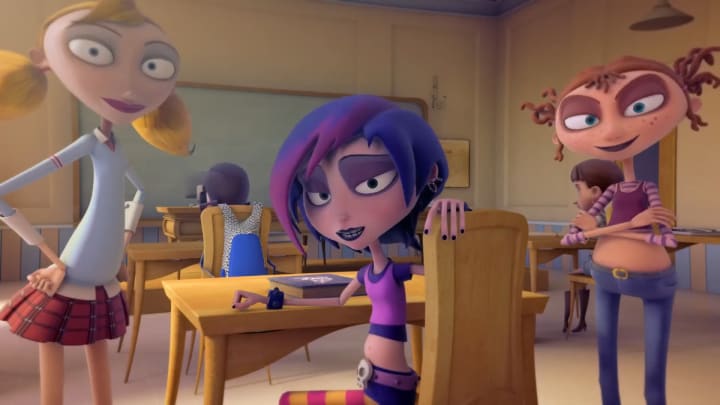 For those that think zombie life is just eating brains and avoiding headshots, think again! The stakes have never been higher in the world of Dixie Grim as the sequel to Daddy, I'm a Zombie, appropriately titled Mummy, I'm a Zombie has the teenage living corpse fighting for the fate of the world once again as she attempts the perilous challenge of ending the warfare between the living and the dead for good. But that's not all, as she also has to balance her campaign for student council and maintain her popular social status with her classmates.
After premiering at the San Sebastian International Film Festival, the fun-filled cartoon feature received praise from critics who compared it to titles from Walt Disney, DreamWorks, and more specifically, Tim Burton's The Nightmare Before Christmas and Corpse Bride. All in all, it is hard to argue that the 82-minute sequel is a worthy watch for zombie fans.
Gyo: Tokyo Fish Attack (2012)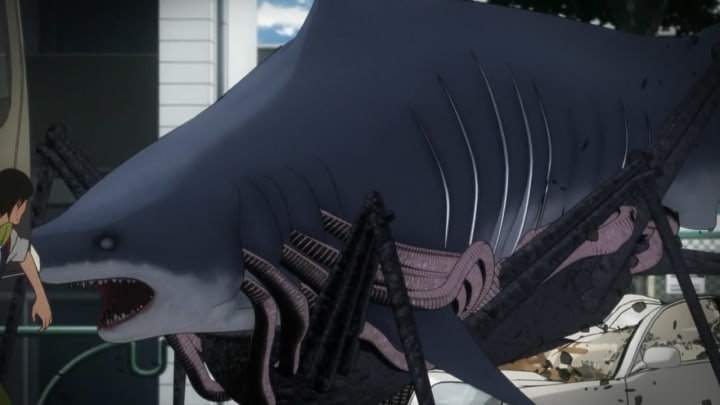 Most zombie films focus on humans coming back as undead cannibals, but Gyo: Tokyo Fish Attack changes things up in a very fishy way. Instead of people being the flesh-eating living dead, this particular feature has zombie fish with robot legs running wild in Japan, causing all kinds of mayhem and chaos.
Gyo: Tokyo Fish Attack follows a group of friends who are celebrating a job well done after graduation when hordes of undead fish that can walk begin to invade, causing them to drop everything and focus on survival. The story is based on the horror seinen manga written and illustrated by Junji Ito and will definitely offer zombie fans a one-of-kind experience they will most assuredly not find anywhere else.
Black Butler: Book of the Atlantic (2017)
The Japanese animated feature film Black Butler: Book of the Atlantic is yet another fine example of cartoon zombie cinema with some excellent visuals and a very unique direction in terms of the narrative. The high-rated 2017 supernatural disaster flick is based on the Black Butler manga and covers the sixth arc of the popular series.
In the animated movie Black Butler: Book of the Atlantic, Ciel, Sebastian, and Snake investigate claims that the dead are being reanimated on a luxury liner. When the group arrives, they encounter much more than they originally bargained for, resulting in an incredibly engrossing ride for its 100-minute runtime.
Dead Space: Aftermath (2011)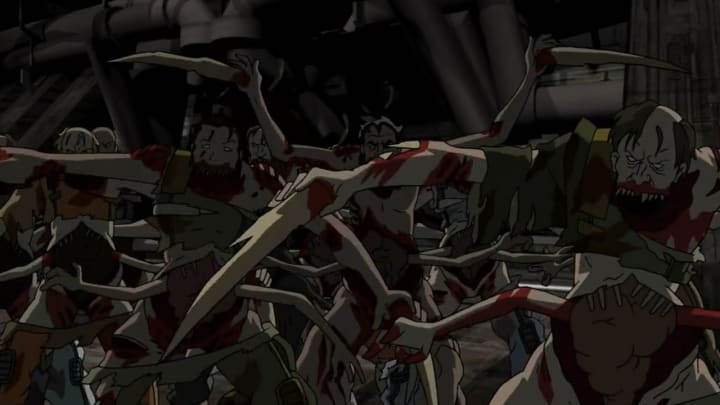 It has already been established that Necromorphs from the Dead Space franchise are basically mutant zombies on steroids that take much more than a headshot to takedown. These formidable reanimated corpse monsters are on hand for even more mayhem in Dead Space: Aftermath.
The sci-fi zombie horror flick takes place prior to what went down in Dead Space 2 and follows the interrogation of four individuals that describe the events of a Necromorph outbreak. The end result is some solid Dead Space storytelling, horrifying imagery, and stellar animation that makes Aftermath an exceptional choice for zombie movie fans looking for an out-of-this-world experience!
The Last Kids on Earth: Happy Apocalypse to You (2021)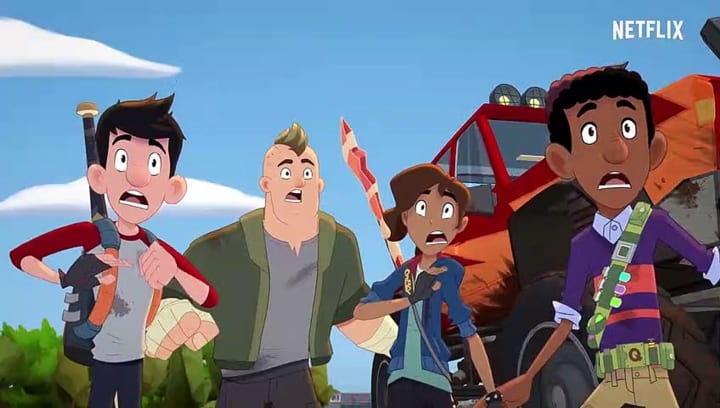 The Last Kids on Earth: Happy Apocalypse to You is, without a doubt, a family-friendly zombie affair that the whole family can enjoy. The twenty-seven-minute interactive special is a spinoff type deal of the popular Daytime Emmy-winning Netflix animated series The Last Kids on Earth.
Viewers are allowed to play along in this fun-filled zombie adventure as Jack and his friends attempt to throw the best post-apocalyptic birthday celebration for June. There is no denying that The Last Kids on Earth: Happy Apocalypse to You is a worthwhile experience that fans will find themselves replaying over and over again.
City of Rott (2006)
When it comes to 2D limited animation like that of South Park, Frank Sudol's City of Rott does it right in so many ways, and the final product is something hardcore zombie enthusiasts will absolutely appreciate. The intriguing narrative follows an old man in desperate search of a new pair of shoes who must venture out into the zombie-ridden City of Rott armed with his trusty Walker by his side.
The international cult hit City of Rott has been described by critics as being a "Blood-splattered blast from beginning to end that's heavy on the sick," and that the entire affair should be noted for "its fun concept, clever execution, unique animation, and tons of gooey gore." The unrated 78-minute animated movie doesn't hold back and will definitely check a lot of the necessary boxes when it comes to finding an entertaining zombie experience.
City of Rott 2 (2014)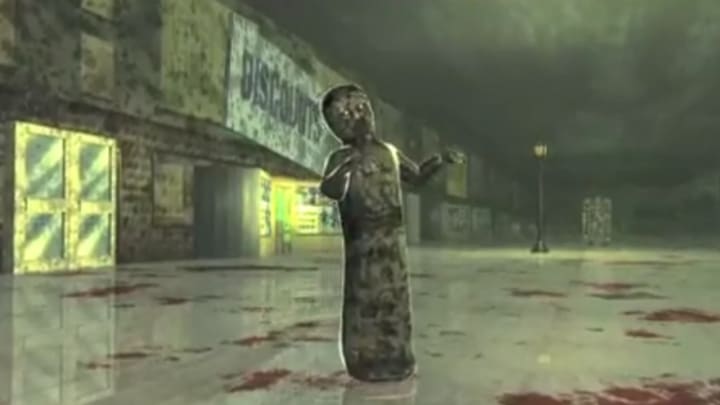 The sequel to Frank Sudol's international cult hit is yet another fine example of unrated 2D animated horrific mayhem that fans of the original and all things zombie will absolutely enjoy. City of Rott 2 has plenty of gore, action, and flesh-eating monsters to make it a worthwhile affair for fans of the genre.
City of Rott 2 follows a soldier named Max who teams up with the Walker-wielding wiseman from the first flick to find a cure, stop a deadly assassin, an alien UFO, an entire army of his former fellow soldiers, and a city filled with cannibal corpses. Sudol's sequel packs a serious punch and raises the stakes for fans in the 85-minute follow-up.
Dead Fury (2008)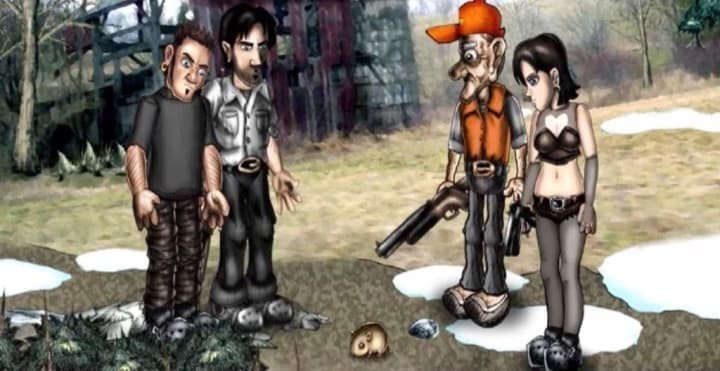 Before City of Rott 2, Frank Sudol gave the world Dead Fury, an 82-minute animated horror-comedy parody of such classical horror flicks such as The Hills Have Eyes and The Evil Dead. The story is filled with the gore and the animation style the solo filmmaker is notoriously known for employing in his cult classics, and there is plenty of freaky action from demons, zombies, and other horrifying creations.
Sudol's 2008 cartoon cinematic endeavor was deemed flawless by the folks at Dread Central, and Fatally Yours claimed the entire ordeal was leaner and meaner than City of Rott. Between the acclaim, source material, execution, and storyline, there are a number of reasons zombie fanatics should not sleep on Dead Fury.