5 Phenomenal Flamethrower scenes in movies
Things really heat up in these intense movie scenes depicting some fantastic Flamethrower use.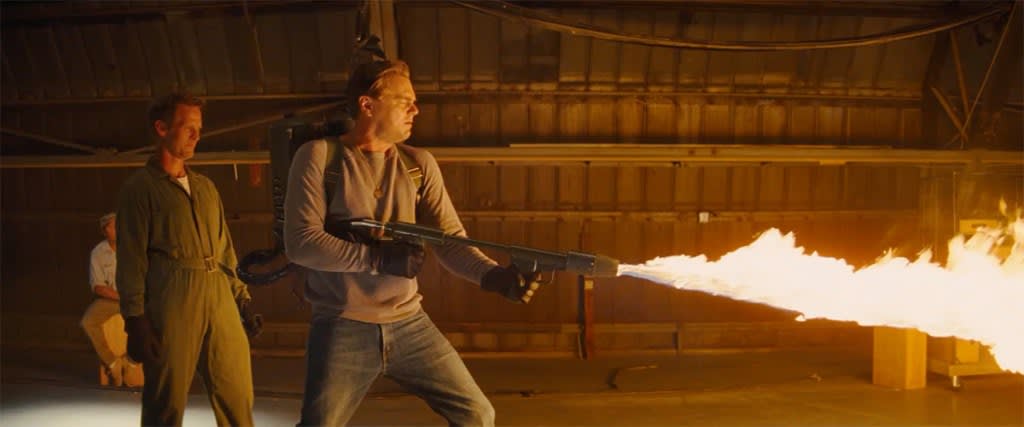 Flamethrower Scene from 'Once Upon a Time in Hollywood'
From mini-guns to blasters, the movies have showcased some pretty amazing weaponry over the years. There is no shortage of scenes with excellent firearm action, but the one means of sensationally entertaining cinematic-style destruction is that of the dreaded flamethrower.
At one point, to shoot fire was only for dragons and members of the Fantastic Four. Then in 1900, German engineer Richard Fiedler said, "Hold My Beer," and gave man the ability to hurl flames like a boss. Of all the times the act of wielding such an impressive weapon was conducted in motion pictures, here are some worthwhile endeavors to mention that execute Flamethrower use in what many will agree is nothing short of an above-average manner.
Overlord (2018)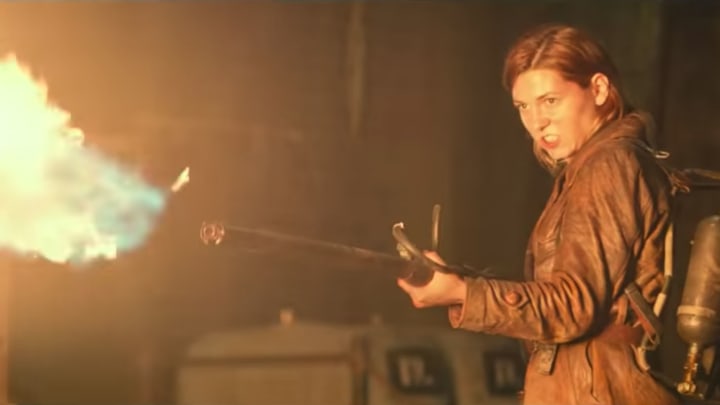 Many would claim that headshots are the best way to get rid of zombies, but there are some out there that would argue that burning them to a crisp is also a surefire way to expire the living dead. An example of this method is done superbly in the 2018 movie Overlord.
In the scene, Chloe, played by Mathilde Olliver, is being chased by a nazi zombie, and luckily for her, she finds the perfect tool to exterminate the incoming, flesh-eating problem. With sheer intensity in her eyes, she scorches her undead fascist assailant in magnificent fashion, making the flamethrower a must-have for any zombie survival kit.
Once Upon a Time... in Hollywood (2019)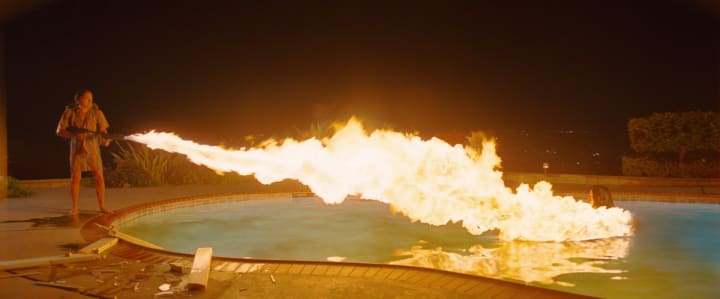 The only thing better than fighting Nazis on fire is burning Manson's murderous boneheads to a crisp in the Hollywood hills, or at least Quentin Tarantino seems to think so. The Academy Award winner's Once Upon A Time... in Hollywood has a lot of memorable moments, especially the ones including Leonardo DiCaprio wielding his character's very own flamethrower.
In the film, in order to prepare for a role, DiCaprio's Rick Dalton got real familiar with the fire-blazing weapon and even kept it after production. Good thing he did because when he gets attacked by Manson's stab-happy cronies, the once dubbed movie prop comes in real handy when dealing with his unwanted guest.
Alien (1979)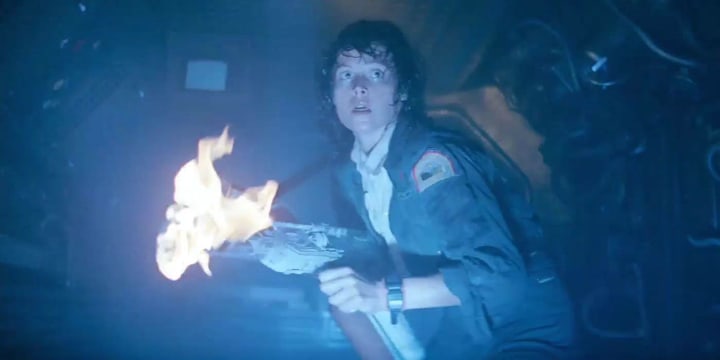 The Xenomorph from the Alien franchise is an unstoppable force to be reckoned with, and some have even described it as the perfect organism. But one thing that double-mouthed monster is not a fan of is fire, and that means it is just as afraid of flamethrowers as everyone else is of it.
In the 1979 classic sci-fi horror feature Alien, after the Xenomorph burst from Kane's chest, Dallas orders that Parker put together three or four custom-built flamethrowers or incinerator units to combat the target. Unfortunately, Dallas died in ducts before he could do any damage with the weapon. But Parker gets some good use out of it when he incinerates Ash. But the true standout is when the one and only Ripley uses it on the Alien in dramatic fashion, solidifying the flamethrower as a solid instrument in the fight against monstrous extraterrestrial hostiles.
Mad Max: Fury Road (2015)
One epic moment in film history involving the rather unique use of a flamethrower comes in the action-packed thrill ride Mad Max: Fury Road. There is no shortage of impactful scenes in George Miller's 2015 Oscar winner, and the scorching truth is that one particular part rocks harder than the rest.
Smoke and fire shoot out of several vehicles throughout the thrill ride, but one blaze of glory that deserves all the attention is the flamethrower guitar. Standing on the roof of one of the tricked-out post-apocalyptic rides, but instead of weapons, it's rigged with a ton of speakers to amplify his scorching sound while relentlessly shooting flames into the sky in a glorious fashion, making a definitive case to be on this coveted list.
The Thing (1982)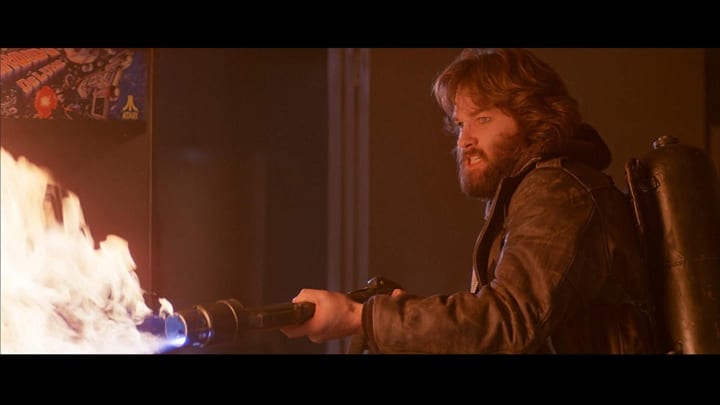 The M2A1-7 flamethrower is used by Kurt Russell's character MacCready in the 1982 John Carpenter classic The Thing. While the legendary picture gets some much well-deserved credit for its iconic special effects, its use of the fire shooting weapon is also something that should be revered by all.
An alien being that can take on the forms of other animals and people in a rather grotesque fashion is definitely an adversary that would require some serious firepower. In the film, the grounded flamethrower action is exhilarating, and the way it adds to the dark tone and the suspenseful atmosphere is most assuredly what makes The Thing the undisputed champ when it comes to the use of the scorching tool of destruction in the history of cinematic achievements.
Reader insights
Outstanding
Excellent work. Looking forward to reading more!
Top insights
Easy to read and follow

Well-structured & engaging content

Excellent storytelling

Original narrative & well developed characters

On-point and relevant

Writing reflected the title & theme
Add your insights