11 Nigerians React to 'Demonic' Charlie Charlie Spirit Game.
From Brighto to Praiz.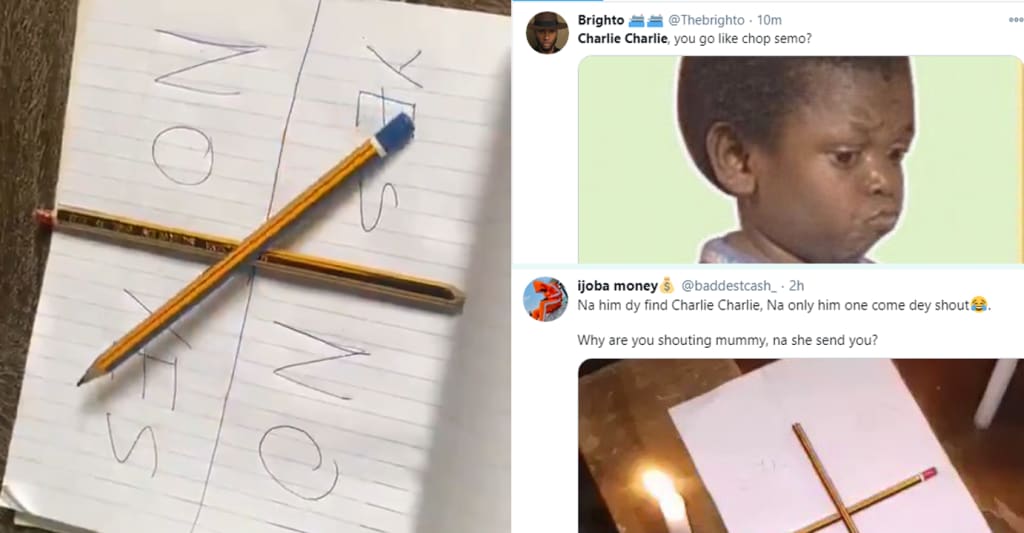 From Brighto to Praiz.
With every new day comes a new set of trending lists on Nigerian Twitter.
Today, the topic on everybody's lips and yes, the number 1 trend in the country at the moment is Charlie Charlie. Everybody is talking about it.
So before we go into the conversations and what people are saying? Let's first talk about exactly what Charlie Charlie is.
According to Wikipedia, the Charlie Charlie challenge is a modern incarnation of the Spanish paper-and-pencil game called Juego de la Lapicera (Pencil Game). Like a Magic 8-Ball, the game is played by teenagers using held or balanced pencils to produce answers to questions they ask.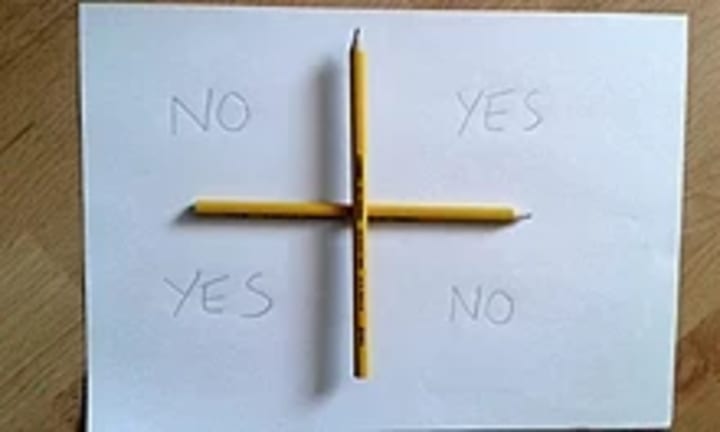 Quite simply, the game is played by stacking two pencils, one above the other on a 2x2 grid of Yeses and Nos. Players then ask questions to Charlie who moves the pencil to either a yes or a no.
As you can imagine, the game has been branded as 'demonic', 'spiritual', and 'not to be played' as it calls on the spirit of Charlie to answer these questions.
If you want a visual explanation of this, then here is a Twitter video explaining the game.
Now that I'm assuming you understand the game, how it is played, and what it is about – let's get to the reactions.
When a game like this enters into the Nigerian space, you already know that the jokes are going to be lit. Here are 11 Nigerian Reactions to Charlie Charlie. Trust me, they're good!
**Before reading on, please make sure to like and follow my Facebook page so you don't miss out on any new and interesting lists, articles, and stories that I post every single day. I have a really fun page. If you like my page, you will have fun too. So what's stopping you? Like my page and let's have fun together!
1. Brighto
Big Brother Naija contestant, Brighto upon seeing the trend had to jump in. The funny BBNaija star tweeted:
2.
This man on Twitter set up the Charlie Charlie game and went on to ask Charlie some questions. Watch.
3.
There is this funny meme about the only benefactors of this trend being pencil sellers which is actually funny because it's true.
4.
These Marlians summoned Charlie Charlie to their Marlian hangout and it looks like Charlie Charlie smokes loud 😂
5.
Then there's this video 😂
So funny! Even Charlie says no to yahoo!
6. Praiz
Another Nigerian celebrity, Praiz, also got into the jokes and posted this meme.
7.
This video! When I tell you guys I cannot with Nigerians abeg! Not Goya Oil!
8.
This Twitter user is sounding an alarm.
and this user is giving a visual.
9.
There are these group of people summoning Charlie Charlie in Mushin and it looks exactly as it sounds - only funnier.
10.
There were these Twitter users for whom it was all fun and games until they were running.
11.
And finally there is this person who nobody sent work – but alas, he too had play.
This was so funny and I'm actually happy it is trending because it is by far one of the funnier trends I've seen on Twitter in a while. You can trust Nigerians to turn anything into fun and games and as usual, my people didn't disappoint this time around. So so funny!
That's All.
I hope you've had fun. Don't forget to like my page if you don't already for more stories like this, the fun never ends!
To catch up other content you might have missed, click here.
Until next time, have a wonderful rest of your day.