What happened to the Habbo Hotel?
Do teenagers still play this game?
What is Habbo Hotel?
Habbo is a social network service and online community aimed at teenagers. The website is owned and operated by Sulake, a Finnish corporation under the Azerion network.
The service allows users to create their own Habbo character and design hotel rooms, meet new friends, chat with other players, organize parties, look after virtual pets, create and play games, and complete quests. The game became popular in 2012 having around 273 million players. The ages of the players are between 13 years old and 18 years old.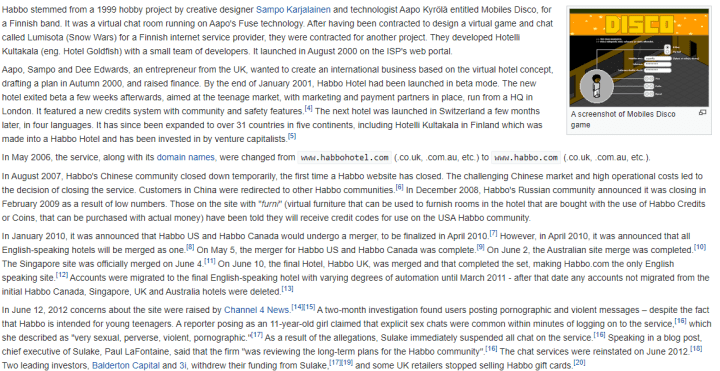 Why shouldn't it be allowed minors of 18?
I won't lie. The first time that I heard about Habbo Hotel was through a commercial back in 2012 or 2013. I wasn't eighteen at the time, but I was curious to play since they portrayed it as a game that everyone could join. Little that I knew was that the game was full of gamers of eighteen and over, but they also were kids of the same age as me or younger. I didn't think of it as anything wrong. I was like, "oh, they are all role-playing and that they are just playing to have a good time." It wasn't until I meet someone older than me, and it wasn't pleasant. He was asking for my social media, and if I was interested in, you know...having a sex chat. A great mother raised me, and thanks to that, I, of course, said no, and explained myself. I was scared, because how could somebody older than me ask such a thing as that.
I don't want to imagine all the girls and boys that have gone through that while playing. Not all kids think of what's right and what it's wrong, kids are easy to manipulate because, from a young age, our parents teach us to do what adults ask for, and let me explain that because of course, they also show you to not to talk with strangers. Kids do not, of course, have a developed brain, we are going through changes, and curiosity always impacts our lives. Besides being a game targeted for teenagers, of course, adults play there too, and it is easy for somebody to lie about their age. You never know what people's intentions are. Not all gamers are like that, but we should always be cautious about what we share with others. Since that incident, I learned to never to reveal my age and never share personal information. I was still role-playing, and if somebody asked about my social media, I always used to say that I didn't have any.
I never told my mother about that, but now that I'm older, I want to share this experience since parents should know more about these games that kids play and invest so much time.
Also, to have full game experience, you have to invest real money. Not all kids have the chance to buy credits, so instead, most go to trade rooms, and let me tell you, those trading rooms are a scam. They say they want something, and in the end, they scam you. Again not all gamers are like this, but it shows you that minors are at a high risk of getting scammed.
What Happened To Habbo Hotel?
I think that after all the controversy with the game, most of the players lost interest in the game; also, people get older and have to focus on their lives. The game is still relevant, but it is not as popular as it was in the 2000s. Instead, there's a new game called Hotel Hideaway. I haven't played it yet, but it is by Sulake. Same creators of the Habbo Hotel.
Do I Think It Is A Cool Game?
Yes, but again it shouldn't be played by minors. We never know people's intentions.