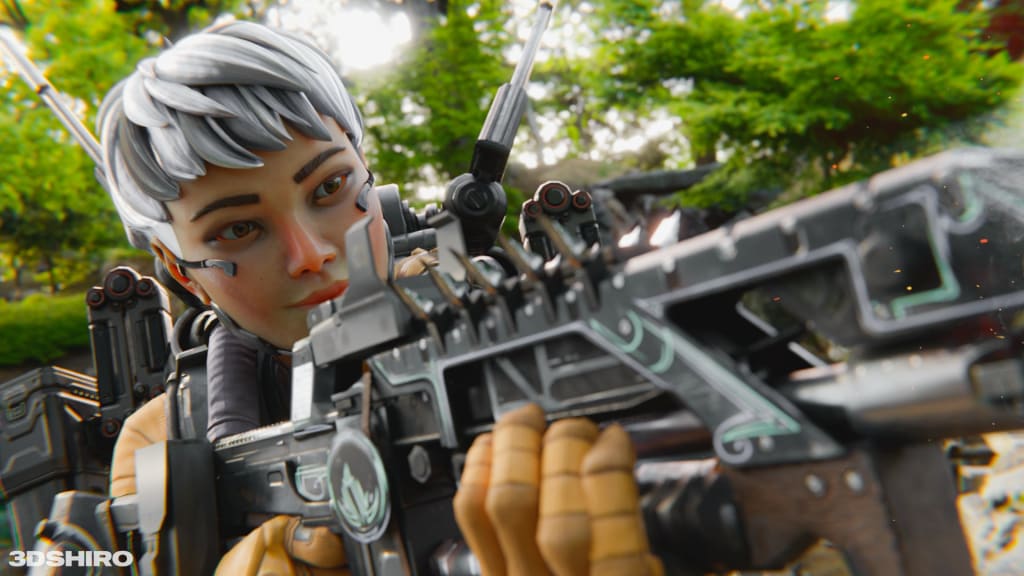 Credit: @3DShiro (Twitter)
I hate to say it, Apex community... but we really need to talk about Valkyrie. Is it time for her reign at as the most picked Legend in the Apex Legends Global Series (ALGS) to come to an end?
I vote hells to the yes!
There is little doubt in my mind that few of the pros will agree. But as I see it (with my arse glued to firmly to the couch, diligently working my through a second party sized bag of chips) these are the facts of the case...
1. Valkyrie's rotation utility was only ever worth banking on early game... and (let's be honest) these days it's not even then.
"Ever feel the freedom of soaring through the sky? Do you wanna?"
Why yes, Valkyrie! I do wanna. I really do. But by the same token, I'd much rather that it didn't end in my brutal and bloody death; gleefully focussed by half the remaining teams in the lobby. And while I feel very confident in guessing that Imperial Hal and I have next to nothing in common, I'm fairly certain that one of the things we do happen to share is this very sentiment! (Along with a penchant for sporting slightly odd hair.)
A proud Aussie through and through, I was near obnoxiously happy when Dark Zero (who now, paradoxically, are not Aussie through and through) managed to pull of the unthinkable... back-to-back LAN wins earlier in 2022! So you can imagine my joy at realising it was time for the ALGS to ramp up again, only a few short months later.
But as the series began its third year, I quickly realised something was very wrong with Valkyrie. (And it wasn't her seeming contempt for those who hadn't had the means or inclination to steal a Titan as a child.) I watched as team after team were melted, moments after entering zone and touching down from a Valkyrie Skyward Dive.
Now, while the ALGS faithful among you are already exclaiming, "Well, that's not exactly bloody new", here's what bloody is: Gibby is no longer a key part of the pro league meta. So not matter when in the game teams attempted rotation, chances of a quick reset were entirely dependent on then finding unoccupied, natural cover.
2. Without a defensive Legend in your squad, Valkyrie's Skyward Dive is a gamble at best.
"Enjoy the dropship ride. Because after today, you're all gonna be afraid of flying."
Oh, sweet Valkyrie. You might not know it right now, but you may as well be talking to your own squad! Here's the thing: not only has your Skyward Dive taken a recent nerf, but without your defensive buddy, Gibraltar, beside you when you land, your team has zero guarantees that it will have the cover needed to reset if focussed... which you almost certainly will be.
No wonder so many teams are getting shredded!
The meta has shifted away from Gibby, and only in North America are we seeing any real move to replace like-for-like with another defensive Legend in Newcastle. But even then, I'm confident in suggesting that his current pro league pick rate has nothing on Gibraltar's pick rate in its heyday, which was usually upwards of 80%. And yet... and yet... for some reason, we still seem to be desperately clinging to the notion that the Valkyrie Skyward Dive is a useful tactic for rotation.
Why?
Don't get me wrong. I'm no Valk hater. Her passive alone makes her an obvious pick as a movement legend. Throw in her ability to hack Survey Beacons and defend her team's position with a well placed Missile Swarm, and she becomes a ridiculously strong choice for play in any pro league lobby. But I am seriously beginning to question whether her Skyward Dive has outlived its utility. Especially in the ALGS.
3. There are other Legends who are far more reliable for that late game rotation.
"Should've punched out when you had the chance."
Look, I'm very aware that I'm no expert. I'm just a some woman in her thirties who spends her spare time watching kids who are (at least) a decade younger and much, much better than her at a video game, playing said video game... and then writing about it.
All I know is the most impressive late game rotations that I have seen during the Year Three group stage matches of the ALGS, have come from Legends whose abilities give their team the cover they need to gain advantage in zone when they rotate on foot. Legends like Bangalore. And, yes, even Catalyst.
If you want to see exactly what I'm talking about, then go ahead and watch the Game Four on Match Day Six in EMEA. It was a truly insane 2 v 3 fight for the win. And it wasn't Valkyrie making the difference.
-------------
What other Legends do you think could offer a similar rotation alternative to the Skyward Dive? Particularly in those late game circles? Let me know in the comments! And please show your support if you enjoyed this article.
About the Creator
I'm Samara Linehan. Korean born, Aussie bred, and by golly I love a good story. But my day job writing leaves no room for my weird, authentic self. It's why I'm here. If you like my stuff, do a gal a solid. Subscribe to let me know. #needy
Reader insights
Be the first to share your insights about this piece.
Add your insights