Universal's Super Nintendo World Will Immerse You In An Atmosphere Like No Other
Your Favorite: Mario Or Luigi Or Peach Or Yoshi?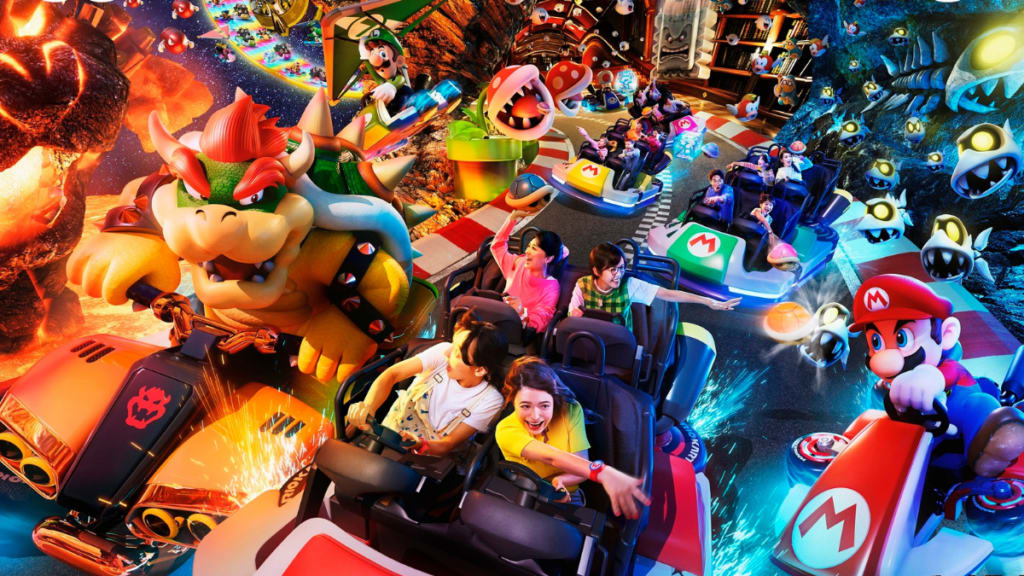 Written by Wade Braden
A few years ago, Universal Studios announced they would be creating a Super Nintendo World at their Japan location. At that moment, every nerd across the globe rejoiced in the idea of being immersed in a land with oversized blocks, brightly colored terrain, and turtles walking on two legs. Trust me, I know, I am one of those nerds. So, what exactly can you expect when from Universal Japan's Super Nintendo World? Well, let us jump into that oversized green pipe and find out together.
Thanks to a new virtual tour released from Universal Japan, we now have an inside look at what to expect. The first thing that caught my eye was Princess Peach's castle. Just like those princess castles you see at Walt Disney World, Peach's castle seems to be a focal point of Super Nintendo World, and you must walk through it to enter Super Nintendo Land.
Not to be outdone, Bowser's castle is also located in the park, and one could say it is the main focal point of the land. You may be wondering why I even say that. Mostly, because located inside Bowser's castle is a Mario Kart Koopa's Challenge ride, one of two rides offered in the park. The attraction will have you race along with Mario and Princess Peach to the finish line. The Mario Kart ride has been described as "an experience that comes true with the latest technology."
According to Universal Japan, Mario Kart Koopa's Challenge uses AR projection mapping and space production to place you in the action. The AR technology will give you the ability to shoot turtle shells at other karts during the ride. OK, I am sold! I mean, who has not always wanted to do that.
The other attraction shown on the virtual tour is a more relaxing ride named Yoshi's Adventure. Yoshi's Adventure will have you jump on Yoshi's back, follow Captain Kinopio, and embark on a treasure hunt. During the ride, you will be able to get spectacular views of the Mushroom Kingdom from Mount Beanpole. You can also use the Captain's map to find three mysterious eggs.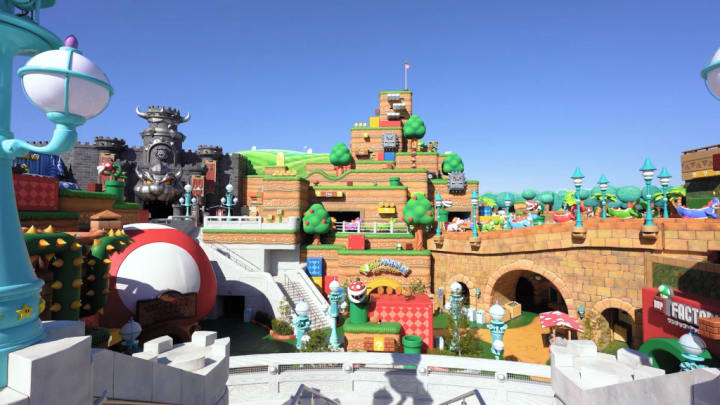 Super Nintendo World is not all about rides. The world will offer a few places to relax and eat. One place to eat is a restaurant called Kinopio's. Kinopio's will offer Super Mario World themed dishes like Super Mushroom Pizza Bowls, Mario Bacon Cheeseburgers, and Piranha Plant Caprese, to mention a few.
There will also be merchandise shops to grab some of your favorite Super Mario World items. You would not want to be seen in the park without the signature Mario hat, gloves, and shirt, right?
Another wild feature unique to this park is a power-up band that can be purchased to increase your fun in the park. This band allows you to experience key challenges and collect coins and digital stamps while in the land. How cool is that? Not only do you get to roam around the Mushroom Kingdom, but you also get to feel like you are part of the game. In Super Mario World, you will have many different power band designs to choose from: A few bands listed on Universal's website included Yoshi, Luigi, Princess Peach, and of course, Mario. This neat interaction feature will have you screaming, "It's-a me, Mario."
Not able to travel to Japan anytime soon? No worries, Universal will be bringing Super Mario World to both of the United States theme parks. We can expect it to open at Universal Studios Hollywood first and then be followed at Universal Studios Orlando shortly after.
Which Super Nintendo World park features are you most looking forward to experiencing? Let us know on The Nerd Habit Facebook page.
Source(s):
nintendo
About the author
The Nerd Habit is a collaborative group of writers who love all things nerd. We write about the latest happenings in nerd/geek culture as well as short fiction.
Our 2022 Team:
Christopher D. Horton, Hani Masry, Jerah Rose, Whitney Thompson
Reader insights
Be the first to share your insights about this piece.
Add your insights