Underrated Sims 4 Furniture CC that are getting slept on...literally
I don't hear anyone talking about these folks, check them out!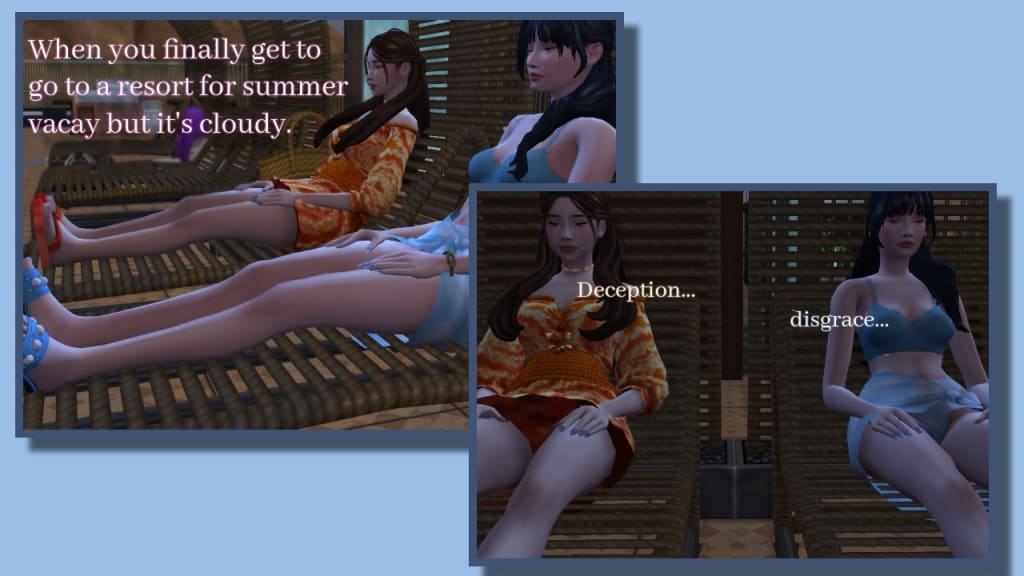 Before I thought the holy trinity of furniture CC was Peacemaker Ic, Felixandre and Harrie. There was also Sixam Charlie Pancakes, ATS4, myshunosun and little dica. I wouldn't say it's recent but I have discovered new furniture custom content creators that I would dare say threaten to topple my list and reconstruct it from scratch.
Terminology:
cc- custom content
Clutter-decorative objects that have no function but adds life to builds
furniture-functional home objects.
highlights- something new that's never been done before by other cc creators or the Sims 4 team itself.
simslit- sims literature, a written story inspired by sims featuring pictures from the game as illustrations.
1. Tuds
Their content is free, you can support them on patreon.
The texture of their furniture is on the same level of Felixandre's and Harrie's. I hope it's not annoying that I compare but I really like looking for furniture with these sort of textures, it makes me feel safe when playing to see furniture that looks like it was made by the Sims 4 Team itself.
The highlight of this furniture set? Everything. I loved this because I never see much custom content for a wine cellar, the second reason I loved this is because of the wine bottles from the IND collection, a three-part restaurant furniture set.
Highlights: The wall lights, bottles, each swatch makes the bottles look like different brands, and the overhanging glass from the light fixtures above, I've always wanted something like that when making bars. You can also mix and match the squares of marbled light individually onto the counter sides. You can really go wild with this pack, so have fun!
When building diners I just more time on the exterior and the dining area, but for the kitchen I always make a little pocket to shove a few chefs in. Seeing this made me conscious of this. Dine-Out gave simmers the functional pieces they needed to make a restaurant, but not the little things like this, pointless as it may seem but still, seeing this made me want to do better and to also keep this set in mind if I ever wanted to make a simlit story about working at a restaurant. Which I have... but, another one.
Make sure to pay close attention to the note of the tuds as certain dining tables can't be used when you set the lot as a restaurant.
There was a time I fell in love with the idea of resorts, and building them(still kinda am)
So I made it my mission to find anything that looked vacation-y, cultural or island inspired. Thankfully I didn't have to look far. Casa Caipara was inspired by the cc creator's time in Brazil.
Check them out!
The tiles set is giving restaurant in a city near somewhere with water, or somewhere in Europe.
Then there's the rope set.
A godsend. The rope shader was really fun to pair with the lounge chair, it made me wish we get more shaders in furniture packs... as well as reminded me of a bed from sims 2.
I used this set for my hotel lobby making a circular desk, because no matter how much I pictured it this was more suited for a place you could publicly show off the gold and marble. Like a hotel or super posh office/studio.
2. Pierisim
Another cc creator that releases a lot of gems for FREE! Doesn't get any better than this folks. Get it while it lasts- I've been having this fear of content creators deleting their accounts and taking their treasure with them. Ever since the new policy change a few creators have decided to move their download links elsewhere.
Inspired by the french countryside. The highlights of this pack if not everything. Elevate your builds with new windows and door arches!
The highlight of this pack personally for me is the book clutter, wallpapers and curtains.
With the winter garden pack you can take your greenhouses to the next level. In Seasons we got glass rooves, and in Winter garden you get more variety but this time with matching windows and doors to really complete the set.
The highlight of this pack is the clutter; the cute porcelain teapot and tea cups, menus, and the glass restaurant partition.
The oakhouse collection is one of the earlier collections.
Highlights: Thee mirrors, lights, glass partitions, and the wooden but modern floating bathroom sinks.
You'll find that Pierisims really seems to love wood. Their wooden furniture and textures really... I don't have the words to describe it... but it's different and eye-catching, they really pay close attention to the look and texture of wood?
The highlight of this pack... I want to argue that it's everything but personally, I'm in love with the bookshelf, some might like the low-floor couch, end tables, and maybe even the rug, artwork, laptop, or even the metal folding chair. Depends on what floats your boat.
3. hanraja
When I make poor sims, minimalistic Asian sims or look for small clutter to fit in the dorms for my academy gameplay I typically look to hanraja to see if they have anything new on the shelf.
hanraja is a cc creator that usually releases small collections of furniture and clutter, the furniture is usually small as if meant to fit in a small room. The best part about them is that they give you the option to download everything separately instead of having you download them all at once in a pack and have to comb through deleting the bits you don't want. Unfortunately ever since the new policy change they put their download links on media fire, but you get there instantly with just a click and still have the option to pick and choose what to download.
The highlight of this pack would be the shoe rack, shelf and tray clutter featuring a wallet and coins.
I loved the Snowy Escape Pack but was disappointed about the lack of shoe racks. Thankfully Hanraja released a few packs with them.
And a smaller one.
It's very simple furniture that makes me re-evaluate american furniture. How we have bigger houses cluttered by chunky furnishings.
The highlight of this pack for me was the shower, and pot filler.
The highlight of this set for me was for the nostalgic cheap tables and chairs that reminded me of church and village BBQs and the foldable beds/cots that almost remind me of the lower ones we used during kindergarten for nap time.
The highlight of this pack is definitely the lockers. If you've been looking for more locker cc to play with High School Years pack or perhaps to blog or make a story- you're welcome.
Here we have the low-end desks and the wall light perfect for a studying sim.
The highlight of this set is everything, an assortment of mini desks that are in my opinion perfect for dorms and little nooks in areas with limited space.
This really got my attention, sure the puzzle isn't functional and purely decorative but it's perfect for pictures/ sims lit.
Highlights: The Mirrors! And maybe the curtains and shelves.
Highlights: The cheap assemble coat rack and the tablet with the keyboard that you can barely make out at the bottom that I'm just now noticing for the first time... I'mma be right back gonna download this!
Ahem. Anyway, hanraja is new and obviously talented, they're cc is so conveniently simple and refreshing that I'm scared they may fade away. They don't charge their patreons much so I seriously recommend checking them out and supporting them.
4. Max 20
I don't know how long they've been in the game but their content is solid. I knew of them for a while but it was only recently upon looking for pool furniture that I downloaded their content and came to realize I've been sleeping on them.
Starring a new washer and dryer that looks pretty cool. You can honestly never have too many washers and dryers cc... there's not much to begin with and for folks who are suckers for different styles this is it.
Highlights: The decorative greenhouse, flower beds and flower arch. Want to make a greenhouse without going to the effort of actually building one? Look no further. The Garden at Home pack features a generous amount of flowers, decorative objects, and new functional gardening objects. I think everyone has probably wanted a flower arch for a walkway at some point, one that resembles the one in the picture.
Highlights: The parasols, fountain, bar cart, pool trim, and sun tent. I had no business falling in love with this pack as hard as I did but I did. The fountain really got me.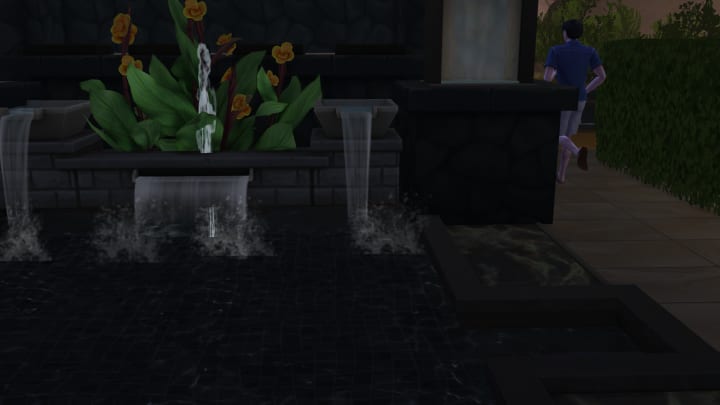 Highlights: The desk- the design itself is new, there are many desks in the sims but none with shelves like it, the baby changing stations, the tent, and personally for me the bunny with the crown... this is an adorable pack that although made about two years ago is still relevant today.
Highlights: The bed, fireplace, knitted poufs, fish tanks, and decor. Personally, for me the bed really got my attention, when I saw a picture of it in the game it looked really comfy and maxis match-y, I tend to hesitate when cc pictures look cartoonish as it's hard to gauge what the product looks like in-game, thankfully they featured pictures showing what their content looks like.
This retro tv brought back memories of my grandmother's house. Perfect for retro builds and elderly homes.
That's my list, small as it may be I truly do believe these creators have potential, their creations are refreshing and deserve support. What did you think? Did you already know of these creators? Were there any you didn't already know about? Were there any of these already your favorites and if so which pack or set is your favorite? Leave a comment.
Reader insights
Be the first to share your insights about this piece.
Add your insights