The Urbz: Sims in the City
The brilliant, but often forgotten urban era of the Sims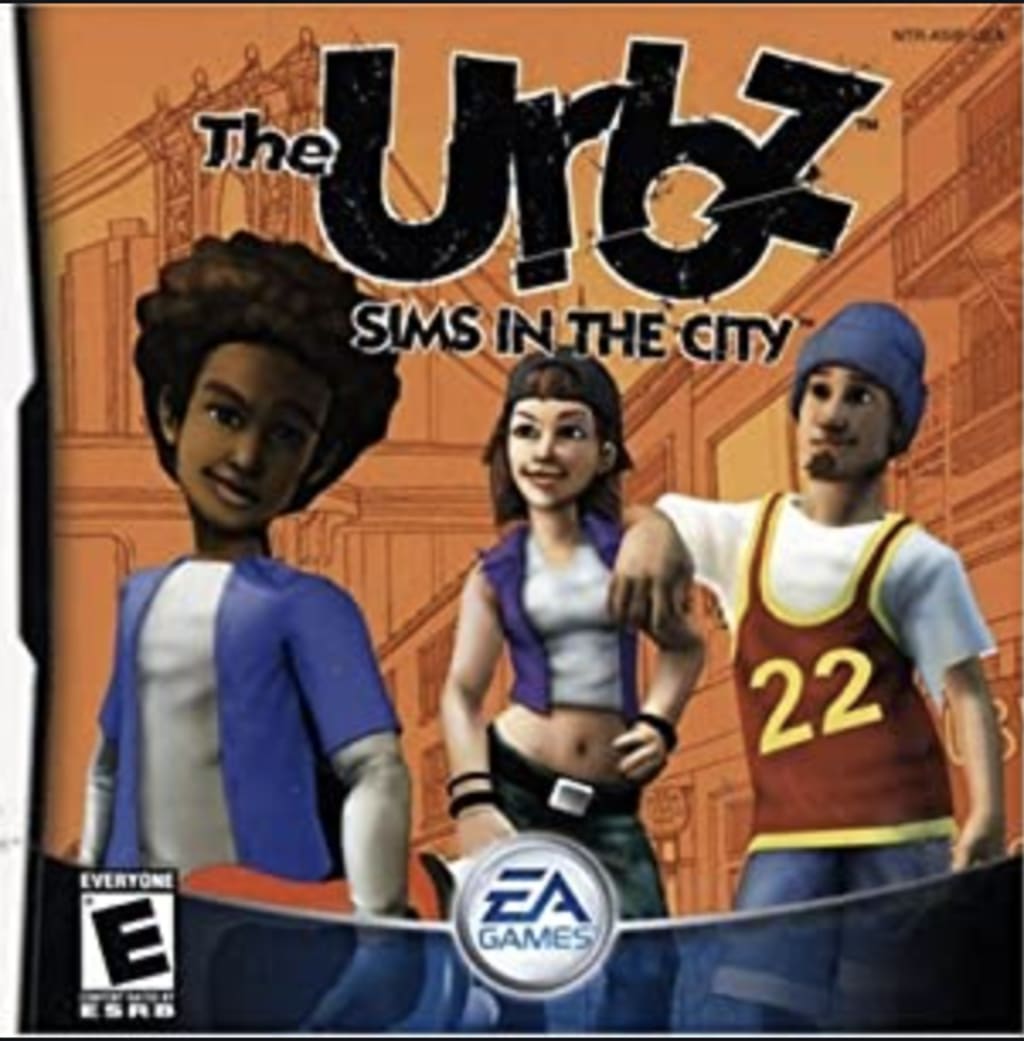 C
One of the best memories of my Playstation 2, comes in the form of the Urbz. It's one of those games that not everyone had when it came out on a variety of games consoles in 2004, but everyone of a certain era definitely remembers this venture into the big city for our favourite Sims.
Not only did we see the city of Urbzville for the first time, the game also had a cracking soundtrack from the iconic Black Eyed Peas! The game featured some of their most famous songs, wait for it... translated into Simlish! (which you can find on Youtube if you're interested) The music was featured not only in the loading screens (as you'd go on the subway to each district) but also in the background of the game itself. My personal favourite was the Simlish version of 'Let's get it Started' which frequently gets stuck in my head, even now 16 years later.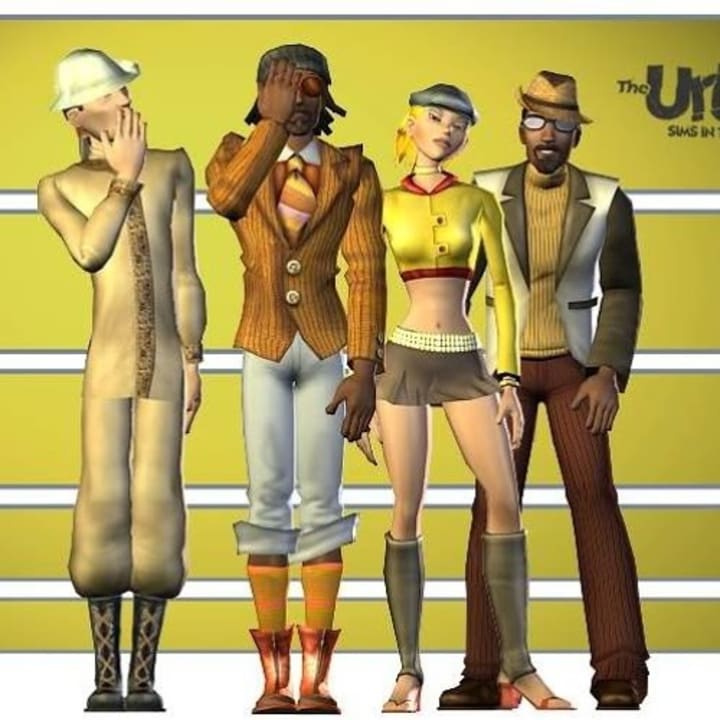 The aim of the game was to build your 'rep' and become one of the most popular Urbz in the game. To do this, you had to befriend certain key characters or the more modern 'influencers' in the game, (4 or 5 in each district) who would teach you power moves or socials. You could then use these moves to gain access to the VIP club in each district and defeat the villains using a special power move from the famous Darius. He's the guy with all of the power in the Urbz and who you aspire to be!
The higher rep your character has, the larger apartments you can live in, have access to more (and cooler) clothes, even own different pets and have access to every district in the city.
I keep talking about the districts... so let's take a look at all 9! We'll see their different styles, the jobs you'll need to perfect, the social moves you'll learn and some of the characters to befriend... and avoid.
Skyline Beach (District 1):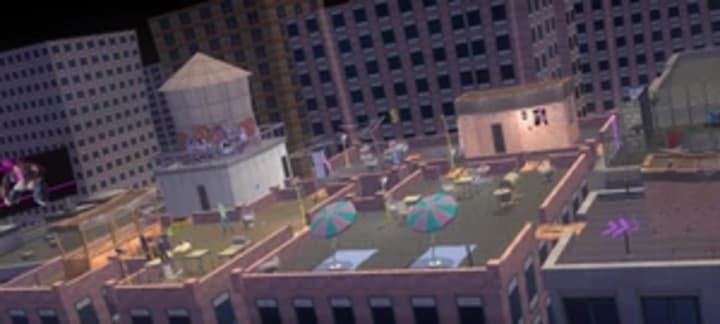 In Skyline Beach, it's all about the music and the moves. Isis Ice is the main character you'll meet here and the job opportunity she gives you is to tame ferrets. (Strange, I know, but Isis sells them to the rich and glamorous of Diamond Heights as an exotic pet and status symbol). If you can tame them, you'll earn some extra social skills, like back slap and sign language. You'll also need to befriend Notorious D.O.G and Lil Bit to unlock how to rap and bust a move. When you finally gain entry into the Red Room (VIP area) Darius will give you a 'Party Bomb' social move, which you can use to get rid of the villain Harry Snivel. Snivel is a landlord turned repo man and will constantly message you during the game for rent reminders. He can also turn up if you don't pay and take your furniture!
Gasoline Row (District 2):
The culture here is all about leather, metal and rock 'n' roll. The outfit you choose must reflect this in order to build your rep so don't hold back! Don't forget as well to buy your custom leather car seat furniture for your apartment while you're in the district. Here, you'll need to show your skills in Duke's Chop Shop in order to learn some social moves from Duke Headbutt himself. These include: headbutt, blow flame and Tuck 'n' Hug 360. When you gain entry into the VIP area, 'The Back Room' Darius will teach you the party social 'Chug a Lug' which you can use to defeat Harry Snivel when he shows up again to cause trouble.
Central Station (District 3):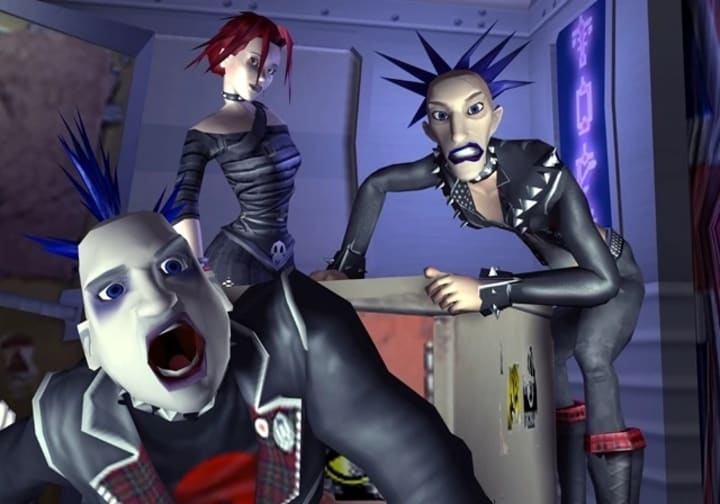 This location in the Urbz reflects the underground scene of piercings, leather, spikes and statement hair! You'll have to make sure you visit the clothing shop to make sure you'll gain approval from the regulars, even though you won't have to make that many changes from Gasoline Row. Here you'll find work in 'Mary's Puncture Parlor' to unlock moves such as spit trick, panhandle and bite. (There's nothing tame about Central Station). The VIP area is known as The Cage, where visitors can put their money where their mouth is and fight out their frustrations for money. Once you earn enough rep, Darius will give you the Stink Bomb social to use on Urangoo McBain. He's another villain in the Urbz who you'll meet at 3 different locations. You can't miss his body covered in tattoos and huge nipple piercings.
Kicktail Park (District 4):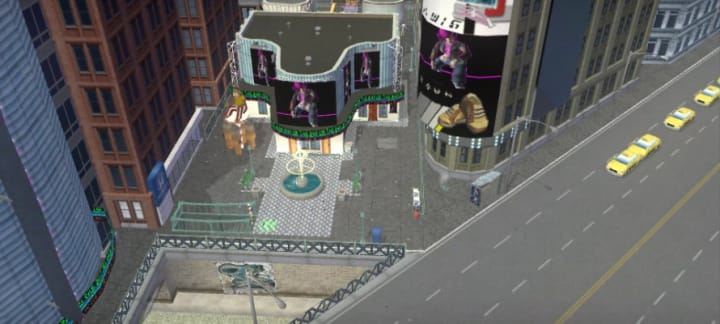 As soon as you land in Kicktail Park, you'll have to head for the clothes shop The Grunge, to rid yourself of any spikes you picked up in Central Station! Here it's all about baggy clothes, checked shirts, long hair and backwards caps to fit in with the skateboarding clientele you'll find here. You'll begin to notice as well, your Urb will start to appear on posters in the districts, the higher your rep level which is pretty cool! To improve your rep, you'll have to show your skateboarding skills at Skid's Half-Pipe before gaining entry into Floater's Air Bar (VIP). Once you meet Darius, he'll teach you the Sk8R TriiQx party social to use against new villain, Kiki Blunt.
The Foundry (District 5):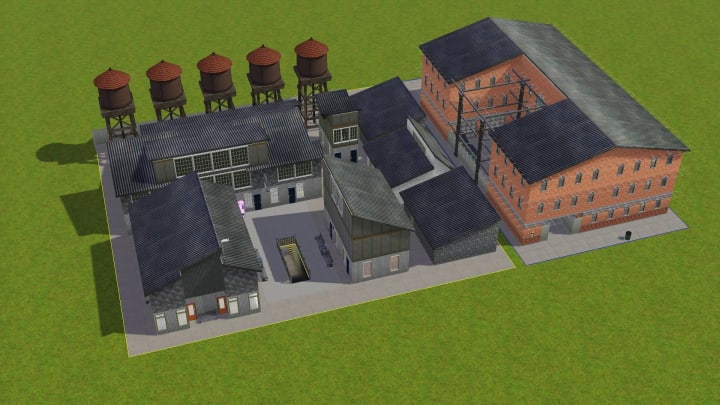 Taking a chilled step back from the districts we've seen so far is the alternative, indie hang out in The Foundry. Full of artists, coffee shops and intellectuals. The style here is very black and grey, so make sure to change your outfit from the grunge of Kicktail Park to more artsy stylings to fit in here. Crispin's Cauldron is your money making opportunity, where you'll help the gallery by creating sculptures and art to help you unlock social moves such as Buzz, Lounge Lure and Paparazzi Pop. You will also learn Artsy Dance from befriending Arthur Pop in the district. Once your rep is high enough, you can enter the VIP area of the Gearbox, where Darius will teach you the BlastiKiss power social to defeat Kiki Blunt when she turns up again!
Neon East (District 6):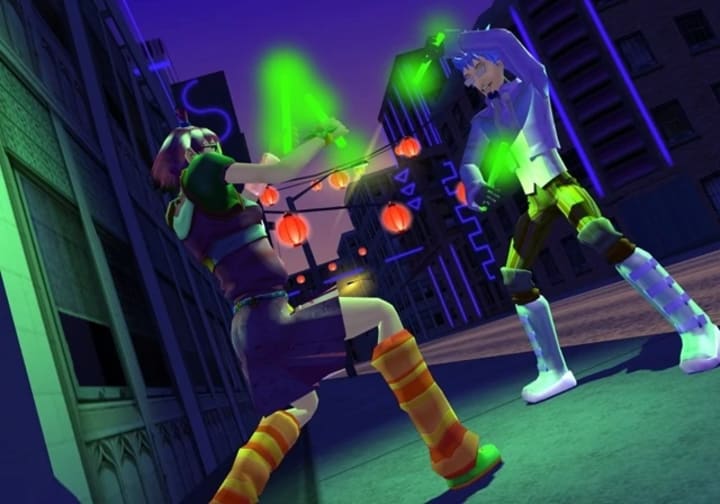 My favourite district in the game embodies the bright lights and neon of a Tokyo-esque culture. Be sure to change your clothes asap from the dark and boring colours of The Foundry to bright blue hair, huge yellow glasses and bright neon strips in as many places as possible! Mazuiko Jackson is who you'll have to impress here as she owns the local Sushi shop. Chop as quickly and accurately as you can to earn cool socials such as: Game on, HoloXam and even striptease! The Pulse is the underground VIP section in this raver's paradise, once inside, Darius is there to teach you the Strobe power social which you can use when Harry Snivel pops up once more. If you can, stop at the furniture store here to purchase neon lamps, neon flooring (like you can see in this picture) and other iconic pieces that will really make other people stop and stare when they visit you.
Cozmo Street (District 7):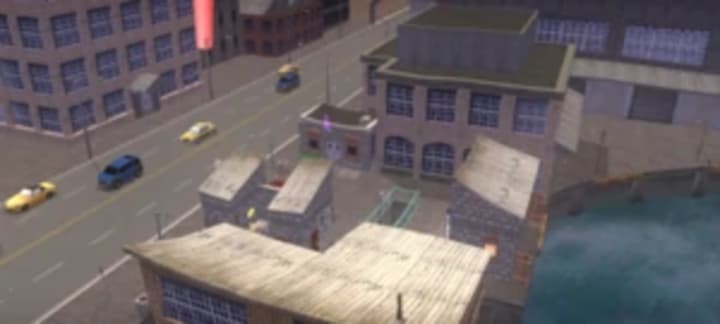 The cool place to hang out by the docks, Cozmo Street is a place to enjoy music and some of the best views in Urbzville. The style here is quite laidback and modern, so make sure you change out of your eccentric Neon East garb ASAP! Here is also the best place to catch the Black Eyed Peas so keep an eye out! Your job here is at Will's Libation Station - so get practicing mixing those drinks to earn yourself some cool social moves, such as air guitar, Euro kiss, tango and pub song. Once you're Backstage (VIP) Darius will teach you Powerchord in order to defeat Urangoo McBain when he appears to cause more trouble.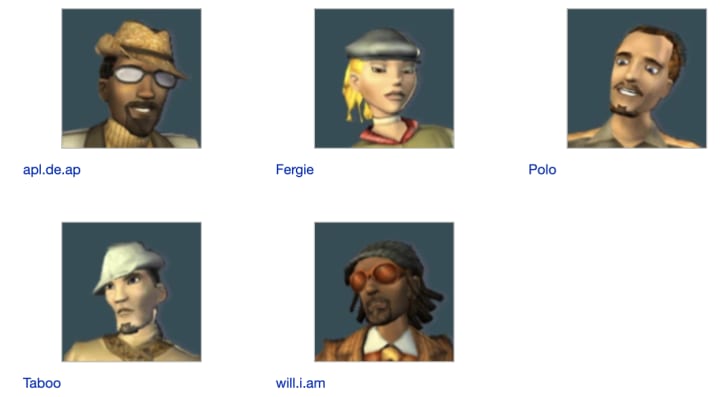 Diamond Heights (District 8):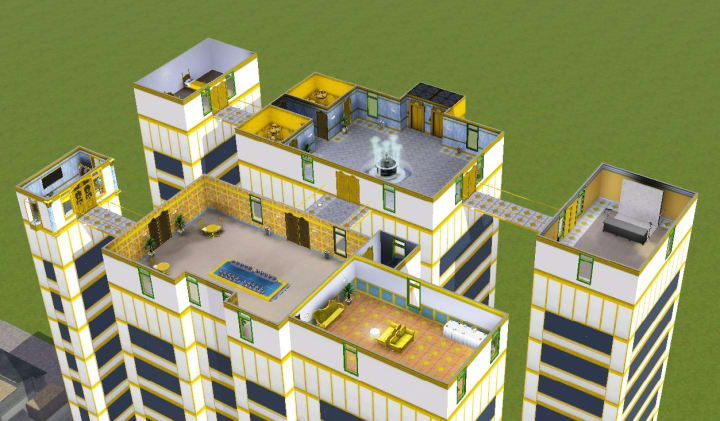 The most glamorous district in the whole of the game, you're going to have to up your game to blend in here. Gold and diamonds sparkle at every turn (even the toilets are gold) so make sure to visit Haute Couture to make sure your outfit lives up to the very high standards, white and gold are the key colours here. There is also a catwalk, so why not jump up and show off your skills to impress the models and socialites drinking champagne around you. The 'job' here is modelling for photos at Diva's Snapshots, which sounds like a walk in the park if you've got the right look and attitude. Once you've built up enough rep from making friends with Babbette Couture, Cash Monet and Diva Roma and learning socials such as snap and vogue, you'll end up in the VIP area 'The Catwalk Club'. Here you'll vogue your way to Darius, who will teach you the XAMshot social in order to defeat Urangoo McBain who has muscled his way into the club to cause trouble.
South Side Bridge (District 9):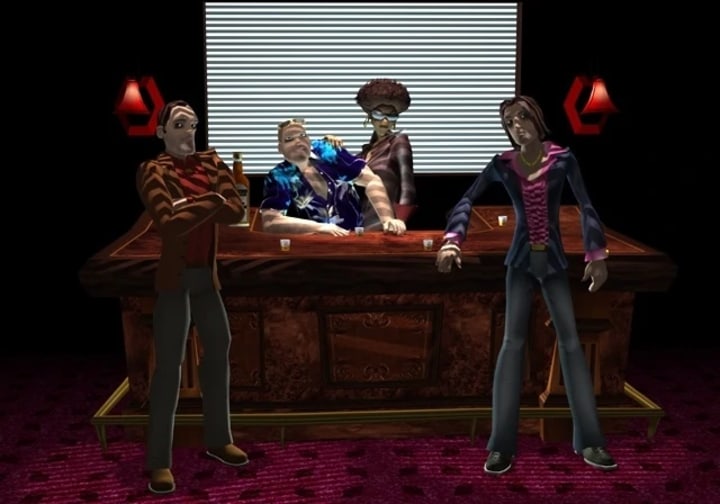 Finally, we come to our final district, South Side Bridge. Close to the opposite of Diamond Heights, here'll you find everything from illegal fireworks factories to casinos and you'll have a great time exploring them all. Louie Bricks introduces you to the fireworks factory (which is your job here) and once you're good enough you'll learn the socials: knuckle up, suck face and bite. Again, a bit of a difference from the vogueing of Diamond Heights. The fashion here is very varied, from the ruffled shirts of Luke Laruffle to the leopard print of Babs Margarita, use your judgement to see what will gain you rep under the bridge. Once you've built up enough rep, you'll gain entry to the local casino The Lucky Six, where the trusty Darius is on hand to teach you the Mug social so you can beat Kiki Blunt once and for all.
I hope you've enjoyed my trip back in time to the delights of the early 2000s and maybe even you'll turn on that PS2 or Xbox gathering dust and load up The Urbz.... I think I just might!
playstation
A proud Ravenclaw, teacher and archaeologist, who aspires to write, create and travel around the world. Lover of all things Harry Potter, The Lord of the Rings and ancient history (especially ancient Egypt).