The Mushroom Kingdom Pole Dancing Championship Presents: Super Mario Pole Dancing Party
This article is a parody. However, we all want it to be real.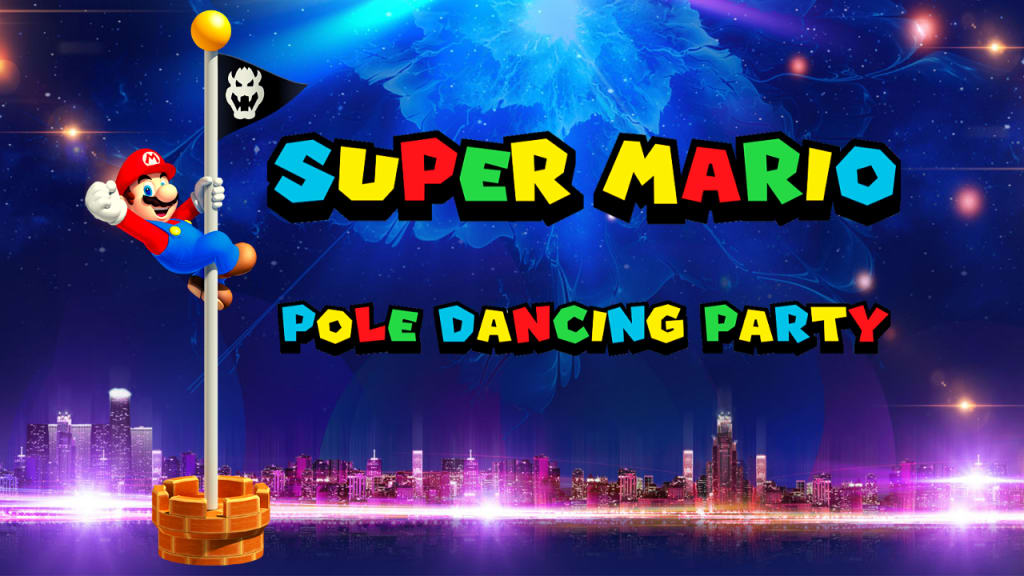 by Christopher D. Horton
Warning: This article contains Super Mario character stripper names and an idea for a Super Mario pole dancing game. If you can not handle all of that, turn back now. For you adventurous types, stamp your hand at the door, change your one-dollar bills into coins and follow me.
Why did I do this? Why would I give Super Mario characters stripper names?
To answer those questions, scroll past the pretty pink sign.

I recently watched the Starz show P-Valley. If you haven't seen the show, I recommend it (for those 18 and up) because it is pretty interesting. Taking place in the fictional Mississippi Delta town of Chucalissa, P-Valley takes you into the lives of the dancers, DJs, customers, managers, entertainers, lawyers, police officers, churchgoers, and government officials that affect the activities of a small strip club named The Pynk.
I was intrigued most by the stage performances the beautiful dancers performed in each episode—specifically, the pole dancing exhibitions. The pole dancing exhibitions were always late into the night and were the biggest moneymaker of the evening (early morning) for the club.
Men lined up around the stage to shower the final performers with money for their expert pole dancing abilities. It was quite the spectacle and fun to watch.
The final performances were so interesting and exciting that they got me thinking. What if Nintendo made a game about pole dancing? What would a pole dancing Super Mario game look like?
Before I continue, yes, I agree. That is a weird thought to have when watching P-Valley, but I'm a gamer with an active mind. These things happen.
Now, back to the pole dancing Nintendo game. Below, I have written the instruction manual for this new game. The manual includes the gameplay description, rules of play, and the playable character bios.
Psst…I included each character's stripper name in their bio. You're welcome.
Now, ladies and gentleman, without further ado, please welcome to the stage!: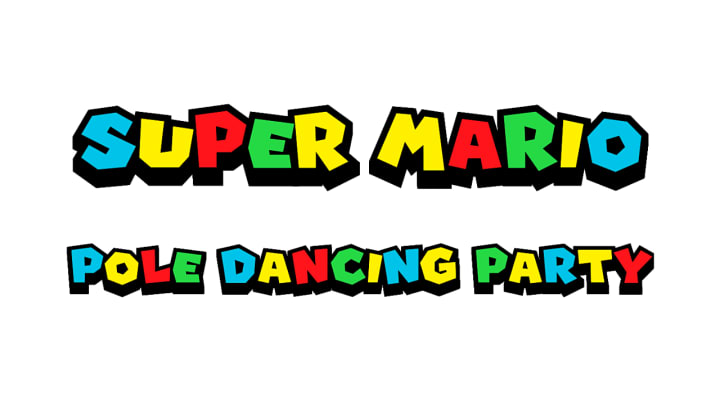 Super Mario Pole Dancing Party is a rhythm dancing game. In Super Mario Pole Dancing Party, the characters take to the stage to show off their best pole dancing moves in an attempt to capture the first annual Mushroom Kingdom Pole Dancing Championship!
The championship stage is designed for ultimate pole dancing action. Three classic Super Mario flagpoles adorn the stage, surrounded by an excited audience who are anxiously waiting to reward great moves by showering the dancer with coins.
The Rhythm Meter shows the player which buttons to press while your character is on the stage. Mash the proper buttons on time! Remember, the better you time your button presses, the more points you will receive. The faster you build up points, the quicker you can fill up your Make It Hail meter.
Make It Hail Mode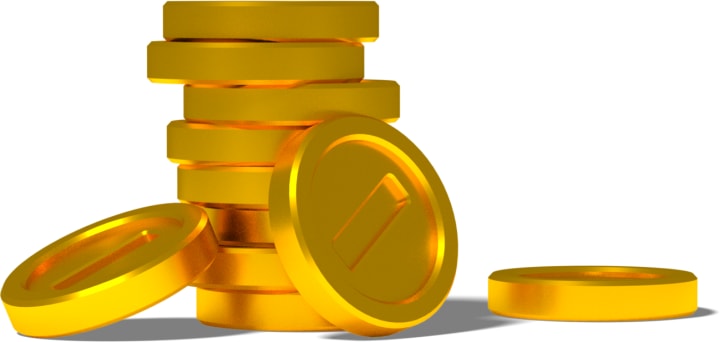 When the Make It Hail meter is full, press the Z button simultaneously with the next button press on your Rhythm Meter. If done successfully, your dancer will perform their Signature Pole Trick, exciting the crowd and inspiring them to shower the dancer with extra coins.
Activate as many Make It Hail modes as you can. The extra coins will significantly boost your score with the judges!
Now, it's time to see who will be competing in the first annual Mushroom King Pole Dancing Championship!
The Pole Dancing Championship Competitors
Mario Mario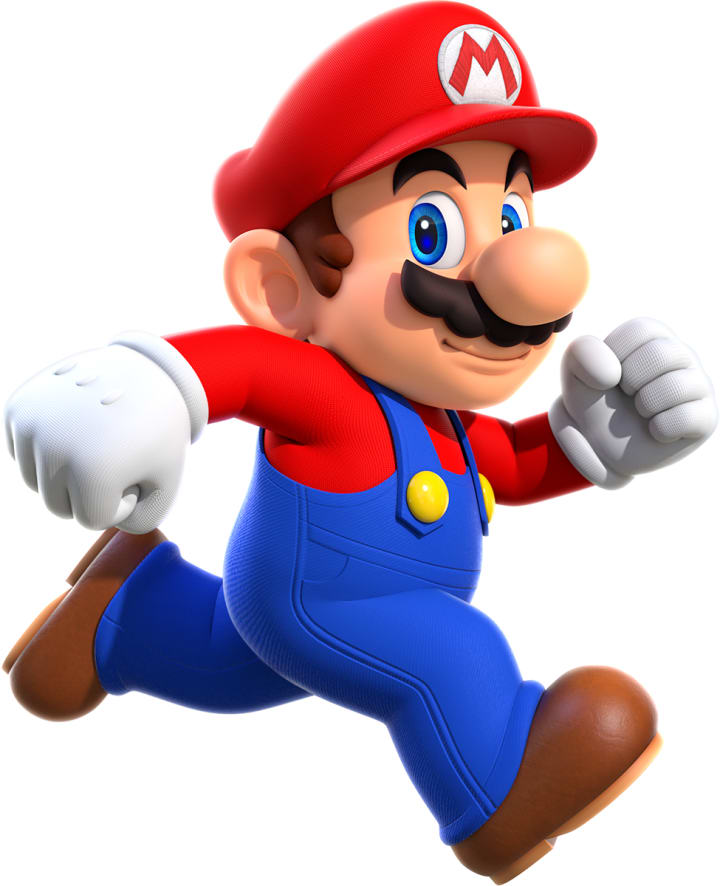 Stripper Name: Mario The Plumber
Signature Pole Trick: Power Plunge
Mario The Plumber enters the first Mushroom Kingdom Pole Dancing Championship confident in his skills. Climbing down pipes and smashing enemies with his butt has to translate to the pole, right?
Perform Mario's Power Plunge to send Mario surging down to the stage on his butt, twerking to please the crowd after he lands.
Luigi Mario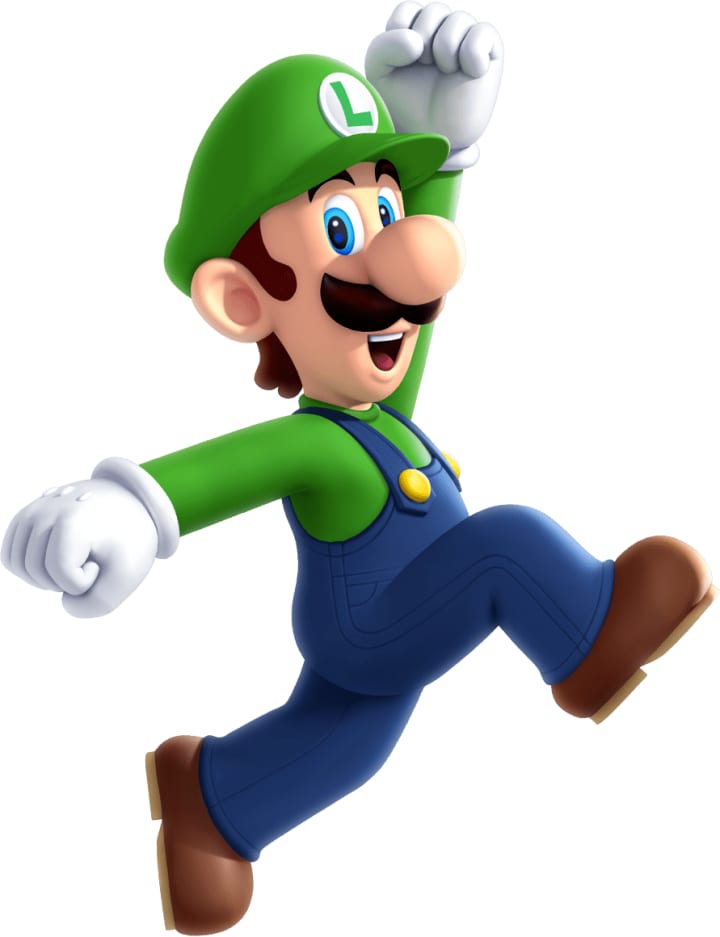 Stripper Name: Luscious Louie
Signature Pole Trick: Leaping Lunge
Luscious Louie signed up for the Mushroom Kingdom Pole Dancing Championship to finally set the record straight. Mario might be a hero when it comes to saving damsels in distress, but Luscious Louie wins the damsels' hearts while on the stage.
Perform Louie's Leaping Lunge to send Louie hip-thrusting through the air pole to pole, dazzling the crowd with his flight-like pole hopping power.
Toad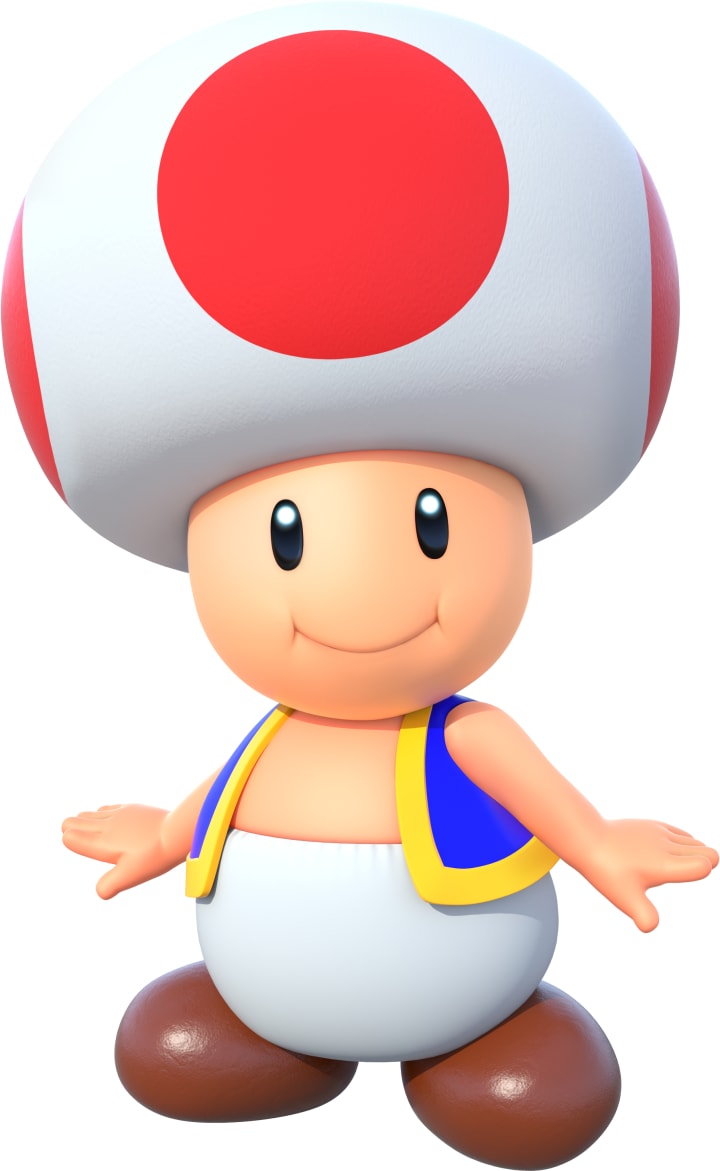 Stripper Name: Mr. Mushies
Signature Pole Trick: Flag Stand
Toad followed Mario to the Mushroom Kingdom Pole Dancing Championship, looking to lend Mario a hand. It turns out competitors are not allowed to have sidekicks. Frustrated with this rule, Toad decided to enter the contest. Calling himself Mr. Mushies, he enters the competition to prove sidekicks have all the right moves.
Perform Mr. Mushie's Flag Stand to send Mr. Mushie's legs straight out as he waves his body, appearing as a flag that will make the crowd stand up and salute.
Princess Peach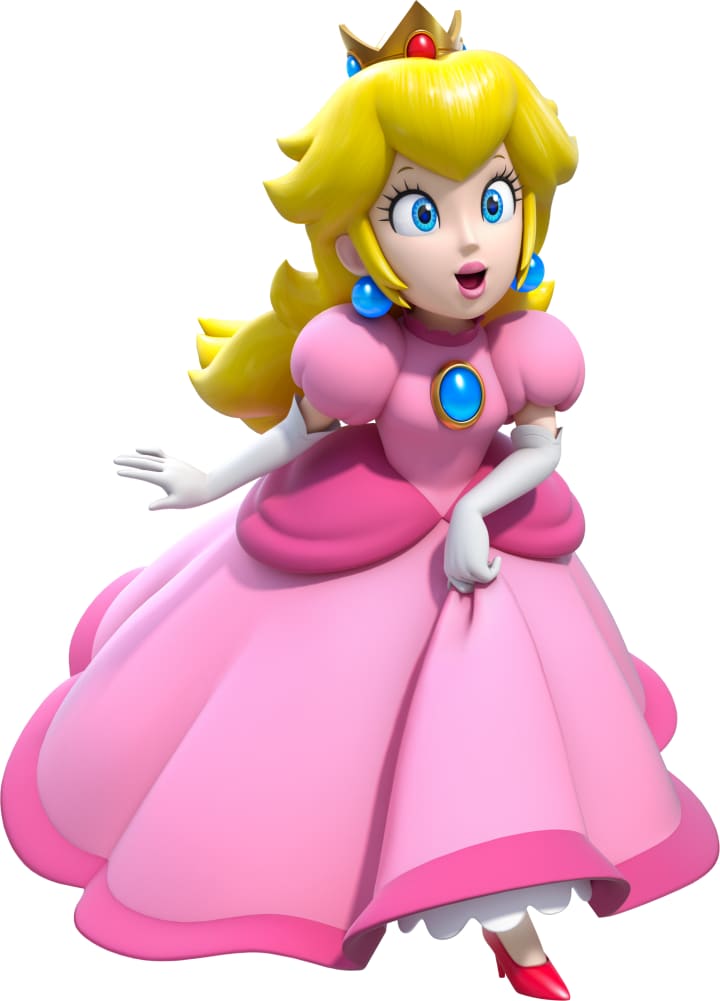 Stripper Name: Princess Peach
Signature Pole Trick: Blossoming Parasol
Already possessing a stripper name, Princess Peach is a natural fit to compete in the Mushroom Kingdom Pole Dancing Championship. Not one to rest on her laurels, Princess Peach plans to rock the house and show that even a princess can get down and dirty.
Perform Princess Peach's Blossoming Parasol to send Princess Peach floating from pole to pole, stopping to blow kisses to the crowd at each stop.
Bowser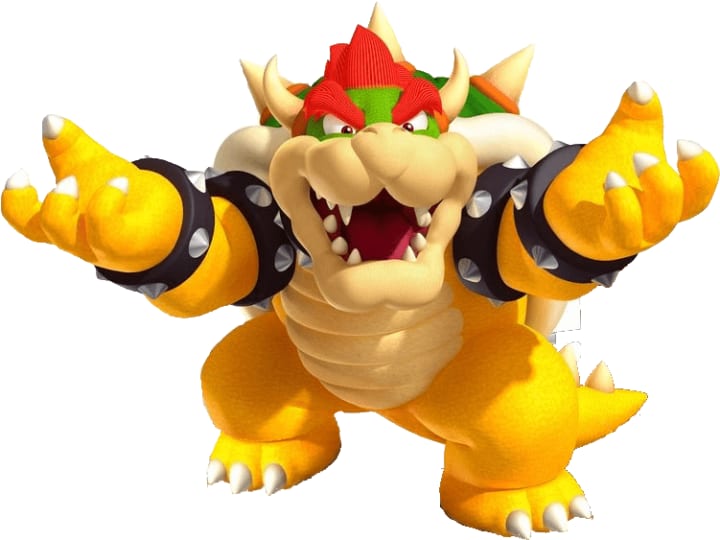 Stripper Name: Chicka-Chicka Bow Wowser
Signature Pole Trick: Molten Bridge
After learning about the Mushroom Kingdom Pole Dancing Championship, Chicka-Chicka Bow Wowser could not resist another chance to defeat Mario, kidnap Princess Peach, and conquer the Mushroom Kingdom's wild pole dance competition.
Perform Chicka-Chicka Bow Wowser's Molten Bridge to see Bow Wowser use his black magic to turn the stage into molten lava while he holds himself up between two flag poles while laughing at the crowd's anguish.
Wario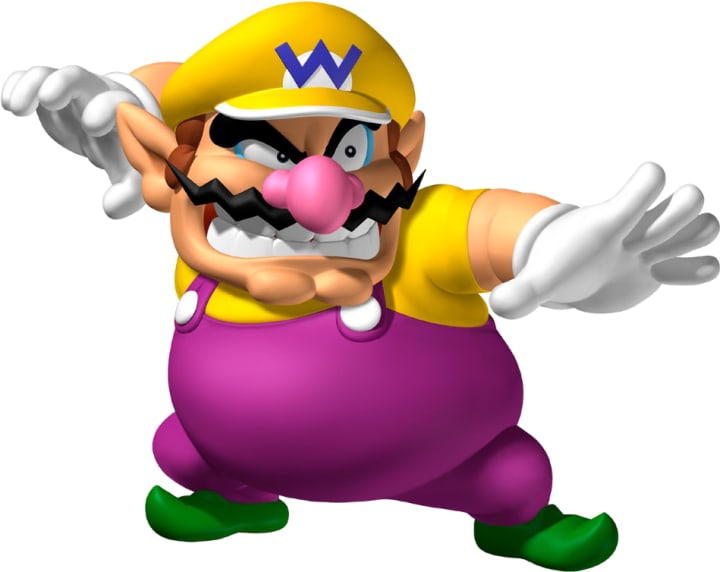 Stripper Name: Smoove Mooves
Signature Pole Trick: Twisted Waft
Smoove Mooves enters the Mushroom Kingdom Pole Dancing Championship to refocus himself from his stagnant performance as a game developer for his company WarioWare. Running out of ideas for microgames to develop, Smoove Mooves hopes pole dancing will inspire new games for his company.
Perform Smoove Mooves' Twisted Waft to see Smoove twerk across the poles and disappear into an unseemly cloud of dust. Smoove reappears with a belly flop onto the stage, sending the cloud up into the rafters.
Yoshi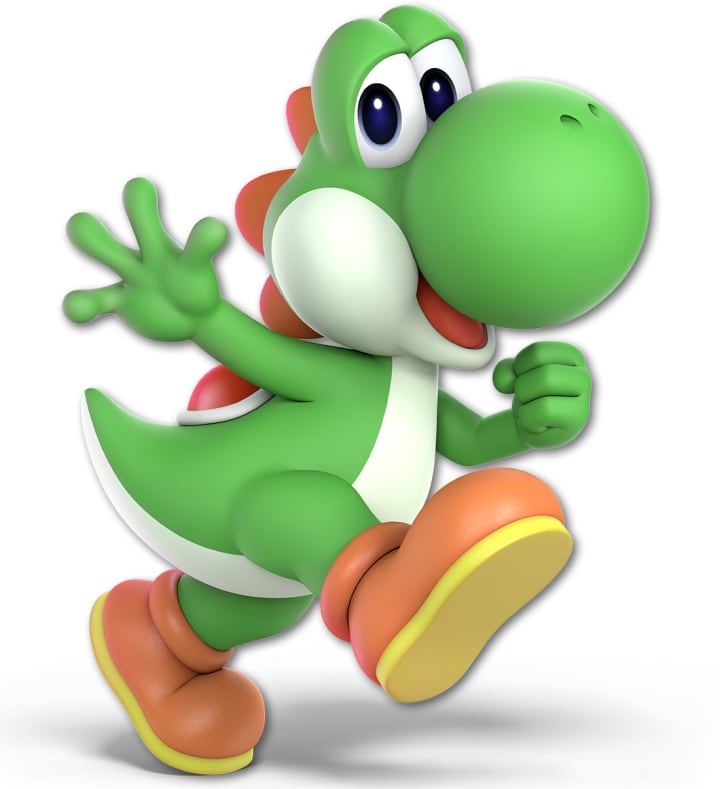 Stripper Name: S-Eggs Appeal
Signature Pole Trick: Tongue Slide
This Mushroom Kingdom competition has added a dose of S-Eggs Appeal! S-Eggs enters the Mushroom Kingdom Pole Dancing Championship with a distinct advantage over most of his rivals, his tongue! S-Eggs Appeal hopes to wow the audience with his unique tongue-grabbing pole dancing moves.
Perform S-Eggs Appeal's Signature Pole Trick Tongue Slide to send S-Eggs twirling across the flag poles using only his tongue. S-Eggs uses his feet to keep his body floating across to each pole while his tongue gets the audience drenched in excitement!
Princess Daisy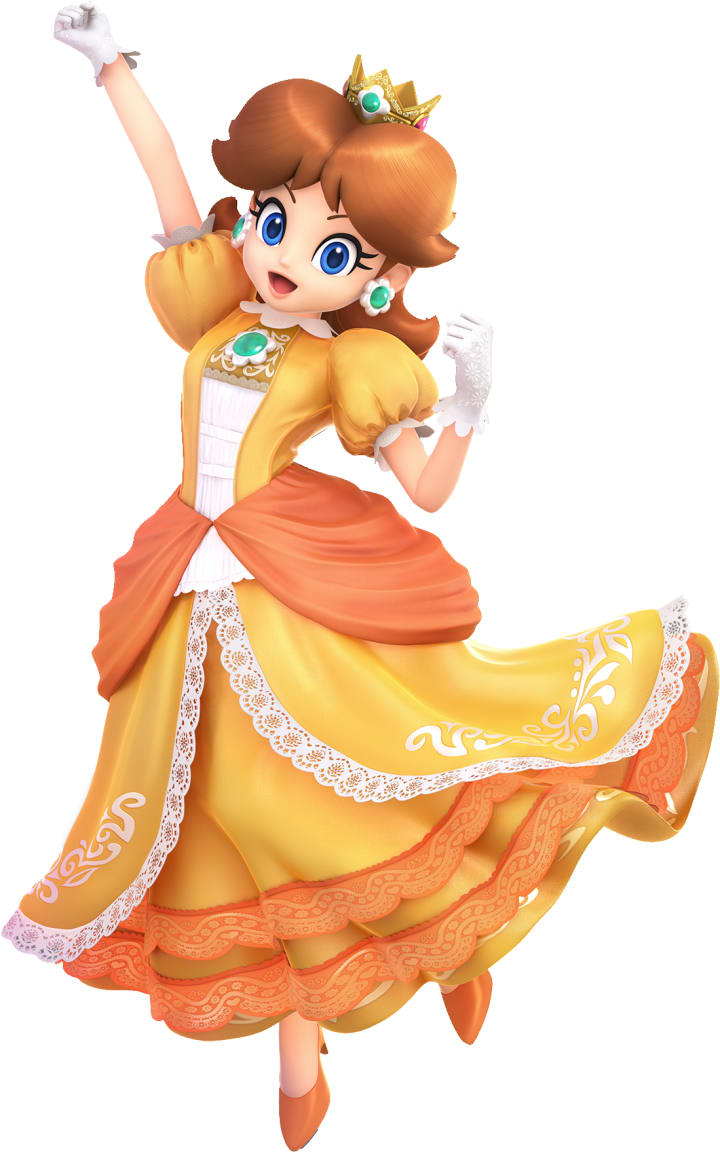 Stripper Name: Lady Glam of Sarasaland
Signature Pole Trick: Sarasaland Slap
Lady Glam of Sarasaland entered the Mushroom Kingdom Pole Dancing Championship, hoping to learn more about hosting a similar competition in her kingdom of Sarasaland. While new to the sport of pole dancing, Lady Glam could not resist an opportunity to give her cousin, Princess Peach, a run for her money on the stage.
Perform Lady Glam of Sarasaland's Sarasaland Slap to send Lady Glam twirling across the flag poles, slapping her bottom to inspire extra cheers from the crowd.
Congrats! You just read an entire article about a Super Mario game inspired by the pole dancing in P-Valley. You should be proud, shouldn't you?
Well anyway, before you go, I have a special bonus for you.
I asked the other members of The Nerd Habit crew to tell me what they would choose as their stripper name and why. Here are their responses:
Wade Braden – Filmore Johnson – "Not sure why except it just seems funny, plus trying to think of a stripper name is hard dude."
Trust me, bro, your stripper name and hard go hand in hand.
Jerah Rose – Lady Of The Wood – *Jerah declined to explain why but she thought most people would understand her stage name. Wood, lady…yeah, we get it.
Brandon Maggard – Rocky Balboner – "I can dance to the eye of the tiger while exercising, emphasizing on my junk."
Brandon is rising up, back on the street…nope, nope, I just can't continue that joke.
John Gelis – Johnny Blaze – "I don't have a why but my Signature Pole Trick is The Blazing Tip!"
Johnny Blaze will keep the audience's excitement burning, no doubt.
Hunny Saybia – Lady Hunny – "Because a lady is sophisticated and honey is sweet. I'm a sweet and sophisticated stripper."
Hunny, my future wife, will get lots of my coins.
And last and certainly the least, I will reveal my stripper name.
Chris Horton – The Nerdfather – "A nerds brain is the sexiest thing on earth…at least until I show my moves on stage."
Thank you for reading this article. If you have any ideas on what each Super Mario Character's stripper names could be, please stop by our social sites to let us know!
Please drop by and let us know what you think on our Facebook page, Twitter feed, or SubReddit.
Read more The Nerd Habit articles:
Mass Effect Legendary Edition, Should You Buy The Remaster?
"Harry Potter" Fan Theories: Voldemort, Dumbledore or Harry - Who Is The True Master of Death?
Live Streamer Journal: Fenyx The Bearded Lady, Hero of the Gods!
satire
The Nerd Habit brings you the latest video game, pop culture, and entertainment news that Nerds habitually seek out. Written by Nerds, for Nerds.
Receive stories by The Nerd Habit in

your feed