Supplies you need for creating Sims shows
The tools of the trade.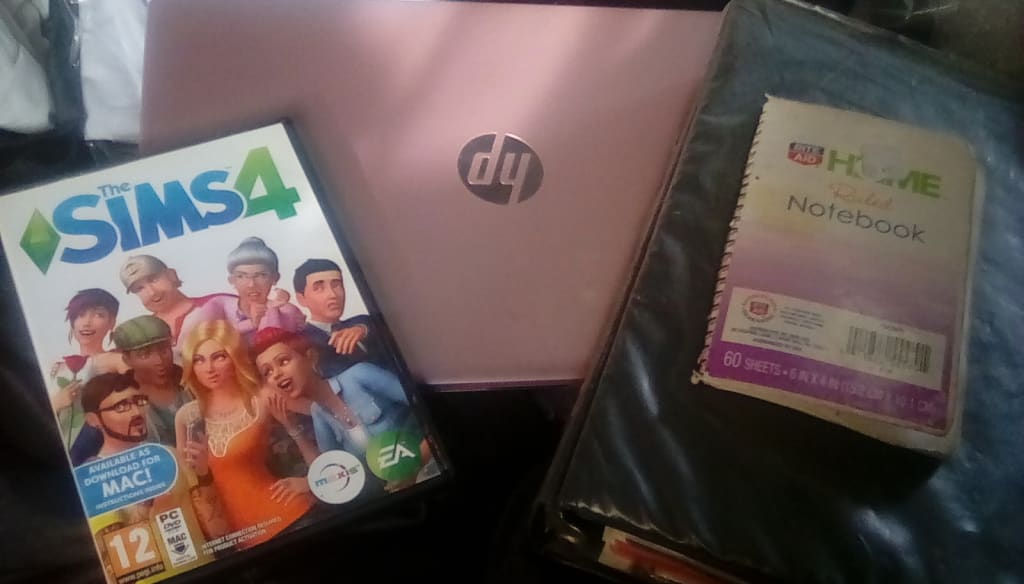 The Sims 4 game, my laptop, my workbook and my small notebook for ideas.
Once you understand the main idea of creating your own Sims shows from the start, you would harness the techniques and creativity to make your show stand out from the rest. Who knows? Your show could be the future talk of the town on social media. For those who haven't read about the basics yet, refer to my previous article The Basics Of Creating Sims Shows, so you will know exactly what you're getting into when you make your own shows. I know some of you are eager to get started right away, but with what? Yes, I said "with what?" You got to have tools and materials to put your story together. Here are the supplies you need which I will explain step by step.
1. computer
2. Sims game CD with expansion packs (sims 2 or later)
3. storage space to store your completed scenes
4. pocket sized notebook
5. loose leaf notebook
6. Milkshape
7. Blender
8. Photoshop
1. Computer: You will need a computer (either desktop or laptop) in order to run the Sims game CD. Ipads like Android and Kindle are not require, those handheld devices don't take up enough space to install and run the game, also not enough space to save video clips of scenes you have created from the game. Make sure your computer has internet access to post your completed Sims shows like episodes or movies online. It's best to use your own computer at home rather than using public computers like at libraries and coffee shops. If you're on a low budget, you can purchase a used computer or a second hand computer that is still fully functional, make sure it includes a CD rom drive, accepts Windows XP & or later and working UBS ports to save your work to external storage devices which I will explain further.
2. Sims game CD with expansion packs: You got to have the game itself to do the animations, create characters and create settings. For people using Sims 2, you will need lots of expansion packs that contains different props, clothes, hairstyles, animations and locales. That means you need to install a lot of expansion packs CDs, one by one. But with Sims 4, you can just download the expansion packs from the Origin website. Sign up with that website and start downloading. Prices for each expansion packs may vary.
3. Storage space device: You will need a place to save your video clips and pictures of your Sims shows on, that way you can go back to them later to pastes many video clips to create one scene and you will have many scene to put your show together. You can use your computer to store some clips by creating a folder with your shows title on it, inside that folder create another folder and name it video scenes. Bear in mind, that video clips on computer are mpg or mpeg files which takes lots megebytes (MB) sizes depending on the duration of clips and scenes. So you will need external storage devices like Flash Drives that hold many gigabytes (GB), the larger the gigabyte size, the more space you would have although the larger ones are pretty pricey. You can also use an external hard drive that takes up at least 1 terabyte (TB) space, which equals 1000 gigabytes. It should cost around $50 depending on which store you are purchasing them from.
4. Pocket sized notebook: This particular notebook you will need to take with you wherever you go. Ideas are everywhere, inside and outside your home and you will never know when a certain idea for your next show will light up like a light bulb. You can carry it in your pocket, purse or bag. Keep it with you at all times.
5. Loose Leaf Notebook: This will be your official workbook that will help you put your show together. Loose leaf is better because you can add more paper. You may use spiral notebook, I recommend 5 subject. If that is not available in your area, you can use 3 subject. Make sure your notebook included section dividers for different subjects. You may keep it in your bedroom or home office if you have one. More important, keep it in a safe place, so you know where it would be at when you're ready to do some work. This notebook can stay home at all times.
6. Additional items you need: For people who are interested in creating custom content mods, perhaps create unique animations, hairstyles, clothes, poses, etc., you will need two software programs, Milkshape and Simpe. For creating props and locations you will need Blender or Maya. For coloring, making unique designs and texture or adding real life pictures into the games, you can use Photoshop or Windows paint. You can use any video editing software programs or online to paste your video clips together, add audio (sound effects, voices and music), texts and special effects for your show. Windows Movie Maker is good for beginners.
Once you got all the supplies and materials together, then you are ready to create your own Sims shows. More details to come. Have fun.
how to
This native New Yorker, born and raised in Harlem has a passion for arts and crafts, music travel, and writing fiction. I also have interests in holistic health and wellness, metaphysical studies, and the study of the law of attraction.
Receive stories by Aisha Charmalique Bowens in

your feed