Sega Genesis Mini Update
10 More Genesis Games Have Been Added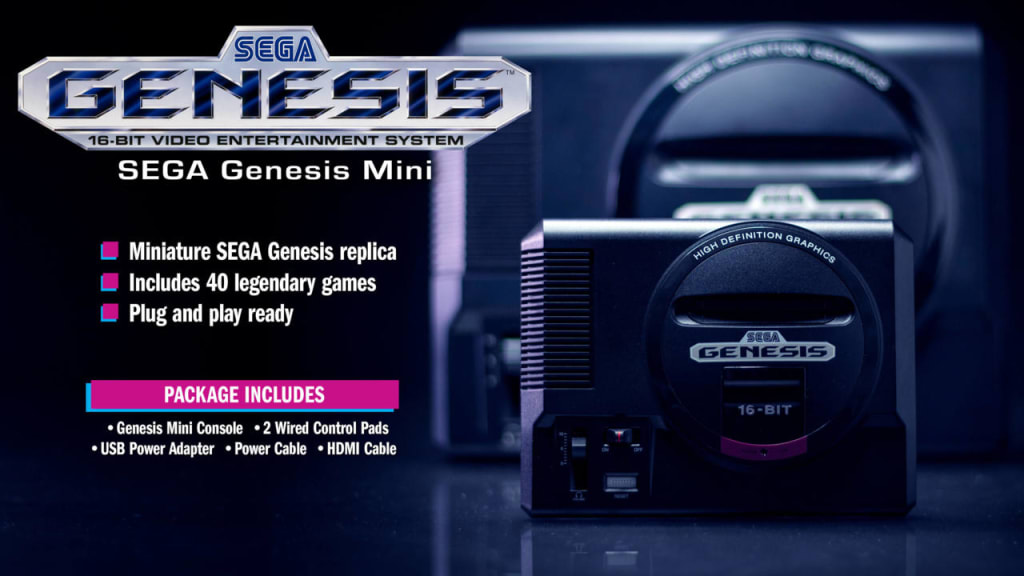 Genesis does what Nintendon't
Greetings, Vocal readers. I have an update on the Sega Genesis Mini that you're going to love. So in case you're living under a rock or unaware of what's going on, two months ago, Sega announced that they will be releasing the Sega Genesis Mini on September 19. It will include 40 games and it's ready to plug and play. The retail price of it will go on sale for $79.99. For about $80, that's a really good deal for a piece of nostalgia. It's better than spending $200-$400 on an XBox One or PlayStation 4. I wrote an article about this back in March and disclosed the list of the first handful of games that will be on the Sega Genesis Mini and they are as follows:
Ecco the Dolphin
Castlevania: Bloodlines
Space Harrier II
Shining Force
Dr. Robotnik's Mean Bean Machine
ToeJam & Earl
Comix Zone
Sonic the Hedgehog
Altered Beast
Gunstar Heroes
To read the full article, you can click here and check it out: Gamers: "Sega Genesis Mini"
Now that I've gotten that out of the way, Sega recently announced 10 more games that will be on the Sega Genesis Mini, confirming 30 of the 40 games so far. Here are the list of games down below:
Mega Man: The Wily Wars
Street Fighter II: Special Champion Edition
Ghouls 'n Ghosts
Alex Kidd in the Enchanted Castle
Beyond Oasis
Golden Axe
Phantasy Star IV: The End of the Millennium
Sonic the Hedgehog Spinball
Vectorman
Wonder Boy in Monster World
So far, there has been no release date of when people will be able to pre-order the Sega Genesis Mini and the rest of the games will be announced soon. I'll be sure to keep an eye on this story and keep everyone posted. You can also check out my original article where I stated which games I would like to see on the game system. It's worth the read and just to warn you, I totally geek out about these games. I've polled my friends and followers, following the announcement of the Sega Genesis Mini, on whether or not they'll buy it. They were mixed on it, but hopefully, the outcome will be much different. Like I've said many times before, nostalgia will always be there, especially when it comes to retro gaming. I remember playing my first video game at the age of two and now being in my early 30s, I still love retro games. They'll always be a part of my life.
After seeing the 10 added games that will be on the Sega Genesis Mini, has it changed your mind on purchasing one or are you still excited for its release? Let me know your thoughts by going to my social media pages. My Facebook and Instagram info is in my bio, so be sure to follow me on both pages, step into my nerdy world, and join in on the conversation. Finally, if you like the articles I've written and like my content, feel free to send me a small one-off tip that's located towards the end of every article. Your support is greatly appreciated. Your tip not only helps me, but other Vocal content creators create outstanding content. Be sure to support them and read their articles. Vocal has recently announced the launch of Vocal+, a premium membership for Vocal content creators like me to write better stories, connect with creators, and a lot more.
I wish everyone a safe and healthy Memorial Day weekend. Again, be sure to tip me and other Vocal content creators and encourage us to write better stories and support us. We need as much of it as we can.