Nintendo Nerds
Sega Genesis Mini
Genesis does what Nintendon't.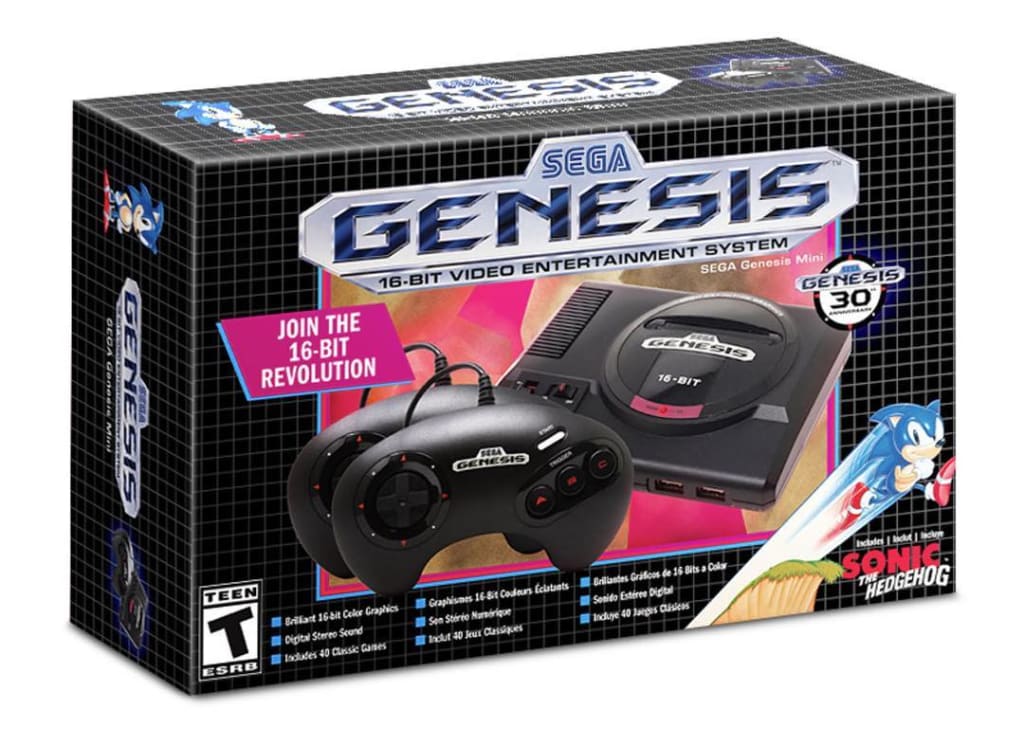 The Sega Genesis Mini 
In case you're living under a rock, last week, Sega announced that they will be releasing the Sega Genesis Mini on September 19. It will include 40 games and it's ready to plug and play. Also, it will include the following:
2 Wired Control Pads
USB Power Adapter
Power Cable
HDMI Cable
As a person who has been playing retro games for almost 30 years, I'm super hyped up about this. The Sega Genesis is one of my favorite game systems growing up and they had some great games that my youngest brother and I would play for hours. This year will be the 30th anniversary of the release of the Sega Genesis/Mega Drive, so I'm looking forward to buying the Sega Genesis Mini. The retail price of it will be $79.99, but I know that it'll sell quickly like the NES Classic back in 2016 and the mischievous scalpers will buy more than one, post them on Amazon or eBay, and sell them for two to even five times the original price. I wanted to buy an NES Classic the week it came out, because my birthday was two days after it was released. By the time I stopped by my local Best Buy, GameStop, and Target, they were already sold out of it. However, I did end up purchasing one weeks later on eBay, but was shamed online by someone, saying that I "gave in" to online scalpers. I replied that I really wanted one and had no other choice. In the end, I was a happy camper and got my late birthday/early Christmas gift. Going back to the Sega Genesis Mini, like I said, there will be 40 pre-installed legendary games. Here are some of the games that have been announced so far by Sega:
Ecco the Dolphin
Castlevania: Bloodlines
Space Harrier II
Shining Force
Dr. Robotnik's Mean Bean Machine
ToeJam & Earl
Comix Zone
Sonic the Hedgehog
Altered Beast
Gunstar Heroes
Pre-order links and the rest of the games will be announced soon, so keep an eye out on them as the release date of the Sega Genesis Mini apporaches. Over the weekend, I've polled my friends and followers if they were planning on buying one, and they are split. I'm glad that Altered Beast is on this list, because I loved this game since I was kid. Hearing "Rise from Your Grave!" excites me every single time. To this day, I still think that it should be either a live action movie, series, or even both. Castlevania is now a TV series, which premiered on Netflix in 2017, and it is now in their second season. A ten-episode third season has been green lit by Netflix. I have a feeling that Altered Beast will be on Netflix in the near future. The games that I would like to see on the Sega Genesis Mini are The Lion King, Sonic the Hedgehog 2, Ultimate Mortal Kombat 3, Shinobi III: Return of the Ninja Master, and Super Street Fighter II: The New Challengers. So I'm looking forward to Sega releasing the list of the rest of the games.
Will you be buying the Sega Genesis Mini once it's released or are you going to stick with your original console? I'm on social media and all of that info will be in my bio. Please do follow me and step into my nerdy world and join in on the conversation. If you like the articles I've written and like my content, feel free to send me a small one-off tip that's located towards the end of every article. Your support is greatly appreciated.