Prepare yourself! COLLECTION OF THE SIDUS ACADEMY
The pre-sale begins on January 6th.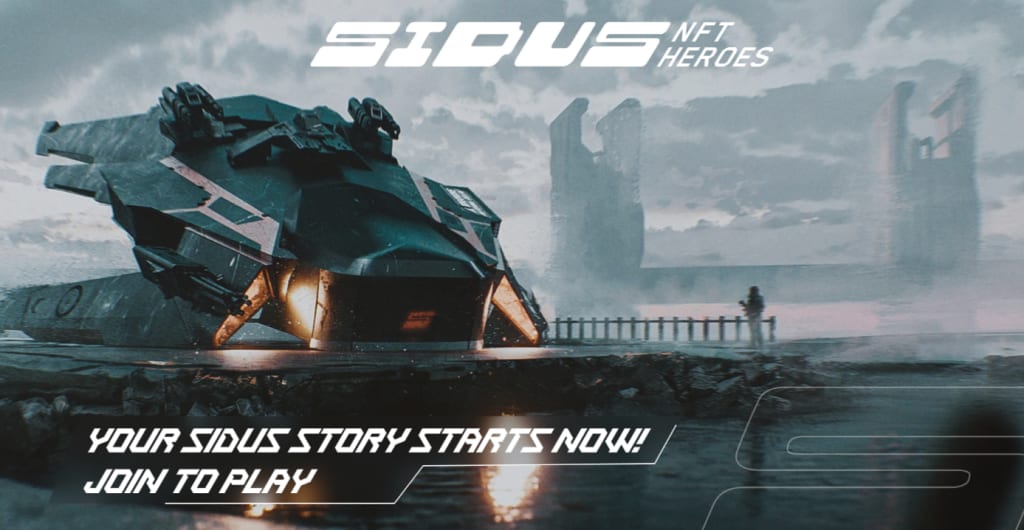 The SIDUS HEROES community is gearing up for an exciting event — the presale of the SIDUS ACADEMY collection — that will get everyone ready for the game and its unlimited adventures and earning opportunities. The NFTs in the collection are essentially tickets to the game metaverse, with the rarity level of each NFT dictating the qualities each character gets.
Find out what SIDUS ACADEMY NFTs are and what benefits they provide. The event will take place on January 6th from 03:00 UTC to 18:00 UTC on the site. What to Expect from the Presale and How to Get the Most Out of It.
Participate in the SIDUS ACADEMY (NEW COLLECTION) presale to ensure your place among the city's initial settlers.There will be a limited amount of NFTs available for purchase.
The SIDUS ACADEMY COLLECTION presale will begin at 03:00 UTC on January 6th and end at 18:00 UTC on January 8th. The presale will finish sooner if the demand for ACADEMY Cards exceeds expectations. If there are any NFTs left after the presale, the collection will be sold publicly. Don't squander another second!
There are three rarity levels of SIDUS ACADEMY NFTs available for purchase: Common, Epic, and Legendary. SIDUS tokens will be used in the sale, so make sure you have some on hand:
1 Common Academy Hero costs 700 SIDUS TOKENS
1 Epic Academy Hero costs 14,000 SIDUS TOKENS
1 Legendary Academy Hero costs 140,000 SIDUS TOKENS
To let more people to get their hands on some of these NFTs, each wallet will be limited to a maximum of 10 Academy NFTs (of any rarity).
Have SIDUS on your account, determine which NFTs you want on your squad, and we'll see you on January 6th!
NFTs purchased on January 6th will be available for claim on the official SIDUS HEROES website on January 12th. More information will be available soon!
Ordinary, Epic, Legendary... Which card should you choose?
There are three rarity levels of SIDUS ACADEMY NFTs available for purchase: Common, Epic, and Legendary. Each in-game character's features are determined by the rarity of the card.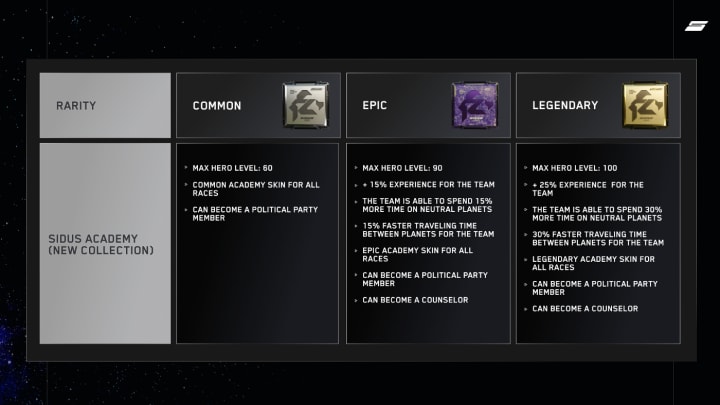 Consider which elements are most important to you and which will make your gameplay the most productive and effective. That will assist you in deciding between Common, Epic, and Legendary, or you can mix and match all three.
The Event's Schedule
Here's a quick rundown of what you may expect and how to prepare.
The SIDUS ACADEMY presale starts on January 6th at 03:00 UTC and will go on until 18:00 UTC. The sales will be carried out in SIDUS tokens, so make sure you have enough in your wallet. SIDUS tokens are available for purchase on Uniswap DEX, Gate.io CEX, DEX Tools, AscendEX, or they can be swapped directly within a MetaMask wallet. Please remember that all transactions take a commission.
On January 12th, you will be able to claim your SIDUS ACADEMY NFTs on the SIDUS HEROES website.
On January 23rd, the public beta version of the SIDUS HEROES game will open up to all SIDUS ACADEMY holders.
TEAM SIDUS AND PARTNERS
SIDUS is the result of one of the most significant NFT collaborations ever. Hundreds of professionals from many fields got together with a big number of supporters to launch the first ever WEBGL AAA-level, Play-to-Earn, NFT RPG game employing cutting-edge technologies.
A significant number of highly competent blockchain developers with years of expertise building DeFi and NFT technologies make up the SIDUS NFT HEROES team. Many members of the SIDUS team have experience working in the game development sector and are adept at implementing cutting-edge technologies and multimedia solutions. The SIDUS team has designed a comprehensive DeFi ecosystem with farming pools, staking, a marketplace, in-game launchpad, booster, and more, in addition to an exciting Play-to-Earn blockchain journey with numerous options and experiences.