Peaceful Gaming - Why so many choose serenity over stress when it comes to video games
Why do people love playing cozy games like Stardew Valley or Animal Crossing? Why do they get hyped for new games like Bear and Breakfast and PuffPals? What makes virtual work more enticing than real-life work?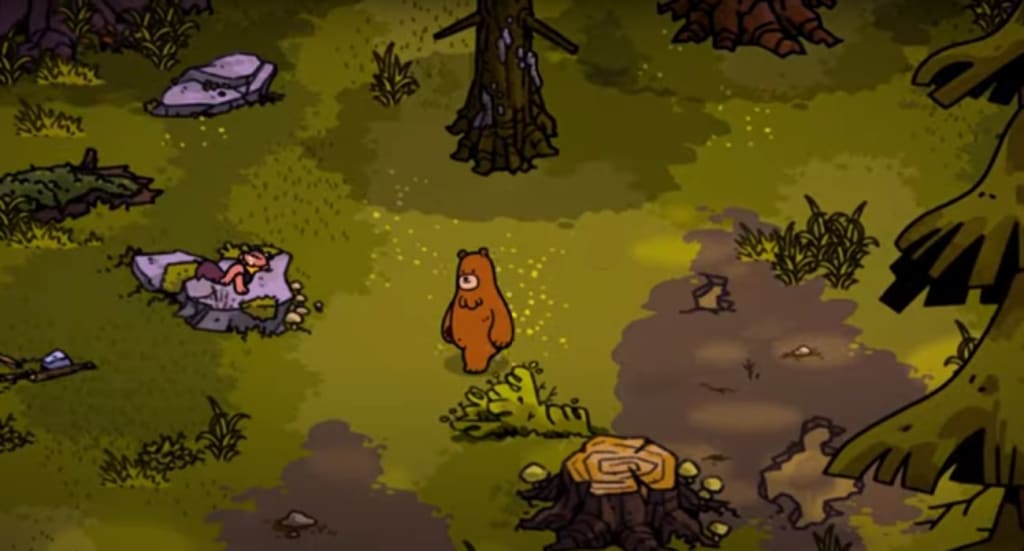 Image from Bear and Breakfast trailer via Steam
Imagine this… After a long day at work, school, or even both, you've returned home, and now it's time to unwind and relax. You grab a warm drink and pick up your Switch to load up Zelda: BOTW as you get comfortable in a beanbag. This is very relatable and the spark for this article was the release of "Bear and Breakfast" on the 28th of July, 2022 and two days in it's all over Youtube and Instagram (keep in mind I don't follow many gaming channels). Currently, it's hard to find stats on downloads and users as the game has just been released but with 90% of 205 current reviews being positive/very positive on Steam, it can only mean good things. It got me thinking about the explosion of cute and cozy games that have been popping up all over the place.
You might have spent hours upon hours playing video games by yourself or with friends on your PC, PlayStation, or Nintendo Switch during lockdown, like many other individuals all across the world. At this time, the cozy over cruel game hype began to appeal to players looking for an escape from reality. Video games are in part fun because they transport us to new realities and satisfy our needs for achievement and recognition. We must give reference to Animal Crossing: New Horizons and how the timing of its release, which coincided with a pandemic that forced us inside, really boosted the awareness of "cozy" gaming as it took you out of the real world and allowed many to connect with friends and loved ones. This graph represents five years' worth of searches for "cozy games" worldwide. You can notice the peak in early 2020, but the constant increase over the course of 2021- 2022 is definitely more pronounced. This is most likely due to the fact many people are heading back into the world and are craving a peaceful escape from their daily chaos.
After the incredible success of Animal Crossing, in 2020, which sold over 31 million copies and amassed many awards, it seems that other developers are releasing similar games to reach the same audiences and gain success. This audience is known as "cozy gamers". These are the gamers who aren't into high stakes, killing enemies and fighting bosses, instead, they enjoy the peaceful mundane activities of gardening, cooking and exploring worlds that have a pleasing colour palette.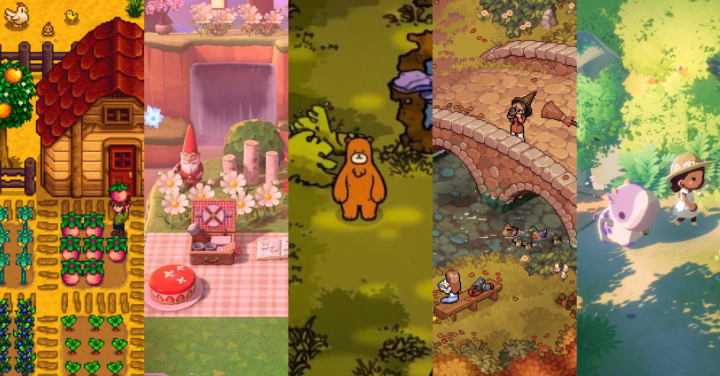 Common genres associated with cozy gaming include puzzles, farm/life simulators, visual novels, and adventure games. Stardew Valley, Animal Crossing, Zelda, Story of Seasons, Minecraft and indie games (Frogsong, We are OFK, Yokai Inn, etc) are some popular choices when it comes to choosing a cozy game.
The psychology behind why we love cozy games
If we reflect on the time in which these games became popular it was all about escape and that hasn't changed much. There is a fascination with specifically leaving a corporate job for a farming/creative job. However, these games aren't completely based on full freedoms, in fact, most of these "cozy games" focus on you (the character) leaving your boring 9 to 5 desk job to work in an old town, forest or island doing some form of labour. So you may ask why we find comfort in "working" in virtual worlds, even as we struggle with the stress and burnout caused by our real-life jobs. 
The self-determination theory, according to Dr. Michael Shapiro, a professor of communications at Cornell University, is that "motivation is driven by three core human needs - autonomy, competence, and relatedness - and video games satisfy all three." Let's look at Stardew Valley as an example, your character is exhausted from working their corporate job and opens the letter given to them by their grandfather and it's the deed to his land that is located in Stardew Valley, thus your farm life begins. Players get to make their own decisions about their farm, house and character design (autonomy), continually learn and improve various skills like fishing, farming and interior designing (competence) and can interact and befriend both in-game characters and real-world friends (relatedness). Being able to work in video games gives you the chance to do things you might never do professionally or that are purely fictional, such as being a farmer, mailman, baker, or a witch who sells potions. Take a look a the demo for "Witchy Life Story," which includes those three key components of motivation.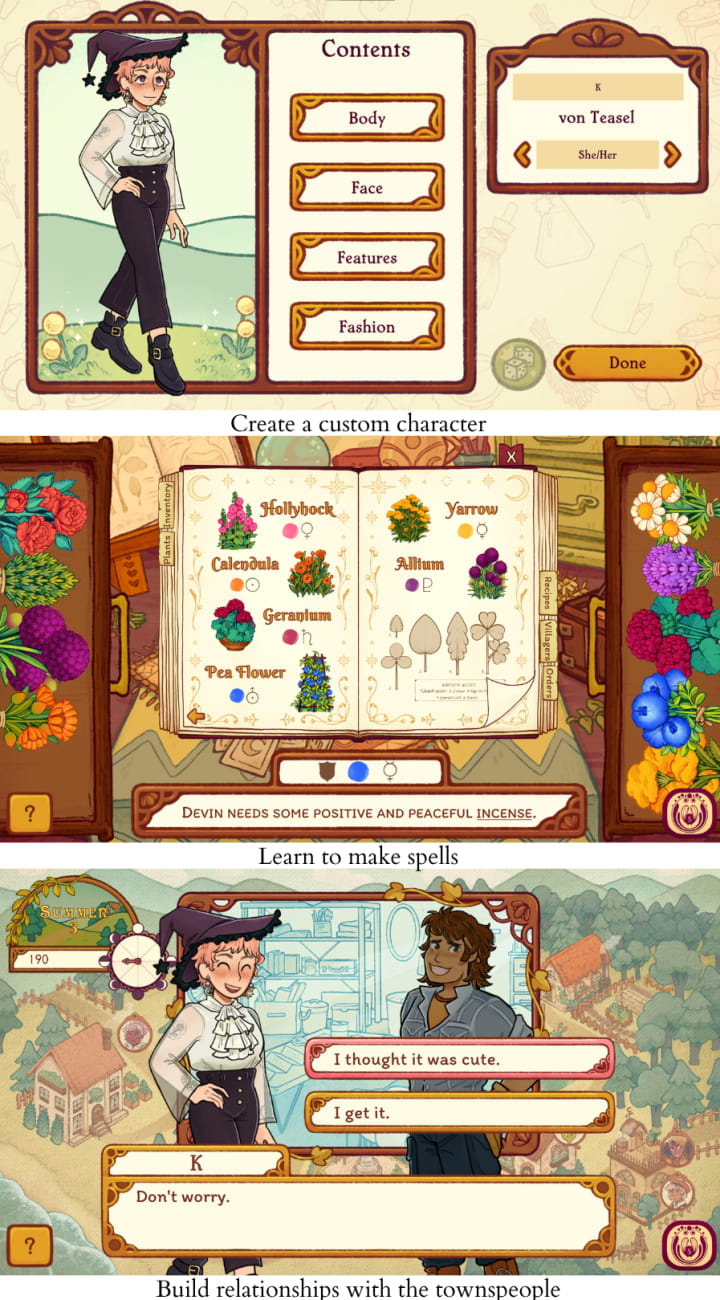 In comparison to real life, video games also provide players with more frequent feedback and opportunities to feel good about themselves. When your real-life managers won't provide you with a clear road to a raise or a promotion, video games will. The continual, action-oriented feedback informs you what you're doing, how well it's working, and explicit directions on how to improve. Giving in-game quests and objectives gives users a sense of direction in an environment they are comfortable making mistakes and trying things outside of their comfort zone. As the gameplay is usually repetitive, players can fall in love with the calm nature of doing real-world tasks and the validation of getting these tasks done. 
Aesthetics 
The most notable aspects of these "cozy games" is their style and colour palette. I have compiled some common colour swatches found in these games because it's impossible to escape colour theory as it plays a key role in attracting users. The aesthetics describe the desirable emotional responses evoked in a user when they interact with the game.
According to colour theory, warm colours like red, yellow and orange evoke higher arousal emotions, such as love, passion, happiness, and anger. Cool colours, like blue, green and purple are linked to calmness, sadness and indifference. These video games tend to take calming colours from nature like cream, tans, pale blues, pale greens and other soft tones to help create a quiet and relaxing atmosphere. So, developers are usually aiming for more tertiary and analogous colours. These developers want to avoid over-stimulating or dull colours.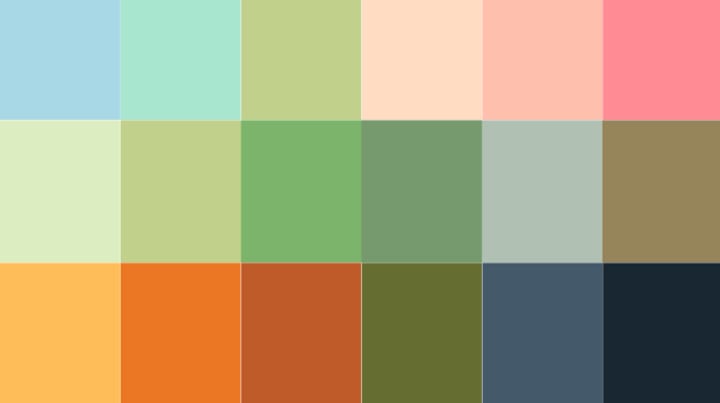 Style is determined by the characteristics that describe the artwork, such as the way the artist employs form, colour, and composition, to name a few. Other than colour the style of a cozy game is crucial. Whether it's pixel, flat or doodle art, the style can add or detract from the calm gaming experience. It can be noted that a majority of cozy games don't take a hyper-realistic style, which could be done purposely to remove the user from reality. However, games like Lake, use realism to integrate the user into the story, a story that could be very sincere. The objective of these games is not to tell a story, but to create a simulation that seems real. In contrast, the use of pixel art in a game could be used to depict fantastical ideas like magic and exploring the unknown.

Even if users find a game disengaging or think it lacks an interesting narrative (two main problems I came across in reviews), the art is usually what draws people in and where a lot of positive associations come from. The overall aim of aesthetics is to make the user feel cozy. 
Not always a walk in the park
Not all cozy games are void of stress as developers need to also think about engagement. A game with incredible visuals and in-depth storytelling can still be boring if all you do all day every day is plant crops and cook. Some may find to destress they need a distraction one that involves puzzles or battles. These elements drive the players to use strategy, intuition and honed actions to defeat opponents. In-game mobs can be destroyed to gather experience points, money, items, or complete quests, moving the game forward. Zelda: Breath of the Wild and Genshin Impact are two games that are visually stunning, but have worlds crawling with hostile mobs and random puzzles.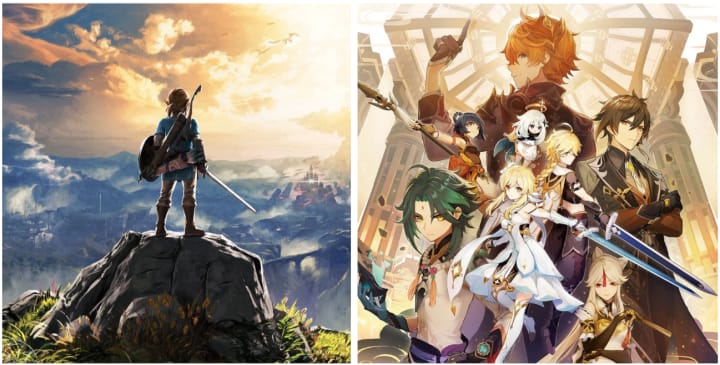 This isn't a negative thing. You may find relaxation in starting fist fights with creatures much stronger than you or are always up to solving a challenge. Despite the fact that some people may find them relaxing, fighting or shooter games, will not be included as "cozy games" since they lack cute aesthetic features and are largely based on competition. The reason many flock to cozy games is that there aren't any great risks, dangers or losses. Therefore, BOTW and Genshin might not be a great fit for everyone looking for their next cozy game. Consider taking this survey to find out what kind of gamer you are.
The Experience 
Youtube, Instagram and Pinterest are filled with "cute gaming setup" pictures or videos. There are entire accounts dedicated to supplying the internet with cute cozy inspo (@cozy.games on Instagram is a great example.). It's one thing to play cozy games, but what we see within these games can be reflected in our environment. As we create our spaces, we reflect profoundly on the atmosphere of a picture, we ponder the relationship between colours and notice how consequential the objects we place are to the feeling of that space. 
In essence, we can learn from these games how to integrate cozy elements into our lives, making spaces for ourselves where we feel safe to sit, relax and take time for ourselves. Someone's personal space possibly reveals a lot about them. Desks are functional spaces for work and hobbies, and it could be littered with personal items like books, figures and pictures. This not only adds to our cozy gaming experiences but also gets you into a place of relaxation and helps you focus on more academic subjects. Take my desk, for example: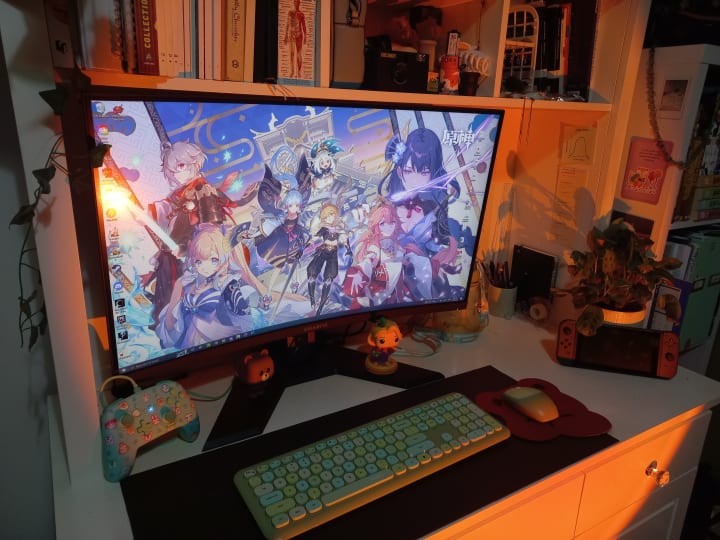 The Takeaway
It is evident that the cozy gaming scene is thriving right now, as there is a ton of new games in development and daily additions of new players to the plethora of existing games. Actually, the continued support for the cosy gaming movement is the individuals who want to take time for themselves every now and then, as well as inspire and encourage others to do the same. 
Remember to take care of yourself, and learn to make cozy and safe spaces in your life.
*DISCLAIMER: I am not sponsored by any of the aforementioned games or companies (I wish I was) and all images belong to their respective creators unless untitled in which they belong to me.
About the Creator
I write articles about human experiences with a keen interest in art, psychology and society. I post about once a month.
Reader insights
Outstanding
Excellent work. Looking forward to reading more!
Top insights
Easy to read and follow

Well-structured & engaging content

On-point and relevant

Writing reflected the title & theme

Compelling and original writing

Creative use of language & vocab
Expert insights and opinions

Arguments were carefully researched and presented

Eye opening

Niche topic & fresh perspectives

Heartfelt and relatable

The story invoked strong personal emotions
Add your insights