One Month Later, And Here's Why I'm Even More Obsessed with Humble Bundle's Choice Model!
In March, I found a company that allowed me and many others to discover new games at a highly affordable price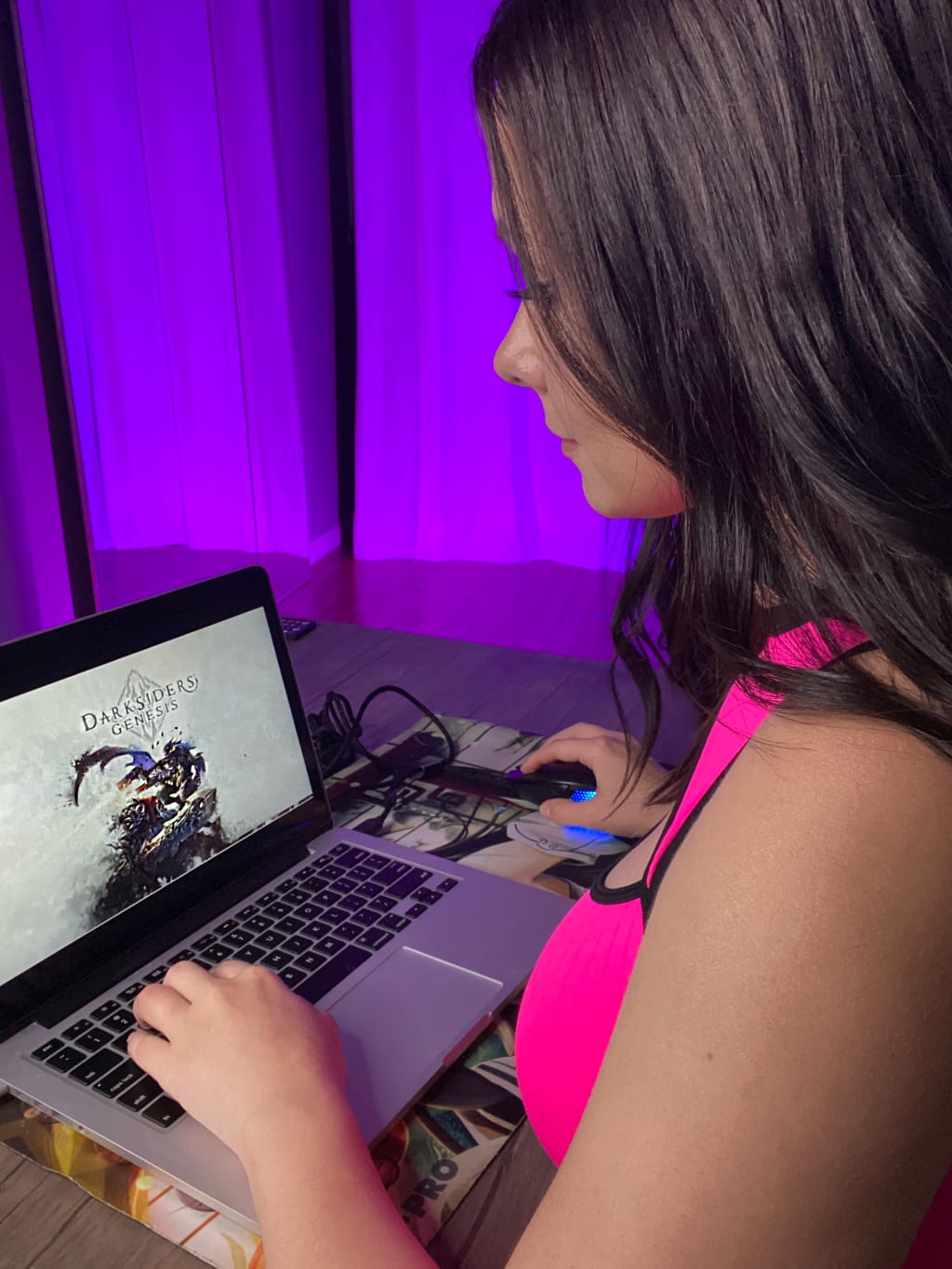 Through that process, I found a community in gaming that helped me give back to charities important to me.
That company is Humble Bundle! In case you aren't yet familiar with Humble Bundle, they are a company that sells video games, ebooks, software, and other digital content with a significant focus on supporting various charities in the process. Their goal is to make gaming affordable to everyone and support a good cause while doing so! Both of those things are very important to me. Last month, I got to try out Humble Bundle's "Pay What You Want" feature.
This feature lets you choose from a select group of monthly curated bundles that include tons of fantastic games in them. The cool part is that you pick the price you want to pay and how much you want to go towards charity! To learn more about my experience with the "Pay What You Want" feature, go check out my other article, "I Found a Community in Gaming That Helped Me Give Back!"
This month I got to try out a different model that Humble Bundle offers. The Humble Bundle Choice model!
So, what is the Humble Bundle Choice model, and how does it work? Well, I'm glad you asked!
The Humble Bundle Choice model is a monthly service where you get an array of excellent games at an affordable set price! The games offered in this package are different every month, and that is what makes it exciting! Humble Bundle works hard to get several top-tier games every month with three different affordable price options. Plus, a portion of every purchase goes towards charity!
Humble Bundle continues to make strides towards supporting and promoting great charities. This is honestly one of my favorite things about Humble Bundle as a company. They care about building a positive community around gaming that supports charity. We can all do something to make a difference, even if it's small. Then, all of our efforts together can make a massive difference in the long run! So far, Humble Bundle has raised over 195 million dollars toward charity which is incredible! I love how Humble Bundle has created a community of gamers that care about giving back to charity. Humble Bundle also works with a wide variety of charities, over 34,000! "Stop AAPI Hate" was the charity of the month for April for Humble Bundle for example.
Earlier I mentioned a bit about the different price packages in the Humble Bundle Choice model. So, let's get into more detail about that! The Choice model offers three monthly packages to select from. The perks that you get increase based on the tier you choose! The "Lite," "Basic," or (the most popular option) "Premium"! Humble Bundle's goal is to make gaming affordable for whatever your budget is and wants to give you the option to choose what works best for you! Also, the games don't expire when the month is over. You get to keep them forever! Don't forget that every month part of your purchase goes towards a different charity!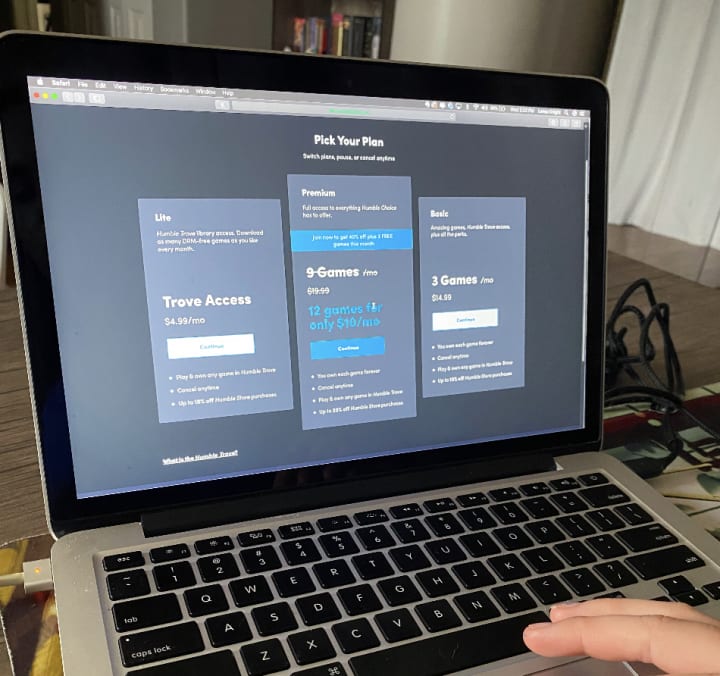 Now, let's talk more about these tiers. First up, we have the "Lite" tier. You get access to download as many DRM-free games that Humble has in their game library in this tier! This tier is only $4.99/ month, which is a complete steal! So many games for such a low price is insane! Next up is the "Basic" tier. Within this tier, you get access to the entire Humble Trove game library just like in the "Lite" tier, but on top of that, you get three amazing games! These games rotate every month, so you always have something new and marvelous to play! This tier is only $14.99 a month, which is still crazy when many new triple AAA titles cost $60 for just one game! Humble Bundle is changing the way we purchase games and making gaming accessible to all while supporting charity! Last but not least is the "Premium" tier! As I mentioned, earlier this is the most popular tier! You not only get everything in the "Lite" tier and "Basic" tier, but you also get nine additional games on top of that!
Remember earlier when I talked about the average price of a triple AAA title?
Well, this tier blows that out of the water by being $19.99 a month. Get your first month for $10 or for new members, you get your first year for just $12 a month. That is less than a dollar per game! You get the entire Humble Trove game library, the three games from the "Basic" tier, and the nine games from the "Premium" tier! Twelve games in total with access to the Humble Trove game library. That is by far one of the best gaming deals on the market right now.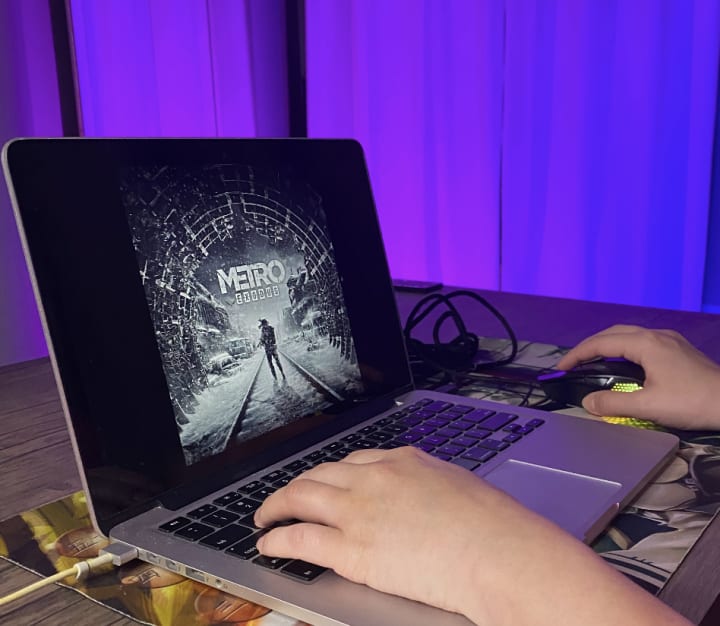 For May, I got the "Premium" tier and twelve outstanding games with it! These are my three favorites for the May Humble Bundle Choice model, Metro Exodus, Darksiders Genesis, and Hellpoint! The first game I want to talk about is Metro Exodus. The third installment in the Metro video game trilogy is based on Dmitry Glukhovsky's novels, following Metro 2033 and Metro: Last Light. Metro Exodus is a first-person shooter with survival, horror, and stealth elements. The game is set in a post-apocalyptic world where you fight both mutated creatures and hostile humans. I love first-person shooters, and Metro Exodus did not disappoint! This incredible game is valued at $40. So, right there, the Humble Bundle Choice model has saved you so much money, and you get eleven more games on top of this Metro Exodus!
My favorite game of the May Choice model is Darksiders Genesis.
Get ready for a top-down hack and slash action role-playing video game. You get to tear your way through hordes of angels, demons, and everything in between. I have a very special place in my heart for top-down games and enjoyed this game so much. Darksiders Genesis was honestly my favorite of this month and so worth it! This game outside of the Humble Bundle Choice model is valued at $30. Again, Humble Bundle is saving all of us so much money with their Choice model! The last up is Hellpoint. Hellpoint is a super intense action RPG set in a derelict space station with dark and moody sci-fi vibes. If you love RPGs and unraveling twisted stories, then this one is for you! I really enjoyed going through their storyline and battling crazy monsters in space! This game on its own is valued at $35.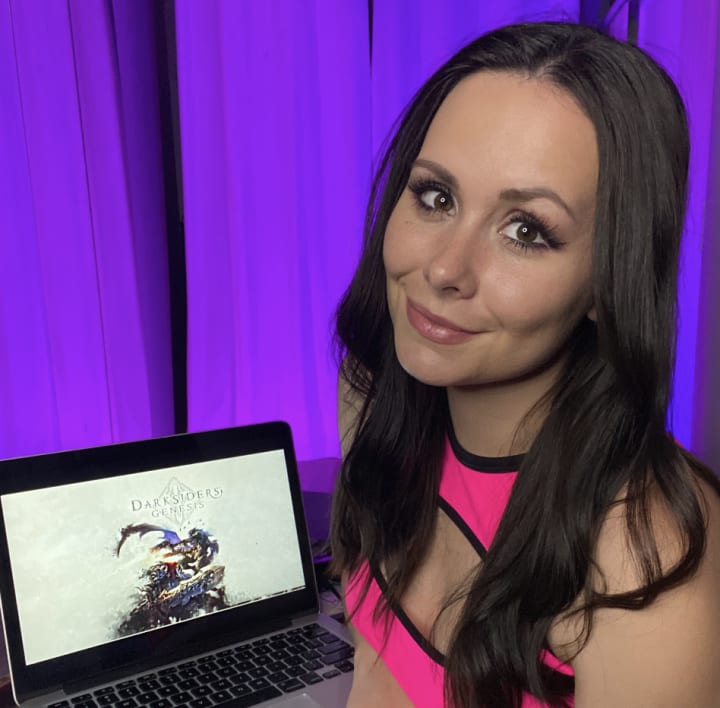 As you can see, all three of these games are incredible and valued at over $100! Plus, you get nine other games with your Choice Model purchase, bringing the total value of your monthly purchase to over $260. For only $12 a month, you get all twelve games and access to the Humble Bundle Trove library. That is $1 per game, with new games curated every single month! I'm so happy I could try out Humble Bundle's Choice Model this month and discover so many awesome new games! These games are only available doing the month of May. So make sure you head over Humble Bundles website and choose the May Choice model to get all twelve games before they are gone!

Lenox Knight
Lenox Knight is a LA based actress, singer, dancer, cosplayer, and host. She just filmed a new feature Heaven's Revenge. As an international cosplayer, she has worked for various companies. She loves playing video games and watching anime!
See all posts by Lenox Knight →