I Found A Community In Gaming That Helped Me Give Back
My Gaming Journey Began When I Was 6 Years Old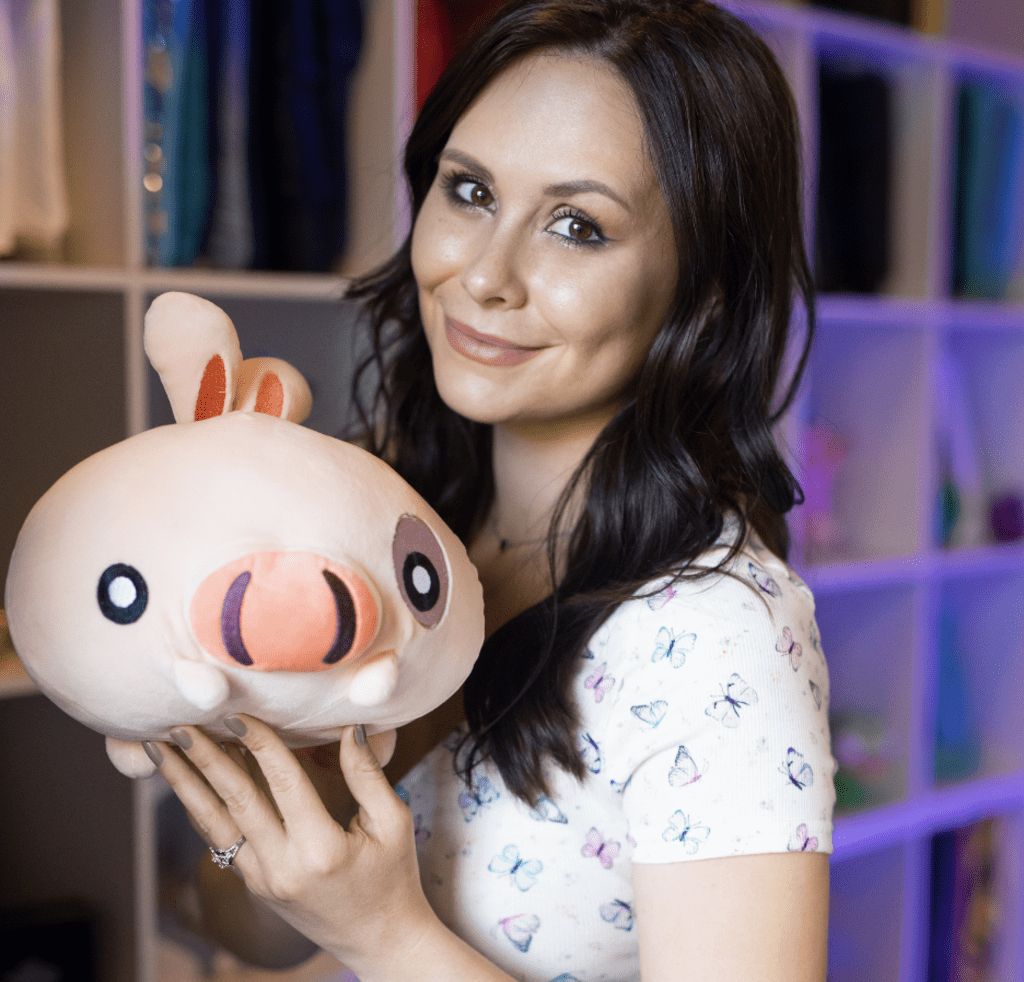 That was the first time I picked up a controller and pressed the start button and became fully immersed into a world that wasn't my own. From that moment on, I was hooked! The thrill of victory and overcoming the challenges the game had set was exliterating. Each and every game has its own unique win conditions, and once you meet them, you want to find a new game and new win conditions to test your skills over and over again! The ability to play with my friends made gaming a staple pastime in my book.
Throughout the years I have tried all sorts of different types of games, genres, and platforms.
From tabletop games with my family, pc and console for when I want to get really serious, all the way to mobile when I'm trying to get a quick match in between working on things! They each have their own way of challenging my brain in unique ways. Now, every gamer knows the excitement of picking up a new game for the first time and unlocking all the secrets it has to hold, but always getting a new game can be really tricky with how expensive games can be! It's hard to stick to your budget and always have a different video game to play! That is where Humble Bundle comes in with their "Pay What You Want" model! This feature is an absolute game changer!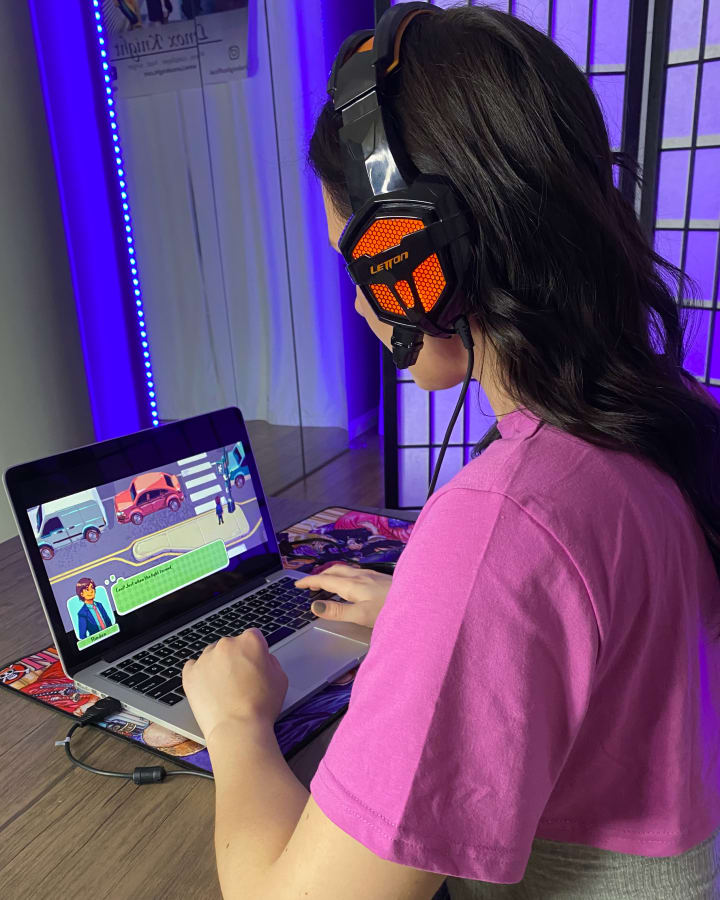 Humble Bundle is an online company that sells not only games but also ebooks, software, and other super cool digital content! Humble Bundle is dedicated to making gaming affordable and fun for all! They continually curate different "limited time only" bundles that are affordable and filled with some amazing content and give a percentage of every purchase back to charity. Making each bundle on a "limited time offer" format makes it super exciting as a consumer to always check back and see what new games they've acquired and put together in a new fancy bundle! This format also allows the gamer to get the games they want and discover new games within their budget. Also, each bundle is grouped by a fun theme. So, it makes it easy to pick out a bundle that you are going to love!
Humble is positively dedicated to building a marvelous gaming community that cares about others and giving back!
So, if you always want to try out various games, discover a new book, and give back to charity, then Humble Bundle is the company for you!
Now, let's talk about Humble Bundle's "Pay What You Want" model! I know I mentioned it earlier and you are all probably wondering "What does that actually mean? Pay what you want? What company just lets you, as the consumer, choose what you want to pay on a game?" The answer is Humble Bundle does! Their "Pay What You Want" model lets you choose how much or how little you pay for their bundles. They want to work with your budget so that you can try out lots of wondrous games under their catalog! Plus, this feature extends to their book bundles as well! Now, you can go get your read on too! I am really looking forward to trying out one of their book bundles next!
Don't forget that every bundle purchased has a percentage that goes towards one of the many incredible charities that Humble Bundle works with. Now, you are probably wondering, "Ok, that's cool, but what is that percentage?". That is another domain where Humble Bundle breaks the mold and lets the consumer choose! In the "Pay What You Want" model, you can adjust how much of your purchase goes towards the developer, Humble Bundle, and the charity you have selected from Humble Bundles catalog. How incredible is that? It's no longer a theory on how much actually goes to each entity. Now, you can see it and choose for yourself where each percentage goes! Every bundle listed on Humble Bundle's website has a charity attached to it. Plus, if you want to switch, the charity Humble Bundle has a wide list that they work with so that you can find what charity speaks most to you!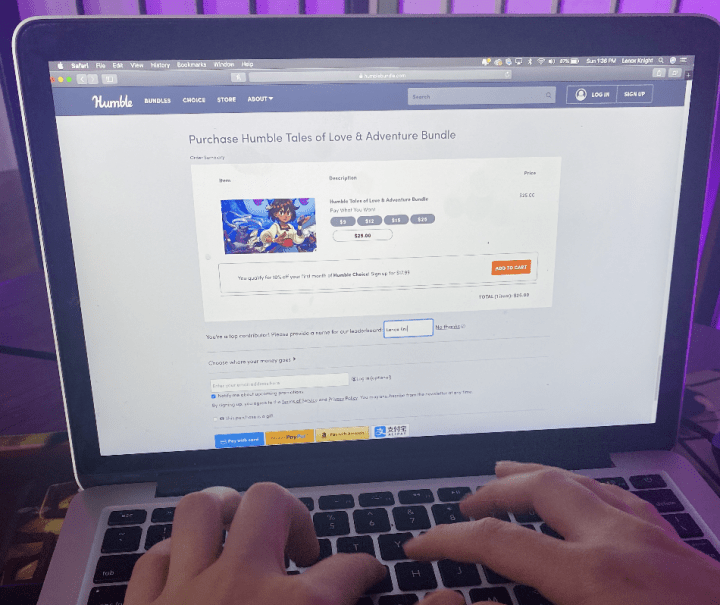 This month, I got to try out Humble's "Pay What You Want" model for the first time.
It was super exciting to look through all the awesome bundles they were offering and pick one out. After looking through all the bundles, the "Tales of Love & Adventure" bundle spoke to me the most! This bundle offered a total of 8 different excellent games with an exciting game style variety. This bundle had games I'd heard of and wanted to play mixed with some that were new to me, which was equally exciting! So, with the "Pay What You Want" model, I was able to pay a price that fit my budget and got a total of 8 new games to play! How incredible is that? After I selected my bundle, I clicked the "add to cart" button. At that point, you can type in the amount you'd like to pay for the bundle you have chosen.
You can then use the slider listed below to modify the percentage that goes towards the charity, the developer, and Humble Bundle! This was honestly my favorite part of the process as I have never seen a format where I can actually adjust the percentage that each company gets! It felt great to know how much of my purchase was going towards each respective group from the purchase I placed. Humble's website also has a feature to link your Steam account with your Humble account. This definitely made adding games to my Steam catalog super smooth and seamless. Then, I just clicked download and got to play all my new games! Humble Bundle has made sure their website is set up to make the browsing, purchasing, and downloading process quick and easy.
Humble Bundle has created an incredibly unique experience for gamers to try out so many different types of games with a price that they set while contributing towards a charity of their choice. This combination that Humble Bundle has presented makes them the perfect place to get your games and help others by contributing to so many phenomenal charities. Humble has really changed the way I go about purchasing games and books forever. I can't wait to see what bundles Humble Bundle is going to put together next! Thank you, Humble Bundle, for creating such a magnificent community of gamers that also care about giving back!

Lenox Knight
Lenox Knight is a LA based actress, singer, dancer, cosplayer, and host. She just filmed a new feature Heaven's Revenge. As an international cosplayer, she has worked for various companies. She loves playing video games and watching anime!
See all posts by Lenox Knight →