New World Is Getting a Season Pass with a New Seasonal Model
Each season will introduce "new features and gameplay experiences."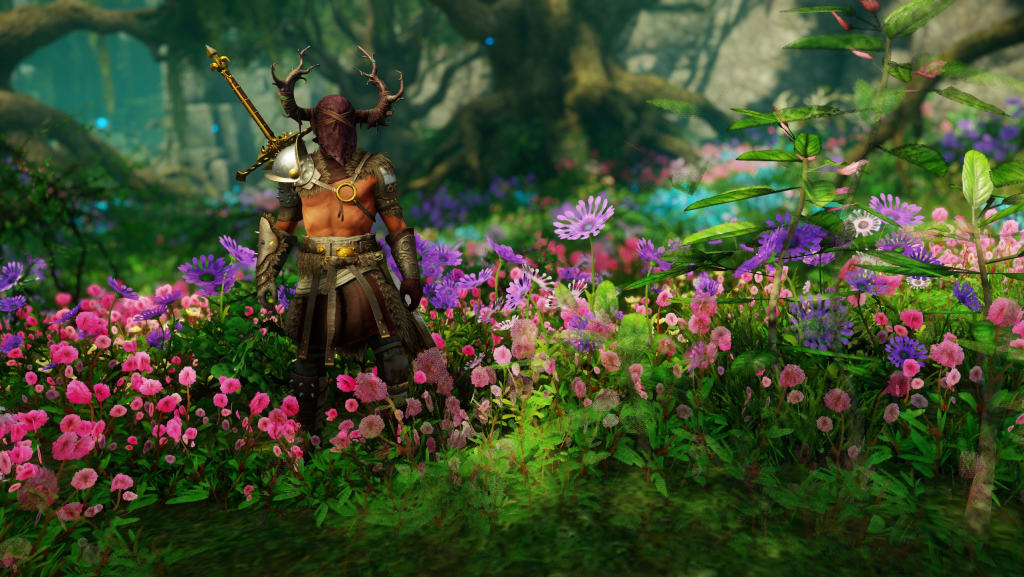 Image taken from authors gameplay
Amazon's popular massively multiplayer online role-playing game (MMORPG), New World, will be shifting to a seasonal format beginning on March 28, 2023. I wrote about MMORPGs previously.
According to the studio, this change will provide players with "more frequent content like new features [and] gameplay experiences," along with a season pass that includes both free and premium reward tracks.
Players will earn seasonal XP as they progress through the game, completing quests, faction missions, town projects, expedition bosses, and other activities.
They will advance through 100 levels and unlock rewards along the way. Each season will run for approximately three months and introduce "new features and gameplay experiences" as well as "new limited-time premium track rewards like cosmetics."
The season pass will work across multiple characters in the same world or region, and rewards can only be unlocked once per season.
However, they "can be claimed on any character that has unlocked the Premium Rewards Track at level 25." If a player has reached level 25, they can opt-in to the Premium Track at any point during the season and retroactively receive all eligible rewards.
At the end of the season, any unique seasonal rewards that remain unearned will be vaulted.
In addition to the season pass, New World is adding new Seasonal Challenges, which will be the most difficult objectives of each season but offer appropriately high-level rewards.
There is also an Activity Stamp Card that offers season XP for completing various tasks during daily play, and a Season Journey that breaks each season's story into chapters and offers rewards for completing chapter-based tasks.
Amazon has reassured players that the new system is not pay-to-win. They stated the following:
"All of the non-cosmetic Premium Track rewards can also be earned through the Free Track and normal gameplay. The Premium Track adds 100 levels of additional rewards, giving players the opportunity to get more in-game items. The gear rolled from these rewards will not exceed 600 Gear Score and does not include any unique perks that cannot be found in-game. Premium Track Cosmetics do not provide any additional benefits."
The first season of New World will be called "Fellowship and Fire." It follows a mercenary group called the Silver Crows as they help Skye the Spear-daughter take on a powerful warlock and the Varangian horde.
The season will include a new expedition called Empyrean Forge, a new Heartgem ability called Firestorm, and new "gear set storage" that will allow players to quickly save and switch between gear sets.
Amazon has not given a specific reason for the shift to a seasonal structure, stating only that it wants to "update New World on a predictable three-month cadence."
However, it's reasonable to assume that the studio hopes to increase its player count. According to SteamDB, there are currently around 20,000 people playing New World. While this is not a catastrophic number, it falls short of the player count of major MMOs such as World of Warcraft and Final Fantasy 14.
To prepare for the new season format, a public test realm (PTR) will go live on February 23. Full details on how to participate in the PTR are available on the official New World website.
Final Words
New World's shift to a seasonal format is an exciting development for players. It offers more frequent content updates and new rewards to keep players engaged.
While the studio has not provided a specific reason for the change, it's likely that Amazon hopes to increase its player count and keep the game fresh for its dedicated community.
With the new season starting on March 28, players have plenty of time to prepare and participate in the PTR to get a taste of what's to come.
If you enjoy my posts and would like to stay updated on the latest gaming-related news, technology advancements, design trends, and social media insights, I invite you to follow my profile.
I will continue to share my thoughts and insights on a wide range of topics in the world of entertainment and technology.
With that being said, thank you for reading my post, and have a good one.
The original version of this story was published on another platform.
About the Author
I write articles in my field covering gaming, filmmaking, media, technology, and design. You can subscribe to my account to get notifications when I post on Medium and Vocal Media. I support Illumination Integrated Publications as an editor and moderate the Slack Workspace, where you can share your Vocal Stories with thousands of members free of charge. I own and manage two publications, one for gaming and one for YouTube. You may join via my referral link if you are new to Medium. You can also join Vocal Media to share your inspiring stories. I look forward to reading your posts on both platforms.
About the Creator
I specialise in Media, Design, and Filmmaking. I support Illumination Integrated Publications on Medium as an editor and YouTube coordinator. https://www.youtube.com/watch?v=F9DhuGQYbpI& I also own two publications for Gaming and Podcasts.
Reader insights
Be the first to share your insights about this piece.
Add your insights