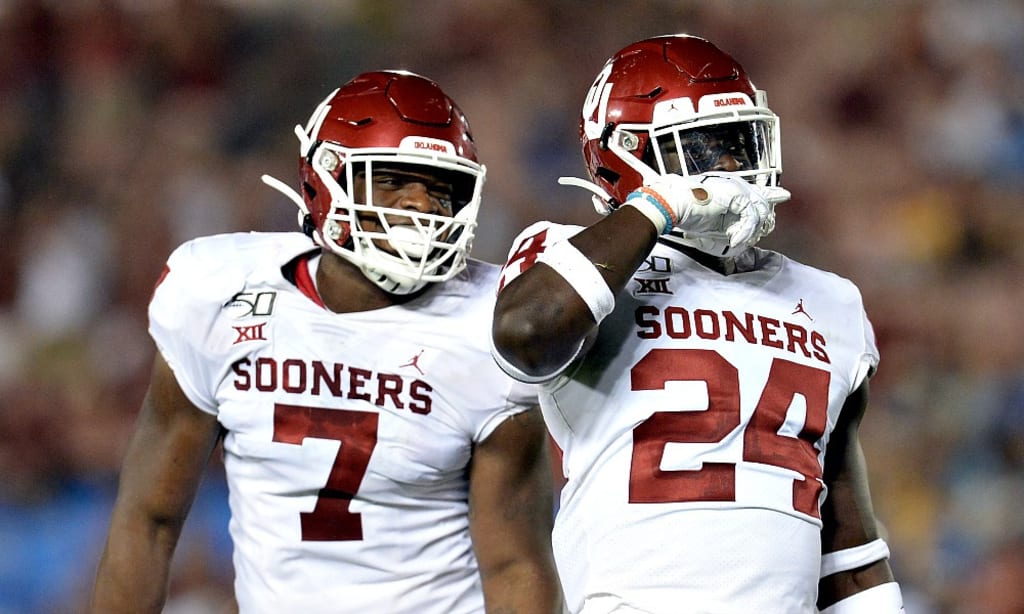 Syracuse 21 @ #6 Miami (FL) 26
#1 Clemson 28 @ NC State 10
Iowa State 34 @ Tulsa 21
FCS East 0 @ #15 Auburn 41
FCS Midwest 7 @ Kansas 27
Troy 24 @ Duke 23
Marshall 7 @ #13 Virginia Tech 38
FCS Southeast 0 @ #8 Ohio State 21
FCS Midwest 7 @ Nebraska 31
Louisiana-Lafayette 28 @ Akron 35
Purdue 14 @ #3 Wisconsin 27
Pittsburgh 45 @ Navy 35
North Carolina 10 @ Georgia Tech 24
FCS East 10 @ Bowling Green 38
Stillwater 23 @ LSU 25 (At only 2-1 from close wins over Tennessee and Stillwater, and a loss to #9 TCU. I guess I can't really expect LSU to be ranked for us next week. But then again, if this were the real life poll, we'd be griping that it's possible, haha). (Spoiler Alert from later, yup no votes, let alone rank, for LSU in either the Coaches or Media Polls for Week 5).
#17 Stanford 13 @ Arizona 55
Central Michigan 21 @ Toledo 34
Army 24 @ Western Michigan 27 F/OT
Iowa 14 @ #5 Notre Dame 26
#2 Georgia 21 @ Ole Miss 13
Colorado State 14 @ UNLV 17
Western Kentucky 28 @ Florida International 14
FCS East 14 @ Virginia 24
FCS East 6 @ Ohio 48
FCS East 6 @ Northwestern 31
Eastern Michigan 41 @ Ball State 38
FCS Southeast 23 @ #9 TCU 35
FCS Southeast 35 @ UAB 14
Texas State 6 @ Texas Tech 29
Vanderbilt 28 @ UMass 23
FCS West 17 @ #19 Washington 29
Old Dominion 24 @ Utah State 28
#16 Michigan 37 @ UConn 0
SMU 23 @ Texas A&M 42
Kent State 0 @ Penn State 34
FCS Midwest 27 @ Northern Illinois 24 F/OT
San Jose State 14 @ Minnesota 38
Kentucky 34 @ Indiana 9
North Texas 42 @ Tulane 35
Memphis 42 @ Arkansas State 13
Houston 24 @ Rice 13
#23 Florida 14 @ Tennessee 17
Cal 35 @ Arizona State 21
Wyoming 31 @ Air Force 35
#12 Florida State 12 @ #14 UCF 21
FCS Midwest 18 @ Georgia State 24
Louisiana-Monroe 16 @ Baylor 19 F/OT
Cincinnati 21 @ Miami (OH) 7
Hawai'i 32 @ Nevada 28
Kansas State 13 @ #22 Texas 20
Oregon State 24 @ San Diego State 34
Arkansas 14 @ Missouri 38
South Carolina 28 @ #7 Alabama 20 (Well, South Carolina is certainly in the mood. Upsetting Georgia in real life two weeks ago, nearly Florida last week, and now Alabama here. Both successes on the road as well. Guess there goes any chance of a rematch with Tua. Although, given, I'll be using the in-game BCS Rankings for the CFP Top four at the end of the year it was always less likely we'd get two SEC Teams in)
Oregon 34 @ USC 17
Louisiana Tech 41 @ USF 24
Texas-El Paso 24 @ Texas-San Antonio 0
Wake Forest 19 @ Louisville 24 (Leave it to real life to have the cartoon score, and NCAA to have an old school one. But yeah an undefeated ranked Wake Forest lost to Louisville in real life 59-62 a couple weeks ago. Here another undefeated Wake Forest also loses.)
Maryland 17 @ #10 West Virginia 38
Idaho 7 @ #18 Washington State 27 (NCAA lists this one as a Rivalry Game, no joke. Reminds me of the older NCAA(s) that had Stillwater and Tulsa listed as rivals, haha.)
#25 Utah 21 @ BYU 24
#4 Oklahoma 49 @ #11 Mississippi State 0
The timing for this one has been interesting. Kansas State made this trip in real life to Starkville this year and also got the win in a thrilling 31-24 game that produced that insane GIF Highlight with Mississippi State QB Garrett Shrader being both John Elway Helicoptered (thanks a lot for making a Cheesehead like me think of Super Bowl XXXII, haha), and all-for-not, landing one yard short like Kevin Dyson two Super Bowls later. Sadly for them, if he had had superhuman sense of direction or the boldness to have tried it, he might have been able to stretch the ball for the first down, but I digress. Anyways, it's interesting that this is a bit of a reference point for our series, as we also play at Kansas State next in real life.
As for the game itself, some interesting plays that wouldn't show up in my typical box score would be that Kennedy Brooks had a 50 yard punt return for us, adding to a productive day for him. I haven't been willing to risk CeeDee Lamb on kickoffs or punts for now with Sermon healthy and Jalen Hurts producing most of the rushing yards for us anyways. Brooks is just more replaceable than Lamb. Of course in real life, and with the benefits of the new Redshirt Rule for our three-five stars, True Freshman WRs, the depth issue is arguably tilted for the WRs over RBs, although CeeDee Lamb is still a pretty special and irreplaceable talent. I'm not questioning our great coaches there, I'm just saying it makes sense to protect Lamb in-game.
The other interesting sequence was a strip-sack-fumble recovery: T. Norwood with the Sack & Fumble Forced & K. Mann with the recovery. It was right before halftime, and led to a one play drive for us where I attempted a 57 Yd FG with 0:06 remaining. I nearly made it, but misjudged the 12 mph right wind ever-so-slightly and missed barely wide right with plenty of power to spare. After our 7th TD, I subbed out Hurts, Lamb, and Calcaterra again. We still haven't been hit by the injury bug outside of one quarter knocks, and I don't fancy starting with key players.
The closest Mississippi State got to scoring was a defensive TD that I challenged and replay overturned. CeeDee Lamb's knee was down before a fumble that they returned for a TD. I nearly caught them with both Hurts and Sermon, too, but they had decent blocking for a defensive unit.
OU Qtrs. 21, 14, 7, 7
Scoring Plays:
1st Quarter:
5:13 TD OU: J. Hurts, 7 Yd run (G. Brkic kick)
3:16 TD OU: J. Hurts, 2 Yd run (G. Brkic kick)
0:52 TD OU: J. Hurts, 5 Yd run (G. Brkic kick)
2nd Quarter:
5:51 TD OU: J. Hurts, 2 Yd run (G. Brkic kick)
2:42 TD OU: J. Hurts, 14 Yd run (G. Brkic kick)
3rd Quarter:
0:26 TD OU: J. Hurts, 3 Yd run (G. Brkic kick)
4th Quarter:
5:49 TD OU: J. Hurts, 59 Yd run (G. Brkic kick)
Team Stats:
First Downs: OU 20, Miss St 3
Total Offense: OU 521, Miss St 31
Rushes-Yards-TD: OU 28-224-7, Miss St 19-(-12)-0
Comp-Att-TD: OU 21-25-0, Miss St 9-14-0
Passing Yards: OU 297, Miss St 43
3rd Down Conv: OU 7-8 (87%), Miss St 0-9
4th Down Conv: OU 0-0, Miss St 1-1
Red Zone: OU 6-6-0 (100%), Miss St 0-0-0
Turnovers: OU 0, Miss St 1
Fumbles Lost: OU 0, Miss St 1
PR Yards: OU 89, Miss St 7
KR Yards: OU 22, Miss St 137
Total Yards: OU 632, Miss St 175
Punts-Average: OU 1-20.0, Miss St 8-50.6
Penalties - Yards: OU 1-5, Miss St 1-5
T.O.P. OU 24:42, Miss St 9:38
Miss St Passing:
K. Thompson RAT 90.0 9-14 for 43 Yds, 64%
Miss St Rushing:
K. Thompson 14 for -11 Yds, Long of 10, 10 YAC
K. Hill 5 for -1 Yd, Long of 7, 12 YAC
Miss St Receiving:
K. Hill 4 for 8 Yds, Long of 4, 23 YAC
D. Thomas 2 for 9 Yds, Long of 6, 2 YAC
K. Walker 1 for 1 Yd, 3 YAC
A. Williams 1 for 10 Yds, 3 YAC
S. Guidry 1 for 15 Yds
Miss St Defensive Players of the Game:
Game lists C. Morgan 6 Tack, 6 Solo, 1 TFL, 1 Sack, 1 Pass Def
Honorable Mention to B. Cole II with 9 Solo Tack
OU Passing:
J. Hurts RAT 182.7, 20-24 for 284 Yds, 83%
T. Mordecai RAT 209.2, 1-1 for 13 Yds
OU Rushing:
J. Hurts 16 for 130 yards (should've probably been 150+, but unfortunately the three sacks I conceded count against his rushing yards in college. Another one of those annoying inconsistent rules between the NCAA & NFL.), seven TDs, Long of 59, 11 YAC, three 20+ yards.
Some of you might have correctly guessed that the seven TDs are a new school record in-game, as the real life school record is Quentin Griffin's six TDs in the first OU-Texas Win of the Bob Stoops Era in 2000. Which was a very memorable 63-14 Slaughtering. Funny anecdotes from that time include one of the announcers saying for Quentin Griffin's Grandkids after TD #6: "and if Quentin's Grandkids are watching this tape in the VCR or if they still use VCRs in the year(s) 2050, he was all that and more today." Time index: 2:08:20 for that sixth TD run, by the way. I always found that quote a little odd, seeing as for said grandkids to hear it they'd have likely watched all six TDs and likely the whole game anyways, but it's still a very fun quote. Also defeated Longhorn QB Major Applewhite found his name on a clever fan sign a couple weeks later listing the defeated QBs in our three week stretch against #11 Texas, #2 Kansas State, and #1 Nebraska for ABC broadcasting that Nebraska showdown. Applewhite, Beasley, Crouch.
K. Brooks 6 for 31 Yds, Long of 13, 5 YAC
T. Sermon 4 for 57 Yds, Long of 43, 7 YAC
M. Jones 1 for 8 Yds
T. Mordecai 1 for -2 Yds, #VictoryFormation
OU Receiving:
C. Lamb 6 for 105 Yds, Long of 40, 20 YAC
G. Calcaterra 6 for 112 Yds, Long of 28, 21 YAC
C. Rambo 4 for 20 Yds, Long of 8, 13 YAC
K. Brooks 3 for 39 Yds, Long of 33, 32 YAC
N. Basquine 2 for 21 Yds, Long of 22, 1 YAC
OU Defensive Players of the Game:
NCAA's Award: K. Mann 6 Solo Tack, 4 TFL, 3 Sack, FR
Honorable Mention: T. Norwood 7 Solo Tack, 2 TFL, 2 Sack, FF
Overall & SEC Players of the Week:
Tennessee LOLB Darrell Taylor 6 Tack, 5 TFL, 8 ATK, 2 Sacks, 2 INTs in 17-14 Win vs #23 Florida.
Oklahoma QB Jalen Hurts 20-24, 284 Yds, 16 Car, 130 Yds, 7 Rush TD in 49-0 Win @ #11 Mississippi State.
Heisman Watch:
1st: Jalen Hurts OU QB
2nd & 5th: still 2013 Ghosts, it's getting frustrating. I'm beginning to wonder if 2013 Ghosts are going to get actual votes at the end.
3rd: Tru Wilson Michigan HB
33 Rush for 158 Yds, TD, 4 Rec for 42 Yds @ UConn W (37-0)
4th: D'Andre Swift Georgia HB
3 Rec for 68 Yds, TD, 14 Rush for 55 Yds @ Ole Miss W (21-13)
Coaches Poll for Week 5:
Clemson (33)
Georgia (25)
Wisconsin (1)
Oklahoma (1)
Notre Dame (1)
Miami (FL)
Ohio State, 1 Loss
TCU
West Virginia
UCF
Virginia Tech
Auburn, 1 Loss
Michigan, 1 Loss
Alabama, 3? Losses
Washington State
Mississippi State, 1 Loss
Florida State, 1 Loss
Washington, 1 Loss
Boston College
Michigan State, 1 Loss
Texas
South Carolina, 1 Loss
Arizona
Boise State, 1 Loss
Stanford, 2 Losses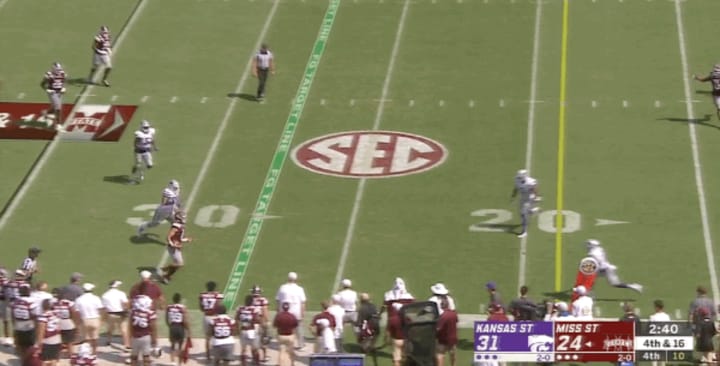 Reader insights
Be the first to share your insights about this piece.
Add your insights