Sony's new subscription tiers have been out in the wild for a couple of months now and I've had a chance see what's on offer and sample a few games on the service.
I already had most of a year's subscription to Essentials (the lowest tier) so it wasn't a huge cost to upgrade to the next tier, although, that may become an issue next year when I have to renew.
I think the biggest temptation with subscription services like this is to have a little patience and try not to dive in too deep. It's so easy to overload yourself and download everything that even remotely interests you and then gorge and never properly get stuck into anything.
I tried to put a soft limit on what I downloaded, 3 games at a time is plenty.
One main-play to get invested in
One casual game to play when you've got no time or have trouble getting invested
And one game for remote play, when the TV is taken, or I'm not home
I usually stick to RPGs, I'm not exactly cashed up so I tend to stay within the genres I know I like and I rarely experiment so my game selection can be a little limited. So this was also an opportunity to expand on my gaming experiences and try games in genres I'm usually on the fence about.
I started with Red Dead Redemption 2 because it was only on the service for a limited run, Final Fantasy X for remote play, and Tetris Effect.
I'd always been curious about Red Dead but I'm not a huge fan of open worlds so I was never confident to drop my cash on it. I'm glad I didn't, because it definitely wasn't for me. I played it for around 10 hours and just could not continue.
I tried Guardians of the Galaxy next. Another game I almost certainly wouldn't have purchased and it was quite simply a delight. It wasn't a masterpiece by any stretch, but it was a whole lot of fun and well worth my time.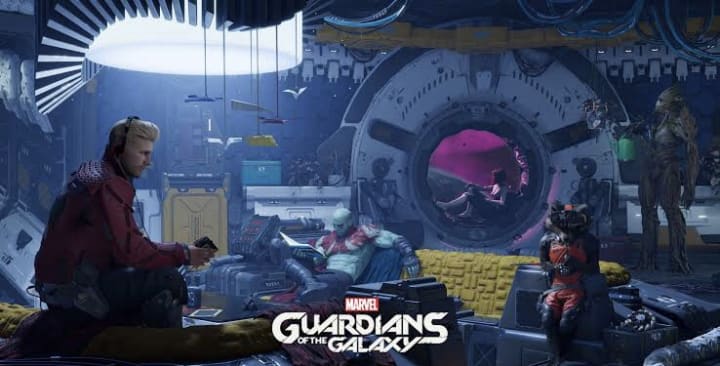 I could gush about that game all day. The story was fast paced and well written, the character interactions are hilarious and despite the very simple gameplay, the game is actually fun to play. The soundtrack is just spot on.
Personally speaking, I felt like I had already got my money's worth here. I'd played 2 AAA titles in less than a month and had two side games well underway just 2 weeks after committing.
But of course, there's more. I've since played several other titles.
Ys IX: Monstrum Nox (I needed to get my RPG fix). An action RPG that I liked enough to play to platinum. Pretty much more of the same if you played its predecessor, Lacrimosa of Dana.
Cristales, which replaced Final Fantasy X as my remote play title.
Stray. Well, this has been hyped a lot but honestly, it wasn't really my thing. I was invested enough to play it to the credits but not keen on revisiting.
Currently I'm a fair way into Death Stranding, another title I wouldn't have purchased normally. I'm still on the fence to be honest, but it's got enough hooks to keep me onboard.
I'm looking forward to starting Trials of Mana next, it was added to the roster last week and I somehow missed it when it first came out.
In just two months, I feel like I've more than got my value and there's still a lot in the catalog that I'm interested in checking out as well as new games added each month to distract me further.
It's going to save me a lot of money, I'll only need to purchase a couple of titles each year, and I can restrict that to only games I highly anticipate but it's not just filling the space between good releases, it's actually giving me a quality gaming experience for a small monthly fee and broadening my gaming repertoire immensely.
The overhauled subscription service gets compared to GamePass a lot, I feel like that's fair, although it's not quite the same. It doesn't offer a console-free experience for example and there are much fewer day one releases on the service. It's definitely a comparable service though, and Game Pass maybe does win out in overall value.
If you have a PlayStation though, I'd definitely say it's worth your time, especially if you haven't experienced many of the games on offer. I think it will improve a great deal over time as well, it's important to keep in mind that it's a new service and may not have all the planned features in place yet, and may have some hiccups on the way.
Image Source/license:
https://www.trustedreviews.com/news/sony-ps-plus-freebies-for-august-offer-nothing-just-for-premium-subscribers-4257552
https://www.trustedreviews.com/reviews/marvels-guardians-of-the-galaxy
https://creativecommons.org/licenses/by-nc-nd/4.0/
About the Creator
Doing my best to keep on keeping on. I'm a quiet guy with a quiet life and I like it that way.
I like spending time with my family, cooking, fantasy fiction, video games, anime and archery.
Reader insights
Be the first to share your insights about this piece.
Add your insights