How To Experience The World Through Your PC Screen
You can go anywhere without going anywhere.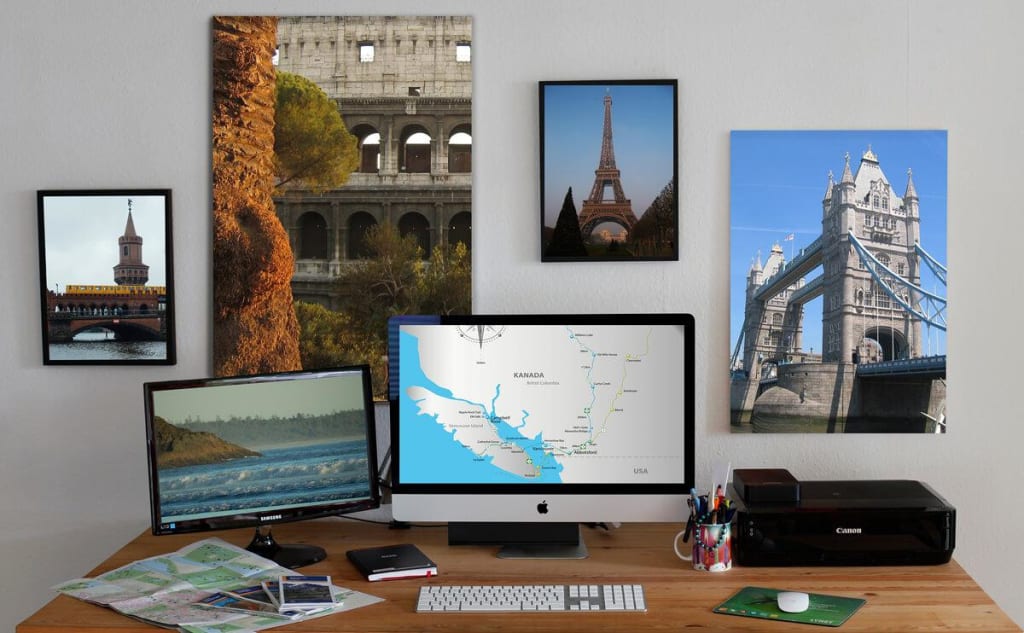 Remember when international travel used to seem reasonably straightforward? If you live in a first-world nation, you were probably once accustomed to having rich travel options. Provided you could gather the necessary funds, you could go almost anywhere and experience incredible new environments in the process. It served as an escape valve for stress and anguish: if things ever got too tough, you could simply get away, refresh your mind, and return feeling better.
Sadly, things are rather different now. There are still people getting to see the world, but all the logistical challenges (having to quarantine to meet different regulations, needing the flexibility to accommodate flights being rescheduled or outright canceled, etc.) make it difficult for most to justify planning any trips. If you've dreamed of getting away but just don't have the option, that's a miserable situation to be in. Who knows when the right time will arrive?
But that doesn't mean you have to spend each day absorbed in the familiarity of your home area. You can still experience the world — albeit merely to an extent — through your computer. Yes, your PC screen can be a gateway to adventure, making it possible to learn about places on the other side of the world without moving from your desk. Here's how:
Sample foreign culture through imports
If you can't go somewhere, you can bring that place to you… Or at least some things from that place. Maybe you've dreamed of seeing Québec, the home of poutine: if so, why not import some of the necessary ingredients and make your own? The internet affords incredible ecommerce opportunities, and you might not even need to spend that much. You can also find gift packs of the kind you might buy as souvenirs if you could travel.
Then there are more off-the-beaten-path tactics you can use. A high-quality VPN can allow you to bypass regional locks on streaming media sites, letting you enjoy German programming without having to be in Germany. If you like taking moderate risks, you can learn how to buy lottery tickets online through sites like Play USA Lotteries: it'll give you more reason to follow the news elsewhere, and hey, if you somehow win, you can use the money for some proper travel.
Make online friends in interesting locations
If you can't go somewhere, you can experience it vicariously through someone else's viewpoint. An enduring truth of life is that the grass is always greener on the other side: where you live seems boring and uneventful because you've known it for a while, but where someone else lives seems thrilling and action-packed because it's all unfamiliar. The same is true in reverse. Want to see New York? There are surely people there who want to see your town.
There are huge online communities out there full of people who are bored after so much time in lockdown and just want to make more friends. You can take advantage of this by making online friends in interesting locations. Sites like Global Penfriends (there are many others) allow you to search for people in regions that have caught your eye and open chats with them.
You can ask them all about life where they are. How is it different from things where you are? What foods do they eat? How do they socialize? The more you exchange cultural information, the more your perspective will develop. And if you manage to turn those chats into meaningful friendships, you may even be able to visit some of those people down the line.
Draw upon tech with VR and video games
Lastly, if you can't go somewhere, you can see it in the virtual world. Virtual reality (VR) has been mainstream-viable for quite a while, and headsets like the Oculus Quest 2 have introduced wireless VR to the market at surprisingly-affordable prices. You can load up Google Maps and travel the world, zipping around to any locations that catch your eye.
And then there's Microsoft's latest Flight Simulator, which uses data from Bing Maps to form a close approximation of the entire globe with state-of-the-art graphics and sound design. You do need a powerful PC to play it (or an Xbox Series X, of course), but if you have such a machine, spending an afternoon flying over the places you've always wanted to see could be magical.
You won't get sensory feedback, naturally. The magic of Paris won't somehow ebb through your screen into your spirit, filling you with gallic energy. But it's certainly going to be better than nothing. And when you can eventually get out there, when all the stars align in your favor, you can get the added fun of comparing the real world to the digital landscape you've seen.