Hogwarts Mystery: A Harry Potter Game Review
An RPG Harry Potter mobile game review from a long-time gamer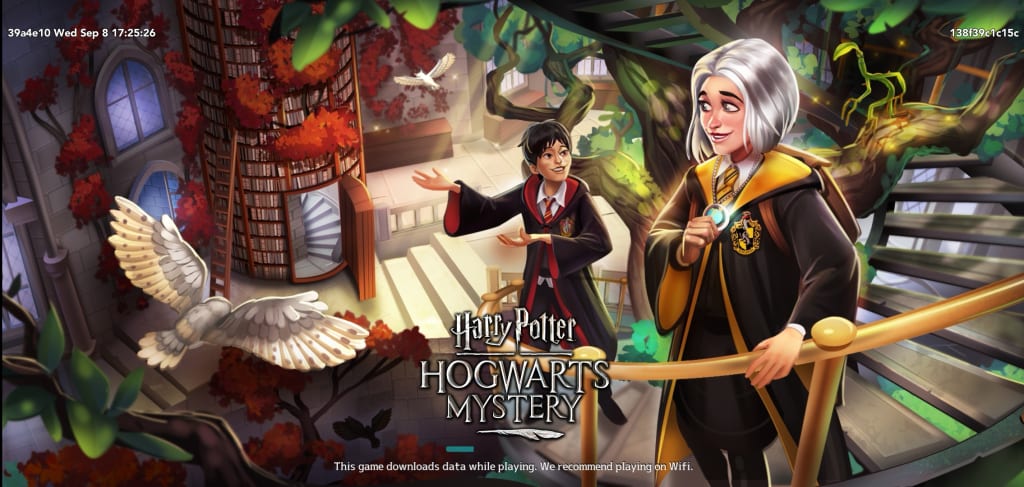 Hogwarts Mystery Photo Taken from Phone
The Hogwarts Mystery game was first released back in 2018. I've seen a lot of updates since then. For example, a better graphic colour, additional character customization options, and more features that you can gain more points. But, in my perspective, it is noticeable that the game's developers have tried to keep the game's core through all these years. What is the game's core? Well, the possibility of being whoever you want to be in the Wizarding world. From creating your own character to choosing which character you want to court with (no matter the gender) to adopting your very own Niffler!
As an RPG game fanatic that started playing Hogwarts Mystery in December 2018, I really cannot wait to share my insights about this game.
Let's get started.
Gameplay
From the start, I loved that this game enabled me to customize all the face and body aspects of my character and then name it whatever I liked to. Even when choosing who I would like to go on a date with, it surprised me. I somehow always expected that if my character were a girl, the game would only offer boys as an eligible date. But, not this game! The free choice you have to choose who you would like to date in this game was kind of an eye-opener for me.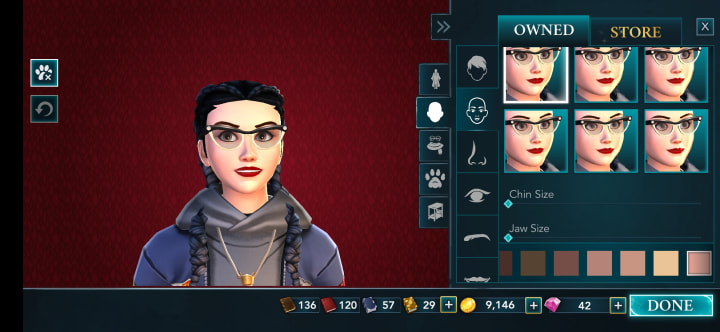 Then, when exploring all the places I can go to, from my Dormitory to the Quidditch Stadium to the Forbidden Forest, it was exciting to see how the game immerses the player into the story, especially as these locations are attached to an activity. Such as attending classes, playing Quidditch, joining a Clubhouse, completing side quests and so on. There are more than enough activities to choose from.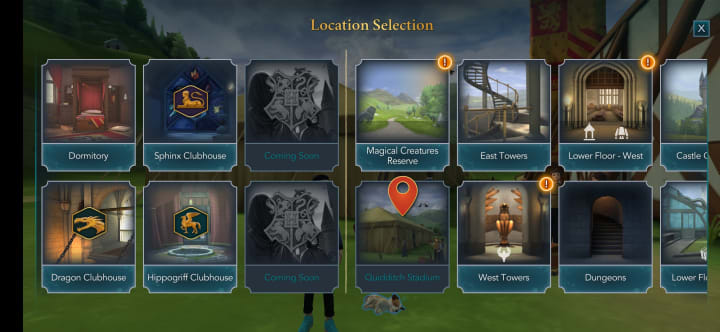 From these activities, you can earn various rewards. Examples include gems (used for buying energy points, clothing, accessories, and furniture), and energy points (used for completing activities). Making it more engaging for me is that all the rewards are attached to milestones where you can earn even more rewards. For example, if your house is ranked as first at the end of the grade year, you gain 50 gems. And, the higher level you move up, the bigger the rewards are, which motivates me to keep going.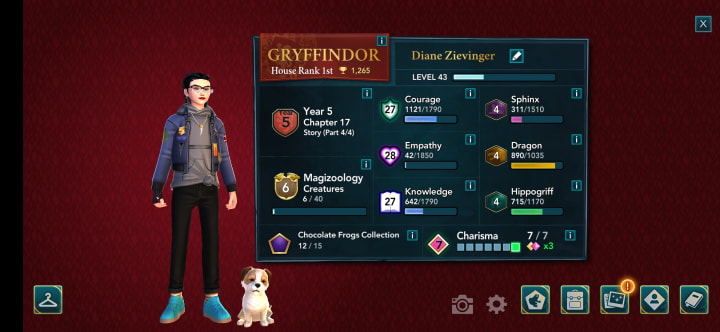 Aside from the game being focused on rewards earned from activities, it is nice to learn spells mentioned in the Harry Potter books and movies. To know the different spells, you must choose which class you would like to attend, from Potions to Muggle Studies. These spells are handy as some can be used to duel with other players.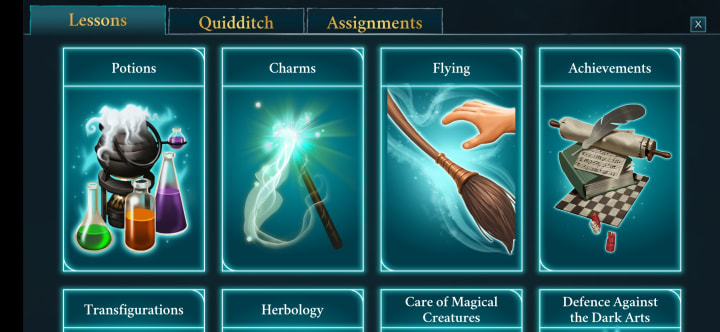 Another thing that I like about the game is that you learn some facts about the Quidditch matches while playing friendly and competitive matches in different positions such as Chaser, Seeker, Beater, and Keeper.
To keep things interesting, several adventures become available within the grade year. I like these challenges because you only get 2-3 days to complete them. And, if you complete it, you get most times a trophy that is stored either on the nightstand or bookshelf of your bedroom and becomes an energy collection spot every few hours.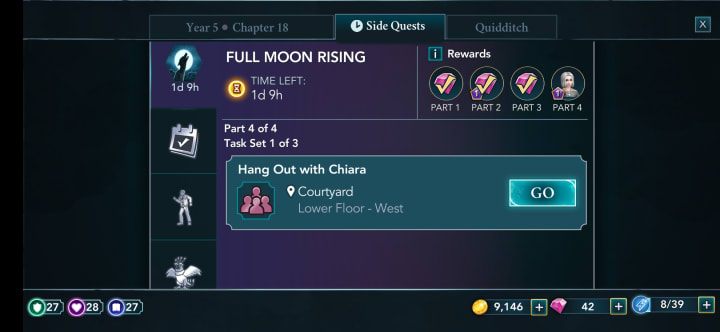 Also, there is the fact that you can adopt a magical creature which can vary from Fairies to a Chinese Fireball or pets ranging from a Toad to an Owl. With the magical creatures, you will have the chance to bond and feed them, leading to the evolvement of the interaction level between you and them. With the adopted pets, you will not be able to interact with them in that same way, but if they sleep, you can awake them by tapping on them, and they will mainly serve as an energy collection spot.
Speaking of interaction, you can also do hangouts with a character of your choice, such as a meal with a friend in the Great Hall, drink Butterbeer at the Three Broomsticks, play Gobbstones in the Courtyard, and studying with a friend in the Library. During this time, you can get to know your friends better and nourish that relationship further.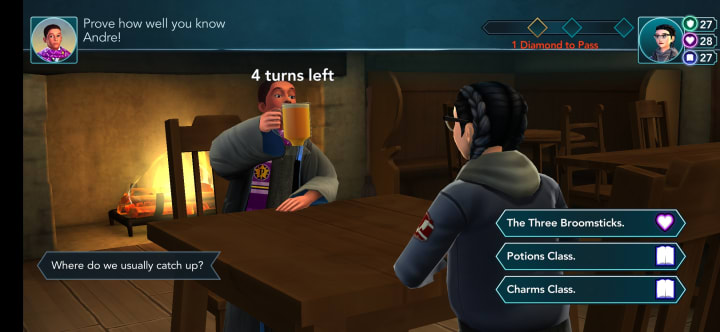 Exploring New Features
The fact that the game keeps including new features keeps it interesting for me. Some of the notable features this year have been Regular Time Toffees and Premium Time Toffees rewards. The Regular Time Toffees enables you to speed up the timer of activity, while the Premium Time Toffees allows you to skip the timer of an activity. These Toffees are a great addition to the game because they can help you do tasks more frequently and gives you the choice to either skip or speed up time. Another new feature is Pages. This was a nice add too, as you have more options on what to do with the Pages. Either you use it to buy an adventure or exchange them for getting more notebooks.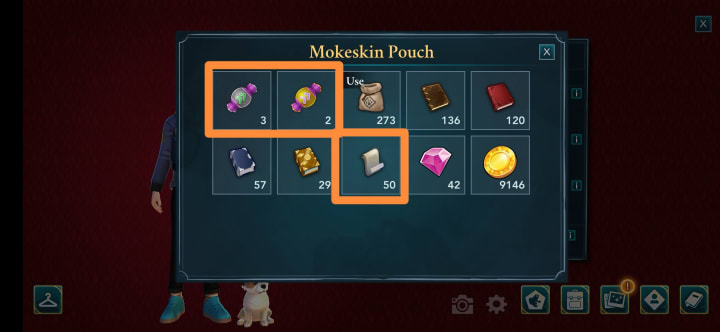 Although there have been consistent events going on through the years, a new event has been added: the Chocolate Frog Event. A Chocolate Frog has a character portrait on them with a character's fact behind it. Aside from the rewards aspect, these characters are based on Harry Potter's story making it more interesting. As you can only earn them if you complete a task, it motivates me to finish the tasks.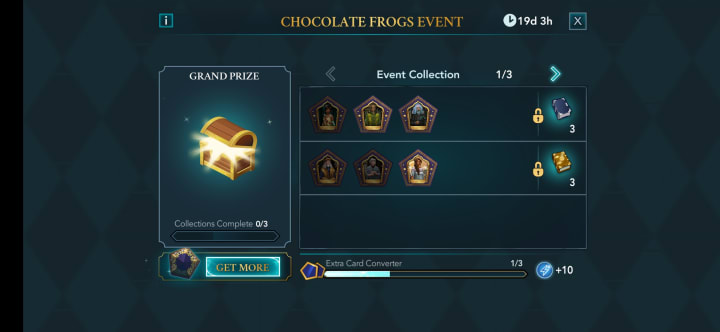 Buying Items as an Option
You can buy energy points using your gems or buy clothing, accessories, and furniture with coins, gems, notebooks. Additional gems, coins, and energy bundles which sometimes even include outfits are available to buy with real money. But, the great thing about the game is that it doesn't force you to do that. Instead, it provides some different free options that you can choose from. For example, the energy bar limit increases over time as you complete tasks. There are numerous secret collection spots to earn gems, coins, creature food, and energy points. Some examples include tapping on a house-elf in the dungeon, tapping the snitch in the Quidditch stadium, or tapping the blue outlined objects within the Clubhouses. Other options that you can earn similar rewards every few hours or daily are by watching ads that vary from 5 to 30 seconds.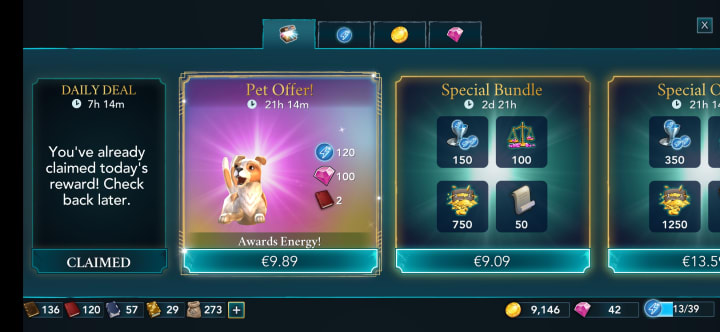 Another great thing about the game is that you can link your progress to your FB account, making it easier to continue playing on another device. This was a lifesaver for me when I changed my phone as I didn't want to lose my progress, especially as I was in the fourth-grade year. Also, it is nice that game developers sometimes give extra gifts to all players, such as 150 energy points added to your energy bar.
Downsides
As much as I love the game, there are a few downsides that I experienced while playing.
There are continuous updates that sometimes signs you out. Back then, I didn't experience this much. However, this year I had to re-link my FB account to it 3 times already.
It is possible to overfill your energy bar. But, sometimes, when collecting energy points from secret collection spots, even if it looks like the energy point was collected, the energy level does not change when it goes over a certain number.
Adventures are sometimes inconsistent. It might be due to its randomness, but you get 2 to 3 adventures right after each other (when completed). So, it makes it a bit too predictive.
Final Thoughts
Fast forward to 2021, and I'm still playing the game (Year 5) and enjoying every moment of it. It has been great seeing the progress of this game from 2018 until now, while also noticing that they stayed true to their core: Making your own character in the Wizarding world without having to follow in Harry Potter's footsteps. I really cannot wait to see what other new features they will come with.
If you are an RPG and Harry Potter fanatic, I would genuinely recommend you to give it a try. You can check out the game either in the Apple or Play store.
Happy gaming y'all!
rpg
A Caribbean girl living abroad sharing her insights with the world ✨
Receive stories by Diane Zievinger in

your feed