Fortnite Season 4: Nexus War
Isn't it MARVEL-lous!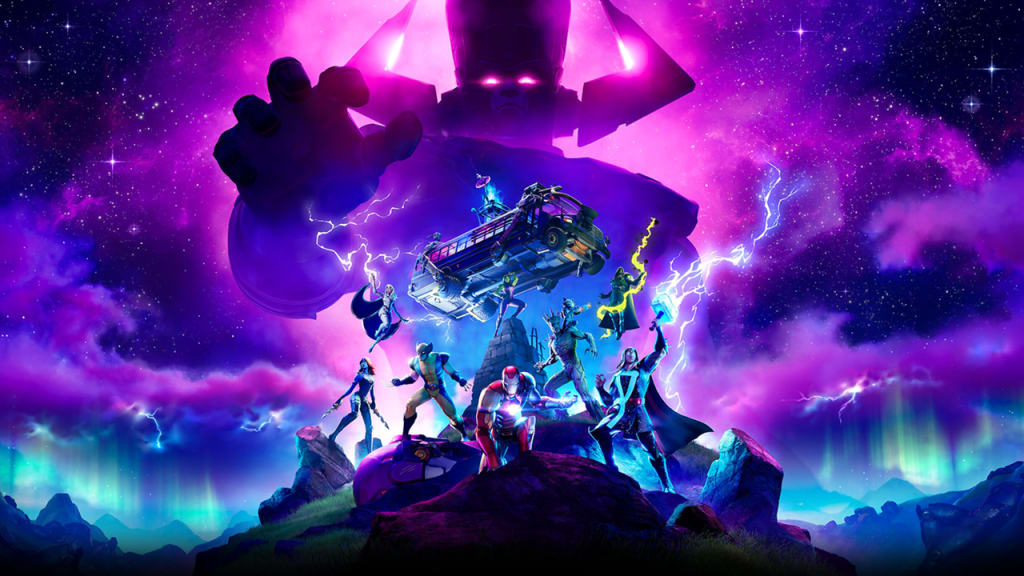 Season 4 loading screen
AVENGERS ASSEMBLE! The new season of Fortnite is here and it's all Marvel themed! This is the biggest cross over event that Fortnite players have ever seen. Everything from the Battle pass to POIs is all Marvel related and it is awesome! But of course, it does have its cons, it's all very Comic-cal. So far Nexus War has been out just under a week and so much has happened already...lets get started.
Battle Pass
As usual, a new battle pass means new skins, emotes and gliders and of course, a new theme. We have had a majority of themes but this one is the No.1 theme so far...IT'S ALL MARVEL! The Battle Pass skins consist of your favourite Marvel characters
Thor
Iron Man
She-Hulk
Mystic
Dr Doom
Storm
Groot
Wolverine (Special)
Each skin contains its own Pickaxe and built in glider! They also come with their own "Awakening" emote which changes the appearance of their outfit, these can be achieved by completing the character's set challenges.
Wolverine is classed as a special skin because you can only get his skin if you complete the weekly challenges and his set challenges, he is not available in the battle pass.
There a few cons to this Battle Pass.
Firstly, Non Battle Pass owners a left with next to nothing apart from a few sprays and a couple hundred V-Bucks. In previous seasons they did have a bit more including emotes and gliders.
Secondly, I feel like this theme will get old really quick, the novelty of it all will wear off and players will probably be asking for something more original, this is all theoretical, but seeing how previous seasons went on, it gets stale very fast.
Rating: 8/10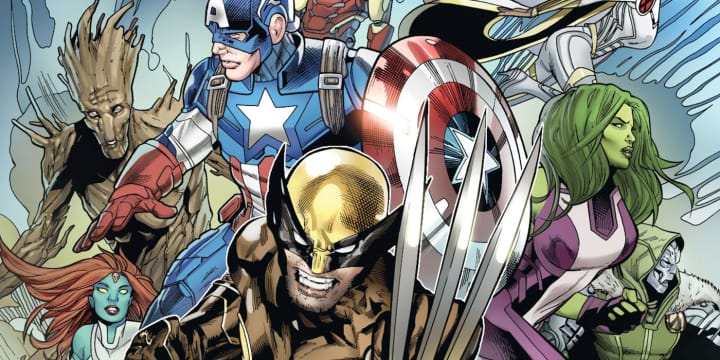 Map Changes
This season, we have actually seen very little map changes. The only major change is that Pleasant Park is now the home of Dr Victor Von Doom (Dr Doom) and has been renamed to Doom's Domain. Dr Doom has his own manor, statue and vault, defeating him will give you the vault key and his Arcane Gauntlets to use a Mythic weapon.
A helicarrier is now the new lobby location, which has turbines so you can float and explore the lobby while waiting for the match to start.
As the week has progressed, we have actually seen the introduction to Ant- Manor, the home of Antman. This location actually has a spawn rate of 5%...yes, you read right, a POI that has a extremely high chance of not even appearing on the map, you're very lucky if you manage to land here and make it out alive, because as you can tell, its a hot drop.
Another POI called Panther's Prowl has also been added to the map in the honour of Chadwick Boseman who recently died , Epic have introduced a massive statue of a Black Panther to honour his memory. Again this location is rare and has a low spawn rate and not that much loot but it is a lovely addition to the game.
I felt disappointed when I saw that The Authority was still in the game and it hadn't been changed to go along with the theme, but hopefully Epic will change it in the future.
Rating: 7/10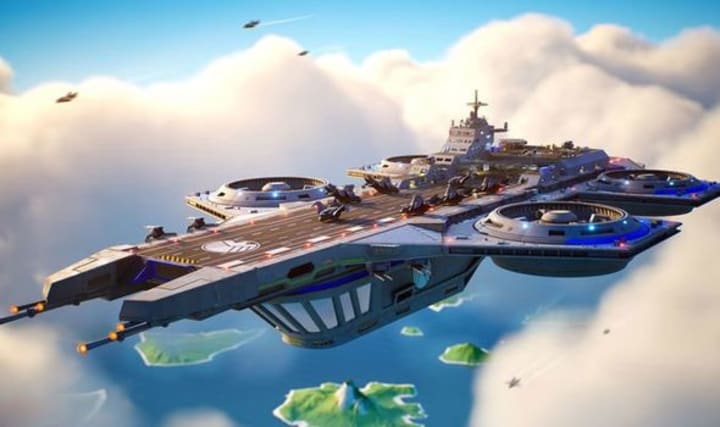 Weapons
This season has seen a major overhaul of weapons, with the beloved Tactical Shotgun being vaulted! This is the first time the shotgun has been vaulted since the game released 14 seasons ago! In it's wake the Combat Shotgun has made a return along with the Pump shotgun and many others.
Vaulted:
Decoy grenades
Tactical Shotgun
Pistol (Epic/Legendary)
Rapid-Fire SMG (Rare/Epic/Legendary)
Launch Pad
Stink Bomb
Hunting Rifle
SMG
Flare Gun
Unvaulted:
Shockwave Grenade
Boogie Bomb
Pump Shotgun
Combat Shotgun
Bounce Pads
Bandage Bazooka
Revolver
Scoped Assault Rifle
Tactical SMG
Port-a-Fort
LMG
With the vaulting of the Tac and the unvaulting of the Pump, there was concerns about the balance of the game when it came to fights, but with the release of the Combat Shotgun, it has been balanced. The Combat shotgun has got high fire rate and distance. Seeing the Tactical SMG in play once again has excited players, as it was the favourite and was missed massively when it failed to get enough votes at the Unvaulting Event.
Fire Traps have also been introduced as a replacement to the Spike trap. It does 100 damage but has a long recharge rate, so it isn't really worth it, considering how fast paced this game is.
Mythic Weapons have also been changed, they are now called Mythic Abilities. Dr Doom has his Arcane Gauntlets, that fire energy blasts which do 35 damage and his Mystical Bomb packs a punch. Groot's Bramble Shield wraps the around the player, forming a ball for mobility and it heals the player during its use. The Silver Surfer has also got his foot in the door with his surfboard that acts as Glider Redeploy.
Epic have confirmed that more Mythic Weapons will be added to the game.
Rating: 9/10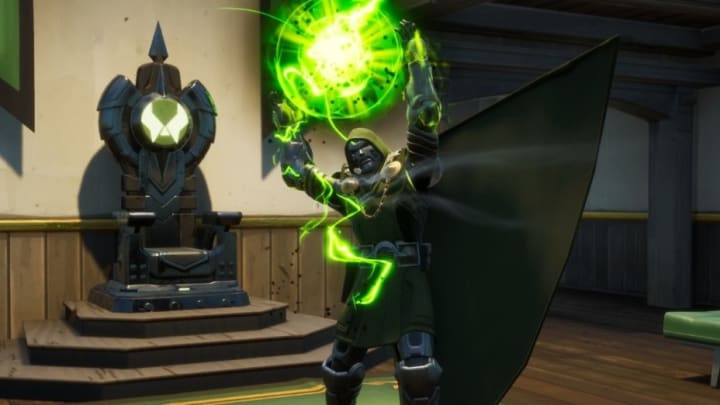 Extras
Quinjets and Stark Robots
Each new match will randomize the location of these jets around the map, letting players explore the map to find them, they contain large amounts of loot and chests. These jets are home to the Stark robots, which guard them as they contain high amounts of loot via chests and drones, which can be shot down. The stark robots can be knocked and hacked so they then protect you and follow you around the map for a prolonged period of time. If you choose to eliminate them, then you get your hands on the new Stark Industries Rifle, these rifles pack a punch and have first short accuracy straight away. These jets also contain Groot's Mythic Ability and the Silver Surfer's Surfboard, but not every time.
Fish
New fish have also been introduced to the game, each with their own interesting effects, as well as a new pro fishing rod to double your chances of scoring the big ones. The new fish include:
Thermal Fish
Vendetta Flopper
Shield Fish
Hop Floppers
Jellyfiish
Spicy Fish
Other tweaks have been spotted, such as Assault rifles and Scoped ARs getting a damage buff, Chest spawns being nerfed as well as Cars getting a spawn nerf as they can no longer be found in Doom's Domain.
Rating: 9/10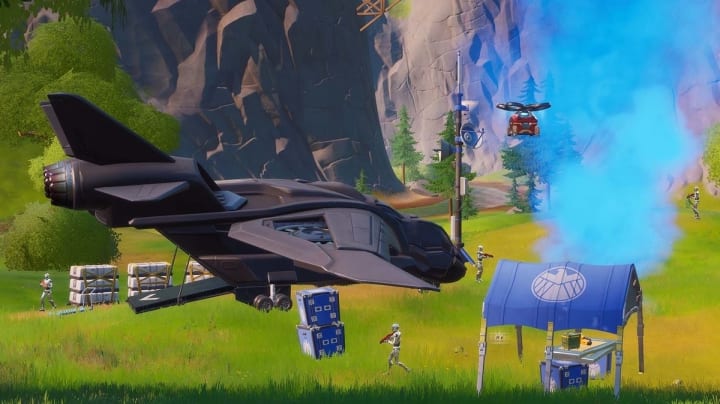 This season has been really exciting so far and more major updates are expected. I am excited to see what the future holds for this season and maybe next season we can see a DC Comics theme.
I still believe that the excitement will quickly wear off and Epic will have to make this season shorter, but if they continue to update the game frequently with new content, then this can be the best season yet.
Overall Rating: 7.5/10
About the Creator
Hello! Im DogPaw Games.
I write video game reviews. I love all genre of games!
Been a gamer since my father handed me a controller and have been avoiding responsibility ever since!
Twitch: https://www.twitch.tv/hammieplay_z/about
Reader insights
Be the first to share your insights about this piece.
Add your insights