'East Coast Nightmares' Bringing Bad Dreams to PC and Consoles
Twelve Nights of Sheer Terror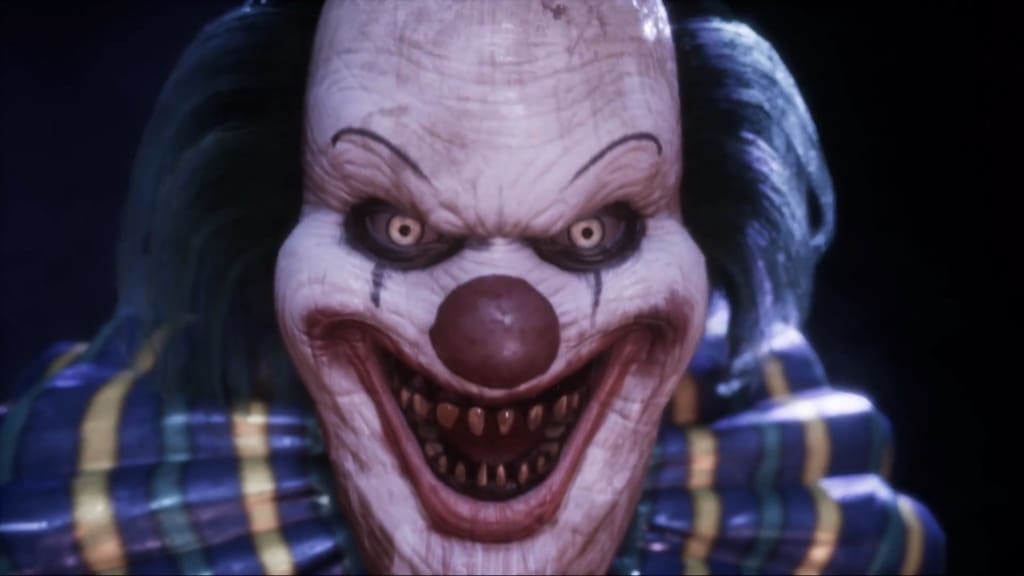 You arrive at a dimly lit carnival, the joyous screams of children echoing throughout the grounds. They're broken for a moment by the horrifying grunt of your first assailant. A clown, demented and twisted by whatever supernatural horrors await, swipes at you. Your only escape is through the ominous facade of a clown's head, its teeth sharpened and its eyes glowing under a neon hue. Rushing through its mouth, you hope to escape the monstrosity at your heels, unaware that you've run right into your very own East Coast Nightmares.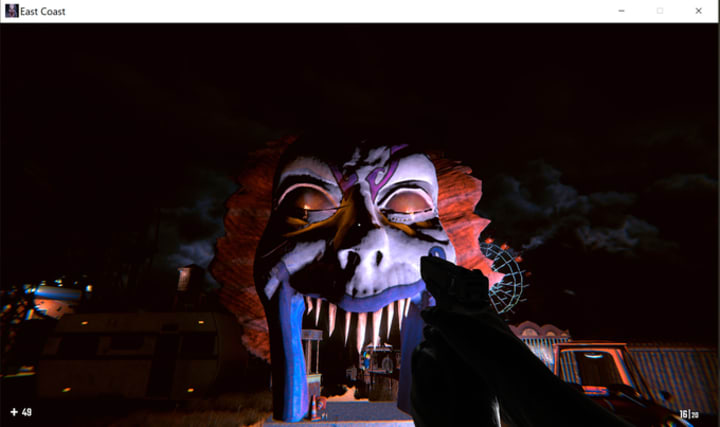 I happened across East Coast Nightmares on Kickster and was immediately drawn in by the terrifying clown plastered across the top of the page. Yellowed teeth, a stark white face, evil eyes, tufts of blue hair - it was everything that would have had me cowering as a child. Today, it's an image that intrigues me, especially when connected to a new horror IP promising a sleep-depriving gaming experience.
East Coast Nightmares absolutely dragged me in with its concept, which sees players escaping nightmares crafted by a serial-killer clown. However, it was the story of its creator, Jason Lumsden, that sent me on a quest to know more. Jason is a one-man development team, and he has been since the age of 12. So many of us grow up with dreams of being a video game developer. For Jason, it was a reality that he tackled early on, and East Coast Nightmares is ultimately a product of Jason's preteen passions.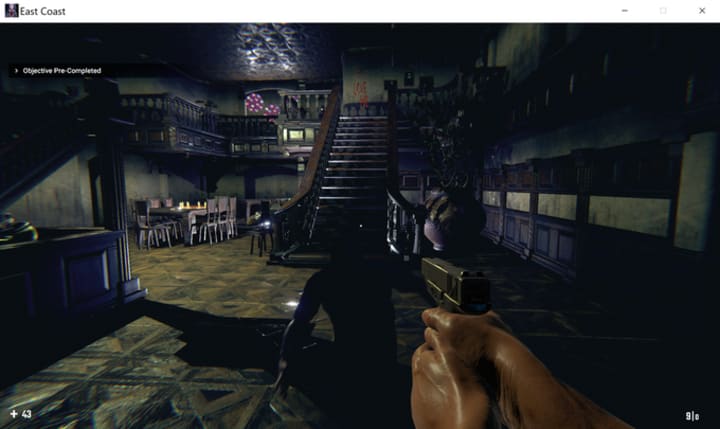 To get to the point where his carnivalistic horror could be plastered on Kickstarter, he had to overcome many difficulties. Chief among them was a diagnosis of Aspergers, which brought doubt about his ability to pursue game development and a fruitful life. As much as those around him believed his disorder would hinder his lifetime goals, much like the protagonist in East Coast Nightmares, Jason wasn't willing to give up so easily.
Instead, he walked right into the mouth of the clown and faced the difficulties that lay ahead. The Scotian Wolf bested the naysayers that surrounded him, graduated with a degree in video game development from Nova Scotia Community College, and emerged with the perfect project in mind: East Coast Nightmares.
After five years of highs and lows, Jason finally found himself in the position to bring the killer clown to life. To do so, he started by creating Scotian Wolf Studios, the one-man development studio crafting unspeakable horrors. That brings us to where we are now, staring that pale-faced bogeyman right into his glowing eyes.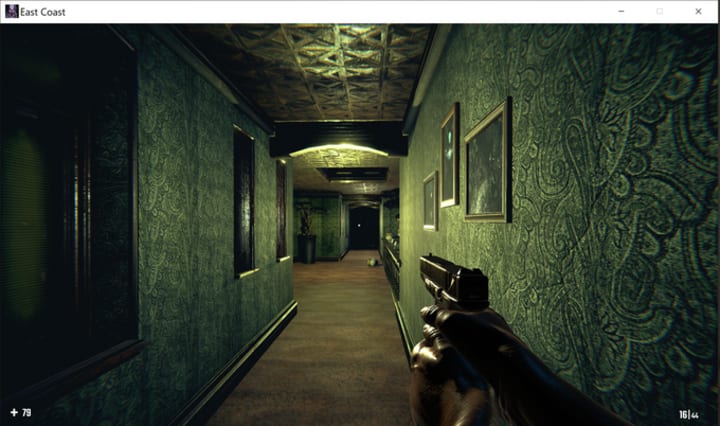 East Coast Nightmares aims to immerse players into their nightmares across 12 levels. Will they be able to battle through their fears and fend off zombies, demented clowns, and other horrors? Or will they succumb to the laughing terror that's manifested these grisly fiends? Players will have to battle through six unique bosses and traverse a haunting town to seek out clues and find an escape.
The game utilizes a few purchased assets, as most indie games do, but the bulk has been built by the talented developer. YouTubers like Elrenia, Adrionic, and WhoDaGreatest tackled the demo with hilariously demented results, but you don't have to just watch others play it. The demo is public and available on Jason's official Scotian Wolf Studios website. See if you can stomach the nightmarish monsters and the frequent unsettling videos of clowns on the brief but telling playthrough.
While Jason may have tackled the development alone, the whole process has been aided by a second hand - Jason's manager Tanya MacKenzie. If you email Jason, it's Tanya that will likely answer, but she's more than just his communications liaison. When we get the chance to play through the final version of the game, we'll be doing so through Tanya's eyes. The protagonist may be nameless, faceless, and voiceless in the current demos, but Tanya will be stepping into the madness of East Coast Nightmares as our brave heroine.
Currently, East Coast Nightmares is slated for an October 31, 2020 release on PC, PS4, Switch, and Xbox One. Jason is currently running a Kickstarter to fund the remaining development of the future horror title. With rewards ranging from a special thanks in the credits to having your short horror story appearing as an in-game readable book, there are many reasons to back this passion project.
horror
About the author
Writer | Avid Gamer | Horror Enthusiast | A Voice for All Industries
Writing and building communities are my passions
Featured on all corners of the Internet
Reader insights
Be the first to share your insights about this piece.
Add your insights