Dream House(s)
First Place in Dream Home Challenge
I'm not fussy... so I'll have both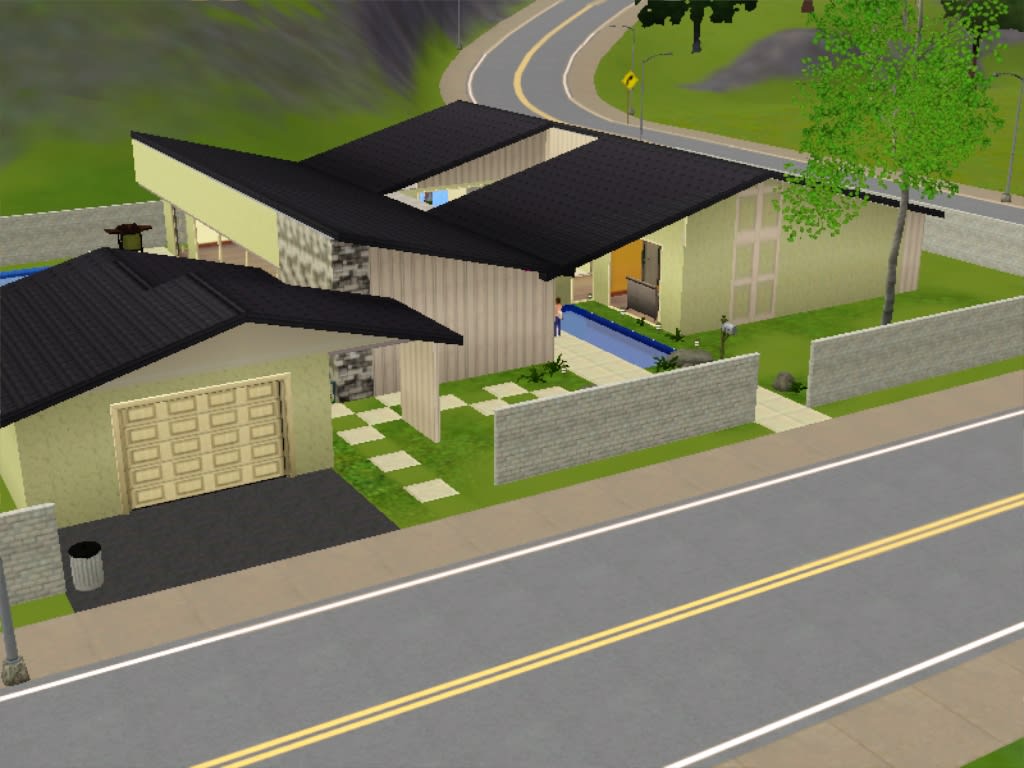 I'm not too fussy when it comes to houses. A nice house is a nice house, and some people will not even realise it's their dream house until they see it. So I will present to you two houses.
Day dreaming about my dream home is something I've been doing for a very long time. Luckily for me, I've been building houses since I was about 8 years old via a computer game called The Sims. Let me show you my dream houses via The Sims 3. I pre-warn you that I've always stuck to building the basic houses and never really took the time to get better, so if you think it looks bland then just understand it would look better in real life. Secondly, The Sims 3 is over ten years old so it does not include all the latest household technology so when you're looking at a room, just imagine it with all the newest stuff, okay?
I have never wanted a huge eight bedroom house with five bathrooms. It's just too much work and effort plus I would get anxiety thinking there were monsters hiding in the spare rooms. I do, however, very much want the three-bedroom bungalow below (yes I accidently took the screenshots in Build/Buy mode).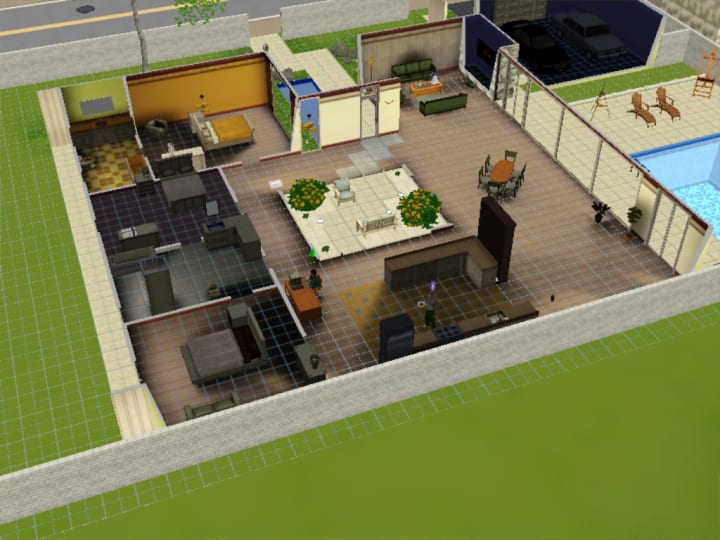 If The Sims 3 was real, or if there was a magic portal that could take me there whilst playing the game, I would have this house. I made my sims character and put her in this house. Unfortunately, I cannot ask her if she likes the place but she seems to have everything she needs and because she's on her own bills are very low.
I would pick the bedroom next to the kitchen and next to the wall around the house. One reason is because it has the nicest colour scheme and secondly because it's not that far to walk for a midnight snack.
Unfortunately it would not let me purchase it without any gold simoleons but I would also have a vanity table (click for exact one) in the room and would probably replace the two-seater sofa with a wardrobe. There definitely needs to be curtains around the house too because everyone knows the irritating feeling when the sun comes up through the window and disturbs your sleep. So, although the images in this article do not show all the items I would have, the layout and positioning is an absolute dream.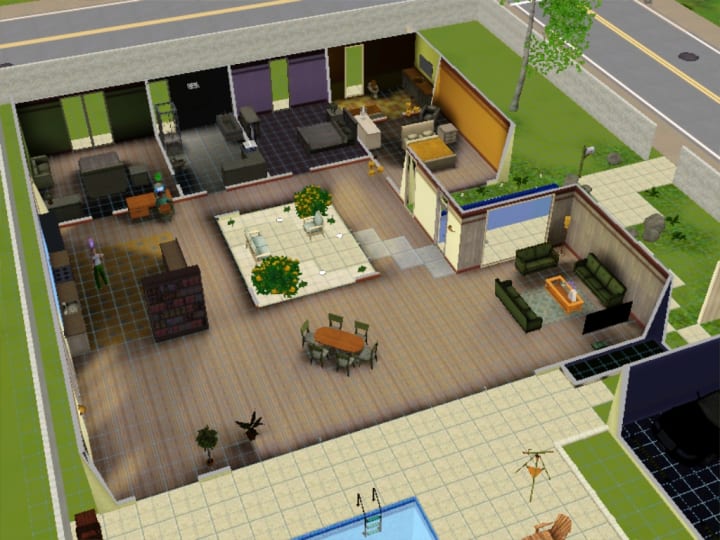 This bungalow is extremely spacious and open plan which is perfect and the vast majority of new builds in the United Kingdom are. I admit, the living room could be spaced out a bit more because the dining room table does look a bit lonely. Ideally I would like a gym built in there but I would have to have a room installed because I wouldn't want the whole house to stink after I workout...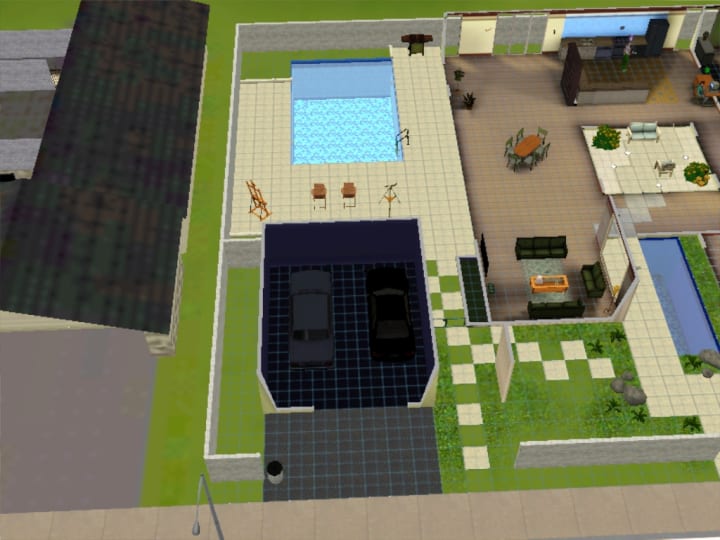 The garden is brilliant because there's no maintenance involved as there's hardly any grass. I have never been interested in gardening as it's too much to maintain and flowers and everytime I've gone to the garden centre with my mum I'm shocked at how expensive flowers can actually be!
Overall this house is worth 50, 516 simoleans fully furnished. When translating that to the real world that is probably the price of a garage in London or a 10% house deposit WITHOUT the furniture. If I was to guess, I would assume this estate today to be worth around 500,000 GBP. If it was in London then triple that figure but if it's in up North (Manchester, Liverpool, Sunderland etc) then that's probably about right.
Funnily enough, the second house below is actually next door to the first house.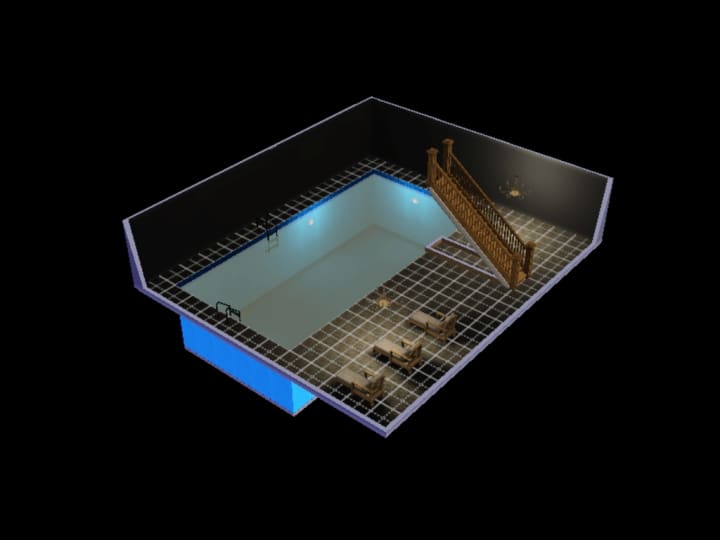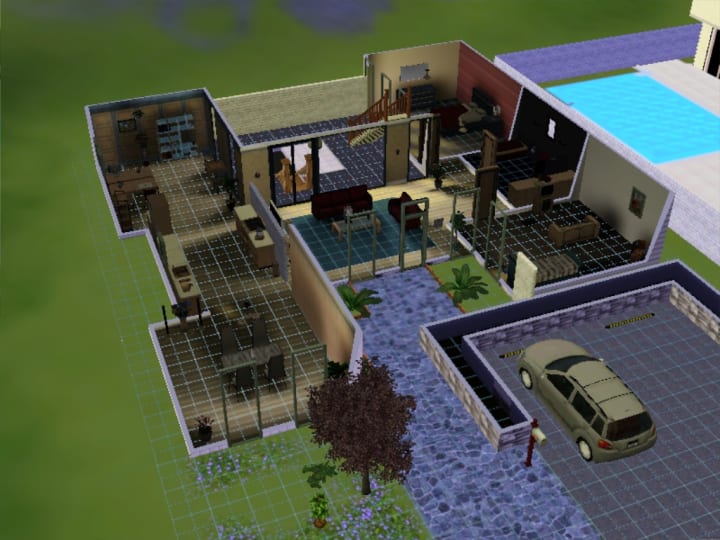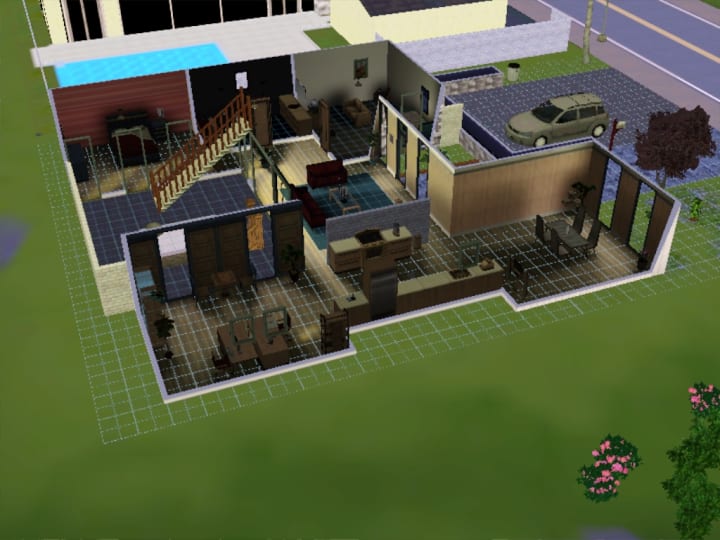 This second house is a two-bedroom bungalow. There is an upstairs with an attic but it was empty so there's no point showing it. A similarity between the two houses is the open plan, swimming pool, two car garage and the whole no-proper garden situation. Unsure if you've noticed but I do also have a big thing for panoramic windows.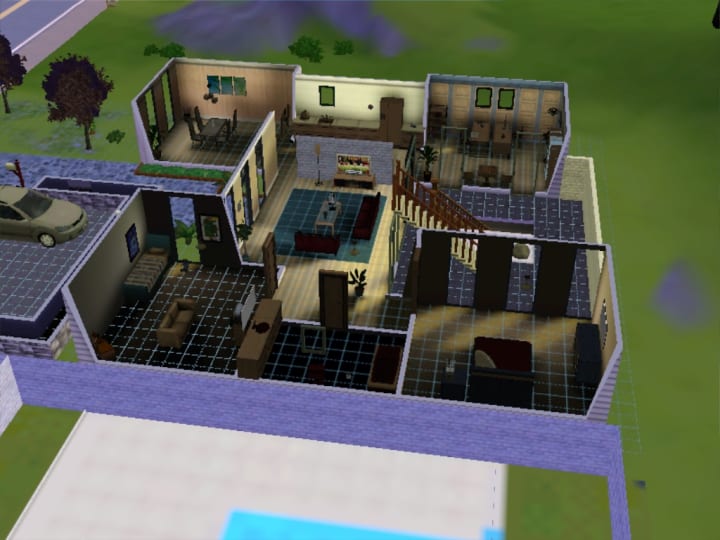 Both these houses are low maintenance, spacious but not crazy overly spacious, spare rooms for family and friends to come round, do not exist in the real world to my knowledge, are surrounded by greenery and way out of budget. However, I do not doubt that these houses, or something very similar, out there somewhere. They aren't overally complex builds but the problem is that most bungalows in the United Kingdom are less than half the size of the entire buildings and most certainly do not have a pool. It would be something I would have to build from scratch from a massive plot of land in the middle of nowhere which doesn't actually sound bad. What does sound bad, is that this idea costs a lot of money hence why they're both just a dream.