'Assassin's Creed Rogue' Could Be the Most Underrated Game in the Series
'Assassin's Creed Rogue' was the first game in the 'Assassin's Creed' franchise that I have played, and is also one of my most favourite. Sadly, many players, and even fans of the series had ignored this game in the past, and even in the present.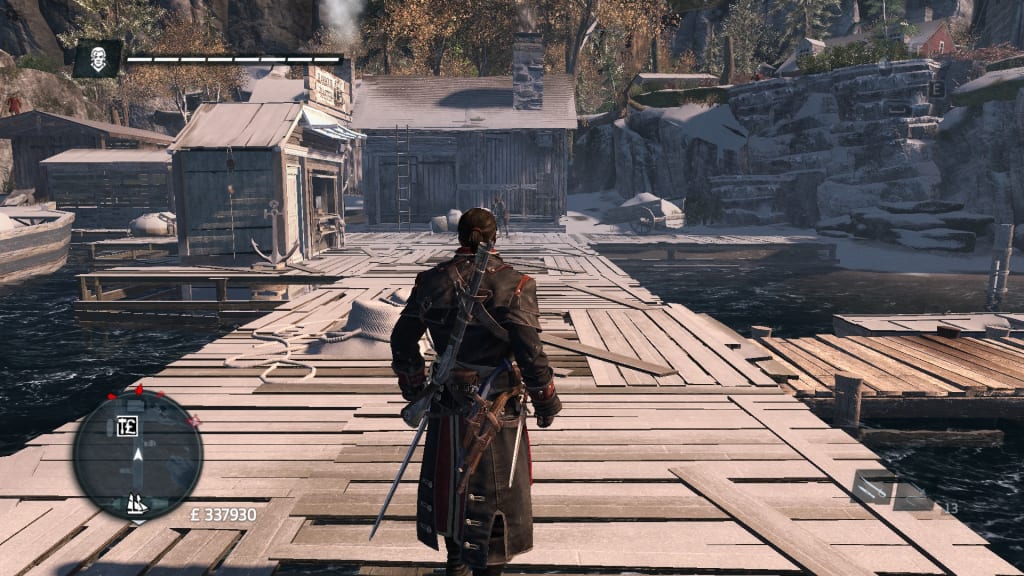 Shay Patrick Cormac, an assassin-turned-templar and main character of AC Rogue, in Coeur-de-L'Hiver.
I have been a fan of the Assassin's Creed game series since way back a couple of years ago, when I discovered it through the internet. I wasn't so fond of video games back then. I only played a few online games, as well as some video games from Grand Theft Auto to Left 4 Dead. When I saw Assassin's Creed for the first time on YouTube by watching its game trailers, I was instantly stunned by it. I could consider myself as a history lover, and I also wanted to learn how to do parkour, as well as fighting sports, and swordsmanship ever since I was a kid, and Assassin's Creed mixed all three, which made the game my instant favourite. Unfortunately though, since I have no proper computer to play the game on, let alone money to buy it in the first place, or even time to consider playing it, I have no choice, but to satisfy my love for the game by watching walkthroughs on YouTube, reading about the game series on fan wikis, and in Wikipedia, and if I got the time and permission, to play some of the game in an internet cafe, often for around one to two hours. As my knowledge of the game's story and features grew, so did my desire to play it. I finally got a chance to do just that when I had my own laptop, and an internet connection in our home. I could choose a lot of the games in the Assassin's Creed series to download from. There is Assassin's Creed 3 set in America during the American Revolutionary War. There is Assassin's Creed 4: Black Flag set in the Golden Age of Piracy. There is also Assassin's Creed Unity set in France before and during the French Revolution. But of all the games in Assassin's Creed that caught my eyes first, Assassin's Creed Rogue, which was a prequel to Assassin's Creed Unity and even Assassin's Creed 3, was the one that gained my attention first, and therefore the first game in the series I decided to play before the others.
Assassin's Creed Rogue is set in North America during the Seven Years' War, where in two of the most powerful colonial forces in that time, Britain and France, fought with each other in a race for supremacy in the New World. The main protagonist of the series is Shay Patrick Cormac, a man born in New York to Irish immigrant parents who would join the Assassin Brotherhood, and then betray it after a mission that completely shattered his faith in the Creed. He then joined the Templar Order, led by its Grand Master Haytham Kenway, son of a pirate, and Assassin Edward Kenway (who was in Black Flag) and the father of Connor Kenway (the main character in Assassin's Creed 3), in a pursuit to stop his former allies, and end the Brotherhood once and for all. What made Rogue so unique is not necessarily its gameplay features, but rather its storyline. For the first time in the series, gamers could be able to play not as an Assassin, but a Templar, which was not the usual compared to the games before and after Rogue (although in Assassin's Creed 3, players could control Haytham Kenway in the first parts of the game). Assassin's Creed Rogue let players see the different side of the rivalry between the Assassins, who fight to seek peace through freedom, and the Templars, who want to achieve peace through order), and that's what also makes Rogue's storyline worthy of praise.
The fight between the Assassins and the Templars in Rogue was very complex, and there was no definitive measure on who is the hero, and the villain in the game. Who is good and the evil in Assassin's Creed Rogue would be left for you to decide. Furthermore, the main character, Shay Patrick Cormac, is also equally complicated in his intentions and character that these things could be interpreted differently by different gamers. While the graphics of Assassin's Creed Rogue is almost as similar to in Black Flag with a few modifications, there are a few major differences in the gameplay. For example, Rogue introduces a new weapon called the air rifle, which Shay could use to shoot darts at the enemy, or release grenades to several enemies. Shay's ship, the Morrigan, is also packed with new features, such as front carronades; cannons in the front part of the ship that could cause a great amount of damage. It also introduces the ram that could be used to break the ice in the ocean, or to destroy enemy ships. The Morrigan also features the mortar, and the heavy shot, both capable of inflicting great damage in the long and short range respectively. And finally, it also uses the burning oil barrels, which could be utilised to slow down enemy ships, and deal a great amount of damage at the same time. The Morrigan is also easier to navigate, and could travel faster be it in the river, or in the ocean. The main character also possesses the Eagle Pulse aside from the classic Eagle Vision. The Eagle Pulse allows Shay to sense if a danger (e.g. a bandit hiding in a bush, haystack, or any other place where someone could hide) is nearby, and therefore turn the tables against his enemy. This ability matches with his character as both an Assassin hunter, and a Templar (which makes him also the hunted).
While the story and character sets Assassin's Creed Rogue apart from other games in the series despite being sadly underrated, and ignored by many gamers including many fans of the franchise, Assassin's Creed Rogue is also filled with its own shortcomings. For one, the storyline was short, and therefore leaves many gaps as to what happened to Shay and the Assassins, as well as the Templars, after the events in the game. Shay's only goal was to stop the Assassins in their pursuit of the Precursor sites, hoping to find the Pieces of Eden that could give immense power to someone who could possess it, and therefore the story revolved simply and mainly around this, aside from side missions of Assassin Interceptions and capturing Forts and Gang Headquarters. Furthermore, Shay's skillset is somewhat similar (and also a mishmash) of Connor and Edward's skillset in AC3 and Black Flag, respectively, giving him less of a unique character in terms of fighting. Even Haytham has his own style of fighting in Assassin's Creed 3, which resembles that of fencing. In addition, the amount of classes of weapons Shay could own and use was limited, making gameplay less varied and exciting. Connor could even own and use an axe and a dagger in Assassin's Creed 3, and while Shay could also use an axe stolen from a grenadier, he could, and would not be able to own it. Another lamentable thing in Rogue was the lack of horses especially in New York. In Assassin's Creed 3, players could use horses to be able to navigate around places from Boston to New York to the frontier. This, unfortunately, has not been integrated in Rogue perhaps due to greater emphasis on ship battles, as well as the fact that Rogue could have been created with graphics from Black Flag, forcing players to explore places on foot.
Assassin's Creed Rogue, in many ways, does have many great things to offer to players who would desire to play it. While many of its shortcomings are noticeable to both ordinary gamers, and critics alike, I believe that Rogue still has features, especially in gameplay and storyline, that could make it different from other games in the franchise.