I played basketball for 8 years. During that time Kobe was my least favorite player. Because he was so good, and only ever played for the Lakers, my least favorite team. I knew no matter what he never had an off night, and he was going to do everything he could to get the win.
I only thought of him as a basketball player and not much more. It wasn't until I came across Beyoncé's performance at Kobe and Gianna Bryant's memorial that my opinion changed. From there, I continued to listen to the speeches given by friends and family. One after the other celebrities got up to tell how Kobe and Gigi had touched their lives.
We never really get to know the celebrities we admire. The best we can do is piece together moments of generosity from those close to them. To put together a picture of who they were and the gravity of life lost.
I want to share some of the things I learned about Kobe. With the hope to honor his memory and share a different side of him with the world.
CHEIZAW
Kobe was born in Philadelphia and was heavily influenced by the hip-hop culture there. In high school, he and some friends formed a rap group. The group's name, CHEIZAW, is an acronym inspired by the Chi Sah gang from the kung fu movie "The Kid With the Golden Arms."
Their debut album "Visions" never came out though, the label and group had creative differences that led them to go their separate ways. Kobe never made music publicly again, but it remained a big part of his life. He also inspired rappers like Drake, Kendrick Lamar, Lil Wayne, and Jay Z, as they all have mentioned the Mamba in their verses.
Global Connections
Though Kobe was born in a hip-hop capital, he spent most of his formative years in Italy and was fluent in Italian. Reggio Emilia, located about an hour's drive west from Bologna in northern Italy, houses the Cantine Riunite professional basketball team.
Kobe spent many of his early years living in the small Italian city while his father played on the Cantine Riunite. He credits Italy as being the launching pad for his basketball career, where he cut his teeth on the court.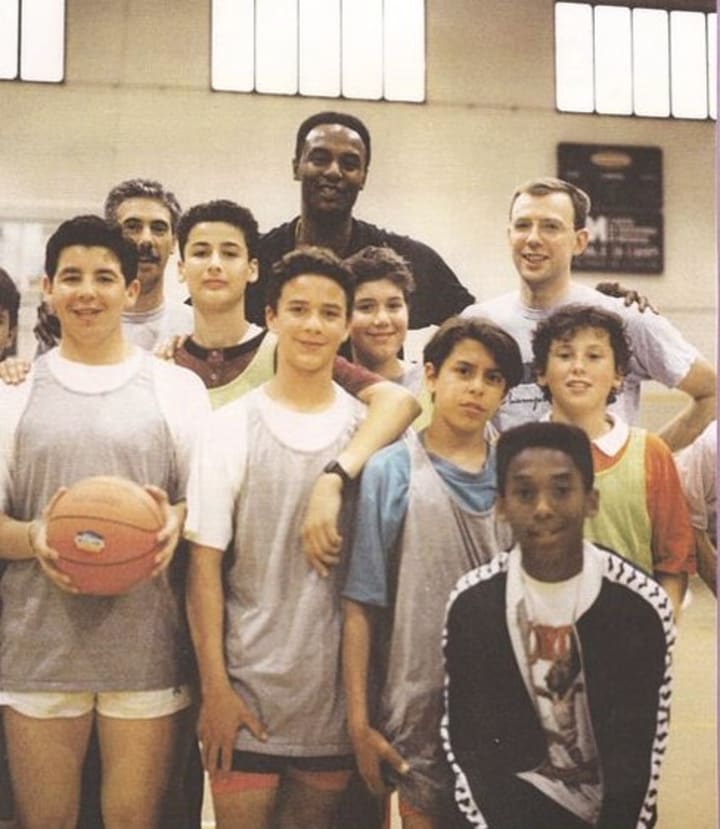 He told the online basketball publication SLAM that they wouldn't scrimmage during practices. Instead, they focused solely on the fundamentals.
"Passing, screening, moving off the ball, shooting. All the basics," he said. "And if we did scrimmage, we'd scrimmage full court, no dribbles allowed. So that set the foundation for me for how I came to understand the game, and how I now teach the game."
Kobe credits Reggio as being his second home, saying in a2016 interview with il Resto del Carlino that it was "where his story began." He often went back to visit and teach the youth coming out of Reggio, the city mourned his death for a week following the tragic helicopter crash.
Japanese Origins
Kobe's name was taken off a restaurant menu by the Bryant's. Kobe beef is a Japanese delicacy that has risen immensely in value because of basketball fans.
His middle name is also unique; after his father's nickname "jelly bean," Kobe's full name is Kobe Bean Bryant.
Two Time Gold Medalist
Alongside Chris Paul and LeBron James, Kobe Bryant has won back-to-back gold medals for his hard work at the 2008 and 2012 Summer Olympics.
Kobe was a True Romantic
Kobe and Vanessa Bryant were approaching their 19th wedding anniversary. During a tearful tribute to her husband, she shared that he had boughten her the original blue dress that Rachel McAdams wore in "The Notebook" film.
"He was thoughtful, even while working hard, He gifted me the actual Notebook and the blue dress in The Notebook movie. When I asked him why, he said it was the scene where Allie comes back to Noah. We had hoped to grow old together like the movie. We really had an amazing love."

Vanessa Bryant at Kobe and Giana Bryant's memorial
Kobe also learned Beethoven's Moonlight Sonata to apologize to her during hard times earlier in their marriage. He learned the tune by ear, listening to it on loop and testing keys until he found the right note. He went on to use the song whenever he felt stressed, saying it soothed him.
"Sitting down and taking lessons would be too easy, So I taught myself by ear."

"If you just sit down and say, 'I'm going to learn this thing until I do, there's not much out there that you can't figure out eventually."
Dear Basketball
While researching Kobe Bryant's life, I noticed basketball at the forefront of love wherever it appeared. He dedicated so much of himself to the game. He always spent the extra hour in the gym to hit 400 shots, went for every loose ball, played every second as hard as he could.
I have always wondered how it feels for athletes to say goodbye to playing the sport they love. Kobe had been in the NBA for half his life. He announced his retirement through a poem via the Players Tribune. In it, he writes:
This season is all I have left to give.

My heart can take the pounding

My mind can handle the grind

But my body knows it's time to say goodbye.
He walked away from basketball after that 2015 season and barely watched or played after. It wasn't until his daughter Gianna expressed interest in playing that he found a newfound love for the game.
Teaching her was allowing him to continue the connection, and with her encouragement to "chase what he loves," he teamed up with Glen Keane for animation and John Williams for music to create a short film bringing the poem to life. Just reading the words is touching, but the film gives it a new depth.
You can feel the emotion, and it's incredibly moving. For those who may not understand how basketball could mean so much to someone, I highly recommend watching.
Kobe brought us into his world and heart with "Dear Basketball." It's an inspiring story of a little boy's Laker Dream. The film received multiple awards, including the Academy Award for Best Animated Film in 2018.
He Took Brandy to Prom
"I pecked him twice. His lips were so soft."

— Brandy to the Philadelphia Daily News in 1996
You may know her from the record, "That Boy is Mine," or the hit 90s show "Moesha", Brandy Norwood became an acting, singing, and modeling sensation. She was also Kobe's childhood crush and prom date in the spring of 1996.
Parting Words
It's strange to live in a digital age where so many moments of history are documented. In one moment that person doesn't exist anymore. They don't laugh, or age, they don't make any new moments. But the past can serve as a portfolio of the soul. I feel lucky to get an idea of who Kobe Bryant was outside of the basketball court.
He was a creative, a hard worker, a husband, a father, and a force of energy. The world will hurt forever from this loss, but we can always revisit the time when we had him and Gianna. Rest in Peace Kobe, #Mambaout