Prostitution Sting at John's Bar and Funhouse in NE Minneapolis (1953)
A scandal that rocked the Midwest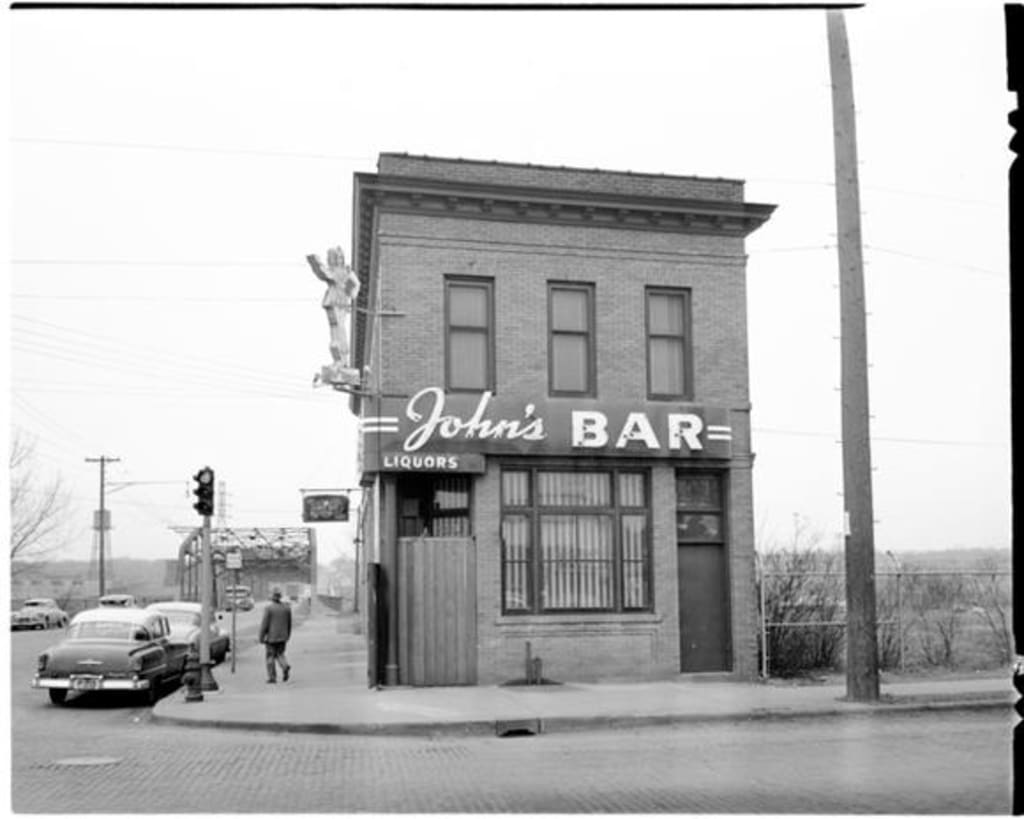 John's Bar, 2500 Marshall Street, Minneapolis. MNHS
John's Bar and Funhouse, formerly located at 2500 Marshall Ave NE in Northeast Minneapolis, was one of many saloons that once occupied the location on the corner of Lowry and Marshall since 1905. It was a popular local bar that opened in 1946, one which found itself at the center of a scandal in 1953 that rocked the city of Minneapolis and the Midwest as a whole.
Owned by brothers John and Frank Gawron, the bar was well known for its carnival-like atmosphere - with "games of chance," a blaring jukebox, photo flash bulbs popping, and sirens wailing. Outside, a neon sign of a pretty girl wearing a short skirt waving at passersby hung from the bar's second floor.
An August 13, 1952 raid of a home in the city's Lowry District that led to the arrest of three young sex workers put John's Bar on the radar of the city police's morals squad—and later the FBI. The three testified to the involvement of John Gawron, and John's Bar, in a sex trafficking and prostitution ring that canvassed the Midwest from the Dakotas to Chicago, Illinois.
The bar's second floor was a recruiting center for prostitutes, and John Bar's was the Minneapolis hub of the group's illicit activity. It had private rooms where young girls would entertain its heaviest spenders. Some of the women were sent to work for Daisy "Dee" Wheeler at her brothel in Chicago.
Once it became clear the women were being trafficked across state lines, the case fell under the purview of the FBI. This opened the door to a large-scale effort throughout the Midwest, one that initially concentrated on Chicago and Minneapolis.
Federal authorities moved quickly, and Gawron and nine other men and women caught during a Midwest prostitution sting were arraigned in federal court in early February 1953. All pleaded innocent of the charges against them.
The Minneapolis-Chicago prostitution connection netted nearly $100,000 a year, according to investigators. Young women testified they could earn between $300 and $450 each weekend. It was so lucrative for some that they flew into Minneapolis from Chicago every weekend to spend Friday through Sunday in the city - including the second floor of John's Bar.
The women interviewed testified John Gawron was the person who paid them.
As the March 16, 1953 trial date approached, additional testimony came to light that compelled the prostitution ring's three leaders to change their pleas from innocent to guilty. Wheeler, her business manager Frances Elliot, and Gawron, each steadfastly not guilty at their arraignment, pleaded guilty to three of the seven counts of a grand jury indictment.
The three, whose crimes included prostitution and human trafficking - defined at the time as "white slavery," threw themselves at the mercy of the court.
Now that John had pleaded guilty, the city of Minneapolis turned toward his brother Frank, co-owner of the bar.
Both Frank and the local police officers employed by the bar claimed to know nothing about the goings-on on the building's second floor. While investigators found their statements hard to believe, they couldn't prove otherwise, so they moved on.
In the lead-up to John's court case, the city of Minneapolis temporarily extended the saloon's liquor license with restrictions. Among them, the bar could only use the first floor of the building, abandoning quarters in the basement and second floor. Also, the council reserved the right to renew the license again if John ended up guilty of the charges against him.
Because John was now a convicted felon, the city began steps to halt the liquor license at John's Bar and Funhouse.
They revoked it on March 27, 1953.
The bar could operate after its current license lapsed on April 6. A few days later, the city toughened its stance and made the move immediate. On April 2 at 11:30 AM, the city council's Health and Hospitals Committee revoked the bar's liquor license.
Frank protested, claiming he was the bar's owner and his brother was only an employee. This was backed up by the 1951 liquor license for John's Bar, which listed Frank as the sole proprietor of the establishment.
Unfortunately for him, additional evidence proved otherwise. Federal liquor tax stamps in 1950 - 1952 and a tax lien against the bar listed both Frank and John as owners of the bar.
Frank Gawron was charged with, and later convicted of, perjury.
On May 11, 1953, a federal judge handed down the court's ruling against John Gawron and two accomplices. Gawron, who admitted to finding prostitutes for the Chicago brothel, was sentenced to serve a thirty-month sentence in a maximum-security prison in Terre Haute, Indiana.
His brother was sentenced for his crime the following month. Frank repeated past claims he didn't intend to mislead anyone. His final cries of innocence fell on deaf ears.
On September 16, 1953, Frank Gawron was sentenced to serve eighteen months at Stillwater prison.
John Gawron was officially released on parole on June 29, 1954. After leaving prison, he returned to Minneapolis for a short time before joining his wife and children in Miami, Fl. A couple of months later, his brother Frank was released from Stillwater penitentiary one year into his eighteen-month sentence.
Peter Dusenka bought the fixtures from Frank Gawron's creditors and opened a bar at the location.
In 1960 former Minneapolis Lakers player Tony Jaros bought the bar with business partner Cletus Scherer. The Jaros family turned the bar's second floor into an apartment.
Sources
Benson, Charles. "John Gawron to Be Freed After Third of Term." The Minneapolis Star, March 17, 1954, 1.
March, Stephanie. "Iconic Dive Bar Tony Jaros Gets a Josh Thoma Kitchen." Mpls.St.Paul Magazine. https://mspmag.com/eat-and-drink/foodie/iconic-dive-bar-tony-jaros-gets-a-josh-thoma-kitchen/.
Merrill, Paul. "Minneapolis Then And Now." Stuff About Minneapolis. Last modified April 23, 2010. https://stuffaboutminneapolis.tumblr.com/post/543083885/minneapolis-then-and-now-ah-yes-2500-marshall.
The Minneapolis Star. "3 Sentenced to Terms on Vice Counts." May 11, 1953, 1.
The Minneapolis Star. April 3, 1953, 14.
The Minneapolis Star. "Bar Owner Sought for Role in White Slave Ring." January 27, 1953, 1.
The Minneapolis Star. "Funhouse Gets Limited License." March 13, 1953, 6.
The Minneapolis Star. "Gawron Released at Stillwater." September 17, 1954, 27.
The Minneapolis Star. "Morals Squad Credited in White Slave Case." January 28, 1953, 23.
The Minneapolis Star. "Pair Await Sentencing in Vice Ring Case." March 26, 1953, 25.
The Minneapolis Star. "Police to Investigate Records of All Bars." April 3, 1953, 5.
The Minneapolis Star. "Trial Set for 3 on Morals Charges." March 4, 1953, 21.
The Minneapolis Star. "White Slave Suspects Deny Guilt." February 9, 1953, 37.
Nelson, Paul. "John's Bar and Funhouse Prostitution Scandal, 1952–1956." MNopedia | Minnesota Encyclopedia. Last modified November 4, 2019. https://www.mnopedia.org/event/john-s-bar-and-funhouse-prostitution-scandal-1952-1956.
About the Creator
Historian for The Streets of St. Paul and Minnesota Then. I'm using this platform to share stories about Minnesota history and whatever else (or wherever else) I find interesting at the time.
Reader insights
Nice work
Very well written. Keep up the good work!
Top insights
Easy to read and follow

Well-structured & engaging content

Excellent storytelling

Original narrative & well developed characters
Add your insights