American Civil Rights Activist Fred Korematsu (1919 - 2005)
From WWII Japanese internment camps to fierce advocate for equal rights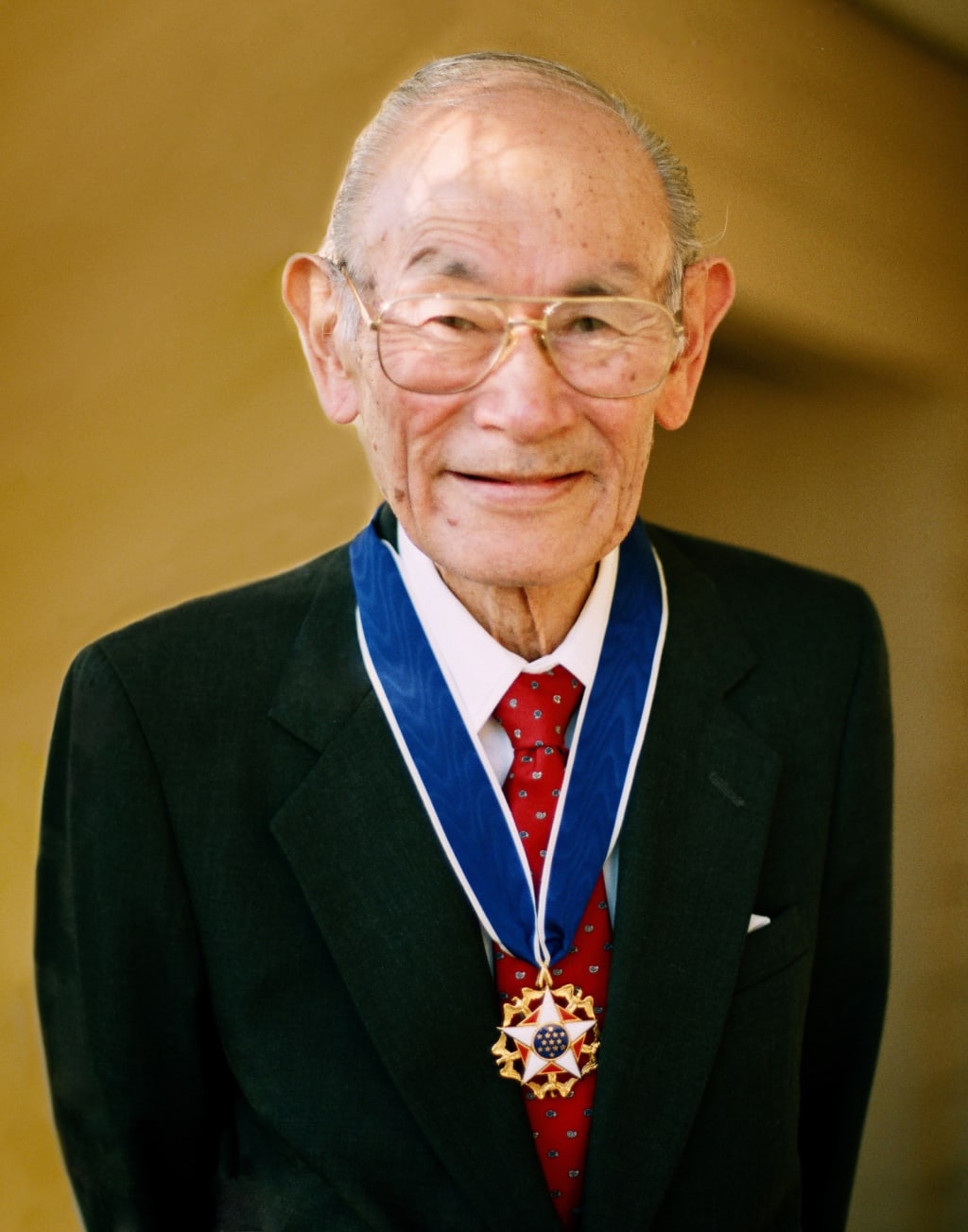 Fred Korematsu (Khan Academy)
Fred Korematsu was born in Oakland, California, on January 30, 1919. After graduating high school, he worked as a shipyard welder, a job he was fired from after the Japanese bombing of Pearl Harbor on December 7, 1941. That horrific attack turned the United States against its Japanese-American citizens.
President Roosevelt Executive Order 9066 on February 19, 1942. It forced Japanese Americans, both nonresident aliens and American citizens, into prison camps along the west coast. Over 115,000 Japanese-American people were sent to incarceration camps solely for the crime of having Japanese heritage in a time of war against Japan.
On May 9, 1942, his parents and three brothers reported to the Tanforan Assembly Center, a converted racing track and horse stable in San Bruno, California. Korematsu stayed behind with his Italian-American girlfriend, ignoring the order.
He tried to enlist in the National Guard and Coast Guard but was denied because of his Japanese race. So instead, he ran away. At 23, he sold his car, tore up his license, and assumed a new identity in Berkeley, California. Korematsu changed his name to Clyde Sarah and claimed to be of Spanish and Hawaiian descent. He also had a doctor fix his nose and slit the skin near his eyes to make them open wider.
On May 30, 1942, he was downtown planning to meet his girlfriend. Korematsu was out of cigarettes, so he went across the street to buy some. After leaving the store, he was confronted by a police officer looking to see his ID – which he couldn't provide. He was arrested and never saw his girlfriend again.
While in jail, he was visited by Ernest Besig, the executive director of the Northern California American Civil Liberties Union (ACLU). Korematsu agreed to be the subject of a test case to challenge the constitutionality of Roosevelt's executive order. On June 12, 1942, a judge set bail for $5k for violating the federal order. Besig paid the money, and the two men left the courtroom. Military Police (MP) took the civilian Korematsu the moment he left the courthouse.
With nothing more than the shirt on his back, MPs took him to Tanforan to join his family. They put him in a stable with a dirt floor and a cot to sleep in. Officials eventually transferred Korematsu and his family to the Central Utah War Relocation Center in Topaz, Utah. The conditions in both were subhuman — Fred thought jail was better.
Korematsu believed his detention violated the Constitution's 14th Amendment but a Federal Court in San Francisco ruled that, by refusing to turn himself in immediately, he had disobeyed the President's legal executive order. On December 18, 1944, he appealed his case to the United States Supreme Court. The court ruled against him by a margin of 6—3. As a result, he was returned to the Utah camp.
He was deemed 'loyal' in 1944 and allowed to leave internment as long as he didn't return to the West Coast. Korematsu briefly worked as a welder in Salt Lake City. After three days, he learned his pay was half of what the Caucasian employees were earning for the same work. When he protested, his boss threatened to have him arrested—so he left.
Soon after, he moved to Detroit, marrying Kathryn Pearson on October 12, 1946. In 1948 they went back to the San Francisco area, and Korematsu started a career as a mechanical drafter. But, his felony conviction for violating the wartime executive order kept him from working at larger firms.
In 1983 a group petitioned the 9th US Circuit Court in San Francisco to have Korematsu's conviction overturned because the Supreme Court had decided his fate based on false information. Japanese-American citizens weren't enemy combatants during WWII, and the government shouldn't have taken their freedom from them. The US had no legal ground to incarcerate Japanese Americans during the war.
Northern District of California Judge Marilyn Hall Patel vacated Korematsu's conviction on November 10, 1983. Having been vindicated in court, he became a champion for civil rights.
On August 10, 1988, President Reagan signed the Civil Liberties Act, which offered a formal apology for the internment of Japanese-Americans during WWII and paid $20.000 to each of the approximately 80.000 survivors.
For his work, Korematsu was presented the Presidential Medal of Freedom by President Clinton on January 15, 1998. At the ceremony, while speaking of his experience, he stated that "[w]e should be vigilant to make sure this will never happen again."
After the atrocities of 9/11, he worked to ensure the country's mistakes of WWII were not repeated with those of Middle-Eastern descent. He also publicly lamented the George W. Bush Administration for imprisoning detainees in Guantanamo Bay out of 'military necessity' instead of due process of law.
Fred Korematsu died in California on March 30, 2005, at the age of 86. His mistreatment at the hands of the US Government had taught him the importance of speaking up against injustice—which he often did. He showed everyone the power of an ordinary citizen willing to speak up—to use their voice to oppose injustice.
In 2010, California passed the Fred Korematsu Day of Civil Liberties and the Constitution—marked January 30 as a day when schools remember Korematsu's legacy. The state celebrated the first Fred Korematsu Day on January 30, 2011. Six other states eventually followed suit, declaring their own Fred Korematsu Day.
Sources
Advancing Justice | AAJC. "Remembering My Father, Fred Korematsu." Medium. Last modified January 30, 2020. https://aajc.medium.com/remembering-my-father-fred-korematsu-1072ac08d329.
"Fred's Story." Korematsu Institute. https://korematsuinstitute.org/freds-story/.
Lam, Charles. "What We Can Learn from Fred Korematsu, 75 Years After the Supreme Court Ruled Against Him." NBC News. Last modified February 17, 2019. https://www.nbcnews.com/news/asian-america/what-we-can-learn-fred-korematsu-75-years-after-supreme-n972016.
Staff, NPR. "Honoring A Japanese-American Who Fought Against Internment Camps." WBUR. Last modified January 30, 2014. https://www.wbur.org/npr/268917800/honoring-a-japanese-american-who-fought-against-internment-camps.
Trickey, Erick. "Fred Korematsu Fought Against Japanese Internment in the Supreme Court… and Lost." Smithsonian Magazine. Last modified January 30, 2017. https://www.smithsonianmag.com/history/fred-korematsu-fought-against-japanese-internment-supreme-court-and-lost-180961967/.
Vohra, Akil. "Honoring Fred Korematsu." Whitehouse.gov. Last modified February 1, 2011. https://obamawhitehouse.archives.gov/blog/2011/02/01/honoring-fred-korematsu.
About the Creator
Historian for The Streets of St. Paul and Minnesota Then. I'm using this platform to share stories about Minnesota history and whatever else (or wherever else) I find interesting at the time.
Reader insights
Be the first to share your insights about this piece.
Add your insights