Proof Iran is Sending Russia Arms?
Arms Sale Contract Real or Fake?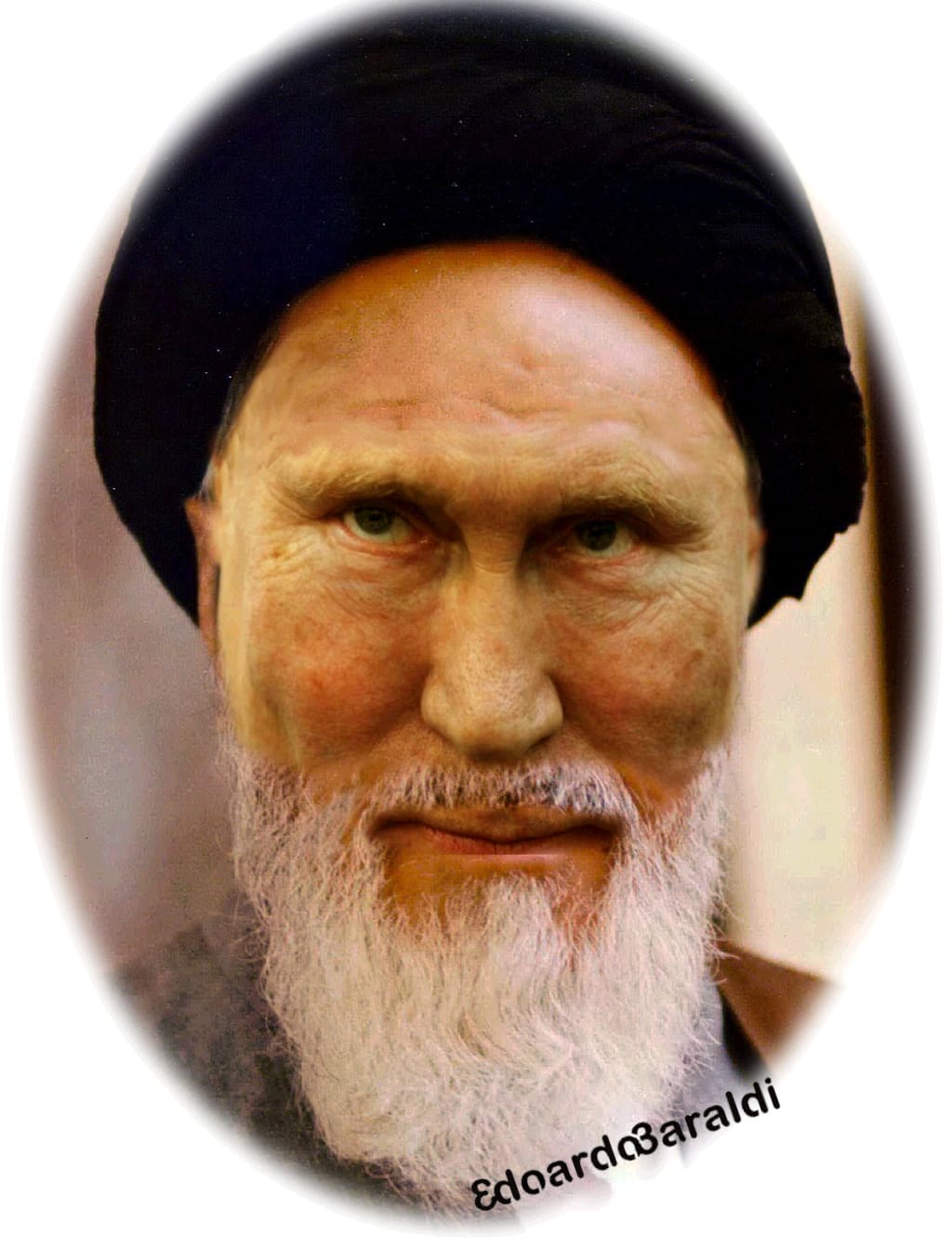 Putin As An Ayatollah.
We've heard the news that a bridge has been blown. Was it the Russians in a bid to stop the beginning of a much-talked-about Ukrainian offensive? Or was it the Ukrainians themselves? Such is the fog of war. A tactic used in WWII and in all subsequent conflicts since. The question has to be asked though why would the Ukrainians blow a bridge to stop their own forces? It would probably make more sense for the Russians to blow the bridge to stop said Ukrainian onslaught. Answers may be clearer later on or alternatively, they may not.
The West has obviously fortified the Ukrainians with everything they need for their counter-offensive. From the latest battle tanks, fighter jets, drones and everything else in between.
Signs are afoot that Ukraine has started its offensive or may be on the cusp of it. Zelensky has been travelling the world to get support for the counter-offensive. He turned up at the G-7 summit in Japan and hugged his buddy Rishi Sunak. Rishi himself needs friends right now with what's going on around him. So a friendship shown to Sunak by Zelensky would be welcome. Zelensky also flew to see leaders in the Middle East to get backing. This support would come in the form of moral support and obviously arms.
Russia has friends supplying arms to it just as Ukraine does. South Africa supposedly filled a Russian ship docked to the rafters with weapons. Whether this was the case or not is open to the question. However, South Africa under its ANC government might feel obliged to help Russia. Just as Russia or the Soviet Union (as it was known) helped the ANC. Julius Malema of the EFF (Economic Freedom Finders) said if in power he would help the Russians. Malema shows dangerous tendencies. If in power it seems he would turn South Africa into a dictatorship. And be friends with other dictatorial nations like Russia, China, Iran, and North Korea.
China denies officially it is sending arms to Russia. That might be China's official line but what is it doing in secret? Iran makes no bones about the fact it is arming Russia. Iran has allegedly sent suicide drones to Russia. These drones have wrought havoc in Ukraine. Largely destroying civilian homes and infrastructure.
Sky has got hold of or seen evidence of a contract. Allegedly an invoice of arms sales from Iran to Russia. An independent source said this document is 100% genuine. Sky News itself cannot verify the authenticity of this said document.
Russia's embassy when asked for a comment remained silent. Iran's embassy also said nothing about the document. So one could speculate that there is truth, that the invoice is real. On the other hand, why would Russia and Iran reveal such sensitive information? Especially to a UK news outlet that is technically an enemy of Russia and Iran like Sky.
If the document (16 pages long) is real it is dated from September 2022. The invoice lists different sizes of artillery, tank shells, and rockets. All this is worth $1 million or 800,000 Pounds Sterling.
Also listed were barrels for T-72 tanks and howitzers. Also supplied according to this were ammunition shells for said tanks and howitzers. Russia is said to have paid 500,000 Pounds for this cache.
The Ukrainian counter-offensive is meant to push Russia back. To liberate territory conquered by Russia. The land currently occupied by Russia was Ukrainian before Russia invaded. Russia occupied this land after it failed to conquer the whole of Ukraine. A battle has been raging in eastern Ukraine ever since.
$
About the Creator
I am a freelance writer currently writing for Blasting News and HubPages. I mainly write about politics. But have and will cover all subjects when the need arises.
Reader insights
Be the first to share your insights about this piece.
Add your insights