How to choose the right swimwear for your body shape.
Essential advice just in time for the summer !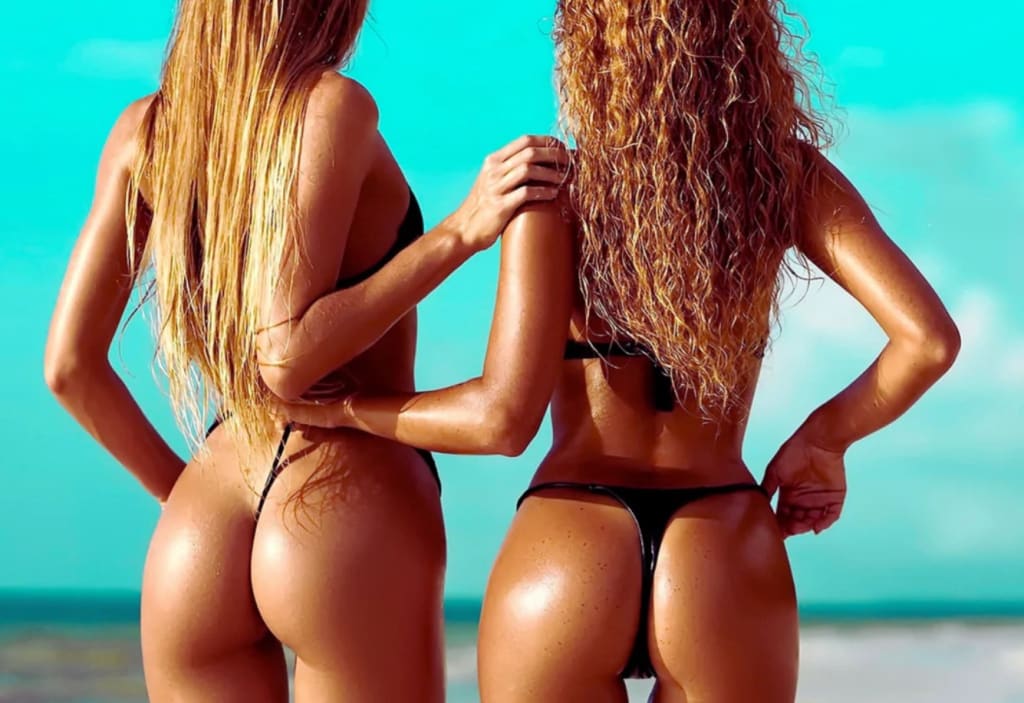 Choosing the right swimwear can seem like a daunting task. Every year, there are a ton of choices and fresh fashion trends.
Keep reading for plenty of tips on how to choose a swimsuit that's flattering, high-quality, and a perfect fit for your shape, your
style preferences, and your budget.
For maximum coverage, choose a one piece swimsuit.
The most modest choice is a classic one-piece swimsuit. If you intend to swim laps, you might choose a one-piece swimsuit because they are frequently preferred for exercising.
If desired, you can choose more daring one-piece designs including swimwear with side cutouts, a deep v neck, a low back, one strap, or no straps.
Choose a one-piece with a high back to cover back fat and a low back to highlight your back.
If you also want coverage for your hips and thighs, consider a swim dress.
Think of a "modest swimsuit," which refers to a variety of swimwear styles that cover more skin than a normal tank-style swimsuit. Some ladies relish the opportunity to wear less sunscreen.
If you are comfortable showing your tummy, then choose a bikini !
The most daring style of swimwear is the bikini. They merely hide your breasts and private parts, after all! Your entire back and belly will be seen as a result. If you are comfortable showing off your physique, then this is a wonderful option for you.
You can get a bikini set or buy a top and bottom that go well together to wear together, such as a string top with a bikini skirt bottom, a high-waisted bottom with a strapless top, or a full coverage top with a low-rider boy short.
Remember that you might require a different size for the top and bottom, which is another reason it might be preferable to purchase them individually.
If you prefer a " safer " 2 piece option you may decide on a tankini style swimsuit
Tankinis can provide full coverage of your waist or show part of your midsection. Select a tankini that shows an amount of skin you are comfortable showing. This is also a great option if you are pregnant, since you can get a loose-fitting top to drape over your belly. For example, if you want full coverage, then get a tankini top that overlaps the bottom. If you want to show part of your hips and waist, then get a tankini that falls just above your belly button.
Look for details that will enhance your top half especially if you have a small chest
Ruffles, vibrant hues and patterns, and padding can all be used to draw attention to your chest. Choose a swimsuit with extra details to highlight and bring attention to your chest if your chest is on the tiny side and you want to make it appear bigger. You can even go with an off-the-shoulder top.
Move in the opposite direction if you don't want to accentuate your bust. Choose a plain top with no padding or decorations, like a straightforward triangular top in a soft color.
Choose a supportive top if you have large breasts.
A flimsy swimsuit will not do. Whatever suit you are thinking about should have durable, well-built straps and cups. Choose a halter, racerback, or thick-strapped garment.
If you have a full breast, we suggest you avoid string bikinis, strapless swimsuits, and less supporting swimwear. A wardrobe malfunction on the beach can be very embarrassing !
Wear dark colors to minimize and light colors to accentuate a certain body part.
Dark shades are less obvious, while light colors catch the eye. Dark colors should be used to diminish the part of your body you wish to hide, and light colors to emphasize the area you want to stand out or highlight. For instance, you may wear a black bottom with a vivid red top to accentuate your breast and reduce your backside. Alternately, wear a navy top and white bottoms to accentuate your bottom and reduce the size of your breast.
Choose a full-coverage bottom half to distract from your hips.
Good coverage pants can help cover flaws and make your hips appear smaller. If your hips are an issue for you, choose one of these bottoms. Choose a bikini, tankini, or one-piece with a sash-bottom, swim-skirt, or boy cut bottom, for instance. You can select a bottom with high waist. It draws attention to the smallest portion of your waist and flattens your tummy. You can use a nice sarong to cover up your bottom if you are a little overweight there.
Most important is to choose a suit that fits you according to the size chart.
Never purchase a swimsuit that does not properly fit you. Your body should feel snug in the swimsuit, but not painfully so. Alternatively, you might choose something that offers more or less coverage, depending on how it makes you feel. For instance, if a string bikini suits you more than a one-piece, that is what you should search for. If you like more coverage, go for a one-piece or tankini if you don't enjoy showing off this much skin. If the swimsuit is too loose or makes it difficult for you to breathe, you might want to return it and choose another style.
Walk around in the swimsuit and even bend down a few times to ensure that it moves with you.
Be sure to move around, squat, jump jack, and bend over. To make sure that the swimsuit won't come off, bunch up, or expose you while you move in it, try a range of movements. For instance, it might not be a good idea if the swimsuit bunches up along your backside while you walk.
Ask about the thickness of the swimsuit to see if it's durable.
Try to choose swimsuits made from materials that feel durable and thick. If you are going to a very hot destination this may make the swimsuit too hot but the best option is to buy according to your usual beach or pool location.
Check in the mirror for bottom sag !
You can also get a sense of the swimsuit's quality by how your bottom looks in it. Make sure the swimsuit's back is firm and attractive. It might not be a high-quality suit if the bottom of the suit appears baggy or droopy. Remember to lift up the skirt even if the swimsuit already has one to make sure the bottom is form-fitting and attractive. Even if no one else can see it, you will be able to tell if it doesn't fit well.
Choose colors according to your skin tone !
By now most of us know which colors match our skin tone so try not to deviate from this just because you love the picture of the swimsuit. There are many different solid colors and designs available for swimsuits. With this in mind, you can use the color you select to show off your personal flair. Choose a hue or pattern that you like and that goes well with your skin tone. Choose a swimsuit with pink roses for a feminine and romantic style, a red and white polka dot swimsuit for a retro appearance, or a dark brown swimsuit that matches your skin tone.
Choose a cover up robe for walking to and from the beach !
Choose one that compliments or matches your swimsuit if possible. Wear it on your trip to and from the beach or pool to make it simple for you to take it off to swim and then put it back on to continue your day. Consider wearing a lavender coverup over a plum one-piece suit or a zebra print coverup with a white bikini, for instance.
Advice: Add a wide-brimmed hat, some sunglasses, and a comfy pair of shoes to complete your swimwear ensemble. And, remember to wear sunscreen!
www.keikobeachwear.com
Reader insights
Be the first to share your insights about this piece.
Add your insights