The Career of Carrie Fisher, Sci-Fi Princess (Part 2: 1985-2016)
"Instant gratification takes too long." -Carrie Fisher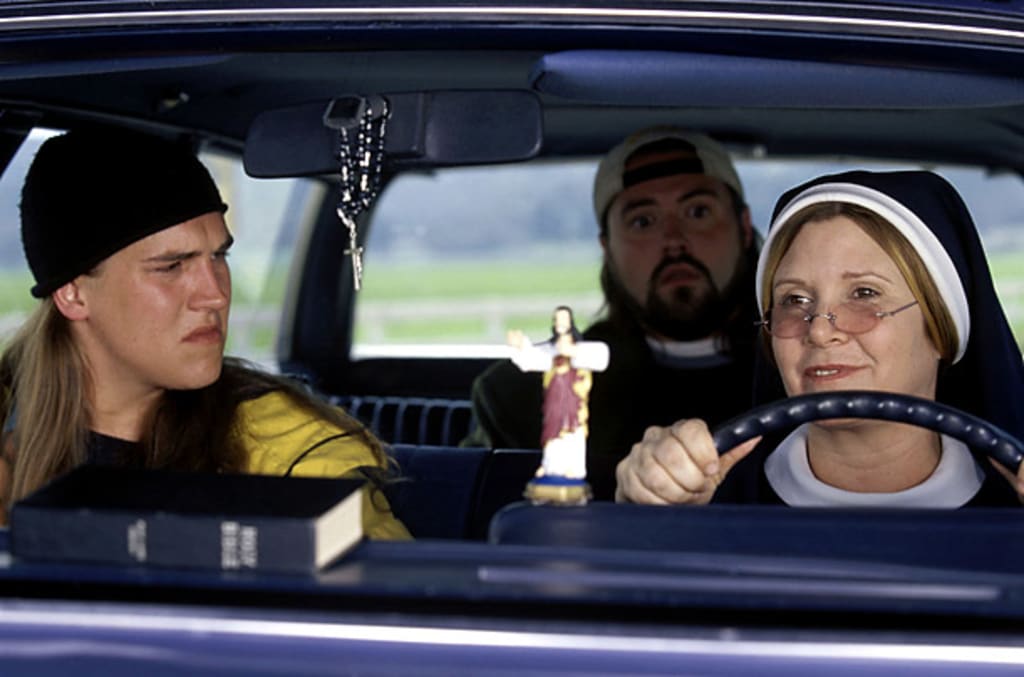 Image courtesy of Time, Inc. via Fair Use.
Continued from Part 1: 1969-1984
Star Wars catapulted the young Carrie Fisher into stardom overnight, which led to wild partying and drug use. Since her recovery from those days, she always took responsibility for her actions and put forward the message that she had a real problem that required real help, and she was strong enough to eventually get it. As someone who really struggled with a nasty drinking habit, I fully appreciate Fisher's advocacy for addiction therapy and mental health treatment. Sometimes a person with a dependency issue is just too damn scared to admit an uncontrollable problem and get help. Who better to get that last nudge and encouragement to clean up your act and walk tall again than from the Princess of Alderaan?
Better yet, Carrie Fisher took all that negativity, all those mental health problems, and all the wild times (both good and bad) and used them to create new works which are beautiful and inspiring. Her time off the deep end resulted in an overdose and hospitalization episode in 1985. This traumatic episode led to a slow renaissance in which she emerged as a writer. The 1985 episode and the times before and after inspired Fisher to write a novel, Postcards From the Edge, loosely based on herself. The 1987 novel was a success and also the beginning of Fisher's rich writing career. She adapted it into a screenplay and Postcards From the Edge became a movie in 1990, directed by Mike Nichols (Who's Afraid of Virginia Woolf?, The Graduate, Working Girl, Charlie Wilson's War).
Fisher wrote several more novels loosely based on her own life. Postcards from the Edge was about drug use and mental health. Surrender the Pink (1990) follows a woman who's extremely successful in business but fails in all her romantic relationships. Delusions of Grandma (1993), published the year after the birth of her daughter Billie, follows a nervous screenwriter pregnant with the child of her soon-to-be ex while her zany retired Broadway performer mother is beside herself with joy for a grandchild.
Fisher was catapulted right back into stardom by the re-release of the Star Wars Trilogy in the 1990s. A new VHS box set was released in 1995 and the Original Trilogy was upgraded in special effects and weirdness in the 1997 Special Edition theatrical releases. These, of course, were to rebuild a fan base (read: marketing base) for the upcoming Prequel Trilogy.
While all of this was going on, the sci-fi princess had a full-blown career as a writer. In addition to writing her own novels in the 90s, she quickly became known for being a talented screenplay doctor. She is officially credited on IMDB for 11 plays and screenplays, but she also spent years polishing other writers' screenplays. Among the screenplays Fisher worked on and improved are Hook (1991), Lethal Weapon 3, Sister Act (1992), Made in America, Last Action Hero, So I Married an Axe Murderer (1993), My Girl 2, Outbreak (1995), The Mirror Has Two Faces (1996), The Wedding Singer (1998), The Out-of-Towners (1999), Scream 3 (2000), Kate & Leopold (2001), and Intolerable Cruelty (2003). As someone who's loved people with severe depression, I know it's absolutely exhausting on a daily basis, and this kind of output from a clinically severely depressed person is an achievement.
At the turn of the century, Carrie was writing more books. She penned the introduction to Joyce Ostin's photo-essay book Hollywood Moms (2001) and wrote the screenplay for her comedy film These Old Broads. The 2001 comedy stars mother Debbie Reynolds, ex-stepmother Elizabeth Taylor, Joan Collins, and Shirley MacLaine as stage starlets being reunited for a comeback special thirty years later. Fisher also wrote another novel, The Best Awful There Is (2004), a sequel to 1987's Postcards from the Edge and follows the Fisher-esque character Suzanne as she deals with her mental health issues in her middle age. Fisher really was an extraordinary writer, partly because of her vocabulary and wit, and partly because of the raw emotional honesty she pours into her writing.
Relatively few Star Wars fans know about Fisher's extensive written work, which was unfortunately overshadowed by Leia Organa's expanding role in the growing Star Wars universe. While she was quietly improving screenplays, millions of people regularly saw her face on new Princess Leia action figures, on the covers of new Del Rey novels, and in Dark Horse comic books. However, the joke is ultimately on us—Fisher worked on the screenplays for the entire Prequel Trilogy. Whether as a ghostwriter/editor for The Phantom Menace or as a computer-animated likeness in Rogue One, Carrie Fisher has had something to do with all eight live action Star Wars films thus far.
The popularity of the prequels brought Fisher into greater prominence as newer generations of Star Wars fans emerged. Despite its controversy, Episode I was hugely popular back then and I feel like fans today deny enjoying it the way every Bavarian swore up and down to the Allies he'd never supported Hitler. After 1999, Fisher began taking more guest roles in TV and movies. Some of her memorable movie appearances in the twenty-first century were in Scream 3 (2000), Heartbreakers (2001), Cougar Club (2007), Sorority Row (2009), and White Lightnin' (2009). Hands-down her best were as the nun in Jay and Silent Bob Strike Back (2001), Mother Superior in Charlie's Angels: Full Throttle (2003), and as the doctor in the Star Wars comedy tribute Fanboys (2009). I still remember being pleasantly surprised by her 2003 TV appearance on the Sex and the City episode where Carrie hooks up with Vince Vaughn's character. (Give me a break! I was 14, home alone, and hoping to see boobs on HBO. I hated the show but the novel was good.)
Fisher rejoined the Star Wars cast to once again take on the role of Leia Organa for Star Wars Episode VII. In The Force Awakens, Leia is an aged general continuing the fight against a new empire build from the ashes of the old one. She had also been writing more books and creating her own films in the years before returning to a galaxy far, far away. She turned her experiences with addiction, hospitalization, and treatment into Wishful Drinking, a play, a memoir, and a film. It began as Fisher's one-woman stage show and evolved into a bestselling book and an HBO documentary film paralleling the play performance with its production and Fisher's own experiences. She was also half the subject matter for the HBO film Bright Lights: Starring Carrie Fisher and Debbie Reynolds, a documentary about the relationship between mother and daughter and their two careers on stage and screen. The film debuted at the 2016 Cannes Film Festival to warm reviews.
After adapting Wishful Drinking into a book, Fisher followed up with another memoir. Her 2011 book Shockaholic was a gritty and honest confession of her serious pursuit of electroshock treatment to stave off her depression. In her own words, "it punched the dark lights out of my brain." She also reveals shenanigans involving people from Elizabeth Taylor to Ted Kennedy, recounting wild times and the importance of taking responsibility for one's own behavior and making amends whenever possible.
In 2013, she was signed back on for Star Wars. Despite mixed reviews of The Force Awakens, fans were unanimous in being thrilled to see the estranged Leia Organa and Han Solo awkwardly reunited. It was also refreshing that Fisher reinvented the character's personality from a polished diplomatic firecracker to a gritty, hardened veteran. Decades after debuting the cinnamon roll hairstyle, Carrie Fisher's work was empowering women looking to a strong female role model, and it did so tactfully and without preaching.
In November 2016, Fisher's third memoir, The Princess Diarist, was released to great controversy. In the memoir, Fisher admitted to a three-month long intense love affair with Harrison Ford during the filming of Star Wars in 1976. There were drugs involved, and they both knew he was married. Millions of fans were simultaneously thrilled and scandalized that Han and Leia really were a thing, and it remained a secret for forty years! The scandal naturally helped create a buzz about Princess Leia only weeks before the release of the highly anticipated Rogue One: A Star Wars Story(which I already proclaimed Episode 3.9). One of the greatest surprises was to see a young Carrie Fisher again in the form of a computer-animated Princess Leia. The presence of the computer-animated Grand Moff Tarkin and Princess Leia in Rogue One immediately told me that Lucasfilm had again pushed the boundaries of filmmaking technology, and that Princess Leia might be making appearances in future spinoffs.
Regrettably, Carrie Fisher suffered a massive heart attack on a plane on December 23, 2016. She was in intensive care at UCLA for over three days until she passed away at 8:55 AM on December 27 at the age of 60. Immediately millions of fans took to their phones, tablets, and desktop computers to mourn her. At the same time, horrified Star Wars fans began wondering what would happen to the continuity of the Sequel Trilogy without Carrie to finish Princess Leia. Luckily, Carrie was never a quitter. Despite issues with heart disease, she completed filming all of General Organa's scenes for Episode VIII, and fans will see her face again on the big screen in December 2017. Thanks to the technological advances by Lucasfilm, we'll likely see her again on the big screen for years to come.
I'm saddened by her passing, but as I said earlier, it's more bittersweet than sad. I'm sad to know Carrie, the sci-fi princess—our Disney princess—is gone. I'm also incredibly happy to have existed part of the time she did, and that I got to be enchanted by her beauty, her on-screen presence, and some of her finest work. As an adult I was moved by the raw emotional honesty of her novels and memoirs. As a small child, I was captivated by the girl with the cinnamon bun hair and a blaster pistol, begging "Help me Obi-wan Kenobi. You're my only hope."
In her life and work Carrie Fisher has been an actress, a writer, a very flawed human being who struggled with her demons, and a phoenix who's used her trauma to create wonderful written works and made new generations of lifetime fans. She's been an advocate for those struggling with depression, bipolar disorder, and mental health issues. Most importantly, she's been the living example of taking responsibility for one's actions and growing adversity. This legendary actress and cultural icon is no longer with us and now belongs to the ages. We see her face on toys, books, posters, clothes, and all kinds of street art among other American icons like Marilyn Monroe and Audrey Hepburn. If I may quote the guru Lor San Tekka in The Force Awakens, "She'll always be royalty to me."
About the Creator
Freelance writer. Served as a reserve soldier. Occasionally works as a private contractor. Senior Contributor for the Libertarian Party of Nevada blog.
Reader insights
Be the first to share your insights about this piece.
Add your insights