The Career of Carrie Fisher, Sci-fi Princess (Part 1: 1969-1984)
"She'll always be royalty to me." -The Force Awakens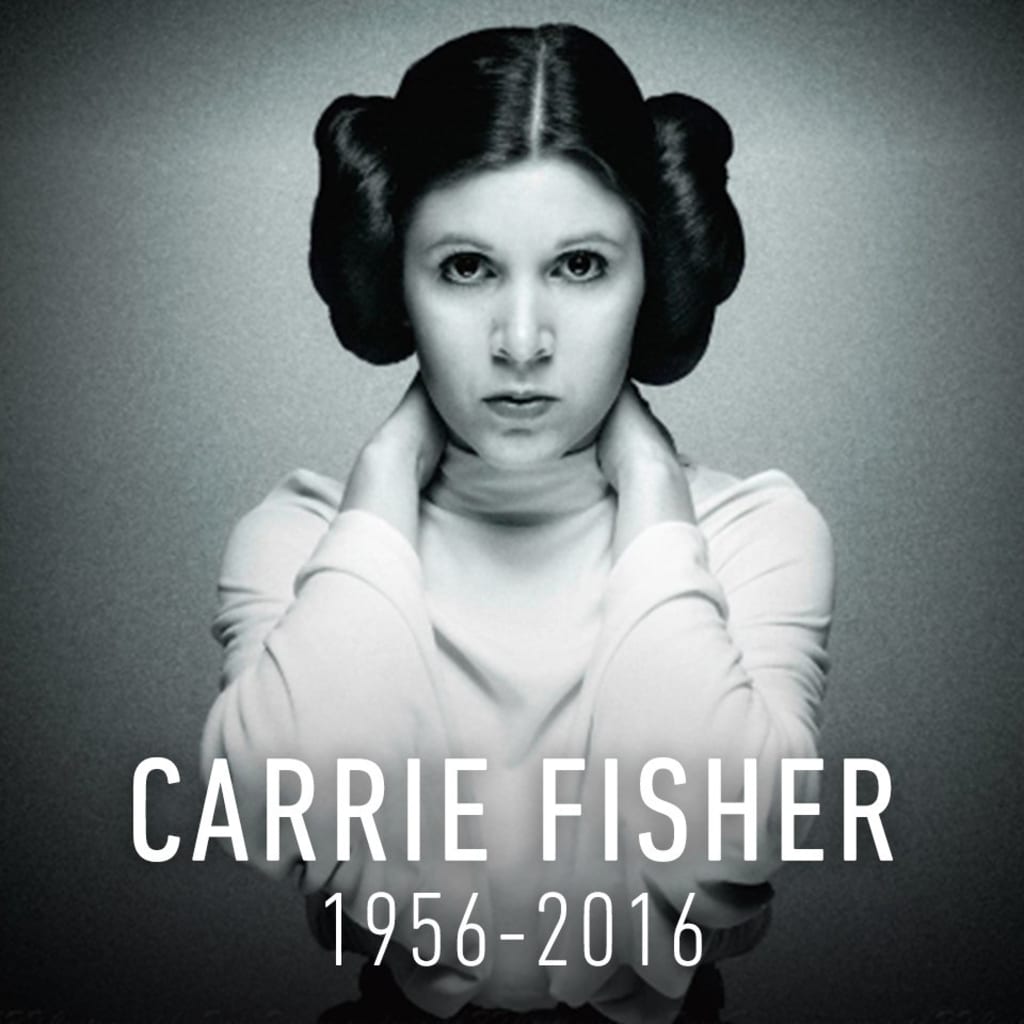 Courtesy of the official Star Wars Twitter
Carrie Fisher passed away this morning, and her passing leaves tens of millions of sci-fi and Star Wars fanatics stunned. Already, the obituaries and Facebook tribute artwork are flowing freely as people communicate their sadness at this passing. I'm one of them, though this moment is admittedly more bittersweet than it is sad. In her sixty years, the famous sci-fi princess lived a full and robust life as an actress, a talented writer, and a mother.
Fisher was born in Beverly Hills in 1956 to Hollywood silver screen royalty: leading lady Debbie Reynolds and pop singer Eddie Fisher. The Fishers divorced when Carrie was two, and the combination of stress from her parents' rocky subsequent relationships with the spotlight always following the family made Carrie retreat into herself as a kid. She described herself as a bookworm at that age. She made her television debut at 13, playing a Girl Scout on her mother's TV film Debbie Reynolds and the Sound of Children. Her Broadway debut came during her teen years, where she sang and danced in Debbie Reynold's Irene (1973).
Broadway performing took up so much of her time that Fisher never actually graduated from high school (in her defense, she already had a paying career). After the success of Irene, Carrie attended London's Central School of Speech and Drama for 18 months, where she sharpened and expanded her skill set as an actress and a performer. Her screen movie debut was in Warren Beatty's 1975 comedy Shampoo, a sharp satire about sexual politics in the Nixon administration. The film was well-reviewed and made over $60 million at the box office internationally, and also gave Fisher just enough exposure to become a candidate for an experimental film by a young, nerdy film school grad.
That journeyman filmmaker's name was George Lucas, and a few months in 1976 would change Carrie Fisher's life and career forever. Decades later, Fisher admitted in an interview that she would have turned down the role of Princess Leia had she known it would catapult her into international stardom. This sounds horrifying to audiences in the twenty-first century, but it's perfectly understandable. She loved to perform, but she saw how major celebrity status so dramatically impacted her parents and the rest of the family. At the time, "The Star Wars" seemed like a fun project to work on for a few months in between stage shows and her academic studies.
Shortly after May 1977's release of Star Wars made Fisher an overnight celebrity, she was cast in an episode of Lawrence Olivier Presents. She performed with Olivier on the episode "Come Back, Little Sheba" which was adapted from a play by underappreciated American playwright William Inge. The Lawrence Olivier Presents series was the thespian's presentation of some of the finest in twentieth century theater drama on television, and Fisher's inclusion is a big deal. Star Wars made her an international celebrity, but in 1977 she was still basically a pop star. Acting with Lawrence Olivier is more in line with the aspirations of a serious performer, and it also shows a sophisticated evolution from her origins on Broadway.
She returned to play Princess Leia for the suppressed-yet-undeniable Star Wars Holiday Special and the two sequels to what would be renamed Star Wars Episode IV: A New Hope. The newly crowned sci-fi princess broke into mainstream acting. Some of her memorable film roles of the 1980s include Jake Blues' psychotic ex-girlfriend in The Blues Brothers, Tom Hanks' character's mistress in The Man With the Red Shoe, and Sally's best friend Marie in When Harry Met Sally. Her many TV guest star appearances in the 80s include Ringo Starr's love interest in the TV musical Ringo, Cathy on the Playboy episode of Laverne and Shirley, and Laurie McNamara in the Amazing Stories episode on Gerschwin's Trunk. More sophisticated television roles Fisher took on include Elizabeth in the 1984 adaptation of Frankenstein. In this TV film she performed with noteworthy thespians David Warner, John Gielgud, and Robert Powell. Her best remembered TV appearances are easily the Star Wars Holiday Special and hosting Saturday Night Live.
The 1980s were not a very good time for Carrie outside of her career. For many years she'd been honest about struggling with bipolar disorder and depression, as well as wrestling with bouts of drug and alcohol addiction. Fisher recalls that "Slowly, I realized I was doing a bit more drugs than other people and losing my choice in the matter." At one point, Fisher frankly admitted to doing so much coke on and off the set of Empire that even the late John Belushi suggested she might have a problem. I've always admired her for coming clean in public about her toxic behavior.
She's well aware that Princess Leis is a role model for millions of young women and girls who also struggle with addiction and life's other temptations. She always took responsibility for her actions and put forward the message that she had a real problem that required real help, and she was strong enough to eventually get it. She serves as an example to those who need to make things right. Her battles with addiction and mental health disorder would later become a major theme in her work.
Next segment (1984 - 2016): A continuing look at Carrie Fisher's career after Star Wars. Who knew she was so busy!
About the Creator
Freelance writer. Served as a reserve soldier. Occasionally works as a private contractor. Senior Contributor for the Libertarian Party of Nevada blog.
Reader insights
Be the first to share your insights about this piece.
Add your insights