The Capricorn In Me
Is it Me?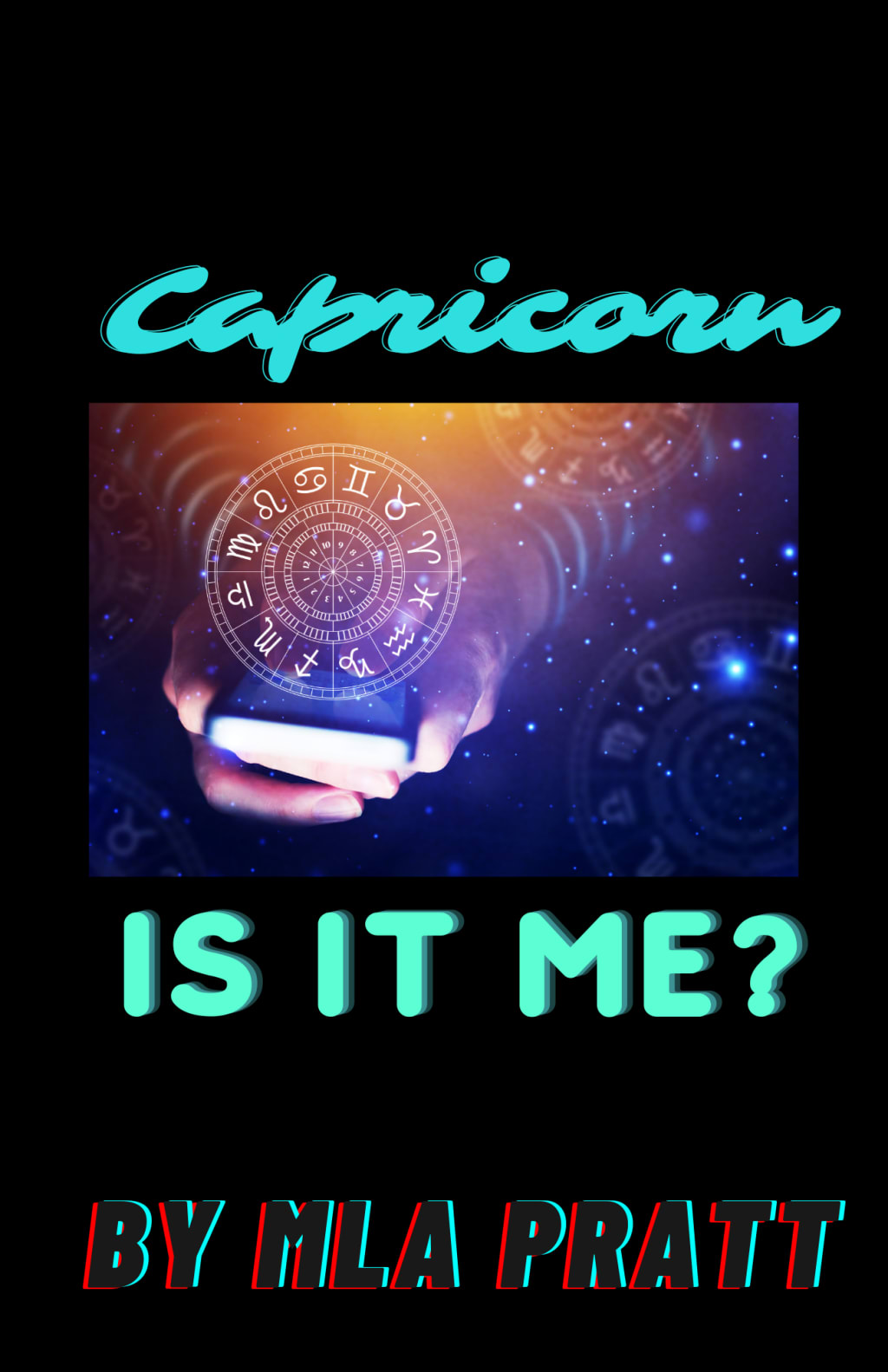 Capricorn
Am I a Capricorn? Do I follow the signs that present themselves when you look at what a Capricorn is? I have not been a strong follower of my astrological sign, but upon studying it and looking at what a Capricorn is, yes, I am a true Capricorn.
How do I know this? Let's start with some basic facts.
 Belongs to the element of Earth: Yes I do focus on the material world. I enjoy the smells of mother earth, planting flowers, feeling the grass beneath my feet, the sunshine on my face, wind in my hair (not so much) and enjoying the colors of Mother Earth's seasons. Spring, summer, autumn and winter.
 Accepting differences in people that are too far from their character – very true. A set of values and traditions have been set in place and prefer for those around me to be similar.
 The Goat of Fear: Ready to face the world just as I am. Accept me or not, your choice. Always show a brave face, ready to take on life's challenges as they show up. Very independent. Ready to make decisions and stick to them.
 Friends: A Capricorn is intelligent, stable, and reliable. I can count on one hand the number of true friends. Definitely have not collected too many friends over a lifetime, but the friends I do have are true and intelligent and have a peacefulness to match my own. Very hard being around people who ask too many questions. I have an associate who needs to ask 3 dozen questions and not one of them are of any importance to them. Please don't ask me mindless questions just for the sake of talking.
 Family: Traditions. So important to me. Need to be able to pass knowledge and traditions down to my children, to the grandchildren and so on. My father was an extremely important figure in my growth and self-image. My father was strict, but fair and a great provider. Made sure life was fun and full of adventure.
 Career and Money: A constant worrier of money, always striving for more and wanting more. Extremely hard worker and wanting more for my own family than I had myself. Everything from travel to opportunities of university and doing things together as a family. If you want something in life go out and get it; do not wait for prince charming or someone else to provide for you with what you want. You are responsible for your own being. Highly organized and likes paperwork and life to be neat and orderly to the best of my ability.
 I fall short in the land of saving money. Accumulated too much debt at a young age, not realizing the value of saving and not spending. However, with age debt is considerably less. Having a mortgage and a home that I dreamed of had to replace a savings account. The importance of having a dream kitchen for myself and my family gives myself and my family a joy that is worth the mortgage.
 The pursuit of excellence is so true. Dressing appropriately, staying organized and striving to be the best I can at any challenge I take on. I enjoy being able to be one of the best in my chosen field of choice. Whether it is selling or typing a document that needs to be lined up correctly. I want it done right and I want it to be close to perfect.
 Aging well is important. Exercise of some type on a daily basis is important so that I can live longer and be able to enjoy life. Sitting in a chair with a remote control in one's hand is not living – it is barely surviving. We need to be able to travel, walk, be alert, lift a suitcase, go up and down stairs. Without some form of exercise – these tasks become difficult. And don't forget to eat healthy. Eat your greens and back off on the meats.
 Definitely a repetitive person. I can eat the same breakfast for months on end. Start a diet and stay focused on that diet. I ate peanut butter and honey sandwiches for most of my life going to school. I still have one when I don't know what else to eat. I have never tired of PB and honey. I get up at the same time every morning on a workday. I do the same workout; I take my dog for a walk and eat the same breakfast. Clockwork!
 Enjoy saving money. Hate paying full price for anything. My saying to my children growing up when they wanted a new piece of clothing – wait two weeks, it will be one sale. My husband is the kind of person who will just pay whatever the price is. If he wants it, he buys it now. I must study the price and check it out. I need to feel I paid the best price I could for what I purchased at that time.
 I like articles to have a specific holding spot and they should go back to that spot when they are not being used. And I know you need to let go when others help you in your space. Breathe deep and re-arrange later.
 And last but not least – stubborn. Stubbornness is just a part of the package. With age, I have learned to back down or bite my lip. There is an old saying "sometimes its best, when you say nothing at all". This is very true, very often. When you are in a relationship, you need to learn to pick your battles, when to talk and when not to talk. Age can be a gift at times.
Am I a Capricorn, absolutely yes. Learn and study your sign. You may learn a lot about yourself. Let the stars be your guide.
astronomy
About the author
Merle Lee Ann's kitchen is a blog that aims to inspire cooking, family & good memories. From the Saskatchewan Prairies, I am here to share kitchen stories, superb recipes, and more. Find [email protected] merleleeannskitchen.com and FB: bakingandbaked.