Alice Goes to School
When a Dream Becomes a Reality!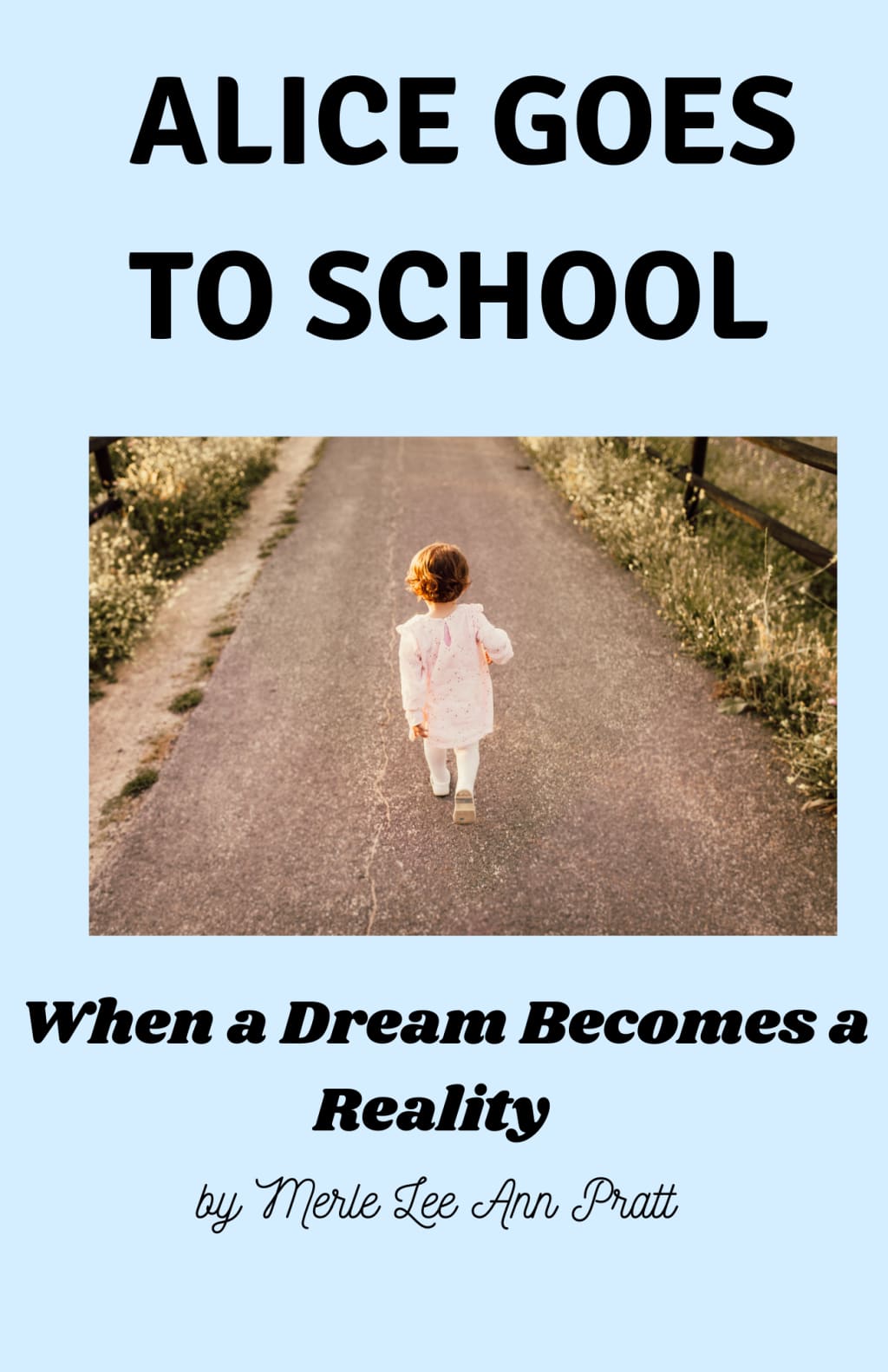 From a very young age Alice had always wanted to go to university. Alice lived on a farm with her parents, two older brothers, and two younger sisters. She was always known as the "middle child". Although Alice was only 9 years of age, she had dreams of going places and one of them was to university. She might be in grade 4, but she knew she wanted to leave the farm and head to the city to see and do things she couldn't do on the farm. She dreamed of becoming a fashion designer. After school, you would often find Alice cutting out patterns and making clothes for her barbie dolls and her sisters' barbie dolls. Even the Ken doll would get a new set of clothes occasionally. They had fur coats made from rabbit fur, acid-washed jeans, hippie vests, they were a very classy fashion dressed bunch of barbie dolls to say the least.
Nighttime would come and Alice would lay in her bed that she shared with her two sisters and try to come up with ideas to earn money to get her to university. She never felt her family was poor, she just knew with 5 kids to raise there wasn't money to go to university. Get married and have babies; nope she wanted to do more than that with her life. But how? She lived in a small rural area, what could she sell to earn enough money to further her education?
A few days later she went to town with her dad to deliver grain to the elevator. She had her weekly 25 cents allowance with her and headed to the local dry goods store known to the locals as "O's Place". She had about 30 minutes before her dad would be ready to leave. She looked around and spotted jawbreakers that were 3 for a penny – that would be a good sharing treat with her siblings, so she thought she would probably buy 3 pennies worth. Next, she spotted a pen, pencils, some papers, and then there it was. It sat there on the shelf, just waiting for someone to pick it up and feel the smoothness of its skin. What was it? It was a beautiful black pocket-size leather notebook. It would be perfect to write her ideas down on how to earn money, keep track of her sales, and her customers. How much was this little black beauty of a book? 30 cents? She almost had enough. If she didn't buy the jawbreakers, she would only need another 5 pennies. Maybe she could make a deal with them. So, she went up to the counter and asked Mrs. O about the book she would like to buy but explained that she was short by 5 pennies. Was there any kind of job she could do for them to make up the difference? Maybe sweep the walk? Take out some garbage? Put it on an IOU? Imagine her surprise when the Mrs. O told her she could bring in the 5 pennies the next time she came to town. She was so pleased. She thanked Mrs. O and ran out of that store to go show her dad her purchase.
The following Saturday their bachelor neighbor, Mr. Hansen stopped in and commented on how he sure would like to have a chocolate cake every Saturday to take home with him. He wondered if maybe once of us girls would like to make a cake for him every Saturday for 50 cents a cake. Oh man, of course she would love to do this. Her first customer in her brand-new little black book. She was on her way to starting her university fund. At this time in life 50 cents could buy a large chocolate bar, go to a movie for 25 cents or a bottle of pop was 10 cents. So 50 cents seemed like a lot of money to Alice.
That next week at school she started researching the price to go to university. Well, did she get a surprise when the average yearly cost of university was $5,000 with tuition, books and living expenses. And the fashion designer course she wanted to take was a four-year course. Oh man, that was going to cost $20,000. How many cakes was she going to have to make to save that much money? This university thing was more expensive than she had thought it would be. Oh well, she would just have to come up with more ideas to make money.
A couple of weeks later Alice was busy making her chocolate cake. She had measured the butter, sugar, eggs, vanilla, flour, cocoa, etc. into her mixing bowl - all of the necessary ingredients you would need for a cake. She was using an electric hand mixer with a cord that plugged into the side of the mixer and on occasion it would fall out as she was doing her mixing and would have to be reconnected to the side of the mixer.
Now something Alice always enjoyed was licking the spoons and the beaters after mixing her cake. Raw chocolate cake batter was one of her favorites. Now on this particular Saturday Alice was busy mixing her cake and not really thinking about what she was doing. What she was really thinking about was how she could earn more money. She was busy beating the cake with the electric hand mixer when all of a sudden, the cord from the side of the electric mixer came undone and fell into the batter. Oh darn, now what to do? Well, obviously to Alice there was only one thing to do – lick the cord and then plug it back into the mixer.
WRONG ANSWER !!!!!
Well, when Alice licked that cord, she failed to take note that it was still plugged into the wall. She got tossed across the room and into the wall, Alice's teeth were rattling, her head was spinning … WHAT THE [email protected]#$ … oh right…this cord is alive! It had full electricity running through it! The chocolate cake on that day was worth more than 50 cents, it almost cost Alice all of her brains! Mr. Hansen told her the next week that the cake seemed to be extra tasty last week. He was wondering if she had done something different. You bet she had; she just didn't want to share that piece of information with him.
As the weeks went on Alice continued to bake cakes not only for Mr. Hansen but also for some other neighbors. In the summertime, she learned how to help in the garden and sell extra produce from it. She continued to put any money she earned into her bank account she opened – she called it the "LBBU" account (little black book university). As she continued to grow older, she became more helpful to the farm and figured out how to make money from the farm with her parents and she did save enough money to get to her designer fashion school. Alice's dream had come true. It had all started with her little black book, writing down her ideas and figuring out she could earn money and further her education.
children
About the author
Merle Lee Ann's kitchen is a blog that aims to inspire cooking, family & good memories. From the Saskatchewan Prairies, I am here to share kitchen stories, superb recipes, and more. Find [email protected] merleleeannskitchen.com and FB: bakingandbaked.
Reader insights
Be the first to share your insights about this piece.
Add your insights