The Banks of the Nile
"The Powers of the Pyramid's Shape"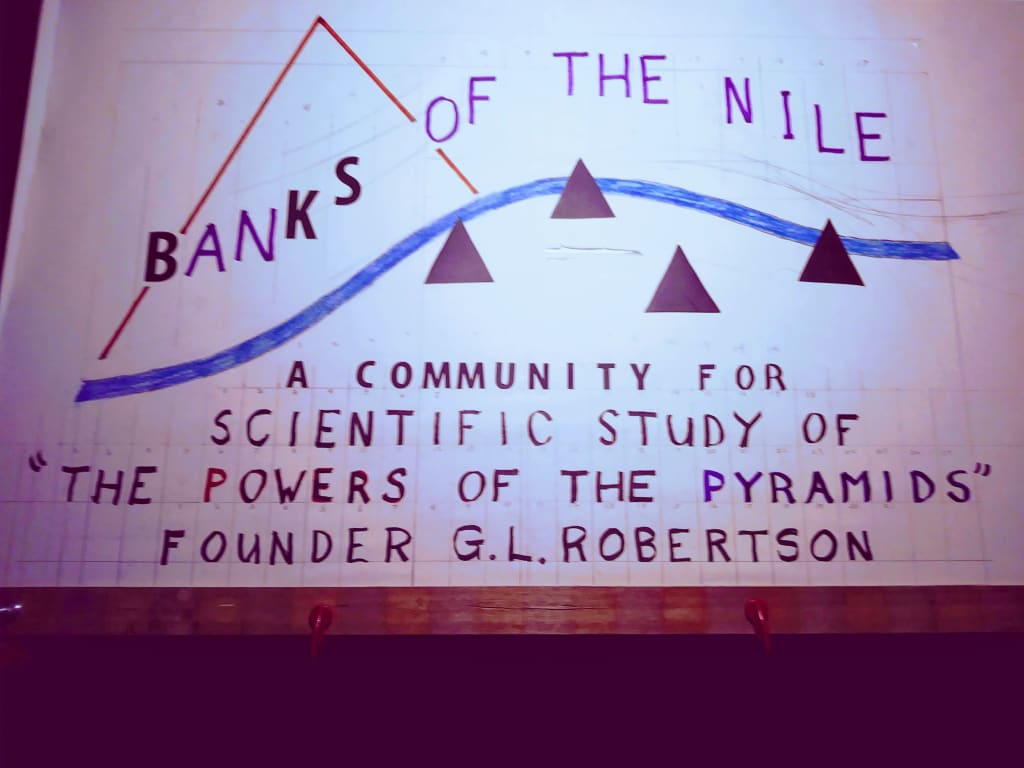 If the weather gets worse and continues to get worse (and it is and will continue), what are you going to do to protect yourself from high winds, flash floods, earthquakes, and other such catastrophes? It can go on and on due to all the things that are causing global warming.
I have a simple solution, a pyramid structure. It doesn't have to have power to do a lot of things. For example, the air currents from blowing wind will simply blow over and around the pyramid structure, as if it is wasn't even there. Blowing sand will not cover the structure up because it will never pile up anywhere. What about snow storms? Snow will not build up, no matter how much snow there is. You will be able to get out at the top of the structure, if necessary. The wind and snow will never completely cover the structure, unless it gets covered up by a landslide.
Now, what happened when it started to snow on my pyramid home? Okay. It got cold fast and almost immediately, all the homes around me were burning wood, with smoke everywhere. After 30 days, it started to get a little uncomfortable in the morning, so I bought a cord of wood for $45.00, and started burning wood—this was in the middle of the winter in 1984. After 2 weeks with little effort, I stopped burning wood, even though the homes around me continued burning wood for another month. I ended up burning 1/4 cord of wood for the whole winter, at an overall cost of $11.25. Now let's look at what caused that to happen. I used passive energy (the passing of air through the house by simply opening and closing windows). When that didn't work, I realized that it started to snow and freeze outside. Now, the pyramid home took on 12" if snow on the whole pyramid, on all four sides. Guess what—that snow kept me from burning more wood for so long. It literally created another R 12 factor onto my already R 22 factor, so now after it snowed, I had an R 34 factor on the whole house. The snow was so even on the house, It just seemed to lay there like it was floating on the house. Also, the temperature inside the house was still the same everywhere; the heat did not go to the top of the pyramid (probably why it won't catch fire), the heat tries to rise and gets shot down because of the heat and air being compressed, since the pyramid gets smaller as it goes up, so the pressure is pushed back down and puts out the fire. Now you can see that one simple pyramid power of keeping the temperature constant is a big, big, big deal.
No heating or cooling needed, except a little wood in the winter and nothing in the summer. I couldn't believe how well it controlled the temperature that year and for the next two years. I had no heating or cooling costs except for $10 to $15 a year. Now that is a house!
I have tried to explain some of the powers of the pyramid. I want you to know that so much is going on with the shape of the pyramid. Who cares whether or not it sharpens razor blades or not? With no heating and cooling, that is the biggest find of all time. It changes everything! We can live in pyramids and I have complete assurance that even in a tornado, you and your personal things and your family will be safe. That is what motivates me; after 50 years of knowing this, I want everyone to have the durability and security of a self-contained pyramid house that pays you to live in one.
There are lots of powers of the pyramids in lots of ways. I have a lot of theories and assumptions. I will bring more powers of the pyramids to the service as I patent the patentable aspects of the homes. Please bring the powers to heart and believe the Egyptians were trying to tell us that they discovered something so powerful that the pyramids needed to be built for mankind.
As for the Cheops pyramid, I would like to see it put back to it's original shape and see what it does. In the meantime, I want to build a True pyramid 10 times larger with stones but no mortar. With all the technology we have today, we have to make it bigger and stronger, and large enough to house a complete city. Inside a well protected place to all that is living there.
It is only a dream now. Just give me a little more time and The Banks Of The Nile will change and save our society in so many ways. I have a lot of other ways of using the pyramid shape for more than just homes. I have tested and compared it to everything I've ever encountered.
Because of the shape of the structure, it floats really well, better and more stable than anything you can put in water, as long as you can seal it up so far, it will float.
In a mudslide area the solid steel reinforced concrete pyramid home will just slide down the hill and you would leave it there and level it back up, or drag it back up the hill. Not only that, it is almost indestructible.
The shape has some other qualities. When I lived in my pyramid home in Hindsville, Arkansas, I had some real factual things happening. First of all, I put central heating and air in the 2,700 square foot, 3 story home with 12 foot ceilings on all 3 floors. My return duct came down from the top of the third floor where I thought the heat would rise to be recirculated. Here's what happened—it went into the summer and started to get real hot (Arkansas has a reputation for having 4 distinct seasons—really hot and really cold). Well, it had been 105 degrees outside for weeks, even higher on some days. My dad came over one summer day to see how everything was going. He sat down in the living room, drinking a cold beer, and said "Gary, you must have a quiet air conditioner because I haven't heard it kick on or running." I said, "It is nice and cool in here, huh!" He told me that it was cooler than his house. I then told him that it wasn't even on. He said, "What do you mean 'not on'?" I told him that it wasn't hooked up—during the installation of the unit, I never charged it. So you can see that I didn't need heating and cooling at all.
I did use passive energy (the passage of air flow through the house by opening and closing windows) and the house temperature only dropped a couple of degrees until morning. Remember, a pyramid does not have an eave, no overhang, and no side walls.
The sun only cast a shadow on the North side of the house 2 days a year, and the rest of the year the sun would shine on all 4 sides. With the house absorbing the heat evenly, it is dispersed into the home without stirring up the molecules, and maintain a more even temperature. Also, the pyramid is a cooling fin in itself.
I want to thank you for taking the time to get into my head. I hope I've enlightened you enough to see another part of what it will be like to live in a pyramid home that is built the true way. Pyramids International LLC is the driving force and you are the reason why.
habitat
About the author
Gary Robertson building trades, Navy worked on nuclear attack submarines, founder of Shallow Waterbeds Inc, breeder hen operation Tyson Foods, wastewater treatment specialist, true pyramid builder, refrigeration manufacturer, Solar tech.
Reader insights
Be the first to share your insights about this piece.
Add your insights