Temuera Morrison Says He Has Been Waiting Years For Disney To Call Him About Boba Fett
His Wish Came True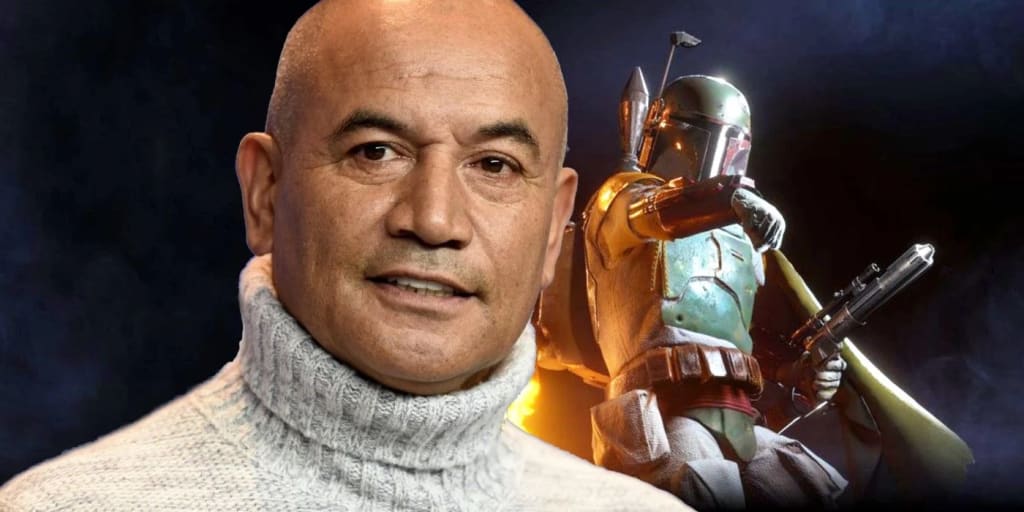 When given the chance to be a part of a major blockbuster series like Star Wars or Marvel, many actors would love to return to that universe. Temuera Morrison, who played Jango Fett in Attack of the Clones (2002), wanted a chance to return if they were open to bringing adult Boba Fett back into the game. In Attack of the Clones, when Obi-Wan meets Jango Fett, we learn that he is the blueprint for the clone army. And part of the deal he made was that he would have an unaltered clone son: Boba. So, naturally, it would make perfect sense for Temuera Morrison to come back as Boba Fett since Jango met his demise in the arena battle on Geonosis in Attack of the Clones. He would look exactly like his father.
Morrison finally got his wish when the creators of The Mandalorian decided that they were bringing back Boba Fett. Fans might finally learn what happened to him after he fell into the Sarlacc pit in Return of the Jedi and survived. The fans were ecstatic about Boba Fett's return, as they had been championing for his character to have more story in future Star Wars movies/shows.
However, they still were not as excited as Temuera Morrison. As well as playing Jango in Attack of the Clones, Morrison also portrayed clones in the army in both Attack of the Clones and Revenge of the Sith. And a rumored part of the reason for Boba Fett's return has been because of Temuera Morrison's contributions to the franchise and an excellent rendition of the fan favorite character.
Boba Fett was the first reference to Mandalore in the Star Wars universe. However, his actual ties to the warrior culture have long been in dispute since Jango, who did have significant ties to Mandalorian history in the old Expanded Universe, were cast in doubt due to a line from Almec in The Clone Wars TV show. But with Boba Fett's reintroduction in The Mandalorian, his role and tie to the Mandalorians has now been re-canonized.
While the Star Wars fandom exploded over Boba Fett's triumphant return and explosive gaffi stick fighting in "The Tragedy," no one was more excited about Boba Fett's return than Temuera Morrison himself. In an interview with The New York Times, Morrison talked about his meeting with Jon Favreau and Dave Filoni.
"At the time, I was in Los Angeles, meeting on another film, so I was pleasantly surprised to get the call. I actually got to the meeting quite early — I was so excited I got there about two hours early."
Morrison had been hoping to get a call for some time to reprise Boba or Jango Fett and bring his character(s) even more into the live-action Star Wars universe.
"There was a lot of stuff online about a possible "Star Wars" bounty-hunter film, and then I was watching all the new "Star Wars" movies coming out, wondering if they were ever going to do anything with Jango Fett. My agent and I had a number of discussions — when are they going to call me? But then I kept forgetting about it. In this day and age, they have a number of options. They could have called other people to play the part. They can go with a fresh face. They could have called the Rock. I felt so grateful that after all this time, something came to be."
Now Temuera Morrison is getting to be even more a part of the Star Wars universe with his role in The Mandalorian. He got his wish after all. He isn't the only one this has happened with; Rosario Dawson ended up getting the part of Ahsoka Tano partly due to the fact that she tweeted about wishing to play a live-action Ahsoka. And then the fans called for it to happen. This happens in many TV shows and movie series. The actors/actresses either talk about, tweet, or write about how they would love to be a part of a specific series or movie, even if they were already a small part of it, like Temuera Morrison. Then the fans pick up on it, and it generates so much hype that, in some cases, like Rosario Dawson's, they end up getting a part in a show or movie that they dreamed of. Hopefully, Temuera Morrison will continue to live his dreams, much to the fan's excitement.
Written By Elizabeth Dresdow
Syndicated From Culture Slate