Star Wars: Marvel's Rogue One Comic Adaptation Will Exclusively Reveal Deleted Scenes from the Movie!
It seems that Marvel Comics is about to publish a comic adaptation of the film.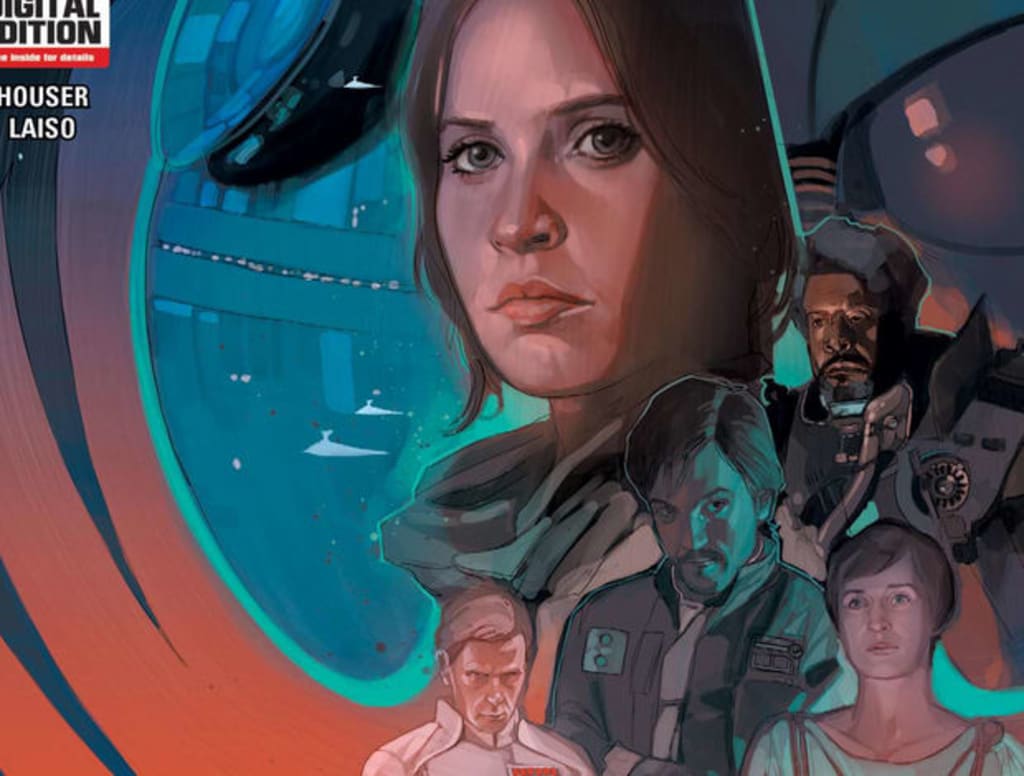 By any measure, Rogue One was a tremendous success. The Star Wars universe has expanded in a remarkable way, proving that spinoff movies can work just as well as the core Skywalker Saga films. But there was one odd thing about Rogue One; for all we saw buildup to the movie in novels, there were no tie-in comics. These were ordered — but mysteriously canceled. At the very least, though, it seems that Marvel Comics is about to publish a comic adaptation of the film — with some exclusive goodies!
Here Comes the News!
Entertainment Weekly has exclusively revealed that we're about to get a comic book adaptation of Rogue One. It will be written by Jody Houser and illustrated by Emilio Laiso; Houser has confirmed that the comic will feature additional content based on scenes cut from the final movie.
This wouldn't be the first time the comic book adaptations have shown additional scenes. The original comic book adaptation of A New Hope, for example, included a scene where Han Solo talked to Jabba the Hutt. Of course, because George Lucas hadn't put much thought into Jabba at the time, they rendered him as a humanoid!
With Rogue One, though, we can expect a very different level of continuity. Nowadays, Star Wars continuity is overseen by the Lucasfilm Story Group, and they're ensuring Star Wars continuity is one of the tightest in modern fiction. So this comic book adaptation is certain to give us new details that are — and will always remain — 100% canon.
What to Expect
Fans have been fascinated by the Rogue One reshoots, with the trailers hinting that the movie originally ended in a very different way. Director Gareth Edwards has admitted as much:
"The very first version, they didn't [die]. In the screenplay. And it was just assumed by us that we couldn't do that. 'They're not going to let us do that.' So I was trying to figure out how this ends where that doesn't happen. And then everyone read that and there was this feeling of like, 'They've got to die, right?' And everyone was like, 'Yeah, can we?' We thought we weren't going to be allowed to but Kathy [Kennedy, President of Lucasfilm] and everyone at Disney were like 'Yeah it makes sense; I guess they have to because they're not in A New Hope.' And so from that point on we had the license."
Crucially, though, we can't expect to see any hints of this original ending in the comic book adaptation. The Star Wars comics are canon, meaning we're not going to see alternate-universe endings! The older movies had so-called "Infinities" comics, which would ideally explore just this kind of scenario; while there may well be room for a Rogue One "Infinities" comic, this is just a straightforward adaptation.
Instead, the Rogue One adaptation will doubtless give us other, extra scenes that didn't make it past the editing-room-floor, but that don't reshape the overall narrative. In other words, we can expect to see the overall Rogue One story expanded, but not reframed.
For fans of Star Wars, the Rogue One adaptation looks to be unmissable. It's set to give us a glimpse of scenes that never made it into the final film, and that we may not see in the Deleted Scenes when the movie is released on Blu-Ray and DVD. Marvel's decision to cancel the Rogue One tie-in comics was an odd one, but it's good to see them back in the Star Wars game!