'Star Wars Detours' Voice Actor Shares His Views On The Unreleased Project
Will The Entire Show Ever Be Released?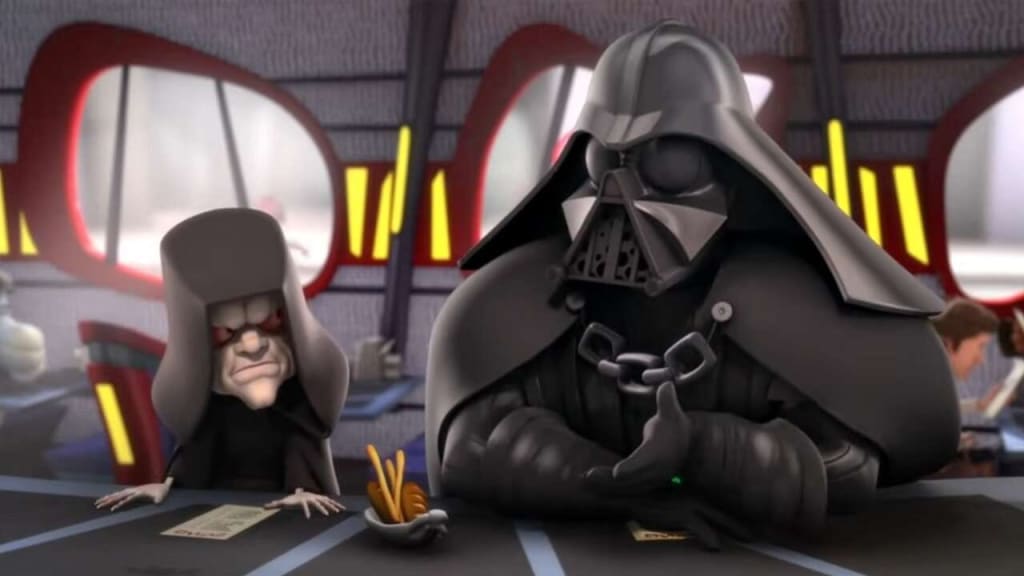 Star Wars Detours is one of the last remnants of the Lucas era of Lucasfilm. The idea for a Star Wars parody show written by the very writers of Robot Chicken itself. The first full season was pretty much written, animated, and filmed. It's there in the vaults of Lucasfilm just waiting to be released. Every so often, one of the actors, writers, or showrunners will come out to talk about the project and express their feelings on what might happen, or might not happen, with this locked up piece of Star Wars history.
Made during the last few years of Lucas era of Lucasfilm, it was meant to be a funny parody of Star Wars. Something for us to not take too seriously. Something for us to even laugh at. Which would be something well needed in Star Wars, a good parody.
RELATED: Lego 'Star Wars' Terrifying Trailer Drops
Recently, Actor and Comedian Joel McHale has come out about the project and his work on the never to be seen, for now, Star Wars project.
In an interview he said:
"To this day, to the life of me, I cannot tell you why it hasn't aired. I don't know why. I really don't. Seth Green headed up that whole thing. He's one of my favorite people on the planet. He's one of the most talented people, and I thought it was well written too. It could be a whole other dimension to Star Wars and to this day, it should air. It should get out there. I don't know why it hasn't. I really can't tell you. I never watched, I didn't see the leaked one, but I would love to see that whole thing. I would love it to [be released]."
This seems to be the sentiment among many who have worked on the project. That the powers that be at Lucasfilm and Disney are just not interested in releasing the thing at this time, despite many people wanting to see it. Or at least many who worked on the project at the time want to see it released.
Even the Showrunner Seth Green has voiced similar discussion that Lucasfilm just at the moment isn't interested in releasing this despite it being ready. There was, after all, a leak from it. So many hope that soon fans will be able to watch.
Despite being ready, Detours has been in the vaults of Lucasfilm. It also seems from many who have spoken on the topic in the past that Lucasfilm, Disney, and the powers that be aren't interested in releasing this piece of Star Wars past yet for whatever reason. Maybe it's how they want the Star Wars brand to go, or maybe they are embarrassed by the project. It is hard to say. Detours being a parody may not be something Disney is interested in promoting at the moment. Which makes somewhat sense as we are still in the early stages of the Disney Era even after nearly a decade. We are about to enter a new stage of Disney Star Wars with its Disney + content.
Hopefully, one day, Detours can come to our screens. It would be a shame to not have something that is completely ready to go be seen by Star Wars fans of all ages. It's completed, it's done, so it's ready to be shown. For now, though, Star Wars Detours will be one of those mysteries of a bygone era. One day, it will hopefully see the light of day and be enjoyed by all Star Wars fans.
READ NEXT: Should The Clone Commandos Be Training The Stormtroopers
Written By Joel Davis
Source(s): Screen Rant
Syndicated From Culture Slate