Sci-Fi Artist Vincent Di Fate
Artist Vincent Di Fate's art pays tribute to his love of sci-fi movies.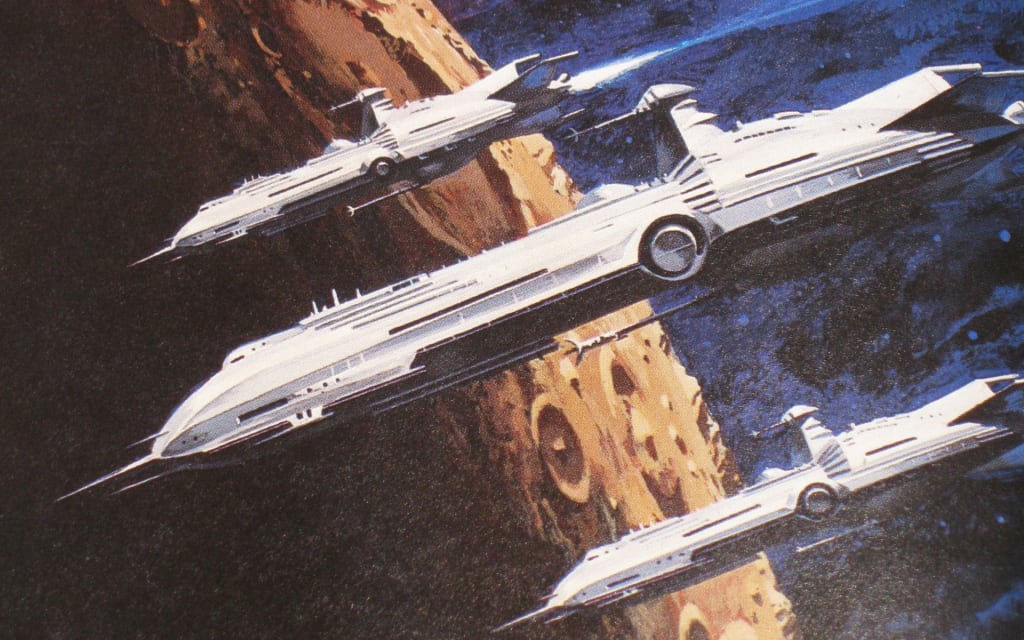 A painter of fantastic futures and one of the world's leading visionaries of speculative fiction is sci-fi artist Vincent Di Fate. His work embodies an unrivaled vintage appeal that recalls when drive-in movie theaters scared milkshake-drinking teenagers across the United States. The New York-born artist invented worlds where finned-starships en route to the Messina Dust Cloud sit idly as desperate astronauts shiver awaiting their rescue. Cybernetic humans mutilate their own bodies to integrate with the overwhelming electronic world. Saturn's majestic rings capture irises in their gravity as onlookers gaze from the moon Iapetus. Di Fate has an enormous portfolio stretching across the world of speculative fiction, with more than 3,000 published works of science fiction, astronomical, and aerospace subjects. Considered by many to be one of the coolest sci-fi illustrators, the honors B-movies from the 1950's while envisioning a future life in the cosmos.
Born in Yonkers, New York in 1945, sci-fi artist Vincent Di Fate never intended to be an illustrator. Although he was gifted from an early age, Di Fate grew to resent his talent because it was his only skill. He claims that the rest of his report card was mediocre at best. However, from an early age, he had an almost unhealthy obsession with science fiction films. As an admirer of film, Di Fate applied to a number of film schools but was unable to afford them. Under the advice of a guidance counselor, he applied for a scholarship to a small art school. Di Fate won it.
After graduating from Phoenix School of Design in 1967, Di Fate taught elementary school art for a year but left entry academics for the Navy. When his wife fell ill, Di Fate applied for leave and found a job working at Krantz films, working in the background art department for Spider-Man. The show came under scrutiny for excessive violence and was swiftly cancelled by the network. Di Fate was the first staffer to be fired. Desperate for work and without an income, the struggling artist found work under the stringent eyes of John W. Campbell of Analog magazine.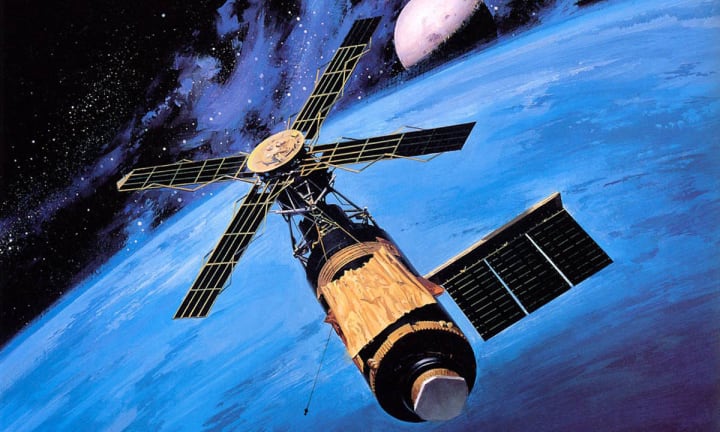 John W. Campbell was the man responsible for bringing scientists and engineers to the forefront of science fiction stories as the editor of Astounding Science Fiction (later renamed Analog). "These sessions with Campbell, though sometimes made intimidating by his disarming directness, provided me with a remarkable, free and invaluable education." Campbell was the first person to take Di Fate's work seriously and worked with the artist on a regular basis. In his second year at the magazine, Di Fate received his first Hugo nomination for Best Professional Artist. While working under Campbell, Di Fate really honed his craft as an artist. His illustrations appeared in the August 1969 issue of the magazine for three different stories. That same year, his work was featured on the cover of the November issue.
An undying love for science fiction films, no matter how low-budget, is obvious through in sci-fi artist Vincent Di Fate's work. Even future depictions pay homage to his obsession with B-movies and all things speculative fiction. "Aware that most of them were flawed, I loved them all the same with the undiscriminating passion of a true fan." The more ridiculous and outrageous the films, the more Di Fate was enthralled by them. Multiple paintings feature the emblematic monster from the Creature from the Black Lagoon and the extraterrestrials from War of the Worlds.
Di Fate was not confined to the worlds of the fantastic. His first non-sci-fi illustrations were done in 1969 to commemorate the first lunar landing. "Creating paintings of objects on the edge of development is something I have done throughout my entire career since then. It's not quite as much fun as making things up out of whole cloth, but it's always interesting to see the ways in which my paintings differ from the genuine articles when they eventually materialize." His work is a window to the atmosphere of a distant world.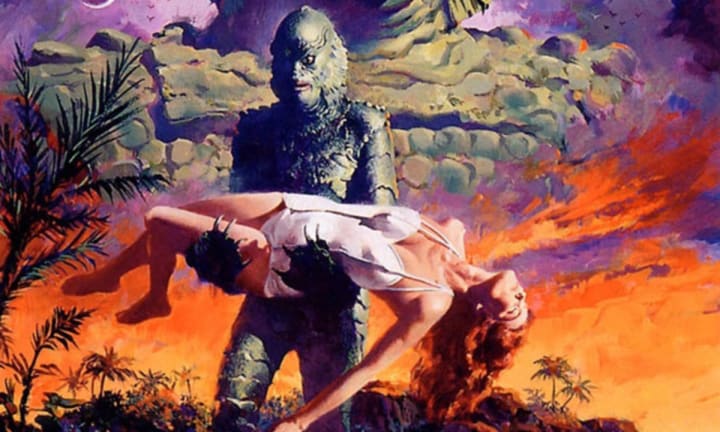 OMNI Magazine made the observation that, "Moody and powerful, the paintings of Vincent Di Fate depict mechanical marvels and far frontiers of a future technocracy built on complicated machinery and human resourcefulness. Di Fate is something of a grand old man in the highly specialized field of technological space art. Stirring images of far-flung environments have been his trademark." The artist remarked that since functionality is the only necessary requirement for space travel, he looks forward to the day that starships integrate aesthetic appeal into their design.
During his life, Di Fate wrote several books which included copies of his unique art. The books, such as The Science Fiction Art of Vincent Di Fate, featured beautiful artworks that were accented by text that was written by Di Fate himself. His 1997 art collection, Infinite Worlds: The Fantastic Visions of Science Fiction Art, won the annual Art Book Locus Award. The book features beautifully written essays that begin with his autobiography regarding his career, rather than his personal life, flow to a celebration of science fiction, specifically movies from the 1950s and '60s, ending with an essay about UFOS, his interest in them, the influence they have offered him as an artist and the craze regarding the 1940s UFO sightings.
As a result of his one of a kind and skilled work, Di Fate has received many awards. Since the 1960s, he has been an honored guest at many science fiction and fantasy conventions all over the United States. In 1978, he received the Frank R. Paul Award for Outstanding Achievement in Science Fiction Illustration, followed by the Hugo Award (Science Fiction Achievement Award) for Best Professional Artist, Skylark Award for Imaginative Fiction, the Lensman Award for Lifetime Contribution to the Science Fiction Field, and the Chesley Award from the Association of Science Fiction/Fantasy Artists for Lifetime Artistic Achievement. In 1992, he was the Guest of Honor at the 50th World Science Fiction Convention in Orlando, Florida.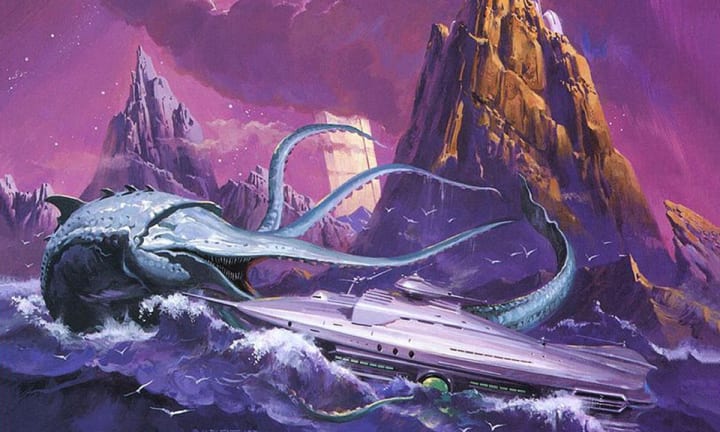 Di Fate's paintings have been showcased around the world in North America, Asia, Europe, and Japan. These exhibits include U. S. Air Force Art Collection in Washington, D.C., the Hayden Planetarium at the American Museum of Natural History in NYC, and the National Aeronautics and Space Administration at Cape Canaveral, Florida. In 1985, Di Fate was commissioned by NASA to create a painting of the International Space Station. He finished the work two years later, and continues to be featured at the Kennedy Space Center at Cape Canaveral.
His expertise in art has lead him to lecture about the methods, history, and meaning of his work. Additionally, he has been a consultant for many film corporations, including 20th Century Fox and MGM/United Artists. He has even found his way back to the classroom as a professor at the Fashion Institute of Technology where he teaches courses about the history of illustration and art in science fiction and fantasy.
The works of sci-fi artist Vincent Di Fate are uniquely captivating, emanating a style reminiscent of 1950's monster movies and speculative fiction thrillers. There is an unrivaled gritty layer that screams classic science fiction. No other artist has quite captured the awe and imagination of the time period beyond Di Fate.
From images in black and white to inventive gadgets, the golden age of SF film, and pictures from the flying saucer era, these paintings capture the range of Hugo Award-winner Vincent Di Fate's achievements. More than 100 color artworks complement a vigorous, vivacious text by the artist himself. Space chases, futuristic supermen, machines born of dreams or nightmares, and more: each illustration is a voyage of the imagination.
Reader insights
Be the first to share your insights about this piece.
Add your insights