Coolest Sci-Fi Illustrators
Because the coolest sci-fi illustrators have a better idea of what reality should look like than we do.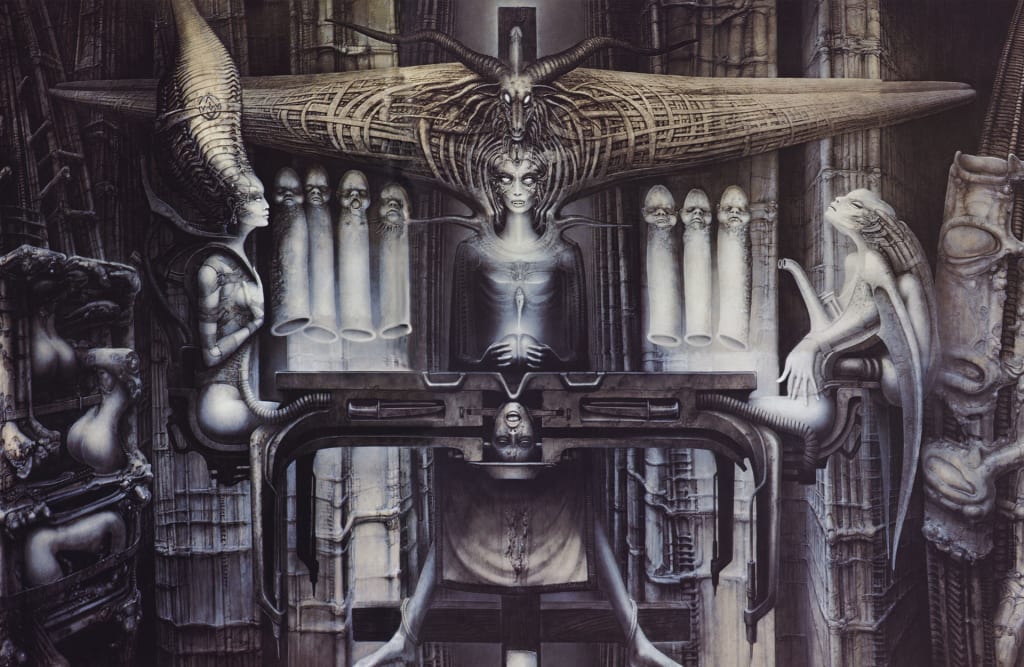 Art by H.R. Giger
If you ask me, no single genre of literature ever really comes close to the aesthetic awesomeness that science fiction does. Sci-fi illustrators seem to have an innate ability to make a book's fantastic scenery come to life and make you want to dive into that strange world.
For decades, people have known that sci-fi illustrators and painters have that unique knack to create incredible artwork for books, posters, and even trading cards. Their work even has reached the point of becoming collectible and iconic in its own right.
Though every science fiction illustrator seems to have that incredible artistic spark in them, these artists really seem to knock everyone else out of the park.
Vincent Di Fate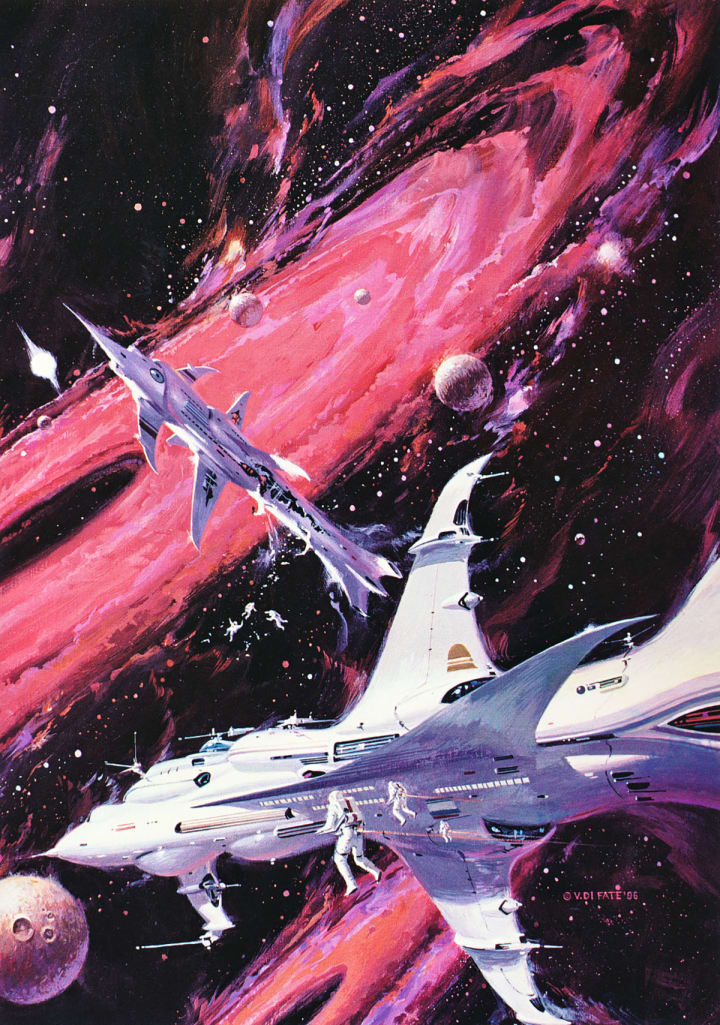 Vincent Di Fate has been creating sci-fi themed masterpieces for well over 30 years, and has earned himself an international reputation as one of the most talented illustrators in the world. A multi-time winner of the Hugo Science Fiction Achievement Award, Di Fate has seen his artwork showcased in America, Asia, and Europe for years. He also happens to be one of the very, very few science fiction illustrators who can say that their artwork has been featured in the American Museum of Natural History.
If you love science fiction, or if you love B-movies, you've probably seen his artwork. In fact, you may even have a print of it hanging in your room, or you may have just bought his collectible trading cards on eBay. No matter which way you cut it, his artwork is phenomenal and continues to captivate people in ways that most other illustrations can't.
Paul Lehr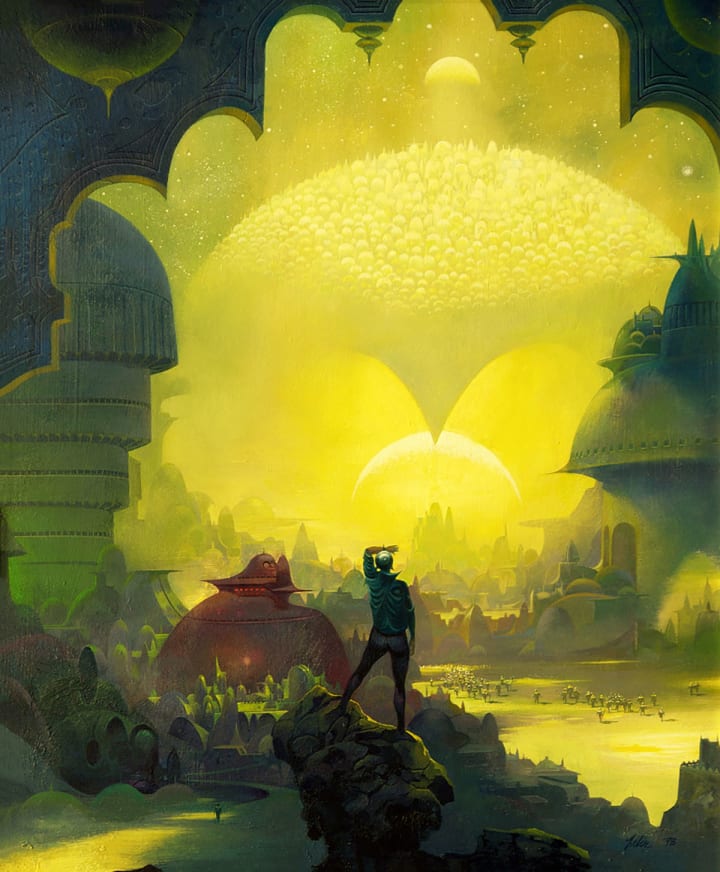 The Science Fiction & Fantasy Writers of America once wrote that "Lehr was the true embodiment of [science fiction] 'art' and not just 'illustration.'" We're inclined to agree. It is art, and it's artwork that tells a million different stories every single time you look at it.
It's that amazing storytelling aspect of his work that has made Lehr a legend in the sci-fi community. Lehr's unique spin on dreamy, surreal and often somewhat mystical takes on alien worlds became almost synonymous with Bantam books in the mid-to-late 1960s. Chances are that if you love to collect older sci-fi novels, you've probably got Paul Lehr in your library.
Jim Burns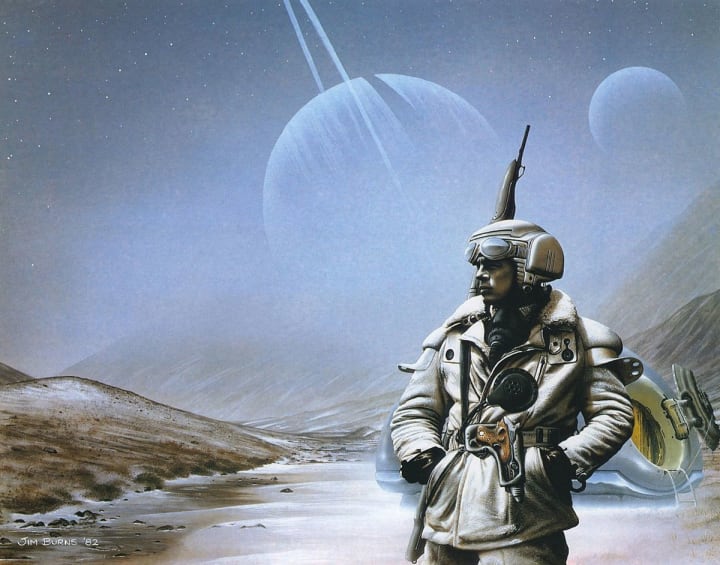 Jim Burns is a name with a platinum level reputation in the science fiction community. Having been called the one of the "Grand Masters of the Science Fiction Art World" by the The Mammoth Encyclopedia of Science Fiction, Burns is best known for his paintings of gorgeous damsels against alien backgrounds, technology-gone-wild, and other similarly retrofuturistic elements.
In many ways, the artwork of Jim Burns molded and created the world of sci-fi pinup. If you've ever fantasized about running into a gorgeous alien woman in a far-off planet, you probably have Jim Burns to thank for illustrating that.
Frank Kelly Freas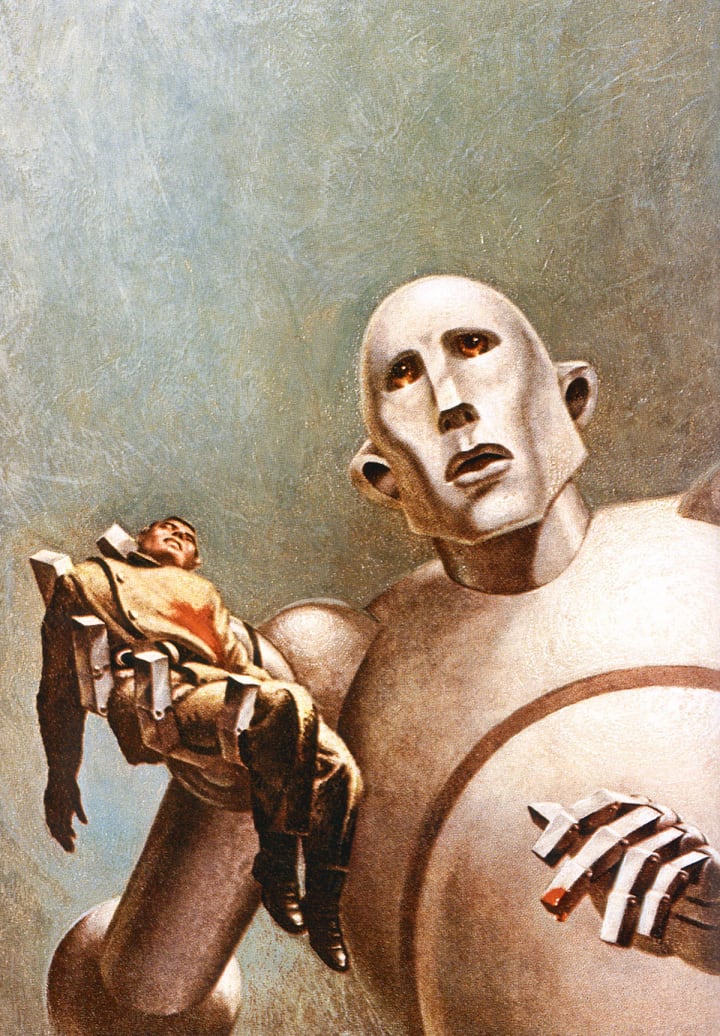 Out of all the artists on this list, people who aren't into sci-fi artwork, books, or movies are most likely to recognize the artwork of Frank Kelly Freas out of all the others on this list. Legendary rock band, Queen, had picked him to illustrate the cover of one of their most iconic albums - News of the World.
Though he has also made a slew of covers and illustrations for top sci-fi names like Star Wars, Stargaze and Laser Books, he's also been known to get into other areas of illustration as well. Freas's other major claims to fame include the artwork he did for MAD Magazine and his illustrations for NASA.
Rafal Olbinski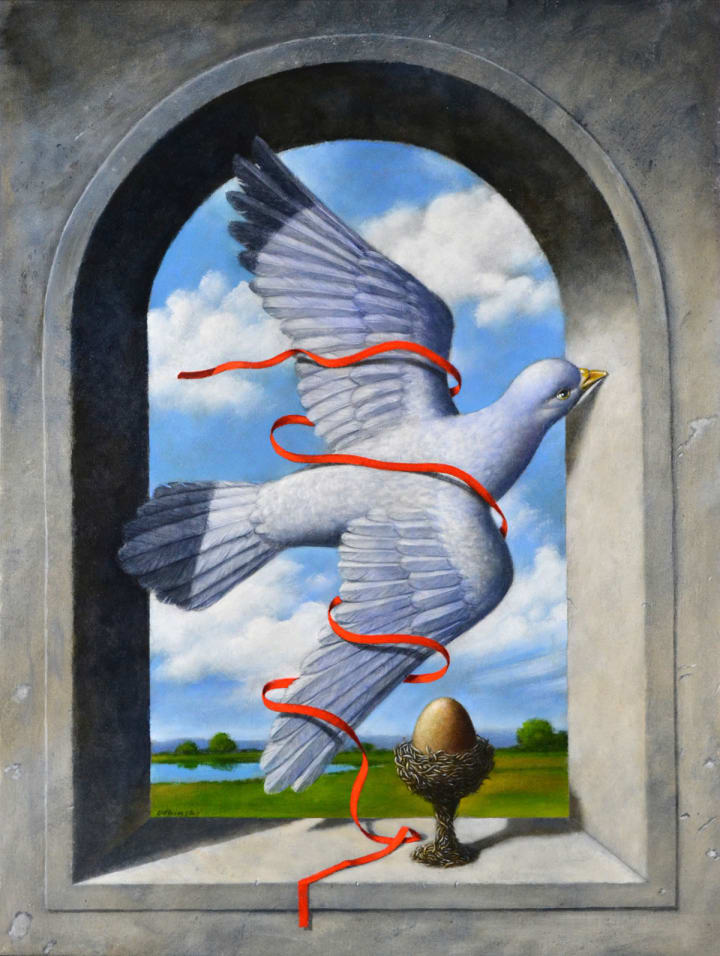 Mixing Dali-esque surrealism with starkly sci-fi elements, Rafal Olbinski's approach to artwork is something he's regularly called "poetic surrealism." Olbinski's illustrations aren't necessarily always science fiction in nature, but they are all high art.
As such, it's no surprise that his surrealist sci-fi illustrations have been found in the Museum of Modern Art, the Smithsonian, New York's National Arts Club, and the Library of Congress.
Wayne Barlowe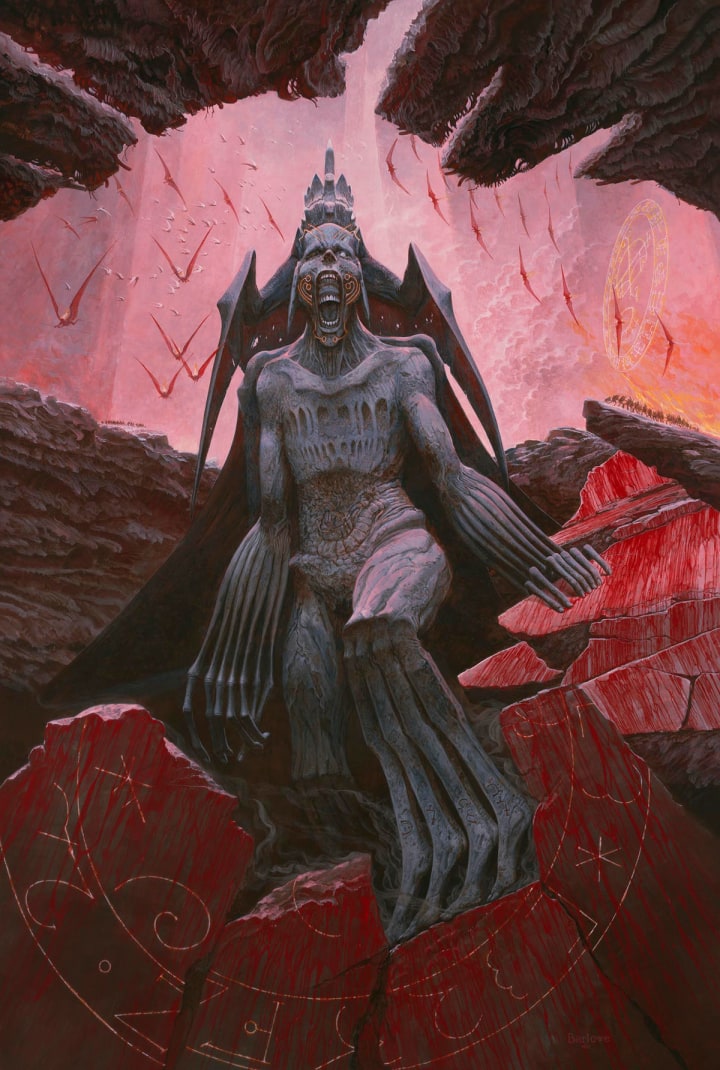 If you're a fan of movies like Hellboy, Avatar, or even the Harry Potter series, you already have seen Wayne Barlowe's creature design work and adored it. His specialty is creature design, anatomy, and hyper-realistic renditions of creatures that never existed.
Barlowe's exceptional talent for creating realistic illustrations, creatures, and artwork isn't too surprising. After all, he's the son of Sy and Dorothea Barlowe, two of the biggest names in natural history illustrations. Most of us are willing to bet that he has made both of his parents proud.
Patrick Woodroffe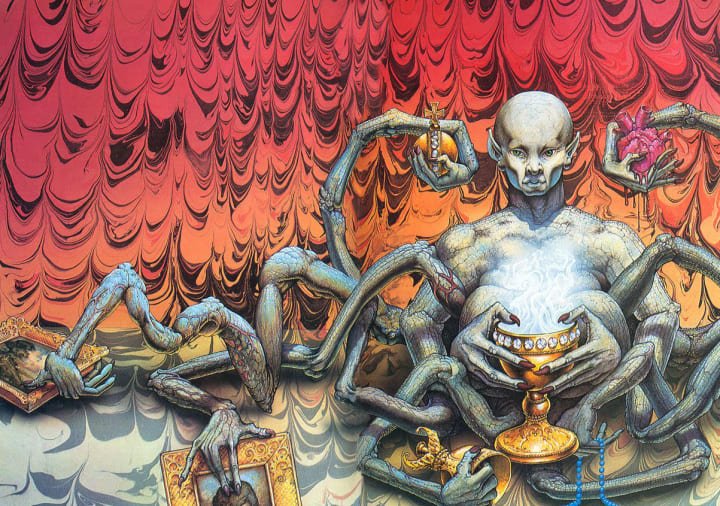 Patrick Woodroffe is an illustrator whose work is best described as a beautifully chaotic mix of Salvador Dali, Jimi Hendrix album art, and straight up, old school fantasy. His colorful illustrations have graced covers of books by legends like Piers Anthony, Robert Heinlein, and Arthur C. Clarke.
Eventually, the artist-maverick branched off into the written word himself, and published three illustration-filled books involving fantastic creatures, bizarre worlds, and awesome storylines. Looking at his artwork is a great way to enjoy an acid trip without having to actually drop acid - and there's no such thing as a bad trip via Woodroffe's artwork.
Bob Pepper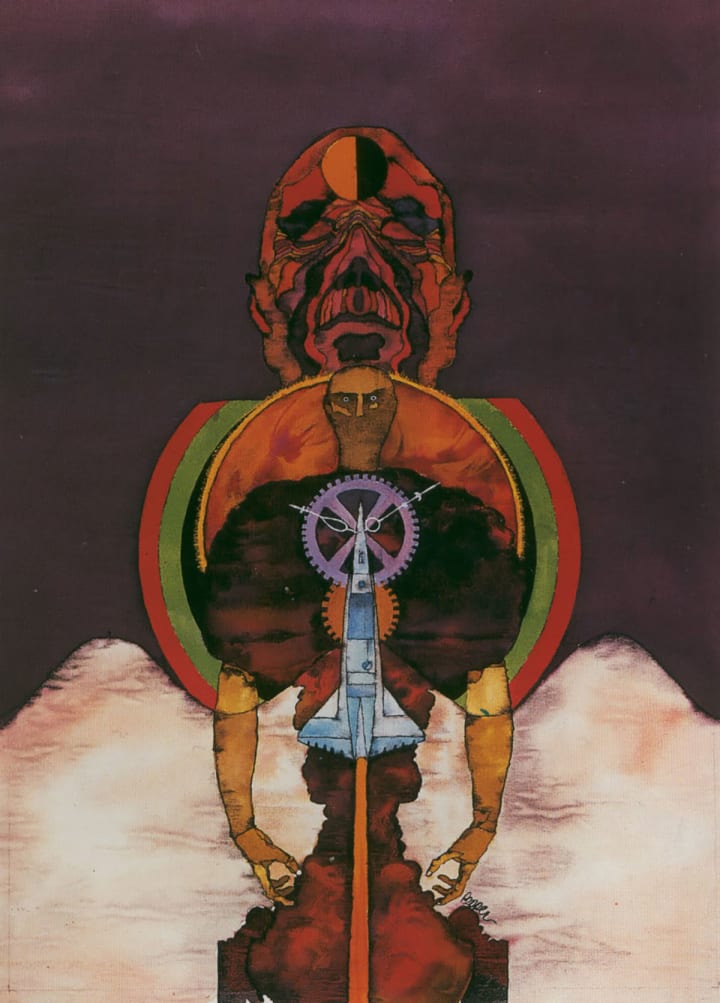 If you've ever grabbed a book that had that uniquely 60s-style Technicolor aesthetic that balanced precariously on the line between trippy and dystopian, you've seen Bob Pepper's work. Along with being one of the most prolific illustrators at Ballantine Books, Bob Pepper also has worked for years at Elektra Records as an album cover creator.
Pepper's artwork became iconic in the mainstream as well when his work was featured on Love's album Forever Changes. However, us sci-fi geeks probably recognize him as the original artist behind the cover of A Scanner Darkly.
Wally Wood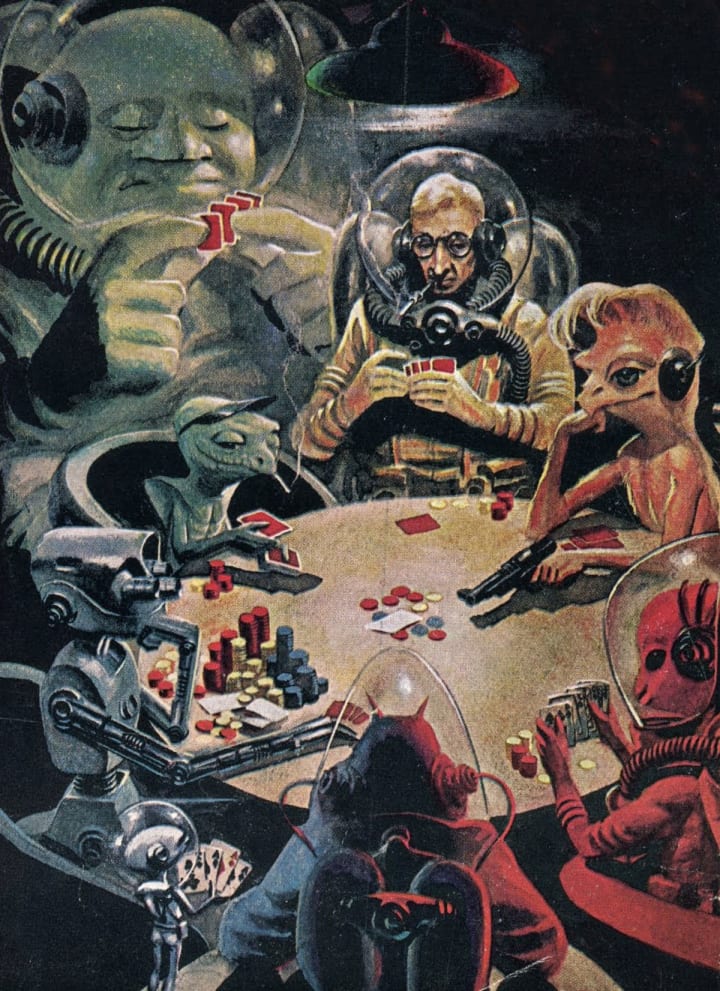 In the 1950s, most mainstream artwork was squeaky clean - or perhaps, just a little bit cheeky in a "pinup" sense. Then, there was the artwork underground, and that's where Wally Wood earned his stripes. His breakout artwork also happened to be his most controversial.
As such, most cartoonists in the underground art scene probably know him as the insane comic book artist that drew Disney characters engaging in intercourse, drugs, and other weird things back in the 1950s. Even though there was an uproar, Wood's Disney comic remains one of the most pirated pieces of art in history.
Out of all the artists on this list, Wally Wood's artwork happens to be the most comic-like. But, this isn't much of a surprise to comic book geeks, since he was one of the first to really become a well-know comic book illustrator. By 1970, his comics featuring vampy vixens, strange aliens, and crazy plot twists became just as famous.
Jean Giraud (Moebius)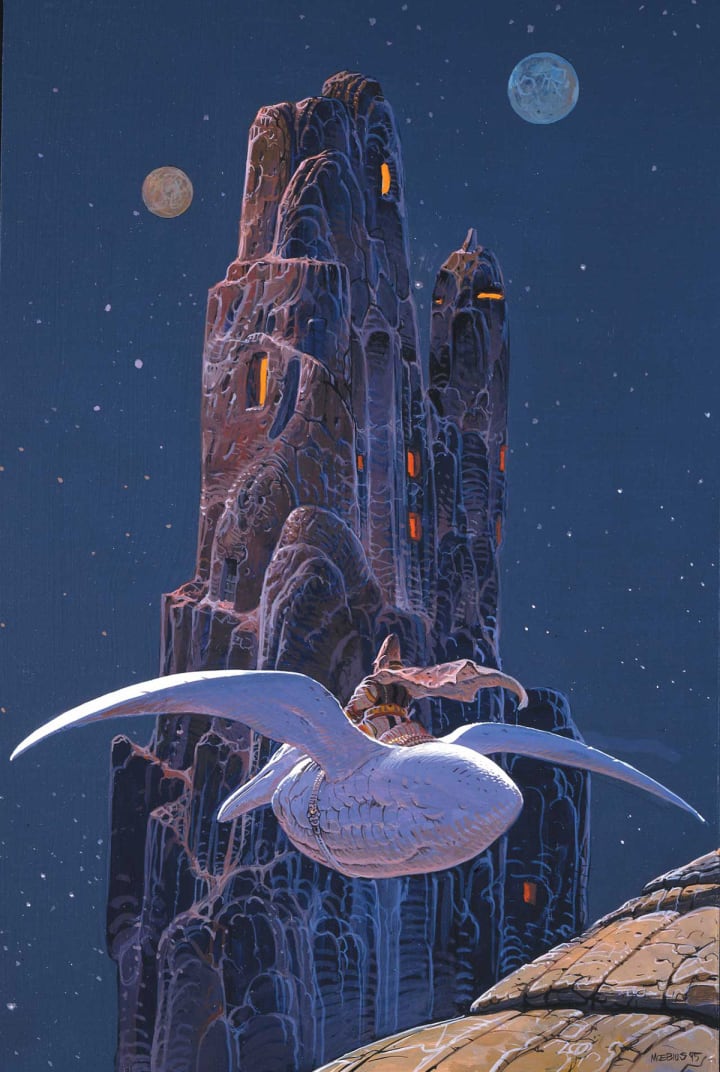 Artist Jean Giraud may have had one of the most star-studded portfolios in all of France. The artist known as Moebius in the sci-fi community had worked on major names like Alien, Tron, and even The Fifth Element as an illustrator and filmset designer.
An illustrator way ahead of his time, Moebius's artwork is known for using the old French bandes desinees tradition of illustration in conjunction with bright colors, sci-fi themes, and just a small hint of urban influence. The end result is a portfolio of artwork that has inspired sci-fi fans, comic book geeks, and graffiti aficionados alike for decades.
H.R. Giger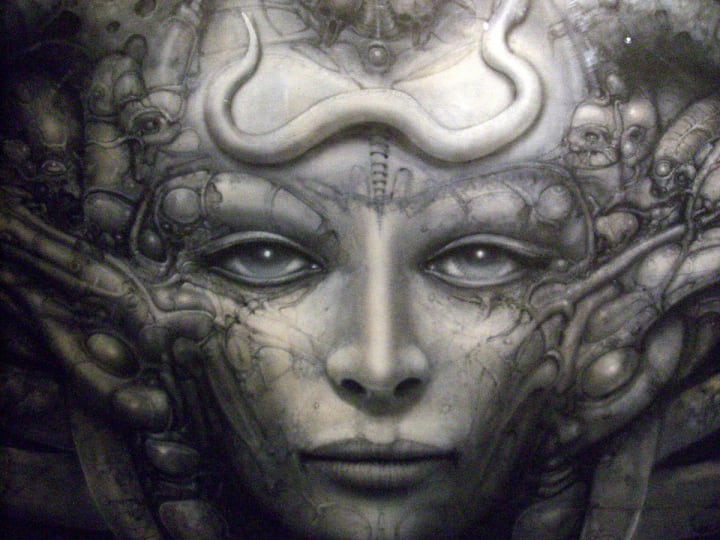 No list of sci-fi illustrators would be complete without the dark, bio-mechanical artwork of H.R. Giger. Audiences across the world can always tell his creepy yet subtly sexual renditions of robots, women, and of course, creatures that never quite seem to be totally discernible as organic or machinery.
Giger's biggest claim to fame, obviously, would have to be his role in inspiring the monster used in the Alien franchise. He is also recognized for the concept art he created for Alejandro Jodorowsky's Dune. Like many other artists on this list, Giger also had found quite a lot of business in the music industry as an album artist. Debbie Harry herself had hired H.R. Giger to create the artwork found on her album, KooKoo.
Frank Fazetta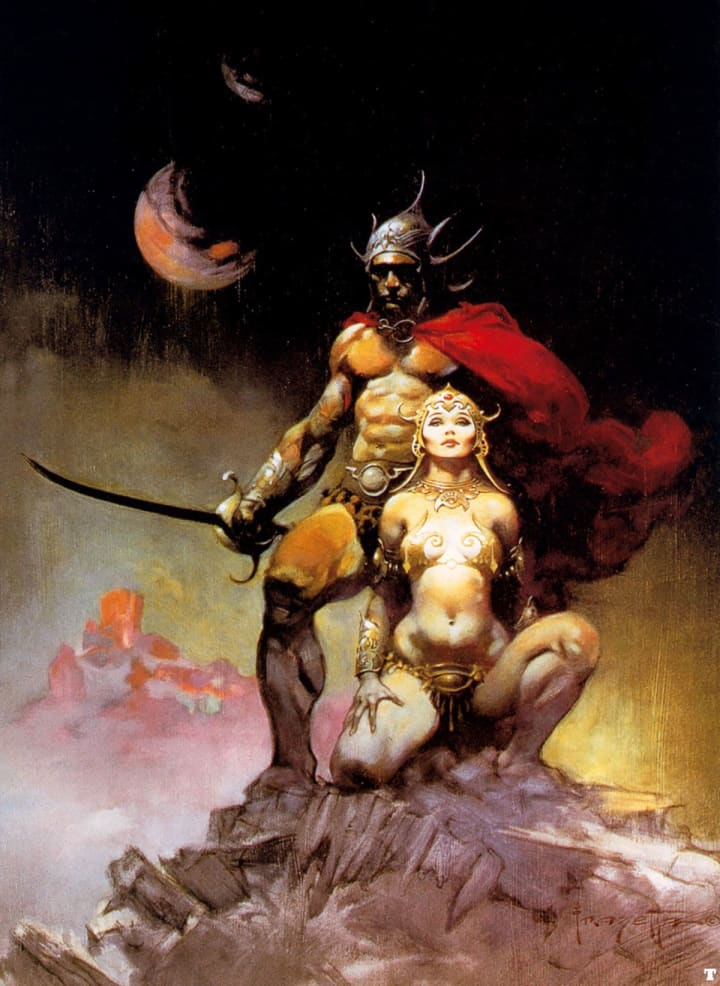 Frank Fazetta's illustrations are most commonly recognized thanks to their hypermasculine men and their buxom, hyperfeminine women. Like many other artists on this list, Frank Fazetta quickly rose through the ranks by being a jack of all trades.
His artwork has been seen in movie posters like What's New Pussycat?, book covers in the Conan series, as well as inside the pages of a multitude of magazines. At one point, he even was asked to draw Ringo Starr for MAD Magazine.
Robert M. Powers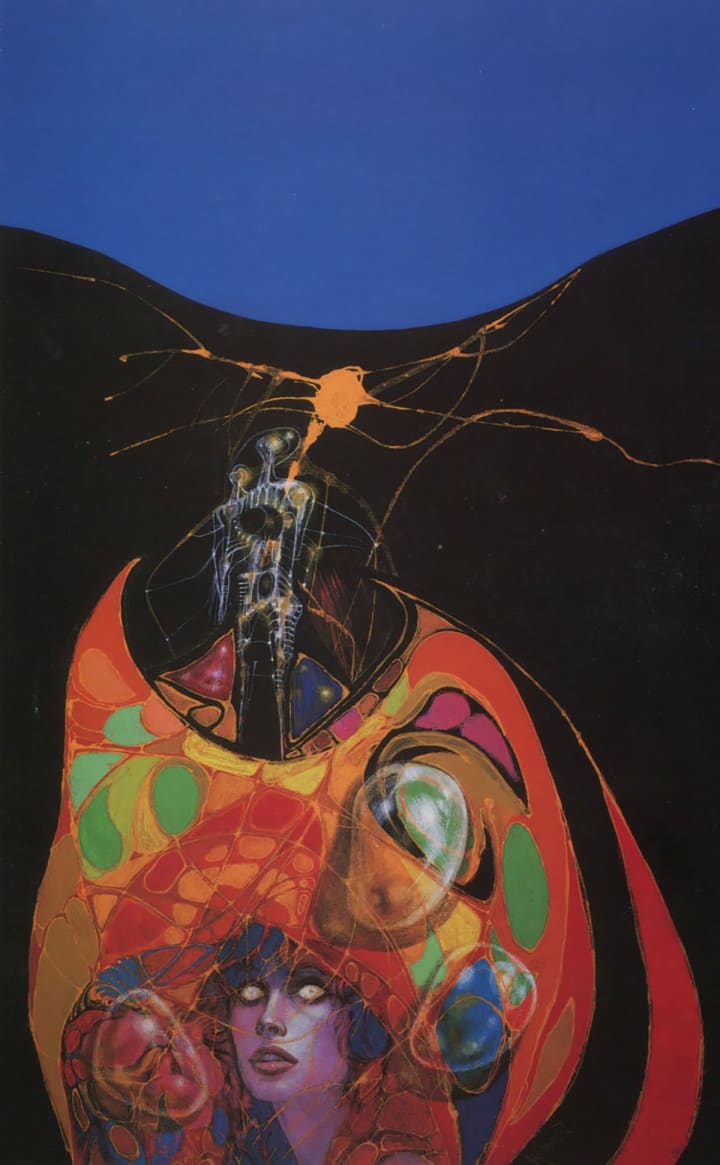 Robert M. Powers was, in many ways, one of the fathers of "mood sci-fi" artwork. While most 50s authors were happy with "pulp" sci-fi drawings featuring space damsels or hypermechanical futurism, he delved into illustrations that conveyed a mood, an ambiance, or otherwise organic-yet-surreal aesthetics.
As one of the very first artists to have used fine art techniques in sci-fi illustration, Powers ended up paving the way for swaths of talented artists later on. The Science FictionEncyclopedia went so far as to say that it was only via Powers that "the packaging of SF could be said to have come of age."
Boris Vallejo and Julie Bell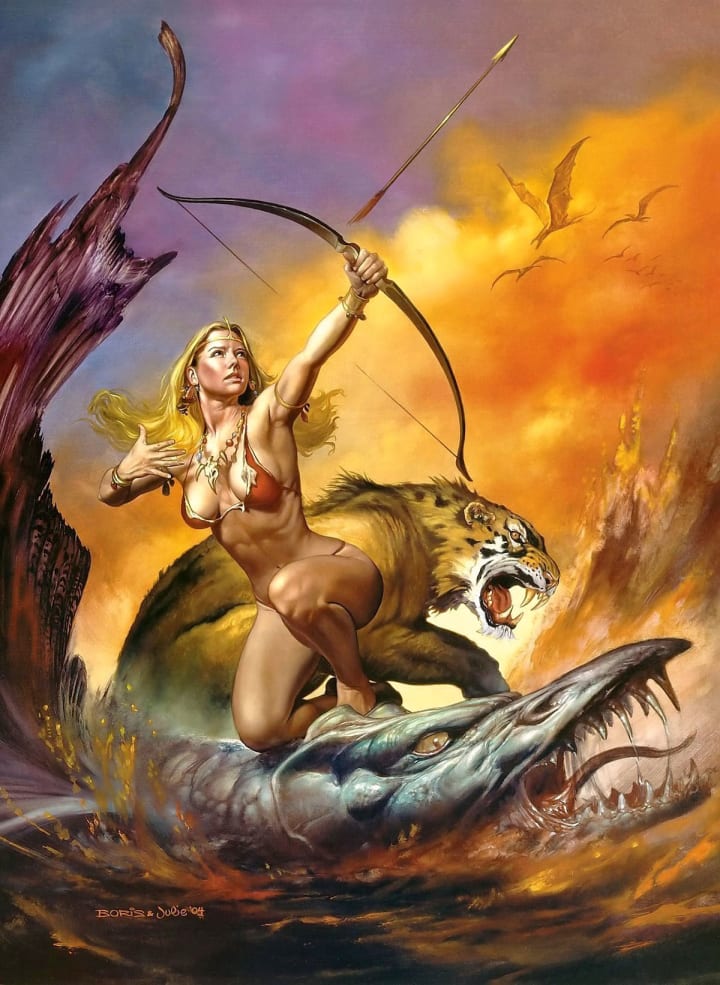 This husband and wife duo have made a name for themselves in two different fields - sci-fi and erotica. And, they often blend the two with sleek, action-packed scenes involving strong women with incredibly sharp muscle definition, untamed beasts, and the occasional fantasy weapon in hand.
Globally renowned for their work dealing with comic book superheroes like Batman, the Hulk, and Psylocke, it's easy to see why so many of their fans happen to be avid comic book collectors. They also worked on a collaboration together for the promotional poster for Aqua Teen Hunger Force Colon Movie Film For Theaters.
About the Creator
Riley Reese is comic book fanatic who loves anything that has to do with science-fiction, anime, action movies, and Monster Energy drink.
Reader insights
Be the first to share your insights about this piece.
Add your insights