PLANET PLUTO PT.1
Immersion: Peace & Love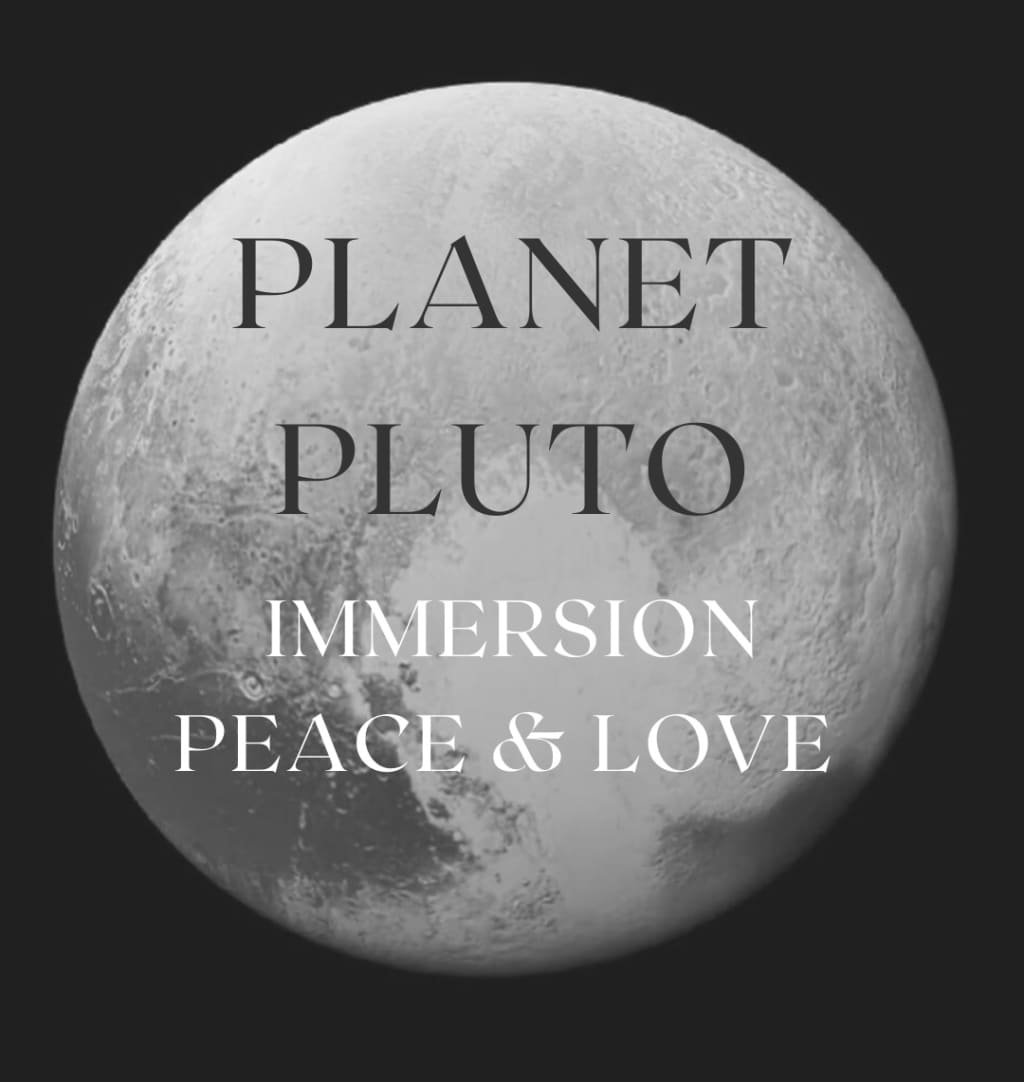 I imagine not being on planet earth anymore, at least not for a while, but...on another planet. A planet of choice that is, which would allow me to be free for the next 6 months of my life. I definitely would disassociate myself from all earthly ties, people, places, except my body, mind & spirit as well as my past presently to exist.
This planet of choice would be Pluto, and I know of course "they" say it is a "Dwarf Planet" but in my imagination, it's not a "Dwarf Planet"...it's a planet of peace, love, acceptance, and a challenge to oneself. I reckon the problems being on planet earth amongst all that hustle and bustle of life when you can't even catch a break, the stress of family and work problems arrays itself, and it seems like it'll never get better.
"Planet Pluto" provides the opportunity to create a new life as well as other endeavours, to let loose, be what I want to be when I want to be, how I want to be, to be... who I'm supposed to be. I have ascended through the channels of the wind of my words to be planted in an empty canvas, where the next 6 months my life will be intriguing, interesting to the eyes of the beholder of whom will be reading this...
It's like this right! On planet earth, we were put on this world in my eyes to support, strive, learn, live, experience. Now I know this isn't a perfect world... wouldn't expect it to be, but just think what if... what...if! you could just re-innovate your world.
I'd challenge myself to be my truest self, how would I define your truest self? Well, I think that would be subjective to each his own, but for me, I'm very introverted-thinking, extroverted- feeling. I would probably have very few people in my world "Planet Pluto" new birth beings I'd call it! people who are liked minded, but have opposite values find it rather more interesting listening to a story that isn't commonly familiar.
Peace is a very important tool, figure, aura that is necessary for one's sanity, for 6 months being away from the world... haha!! That is indefinite! I get that money is an exchange for value on planet earth... but as for my planet, "Planet Pluto", Love is a currency that you can exchange for value.
You see... the world we live in for most of the time, there's a lot of man-made things including money, at least from the beginning of time, and you know evolution had happened, then you got inventions and so on and what have you. A lot of crimes such as hate, jealousy, envy, greed... especially from the heart creates distance in which battles and wars commence.
In Planet Pluto there's none that, "LOVE" is the only currency you'll ever need. From "Everything" to "Everything" Battle from the heart wouldn't be existent, peace is the glue that enhances togetherness and well-being. Without love! Beings such as ourselves, we are just rodents festers in a long stream sewer.
Another thing I would like to implement is, constructive self-care, not in an egotistical or narcissistic way, but I am a firm believer in Mental, Physical, Emotional well-being. Self-care is a must! it's pay off respect to one's self, allocating gratitude and such. If you're not taking care of yourself, how can you expect to respect or care for everything and everyone else? Love Conquers and defeats negativity and promiscuous judgments.