'Mute' Review
Why Duncan Jones' Spiritual Sequel to 'Moon' Is Too Sad to Watch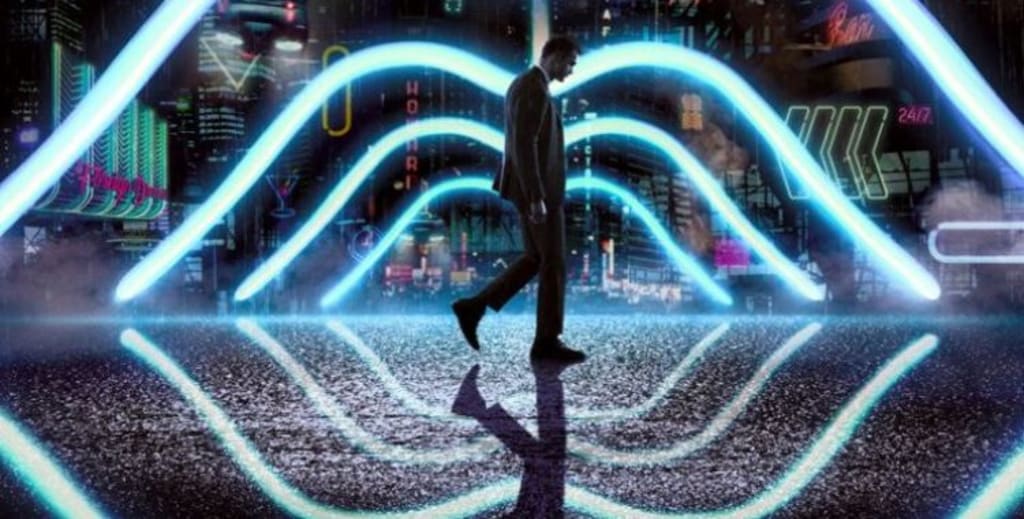 Plot summary: Left a mute after a traumatic childhood injury, Leo (Alexander Skarsgard) bartends at a strip club in Berlin. Reunited with his true love, Naadirah, the couple's passionate reunion is cut short when Naadirah mysteriously vanishes. After a mysterious message sets him on the hunt to track down his girlfriend, Leo uncovers the hidden life of the woman he once thought he knew.
Launching the cyberpunk genre into the stratosphere and inspiring a generation of filmmakers, writers, musicians and artists, the impact of Ridley Scott's seminal Blade Runner is unquestionable. Now more than ever the resonance of the 1982 cult classic seems to permeate today's cultural zeitgeist. Dennis Villeneuve delivered an equally complex noir inspired sequel with Blade Runner 2049 and Netflix's Altered Carbon has cyberpunk blood pumping through its veins.
Next to enter the fray is Duncan Jones. Toting two great sci-fi films in Moon and Source Code under his belt, Jones looks to pay homage to Scott and his late father (David Bowie) with his own sci-fi drama Mute. Sadly Jones' tribute falls woefully short of the mark.
Set amongst the sprawling cityscape of a near future Berlin, superficially Mute is expansive and wonderfully elaborate. Downtrodden workers scurry through dingy back streets bathed in the hue of glowing neon signs. Jones creates a giant sandbox world teeming with an endless supply of stories waiting to be explored. Yet for as grand as Mute's scale may be, breadth is not the problem, it is depth. Barely scratching the surface of the rich universe that lays at his fingertips, the opportunity to produce something provocative is ultimately squandered. Mute's inspiration took to dealing with heady philosophy, questioning the futility of existence and the blurring lines between technology and humanity. The ethical quandaries that were at the heart of Moon and Source Code play no role in Mute.
Instead, Jones' focus is a glorified scavenger hunt, as Amish mute Leo searches for his missing girlfriend Naadirah. Tepid at the best of times, Leo ploddingly moves from A to B, gathering scraps of information as to the whereabouts of his lost girlfriend, before swiftly restarting the cycle. The rinse and repeat pacing makings Mute dry and listless. Nestled between Leo's search is Paul Rudd's Billy Cactus, a black market American surgeon desperate to escape from Berlin with his daughter Josie. One of Jones' stronger characters, Billy may be an obnoxious sleazy monster but he is the closest thing to a saving grace that Mute has to offer. Sharing a bond with fellow surgeon Ducky (Justin Theroux), the couple's non-binary relationship manages to spark some intrigue. But what starts as a point of interest soon becomes criminally mishandled and downright offensive as Ducky reveals the disturbing truth about his sexual proclivities.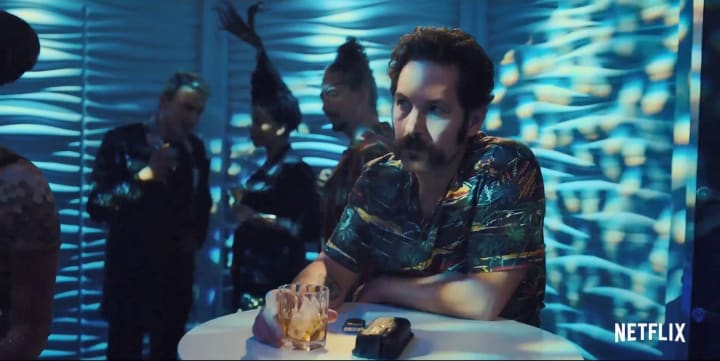 While Mute's story may be cohesive, the connective tissue that knits everything together is tenuously tied. Frustratingly superficial a loose thread of characters plot, and occasionally impressive visuals holds Mute together. Providing little time to flesh out Leo, Naadirah, or anyone else for that matter Mute is devoid of drama. As Leo pushes closer to discovering his missing lover, the resolution is sadly met with complete and utter apathy; Mute's biggest mistake is thinking we actually give a crap. Making a brief cameo on the TV screen at a greasy spoon, we get a glimpse at a cameoing Sam Bell. One of many Easter eggs referencing Jones' earlier work, Rockwell's appearance is a sad reminder of a far superior film.
Mired by a lack of definition Mute proves to be visually and thematically garish. Equal parts authoritarian and liberal, pinpointing what is actually going on in Jones' dystopian future is a herculean challenge. Vague allusions to AWOL American soldiers and German expansionism hint at a dying world verging on collapse. But such references are soon forgotten undercut by an overt sexuality as Jones pays homage to his father's film career. Bathed in sickly neon blue, brothels and strip clubs are a frequent backdrop, an arena for Mute to showcase its bold visual style and sexual ambiguity. Overpowered by the unwarranted raw sexuality that is infused within it, the impressiveness of Mute's visuals goes relatively unnoticed.
Clearly a labour of love for Jones, Mute is the result of years of iron-willed dedication and perseverance. If Jones were to have a Heaven's Gate, this is it. Doubling as homage to one of the 21st century's greatest cultural icon, the expectations put on Mute prove to be too much for it to bear. Released in the shadow of the opulent Blade Runner 2049, Jones' efforts are dwarfed by something far grander and well executed. Yet the blame cannot entirely fall on anticipation. Part of a genre that prides itself on effective social and political commentary, Jones has explored such ideas in the past to great effect. Yet for some reason here they remain shockingly absent. Almost heartbreaking to watch, Mute won't leave you angry, just terribly disappointed.