Judoon Take Over Gloucester Cathedral Ahead of Their Highly Anticipated Return to 'Doctor Who'
They first appeared in 2007.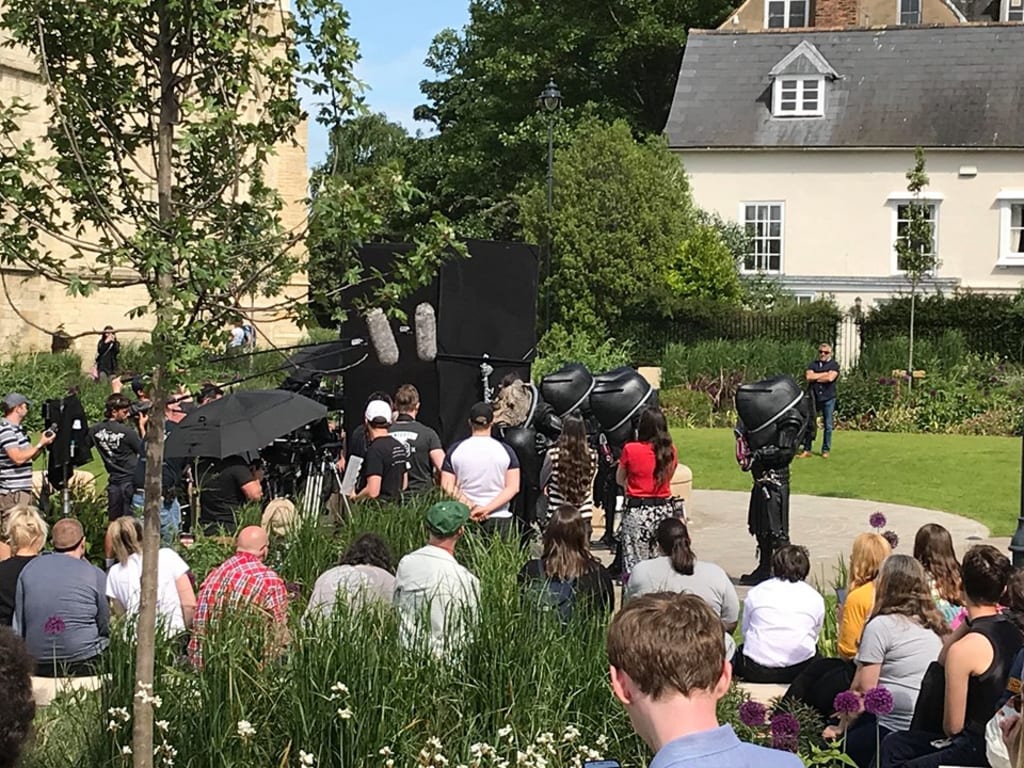 [Credit: James McDonald]
This article contains some spoilers for Series 12. We recommend you read at your own risk.
Series 11 of Doctor Who not only introduced a new showrunner, but a new Doctor and companions as well. Jodie Whittaker took the baton from Peter Capaldi to mark history, as she became the show's first ever female Doctor. Whittaker was joined by Bradley Walsh, Tosin Cole and Mandip Gill as the four of them travelled through time and space together.
Doctor Who Series 12 may be a long way off yet, but on 21st May, news broke that a favourite villain, the Judoon, will be making a long-awaited return to the show. The BBC last night revealed an exclusive Series 12 photo showing Whittaker facing off the Judoon, who have been redesigned—a mohawk!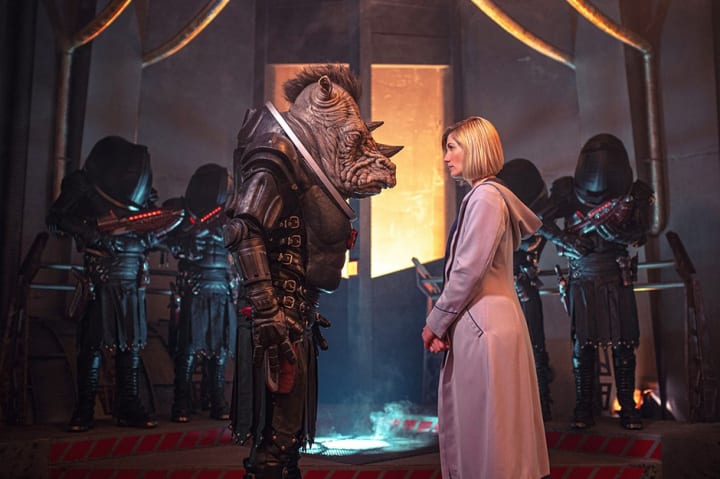 The rhino-headed intergalactic police first appeared on our screen's way back in 2007 in the opening episode of Series 3, with David Tennant as the Tenth Doctor, who was joined by Freema Agyeman as Martha Jones in the episode "Smith and Jones." Since 2007, the Judoon have had cameos in several further episodes, as well as appearing in the bit spin-off show The Sarah Jane Adventures.
Today, the Judoon were spotted filming in Gloucester ahead of their highly anticipated return. Storming outside Gloucester Cathedral, huge Doctor Who fan, James McDonald spotted the filming in the open area and managed to snap some pictures as they rehearsed the scene for the episode, which guest stars Neil Stuke.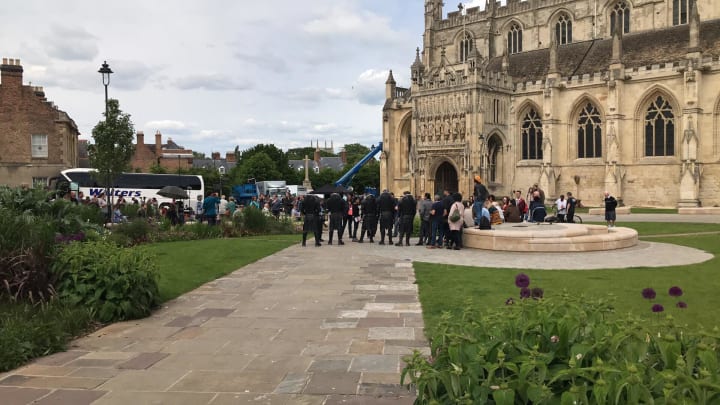 When filming on what was a sweltering day across the United Kingdom, James described the scene he saw being filmed. James said:
"In a final scene [James saw filming], with the Judoon appearing, the tour guide lady is talking with an old lady, who is knitting. They [the Judoon] approach and Marcia threaten them with her knitting needles asking who they are."
As the scene continues, James went onto say the Judoon 'assimilate the language, confiscate the needles, and compensate Marcia for her weapons.' The Judoon with the mohawk has been described as the leader of the pack, 'takes off his helmet' triggering Marcia to panic, just like anyone would. As Marcia panics, she runs away and 'shoots her.' James said it is unclear at this stage whether or not the lady is killed or not.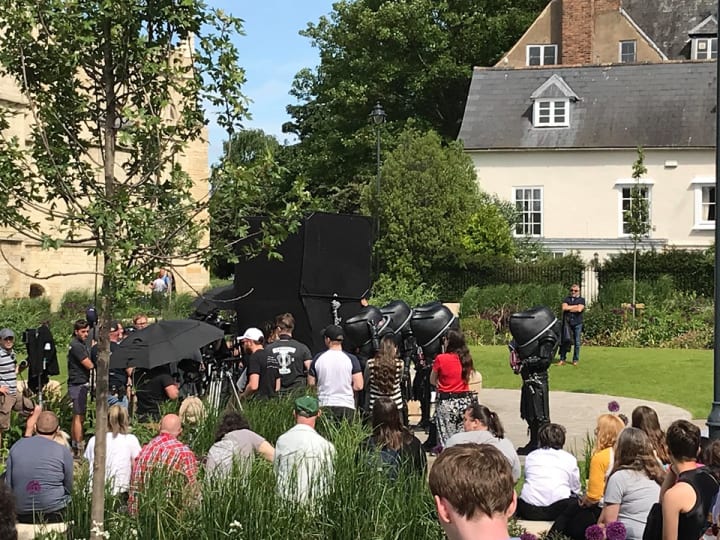 With "Smith and Jones" being the Judoon's last full Doctor Who episode, they have since then appeared in Series 4, 5, 6 and 9, with minor cameos. They appeared in The Sarah Jane Adventures Series 3 in "Prisoner of the Judoon," as well as making appearances for the audio stories produced by Big Finish.
Other news regarding Series 12 has been kept under wraps for now, but as filming continues, fans can expect more exciting news to be revealed. Current showrunner, Chris Chibnall described this exciting Judoon news by saying:
"The Judoon are storming back into Doctor Who in full force, and the streets of Gloucester aren't safe. If anyone has anything to hide, confess now. The Judoon are taking no prisoners and will stop at nothing to fulfil their mission."
Their mission, for now, remains a mystery, but from what we have heard and seen above, it doesn't sound good. What do the Judoon want with Earth this time? We'll have to find out in Series 12, which lands in "very early" 2020.
Jodie Whittaker, Bradley Walsh, Tosin Cole, and Mandip are all returning for Series 12, with location filming taking place in Cardiff, South Africa and Gloucester. Stay tuned for more information.