Hyperlocal ecommerce delivery software and apps- The force behind the tremendous rise of hyperlocal deliveries
Hyperlocal ecommerce delivery software and apps are redefining several facets of ecommerce and the way deliveries are done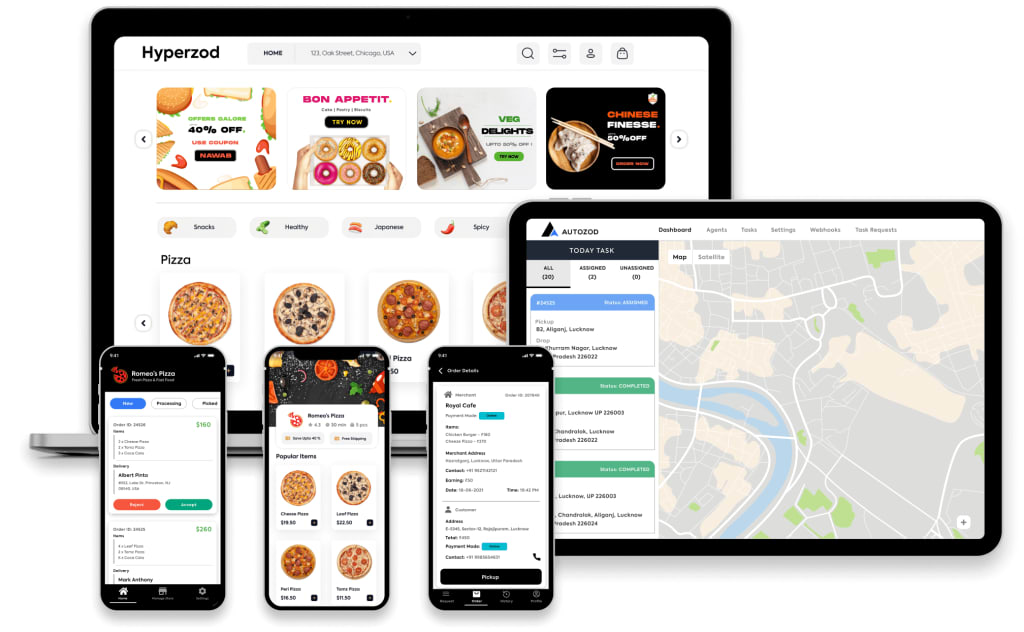 Hyperlocal ecommerce delivery software- Promising growth
Software and apps have been pretty much in vogue from quite some time. Their use has become so commonplace that even the least techno-savvy or the most technologically ill-informed people in the world have been made to use it. As the smartphone adoption rate picks up pace and the use of internet penetrates households even more vigorously, the use of hyperlocal ecommerce delivery software and apps is likely to grow by leaps and bounds and it is bound to penetrate all sections of the society that is somehow adapting to the technological renaissance which is happening around.
Hyperlocal ecommerce delivery apps have been at the forefront of modern day ecommerce. Whether a customer chooses to buy an amazon fire stick or a pair of shoes online, or whether he prefers to order online a monster size jalapeno, corn and vegetable pizza or a sumptuous Mughlai dish from the nearby restaurant/ food outlet, s/he is just somehow interacting with software and apps.
It would not be wrong to say that the use of such apps has become pretty widespread (more so after the pandemic), and is often deemed a life saver for many customers and businesses- one of the most palpable reasons why hyperlocal ecommerce deliveries have witnessed a steady rise in the last few years.
The covid19 pandemic and the role of hyperlocal ecommerce deliveries
Every crisis presents an opportunity to try something new, as well as the need to do so. No sooner did the pandemic hit us, it forced us to reorganize our lives to ensure sustained access to essentials and supplies in the modern age of lockout, social distancing, and self-quarantine. The hyperlocal business model certainly made it easier for all of us to reorganize.
Hyperlocal delivery industry has grown quite tremendously over time. Courtesy to people getting contained in their homes due to the pandemic, that it has spurred all the more. Now, put it on growing urbanization, increasing smartphone penetration, changing consumer preferences or an urge for improved lifestyle, making and accepting hyperlocal deliveries has become a daily routine for a plethora of businesses and buyers, respectively.
What these hyperlocal delivery apps did for the quarantined and isolated individuals and for the rest of the world after the outbreak of the pandemic has a lot of significance for the ecommerce industry and is symbolic of what is to arrive in a few years from now. The industry, for all the right and obvious reasons, has just found a great comrade in 'hyperlocal delivery software and apps.'
With the enforcement of strict lockdown rules and with the world not having an iota of understanding as to what is happening when the pandemic actually struck, people at the helm of hyperlocal deliveries were spontaneously at it. They knew that this is the time to make the most of their abilities and thus deliver 'hyper locally'.
Data shows that 20 percent of kirana stores started using online platforms during the lockdown to schedule supply deliveries, while many others began accepting customer orders via WhatsApp and taking payments through digital wallets. In addition, a large fraction of buyers became conscious about the need for contactless delivery and online payments to minimize the risk of infection during the pandemic.
As more and more people got home contained, they had no other option but to use their mobile phones more often. This led to a spurt in them downloading online delivery apps for meeting their daily needs. Be it groceries, home or kitchen appliances, household supplies, baby care things, books or anything else, hyperlocal delivery apps were there promising contactless deliveries at the doorsteps of the consumers.
In fact, the local retailers worked uninterruptedly to meet their customers' diverse and varied requirements. Moreover, to compensate for the inability to dine out, many customers began experimenting with different cuisines at home. While the initial wave of purchases swung in favor of kirana stores owing to panic buying, later purchases favored ecommerce brands as customers started looking for more choice in their foods. Major retail brands with big pockets also opened their own grocery fulfilment wings, thereby intensifying the competition further.
Now to this day it is there for us to see how much more challenging times loom over the future of the local kirana stores and nearby retailers as increased digitalization becomes widespread and more and more buyers get used to hyperlocal deliveries- ones that requires minimal efforts from them.
What makes a hyperlocal ecommerce delivery software and app so special?
The hyperlocal delivery software and apps have become extremely popular owing to their refined characteristics and improved abilities to deliver seamlessly. Such apps relegate immense power into the hands of the users to delegate and take care of their daily chores much more conveniently. Yes! And what's more? A hyperlocal ecommerce delivery app opens a slew of opportunities for many small but emerging retailers and merchants.
Following are the few benefits that make hyperlocal ecommerce delivery software and apps special and distinctive.
Easy connectivity- With the adoption of smartphones on a massive scale, users can easily connect with local/small businesses with GPS-location data and wireless internet availability. This enables more online ordering and subsequent hyperlocal deliveries.
Seamless delivery system- Since businesses cater to small or specialized geographical areas, an efficient hyperlocal ecommerce delivery app facilitates swift delivery of goods from the point of origin to the point of destination within a much shorter duration of time. This is one of the most striking merits of an efficient hyperlocal delivery app.
Unique selling proposition- Abbreviated as USP, a business with a robust and futuristic hyperlocal ecommerce delivery software and app can create for itself unique selling propositions through quick delivery of products, geo tagging options, multiple payment alternatives, real time tracking of orders, etc.
Puts the business in a commanding position- If hyperlocal statistics are to be believed, businesses that have moved themselves from traditional brick and mortar stores to online ones, their sales and profits have experienced a steady growth. Having an efficient delivery app for your business can certainly improve your businesses' visibility and land you in a commanding position even in a marketplace that is extremely fierce.
Increases business automation- Automation is everything in today's technology dominated word. Hyperlocal delivery apps put immense power in the hands of the business. Getting your business associated with an efficient and a futuristic hyperlocal delivery partner promotes automated processes thereby reducing the business burden and increasing its efficiency.
Provides enriching customer experience- Hyperlocal delivery apps, by virtue of their quick and efficient nature, do leave the customers delighted with safe and lightning-fast deliveries. In fact, this has been one of the most noticeable aspects of hyperlocal deliveries. It is noteworthy that instant delivery options through the use of such apps have appealed to the global consumers lately which eventually leaves them with a delightful experience.
A brief discourse about the hyperlocal ecommerce delivery software and app
Ever since technology ruling the roost and dominating all domains of the business, efficient software have become potential assets for a business and sort-of 'the need of the hour.'
Owning a consummate software is highly characteristic of intelligent and futuristic businesses of today. Contemporary times just demand it. A modern day ecommerce delivery software not only promises economic gains for a firm but it also elevates the level at which a business operates.
It increases trust and reliability among a businesses' customer groups. More so, a state-of-the-art online delivery software improves the delivery efficiency to a considerable extent and also results in increased productivity of the business.
Having said this, it must be borne in the conscious minds of prudent businesses that the 'function of a good software is to make the complex appear to be simple.' The simpler the use of a software, the greater is its acceptance. It enriches the user experience and opens seamless possibilities for a business.
It is also imperative to remember that a good business must not fail, falter or procrastinate in finding the right software for itself because a good, robust and futuristic software found on time, is "nothing short of a weapon in the businesses' armory" that helps it gain a competitive edge over its rival businesses.
Wrapping up
The craze and propensity towards hyperlocal deliveries is just getting up a notch every day. In order for a business to outcompete the rival firms in today's fierce hyperlocal marketplace, it surely needs to own a hyperlocal ecommerce delivery app that doesn't budge an inch when tough industry times arrive, instead, it delivers promisingly, all the more.
With a continuing rise in hyperlocal deliveries across the globe, there is a growing and undying need for products to be delivered instantly. Efficient hyperlocal delivery partners, having known this need, have been providing brilliant hyperlocal delivery solutions and experiences not just to the businesses that are onboard with them, but to their customers as well. Perhaps, that is why all the growth there is and one that lies ahead.
"It would be apt to say that businesses which capitalize on this need will surely emerge triumphant- perhaps, something which all businesses would eagerly wish for."
About the Creator
Finding comfort and learning in expression, I have been a pedagogue, a guest columnist, soft skills trainer, freelancer and a tech blog writer. I have devoted years on delivering discourses on corporate strategy and digital marketing.
Reader insights
Be the first to share your insights about this piece.
Add your insights