How COVID has changed the Galaxy's Edge Experience at WDW
This is interesting.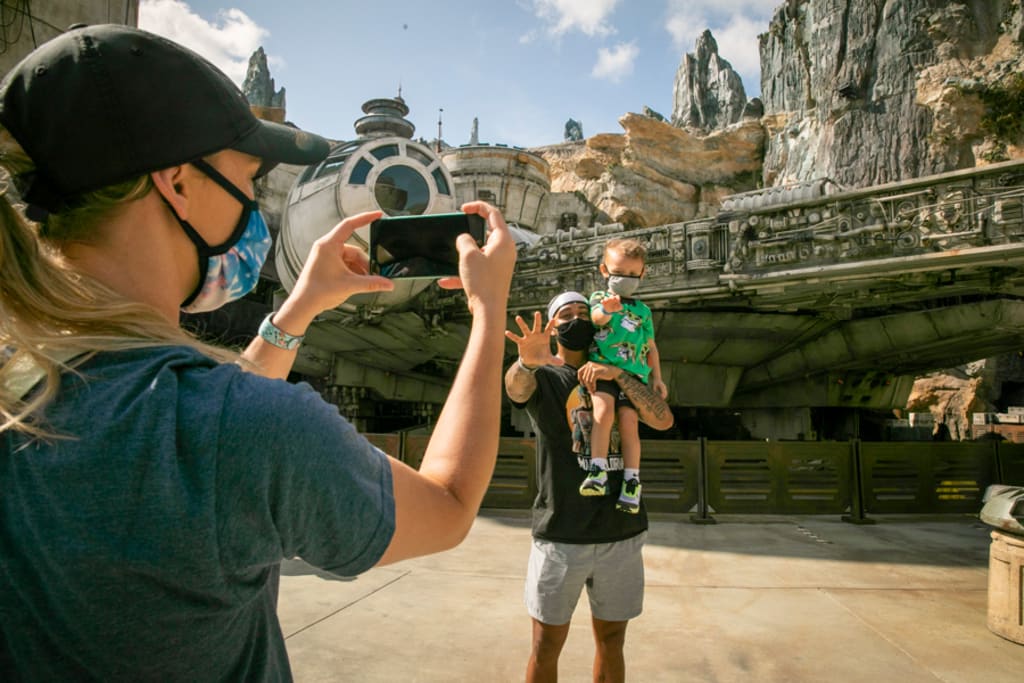 I had the pleasant experience of visiting Walt Disney World's Galaxy Edge on two separate days during October of this year. The trip was mainly for pleasure, but I thought that I would also take the opportunity to observe and record some of the differences between my previous experience of Galaxy's Edge in Disneyland (California) in 2019 (pre-COVID) and my recent experience of Galaxy's Edge in Walt Disney World (Florida) while (still) in the midst of COVID. I also decided that I would attempt to speak with some Cast Members at Galaxy's Edge and see if I could get some input from cast members whom have been working there before and throughout what one cast member referred to as "The Great Upset" (aka COVID).
Unfortunately, due to time and financial limitations, we did not avail ourselves with all the experiences in Walt Disney World's Galaxy's Edge that we engaged in Disneyland's Galaxy's Edge. For instance, we did not visit Oga's Cantina again, nor did my wife build a droid, and on neither occasion did we visit Savi's Workshop to build a Lightsaber, so I cannot comment on how those experiences might have been affected one way or another by COVID. However, unlike our previous experience at Disneyland's Galaxy's Edge, we did have the opportunity to finally ride Rise of The Resistance, which was still being completed during our last trip to Disneyland in 2019, and it was probably the most amazing theme park ride we've ever ridden. Like our last trip, we did get some shopping done at the Creature Stall. My wife and daughter adopted some Lothcats and I adopted a Tauntaun.
Related: Obi-Wan Kenobi Sizzle Reel Released For Disney Plus Day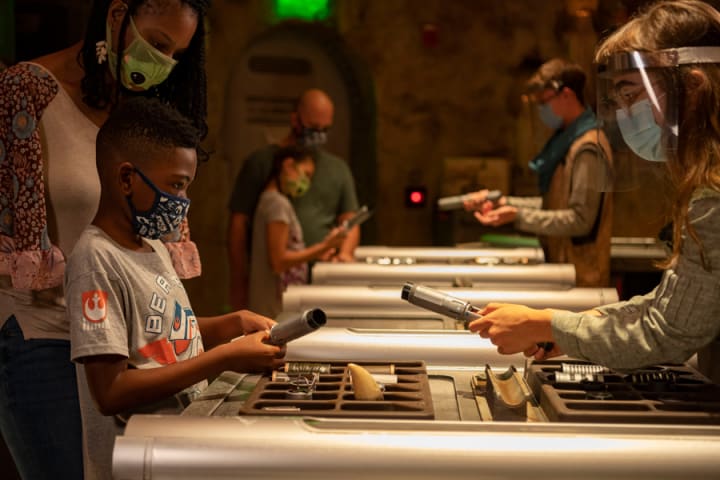 Though not entirely specific to Galaxy's Edge, one of the most noticeable changes from 2019 and now was Disney World's strict requirements for guests and cast members to wear masks to, of course, mitigate/prevent the spread of COVID, at least when indoors and on the rides. All the cast members we encountered on rides and other indoor settings appeared to be compliant with this requirement and were stationed around the rides and indoor areas to remind guests to get them on and/or keep them on. I am personally very thankful for the mask mandate, as the sheer volume of people at Walt Disney World during the time we were there permitted nearly no social distancing whatsoever, particularly during the crowded wait queues. One cast member I spoke to off the record reported that, when Disney World first re-opened during the pandemic, they were very restrictive on crowd size, as well the number of people allowed in indoor areas at a given time, although he reported that those restrictions have largely been abandoned and the current traffic flow of guests in and out of the store and in the park observed was more typical of pre-COVID times.
Another cast member doing vending in one of the outside areas also noted that the traffic in the park has not returned to pre-pandemic levels and that there had been some restrictions imposed on the number of guests, although, based on my own personal observation the crowds, as well as the wait times for most of the rides in Galaxy's Edge (Rise of the Resistance was usually pushing an average of eighty minutes and Smuggler's Run was routinely at least 45 minutes) and elsewhere at Walt Disney World (especially the Magic Kingdom), it was hard to believe that there are still any significant restrictions on the amount of people allowed in the parks.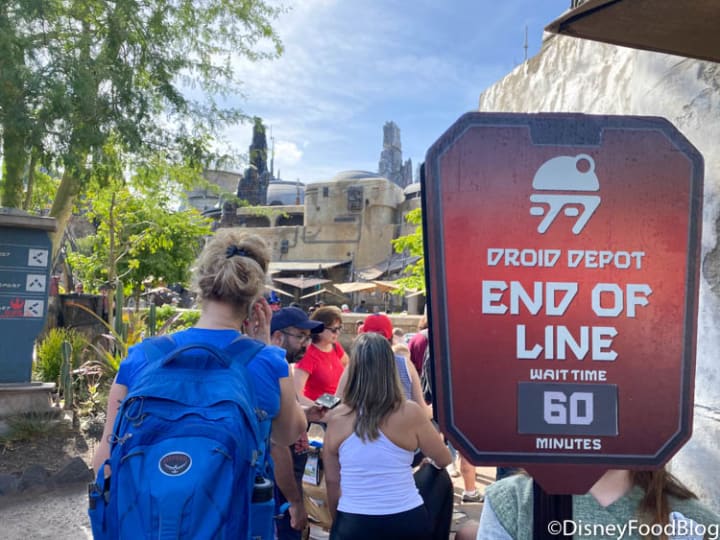 One of the major changes we saw during our visit, which may or may not be related to COVID, is the absence of Fast Passes, which have now been replaced by "Lighting Lane" passes, which is basically Fast Passes paid for separately. Also, the virtual queue for Rise of the Resistance, that has been in effect since the ride opened, was recently abolished in September, although it doesn't seem to have been related to COVID. I didn't notice any Cast Members dressed as Rey or Kylo walking around Galaxy's Edge, as I had seen in 2019. In 2019, we got to take our picture with Rey, Kylo, and Stormtroopers were walking through Galaxy's Edge, sometimes hassling guests.
So, in short, it seems that life on Galaxy's Edge (aka "Batuu"), life has mostly returned to pre-"Great Upset" operations. Disney is also, of course, continuing its work to expand Galaxy's Edge with the addition of the "Galactic Star cruiser" Hotel, which should be opening May 2022, according to a cast member. I attempted to find some visible signs of it during the visit on my own but was unsuccessful. I asked a Cast Member about it, and he stated that it was going to be located more on the outskirts of Galaxy's Edge, likely around the area where Rise of the Resistance is located, but I still couldn't really see anything evidence or signs of construction in that area. However, if I know anything about Disney by now, it is that they are usually pretty good at shrouding their work behind a tight veil of secrecy until they're ready to present everything publicly.
READ NEXT: Mark Hamill Shows Off Hilarious Behind The Scenes Pictures From 'The Empire Strikes Back'
Written By Mara Butler
Syndicated From Culture Slate