For the Love of Star Wars
A Lifelong Fanboy's Perspective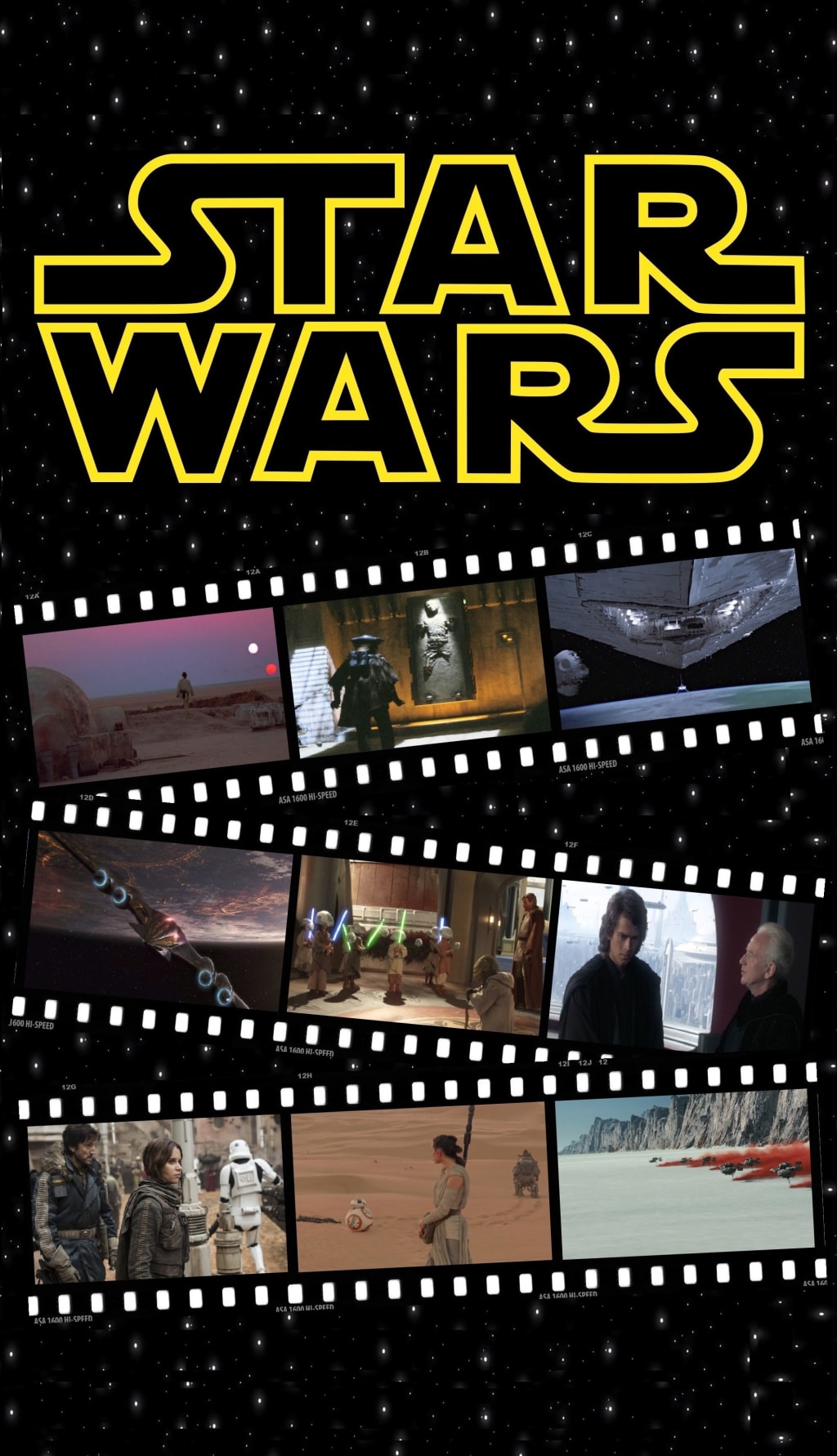 (Logo ™ and Images © Lucasfilm Ltd. LLC)
Why is Star Wars regarded by millions as the greatest movie franchise of all time? Well, what's not to love about heroes and heroines fighting against evil and darkness with lightsaber duels, laser blasters, and cross-galaxy hyperspace chases thrown into the mix?
I was a wee young lad when I saw Star Wars: A New Hope for the very first time. At that point, my only encounter with science fiction had been watching Star Trek: The Original Series on television with my aunt while visiting my grandmother's house. Suddenly, an entirely new world revealed itself to me as I became enraptured by the aptly titled A New Hope, as that initial experience of being transported into George Lucas' transformative space adventure gave me an unwavering feeling that has remained with me throughout my entire life.
I must confess I didn't see A New Hope right away, in fact, it had been playing for months and was already making its second round before I finally caught a late matinee at summer's end in 1977. I remember everyone was buzzing about it upon the start of the new school term, describing Star Wars as the greatest movie anyone had ever seen. All of the exhilaration had me fascinated and suddenly, I was yearning to see it.
After school, I told my dad about the Star Wars furor and asked if we could go see it. After what seemed like an eternity of impatiently waiting (and feeling as if we were the only people on the planet who hadn't already seen it), we went to see the movie. I can still remember sitting in between my mom and dad as the theater went dark and unexpectedly, those iconic words appeared before my wide-eyed gaze; "A long time ago, in a galaxy far, far away…"
Suddenly, John Williams' soon to be legendary theme blasted out of the speakers concurrently with the Star Wars logo, which was immediately followed by the exciting crawl that gave a brief summation of events that had led up to what was about to appear on screen. To this day, I still get excited whenever I see the opening shot of the space cruiser chase, although I must've watched it at least a hundred times by now. Upon my preliminary viewing, I instantly fell in love with Princess Leia, but I furtively wanted to be Luke Skywalker.
Ever since that day, Star Wars has been a perpetual part of my life. Whenever I'm sick or have a bad day, Star Wars has always been there like an old friend to ease and soothe my weariness. The space adventure not only remained omnipresent throughout the changing decades but also became unfailing go-to banter in times when I needed to break the ice among strangers. Discussing the franchise also made it possible to forge new and lasting friendships during my introverted college days. Star Wars was usually present in some way for most of the red-letter moments in my life; when I met my wife (in fact, The Empire Strikes Back was our first date movie), when I got married (we danced to Star Wars themes at our wedding reception), and even when I bought my first house, and relocated to a new city, the first thing I did was watch a Star Wars film. Through all of these life-changing moments, I trusted the familiar comfort zone of the Star Wars universe to help ease my transitions, akin to Linus and his security blanket. I've often relied upon Star Wars throughout moments of joy and sadness. I'm also one of the lucky few fortunate enough to have married someone who loves the films as much as I do.
With all that said, I haven't devoted my life to delving into the vast minutiae of each film, nor have I committed every minor character, creature, and spacecraft's name to memory. I haven't lined-up years in advance waiting for the next installment (although I have seen every film on its first day of release), nor did I collect Star Wars action figures (although I do own an R2-D2 version of Bop It! and a BB-8 egg timer). For the most part, my Star Wars "toys" were the soundtrack records.
Not only do I find the stunning visual effects mesmerizing, but I also owe thanks for my introduction to classical music to Star Wars, specifically John Williams. The very first Star Wars soundtrack (which I originally owned as a gatefold double LP) moved me in a way I'd never felt before. I've mentally synced the music of A New Hope, The Empire Strikes Back, Return of the Jedi and The Force Awakens to specific scenes of the films. John Williams incorporated the leitmotif techniques of Max Steiner and Richard Wagner in his Star Wars saga scores, which Williams utilized to immortalize many main characters by identifying them with specific themes. This musical methodology was nothing short of genius in terms of underscoring key scenes and character moments.
Ultimately, I'm thankful to be alive during an era of seeing a Star Wars film release every year, unlike the crybabies who are whining about insignificant plot holes of a Sci-Fi fantasy space opera based on characters created over 40 years ago. After all, didn't the desolate timespan without a Star Wars film from 1983-1999 feel like an eternity?
I will always be grateful to George Lucas for creating the Star Wars universe, but also thankful he's no longer directing nor responsible for writing the current films' dialogue, as it was always glaringly obvious his primary focus was in the visualization of his stories, certainly not in demanding the very best performances from his actors. However, Lucas' commitment to excellence is unquestionable, as the advancements of sound and visual effects would not be what they are in film today were it not for Lucas and his 45-billion-dollar film franchise. George Lucas is unquestionably responsible for setting the film industry's bar extremely high with his advancements in optimal sound quality via his THX quality assurance system, as well as his visual effects powerhouse, Industrial Light, and Magic.
I'm not going to waste time getting caught up in the never-ending subjective fanboy discussion of which film is best, or how certain directors and/or conglomerates have destroyed some people's childhoods. Instead, I will say I've enjoyed every Star Wars episode in the ongoing saga, and each installment has always left me impatiently waiting for what's to come next. Each film has brought me numerous hours of joy while managing to surprise and delight me in unexpected ways.
Now, as I eagerly look forward to the release of the latest chapter, Solo: A Star Wars Story, I'll let my imagination soar with wonderment while keeping my expectations in check. May the Force be with you, always.
About the Creator
I'm a music journalist, blogger and crate digger. I began writing about music during college and again as a freelancer. Links to my published pieces can be found on my music blog at: popmartzoo.com and/or follow me on Twitter:@popmartzoo
Reader insights
Be the first to share your insights about this piece.
Add your insights